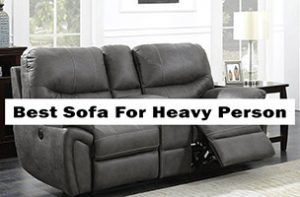 There are a plethora of sofa models online today. But much of them focus on only design!
For heavy and big individuals, these sofas simply don't work. They either break or become saggy after a short usage. Considering the fact that sofas aren't inexpensive, you don't want any of that.
We got some of the best sofas for heavy persons. These sofas are extremely sturdy and have high weight capacity. The cushioning remains strong even after considerable use.
Let's check them out!
| Images | Product Name | Weight Capacity | |
| --- | --- | --- | --- |
| | Modway Upholstered Fabric Sofa | 1700 Ibs | |
| | Walsunny Sectional Sofa | 660 Ibs | |
| | Zinus Jackie Upholstered Sofa | 500 Ibs | |
| | Nirvana Futon Sofa | 750 Ibs | |
| | MorriSofa Reclining Sofa | 900 Ibs | |
| | DHP Emily Futon Sofa | 600 lbs | |
| | Homelegance Reclining Sofa | 900 Ibs | |
| | Lifestyle Solutions SOFA | 790 Ibs | |
| | Stone & Beam Sofa | 300 Ibs+ | |
| | Lifestyle Solutions Micro-fabric Sofa | 790 Ibs | |
10 Best High Weight Capacity Sofa For Heavy People 2021
1.

Modway Engage

Upholstered Fabric

Sofa
Best Modern Design & Heavy Duty Sofa
Weight Capacity: 1700 lbs
If you are concerned about your weight, nothing can beat Modway Engage. No matter what your weight is, this beast can handle it all. It has a touch of formal style and the mid-century design makes it perfect for almost any modern decor.
The sofa is much deeper than the usual ones, which makes it suitable for oversized users. You have enough room to sit back and relax. The 24.5" length of the seat is suitable for one single person to sit in any position or two persons to have a conversation.
The fabric is smooth and has a slight softness to it. The cushioning is firm and it will take some time to break in. It's designed as the best sofa for heavy people and so the firm cushioning is provided to make the sofa last longer.
What makes this model extremely stable is the extra support leg in the middle. It stays in place and allows you to move in any way you like. Highly recommended!!
Pros:
Deep seat allows relaxed sitting.

Durable and sturdy build quality.

Additional support leg for stability.

Comfortable fabric less prone to scratching.
Cons:
The cushioning is a bit on the stiffer side.
2.

Walsunny Convertible Sectional Sofa
High weight capacity Sectional Sofa
Weight Capacity: 660 lbs
If you are living in a small apartment and still need a heavy-duty couch that can accommodate your weight, the Walsunny is the perfect choice. It has a sectional design which makes it more versatile and suitable for tight spaces.
You can arrange this sofa in multiple positions in an L shape whether you want chaise design to be on the left or right side. This means you can easily convert this sofa into a two seater with a large seat or three seater with the otoman!
You will love the linen fabric on this model. It has a smooth feel and can be wiped down easily. While the cushioning is mainly foam and has a softer touch, the back cushion is a bit stiff in the beginning. But it's still comfortable enough to spend hours on it.
If you need more height to the sofa, you can always replace the legs. These are standard screw legs and are available in most hardware or local furniture stores.
Pros:
Sectional design allows assembling in various setting.

Linen fabric is comfortable and easy to clean.

Replaceable legs to add more height.
Cons:
The back cushioning is slightly stiffer than the seat.
3.

Zinus Jackie Upholstered Sofa
Best Budget Heavy Duty Couch
Weight capacity: 500 lbs+
The sleek and modern Zinus Jackie sofa will hold its shape longer and make you feel comfortable at home. The flared arms on the sides add in classic style to the sofa and it can blend into almost any type of decor.
What makes this model durable is the natural wooden frame inside. It's one of the best sofas for heavy persons and won't break your bank either. It has a 22" depth that would be sufficient for a casual sitting experience.
The overall cushioning has a bit of give and doesn't sink in too much. So, it won't become saggy in a short period of time. The back cushions are attached with a zipper with the frame. If you are a careless sitter, this should save you from hassle.
The only thing that could have been better was the armrest. It has thin padding and better you use pillows to support your arms for more comfort.
Pros:
Strong and durable wooden frame.

Laid back seat backrest for relaxed sitting.

Back cushions are securely attached with the frame.

Fabric doesn't form wrinkles.
Cons:
The cushioning on the armrests is not adequate.
4.Nirvana Futon Sofa
Best Futon for Heavy Person
Weight Capacity: 250 lbs per seat
When everything fails, a futon will always save the hassle. The Nirvana futon is convertible and you can use it either as a sofa, lounger or even a queen size bed. The conversion process is simple and effortless.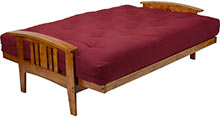 The whole frame is 100% solid wood. If you are wondering, it definitely doesn't feel like a dorm room futon. In fact, it's quite heavy and has a premium look and feel to it. The deep honey brown color makes it appealing and suitable for guests.
While this model comes only with the frame, you can also get the Nirvana futon set that comes with the mattress. For now, you can use any mattress that fits the dimensions.
There's ample of room for three adults to sit comfortably on it. And when you convert it to a bed, it will support two people. That's just perfect for surprise guests at home.
Pros:
Solid and premium build quality.

Three convertible options for sofa, bed or lounger.

Effortless assembly.

Spacious enough for heavy persons to relax.
Cons:
Sometimes the base of the frame might be a bit uneven.
5.

MorriSofa
Big and Tall Reclining Sofa
Weight capacity: 300 lbs per seat
The Morrisofa is as comfortable as it can get with three deep seats that can make you feel relaxed for hours. The scorpion grey color polyester fabric is unique and classy. For heavy persons, this is totally worth the money.
All of the three seats have footrests that can be manually operated. It will help you to relieve all the stress from your work outside. The best thing is the two seats at either side have a slight reclining. It's not much but enough to keep your back rested.
The seats are 38-in deep. Not usual people that might be too much. That's the reason it's the best couch for big and tall persons. What's more? Cleaning this stuff is easy as the polyester fabric is smooth and wipes off in a swipe.
There's hardly anything at all to complain about this sofa. The more you use it, the better you feel.
Pros:
Deep and high seat for over sized guys.

Footrest for long hours of relaxation.

Reclines a bit to feel comfortable.

High weight capacity for each seats.
Cons:
Nothing significant to mention.
6.

DHP Emily Futon Sofa
Compact Sleeping Sofa for Heavy Person
Weight Capacity: 600 lbs
The DHP Emily Futon made it to this list simply because of its high weight limit and sleek modern look. The upholstered futon mattress looks eye-catching and has a faux-leather like appearance. It's convertible, yet perfect for small homes.
The futon can be either set up as a sofa, couch or a bed. The bed version is a little smaller than a full size bed and measures 43-in in width and 71-in in length. Perfect for an oversized individual to sleep or a guest to crash!
The seat cushions on this model are quite comfortable. It's not overly soft and cuddly. But it seems it's made to last a long time. For the back, you would want some pillows to add some more comfort.
You won't have to spend more than 20 minutes to put this thing together. Keep in mind, there's a plastic smell when you get it out from the package. You will need to air it out for a few hours or a couple of days.
Pros:
Modern and attractive design.

Small footprint keeps it compact but spacious enough for a person.

Foam cushions have the right amount of softness.

Convertible to bed, sofa or lounger.
Cons:
Has a plastic smell that needs airing out.
7.

Homelegance Sofa
Heavy Duty Reclining Sofa
Weight Capacity: 900 lbs
You will love Homelegance for one thing: it's oversized and bigger than your average couch. For heavy and tall individuals, this is just perfect!
This sofa set has a contemporary styling as you can there is a mix of two color tones. It isn't classy but looks appealing from a distance. If you have guests coming at home, you will get some applause for the design.
The seats at either side have footrests and a bit of recline function. You will have to operate this with a manual lever. While the middle seat remains fixed. The seats can handle a lot of weight and that's the reason it's a great piece of furniture for heavy people.
The fabric is mainly microfiber. So, it's comfortable and soft to touch. Cushioning is adequate and won't hurt your back even if you lay on them for a long period.
Pros:
Footrests on two seats for extra comfort.

Contemporary and stylish design.

Heavy-build quality.

Takes just 15 minutes to assemble.
Cons:
The manual lever for reclining might malfunction after a considerable use.
8.

Lifestyle Solutions Sofa
Compact Sofa for Relaxed Sitting
Weight Capacity: 790 lbs
This 3 seater sofa is for those who love to sit and relax for long hours. The wood frame is ultra-strong and it can handle big and heavy people. On the plus side, it only takes a small space in your home.
The seats are packed with high-density foam. You won't sink in that much but it's comfortable enough. This isn't a great option for sleeping but for sitting and relaxing, it's perfect.
The back and seat cushions don't come off easily and they are attached to the frame. If you have kids or pets running around at home, this is a deal-breaker.
The fabric is mainly polyester microfiber. It's not plush but feels soft to touch. Wiping down is a lot easier than other materials. You won't need any tools to put this together. 20 minutes of your time is enough for that.
Pros:
Curvy and classic design.

Long-lasting and durable cushions.

Cushions don't slide off and stays attached.
Cons:
Need to air it out to eliminate the odor.
9.

Stone & Beam Sofa
Comfortable Sofa for Overweight People
Weight capacity: 300 lbs +
The Stone & Beam couch is a real deal for over-sized users. It's more plush than most of the models we have in this list. The overall design with the track arms gives this a classy look. Recommended!
Why you will love it? The seat has a depth of 45-in and that's a lot considering it's a compact sofa. Additionally, the space from one arm to another is 55.5-in. Not enough for sleeping but great for ultra-relaxed sitting.
The fabric cover is of high quality. It will last a long time. It's stain and moisture resistant, which is easy to clean and wipe down.
The seat cushions are on the plush side. However, the back cushions do have a bit of stiffness at the beginning. It has a break-in period and will take some time to become softer. Overall, it's one of the best sofas for heavy persons.
Pros:
High quality stain resistant fabric with tight stitching.

Medium level softness.

Deep seats suitable for large people.

Fabric wipes off effortlessly.
Cons:
The arms could have been smaller to make more space (Good for comfort though).
10.

Lifestyle Solutions Micro-fabric Sofa
Heavy-duty Studio Apartment Sofa
Weight Capacity: 790 lbs
This polyester upholstered sofa is perfect for studio apartments. The design is on the classy side and makes it appealing for guests or clients to come and sit. And.. the thin rolled up arms adds more space to the inside of the couch.
The cushions are constructed from High-density foams. The shape and feel will remain intact for years to come. The best part is the cushions are solidly attached with the sofa. No matter how you sit or lean, they will remain in place.
While assembling this piece isn't too difficult, the instructions are confusing. It will take some time to really understand what's going on.
Pros:
Classic rolled up arms.

Long lasting cushions.

Cushions are securely attached.

High weight capacity.
Cons:
Instructions are not clear.
Things to Consider Before Buying The Oversized Sofa for Heavy Person
1. Weight Capacity
An average American male weighs 191 lbs and female 159 lbs. So, high weight capacity sofas with more than 250 lbs should be good enough for most heavy persons. The Modway Engage is the sturdiest sofa in this list capable of handling 1700 lbs in total. And most of the sofas we have are over 300 lbs.
2. Seat Depth and Space
Seat depth is the second most important criteria for this category of sofa. Anything over 25-in is comfortable. Some models like the Stone & Beam have 45-in depth. You want your sofa to accommodate your entire body and keep you relaxed.
The space inside of the sofa is also crucial. In this case, look for the length. It should be able to fit at least one individual who likes to sit in different positions.
3. Structure of Cushioning
Let's clarify. The sofas in this list are a bit on the stiffer side. And that's purposely done! We found that sofas that are too soft can become weaker and lose shape when heavy people sit on them for a long time. A stiffer cushion will hold its shape longer and also become softer as it breaks in.
4. Shape of the Back
You don't want a fully upright back for your sofa. Even if it doesn't recline, it should have a tilting shape. This is great for laying back and relaxing.
If you want a better laid back experience, we recommend getting a futon sofa. We reviewed two futon models- Nirvana and DHP. Both these models are convertible and you can set them up as bed, lounger or sofa.
5. Construction Material
In most cases, sofas have a wooden frame. Sometimes the legs could be steel or natural wood. The cushioning material is mainly foam and the fabric is either polyester, microfiber. Most of these materials help to keep the cost low and still make them comfortable enough.
6. Design
No matter what functionality your sofa has, the design always matters. We have carefully chosen each model so that they are suitable for modern decor. You don't want an ugly design that will ruin the entire decor of the space.
How to Maintain a Sofa for a Heavy Person?
1. Avoid Sitting on the Armrests
Keep in mind, the rated weight capacity of your sofa is limited to the seat frame. The armrests might not be able to accommodate your weight. Sometimes, when we have extra guests at home, there is a chance you or someone else is sitting on the armrests. The result can be devastating. As a heavy weight user, you should avoid this altogether.
2. Limit Your Sitting Hours on the Sofa
Do you love to binge watch Netflic for hours? 4-5 hours of sitting is mostly okay. However, anything over that can reduce the longevity of your sofa. Don't sleep on it. People above the average weight should limit their sitting time on the sofa and the cushions will survive longer.
3. Check the Legs and Frame Occasionally
If you have bought a sofa with the right weight capacity, the legs and the frame should stay in good condition for years. However, every month or two you should check the condition of the legs and frame and see whether there is a crack or any signs of breaking. If you find one, contact an expert to fix it or change the sofa.
4. Flip and Fluff the Cushions
If the cushions of your sofa are removable, you should flip them after every few weeks. This will ensure that one side of the cushions don't get worn out more than the others. Moreover, you should also fluff your cushions, so the inside doesn't get hard. Both of these are important for heavy weight users.
5. Change Your Sitting Position
Ahh! We all have our favorite sitting area on a sofa and sometimes we even quarrel with our family members about it. However, you should avoid sitting in a particular area for too long.
6. Clean and Treat Stains regularly
The first step to clean your sofa is to vacuum clean the upholstery regularly. Do it at least once a week if you can't do it everyday. Dirt and debris can build up on the outside and underneath the cushions.
If you spill anything on the sofa, take appropriate action suitable for the type of upholstery you have. But don't leave the stains for too long without any treatment.
Conclusion
It's always tough to buy a sofa online. However, manufacturers understand the pain and serve specialized sofas for different types of customers to minimize the confusions. This list of the best sofa for heavy person have distinct characteristics that make them sturdy, durable, comfortable and totally worth the money.