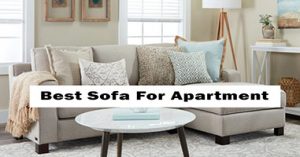 Lounging doesn't have to be limited to your local cafe or your friend's enormous apartment!
If you can find the right sofa that won't eat up too much space and still be rich in design and functionality, you can surely crack this.
Choosing the best apartment sofa can be time-consuming as there are lots of colors, styles and price ranges. When buying online, you don't have the option to sit and try out. That's the reason we handpicked a few models that have a proven track record of comfort, convenience and durability.
Here's a quick guideline!
10 Best Apartment Sofas 2021 Review
Click a link below to jump to the relevant section
1.

Best Choice Products Futon Sofa
The only sofa you will ever need for your small apartment or studio apartment! It's the best apartment sofa in affordable budget. When you need to sleep, just turn it into a sleeper. The modern and sleek design makes it truly irresistible!
If you ever need to relax, this gets better. Put in some ice tea on the cupholders and recline the back cushions to enjoy. You can recline it completely to make a futon bed and the pillow cushions are also removable.
When you live in a tight space, this can definitely give you great value for money. Just to clarify, it isn't the most plush sofa ever. For people who love more support and want to maintain proper posture, it's more than perfect.
The couch can handle 500 lbs of weight, so that speaks for its sturdiness. Even if you have crazy children at home creating havoc on sofas, you should feel confident. It will take the toll and survive for years.
Assembling isn't much difficult. You just need to put the 4 chrome legs on. However, two of the legs don't have pre-made holes that will require a bit of drilling. Other than that, you are in for a treat!!
Pros:
Supports proper posture and good for back pain.

Reclines to a futon bed.

Cup holders can be hidden away for more space.

Looks great with modern decor.
Cons:
Need to drill holes to insert two of the legs.
2.

Stone & Beam Sofa
Stone & Beam is the most plush sofa we have in this list. It sure has a break in time and it means it's more likely to hold it's shape longer. The light grey color will suit almost any modern or classic decor. Highly recommended!
What's great about this brand is you can readily buy matching ottoman and living chairs. While this one is 74-in length, you can buy a bigger version if you have a big apartment to fill in. Both the versions will fit through a standard door perfectly.
The back and seat cushions are both removable. And when you feel one side has become flat, simply reverse them to increase the shelf life of this sofa. The fabric is stain-resistant and cleans easily with a wipe towel.
This is a love seat designed for relaxing. The seat depth is 25-in, which means you can put your whole body in and enjoy the evening after a hard working day outside. Overall, the build quality is good and acceptable considering the price you pay.
Pros:
Neutral color blends into any type of decor.

Complimentary furniture available from the same brand.

Seat and back cushions can be reversed.

Enough seat depth for comfortable sitting.
Cons:
The back cushion is stiff initially (It softens up gradually).
3.

Rivet Aiden Tufted Loveseat Sofa
When you want a blend of sophistication and contemporary design in your apartment decor, you simply add Rivet Aiden. It's a Mid-century style sofa that has just the right amount of softness and it's not too stiff either. Best apartment sofa ever? Well, you should figure it out on your own.
The fabric is mainly top-grain leather that even goes all the way back. Looks elegant from any side you look at.  To make it even better, wooden legs nicely compliments the color and theme of the style.
The back cushions are removable and that makes cleaning inside the edges easier. The other side has fabric instead of leather, so you really can't reverse it. That's not a deal-breaker! Just dry clean it and it will last longer with very minimal sign of creases over the years.
Compared to some of the other sofas, this model has a quicker break in period. Perfect for people who want the most comfort from the get-go.
Pros:
Leather cover makes cleaning effortless.

Blend of classic and contemporary design.

Right mix of softness and softness.

Minimal crease in the long run.
Cons:
Seat cushions are not removable.
4.HONBAY Convertible Sectional Sofa
Sectional sofas are always great for apartments, whether it's big or small. The Honbay is the best sectional sofa for apartments because you can convert various styles to meet your space needs.
The sofa has basically 3 parts- two small seats and a long one. If you have enough length wise space, you can set it up using one small seat and the long seat. When you have tight spaces, you can bring the two small seats together and the long seat in front of any side to create that chaise style. Extremely convenient!
About the quality, you will never sink on this couch. It maintains its shape through much rough usage. The bonus is the covers can be removed and washed. That makes cleaning effortless when you have kids and pets playing around. Additionally, the legs are quite durable and can hold 660 lbs with no issues.
The only complaint we have is the assembling instructions. The whole seat is easier to put together. But it could have been a lot easier if the instructions were more in-depth.
Pros:
Sectional style allows customized setting.

Comfortable enough and holds its shape longer.

Cushion covers are removable and washable.

Fits perfectly in small spaces.
Cons:
Assembling instructions are not clear.
5.

Lifestyle Solutions

Micro fabric Sofa
When everything looks dull, a Lifestyle Solutions sofa can make your space standout, especially if you have guests coming home. The color and the style is subtle with dark grey hue making it soothing on the eye.
The fabric is polyester upholstery that feels plush and comfortable. If you sit on it, it feels a bit stiff at the beginning but slowly gets soft as you settle in. No matter how hard you use them on parties or hangouts, the foam cushions will always retain their shape.
On the plus side, the assembling process is minimal. Just slide the back on to the seat and it's ready to use. Though it might take a bit of help to slide the back, not a deal-breaker by any means.
It's a well-constructed couch that has plenty of room for 3-4 people to sit and relax. The weight limit is 790 lbs, which speaks for the load this thing can handle.
Pros:
High-density foam that retains its shape on heavy use.

Super easy and quick assembly.

Sturdy wooden frame.

Feels comfortable to touch and sit.
Cons:
It's a bit on the stiffer side that some people may not prefer.
6.

Novogratz Brittany Sofa
Ribbed and tufted sofas always look stylish and modern, no matter where you put them. Novogratz is always going to make the list of the best sofas for small apartments! This particular Oxford blue color looks formal and good enough for any formal gatherings.
The sofa is on the stiffer side. It can be a great option for you if you have a bad back often and need to sit in a proper posture. For small homes, it can be converted into a futon bed for guests. It's not as comfy for regular sleeping but enough for a night or two!
You will love the upholstered linen fabric as it feels comfortable on touch. You can easily vacuum clean it or wipe with damp cloth. If you are looking to buy something classy and yet subtle for your guests, this has to be the one!
Pros:
Sturdy and durable construction.

Supports proper posture.

Formal color great for guests.

Convertible into an overnight bed.
Cons:
Cushioning isn't equal in all parts.
7.

Stone & Beam Classic Sofa
After nearly 300 years, the Chesterfield style hasn't lost its popularity in modern days. The button-tufted back and rolled up arms are the signature style of this design. The stone & Beam replicates this classic design with 7 colors suitable to blend into different kinds of decor.
The sofa fabric is mainly polyester with a mix of nylon. This means it's stain-resistant and should be easy to clean with a dry cloth. It's soft to touch and gives you that comfort feeling everytime you sit on it.
You won't feel too much sinking when you sit as the depth is 23.5-in. Additional pillows will give you more support to the back but it's still comfortable without them.  The cushioning is somewhat firm but soft enough to feel at home.
If you find the seats becoming too soft after a few years, you can reverse them to prolong the shelf life. You will find plastic coverings on the legs and that helps to prevent scratching when you move the set across your apartment.
Pros:
Not too soft and not too firm cushions.

Soft and stain-resistant fabric.

Lots of color options available.

Legs with plastic covers aid no scratch shifting.
Cons:
The fabric is prone to scratching (Not so much pet friendly).
8.

Zinus Jackie Sofa
Zinus Jackie might be the perfect thing you need for your small apartment. It's got a slightly greenish grey color that will easily blend in to your modern decor. You can feel cozy sitting on it and the fabric keeps its shape. What more do you need?
The seat depth is just 22-in and that will keep you in a good shape. The armrests do have a bit of padding but we would recommend throwing some pillows in it. You will love the cushions as they are supportive and don't sink in too much.
What makes it the best couch for an apartment is it's small footprint of 71-in and if you have pets, this thing doesn't get scratch marks. Whether it's kids or cats running around, your sofa will survive through it majestically.
This couch is on the lighter side. If two of you sit together and move, it shows a hint of movement but it stays in place. Other than that you can easily assemble this in 15 minutes or less. Just clip on the arms and zip in the back pillows, that's it. Done! 
Pros:
Beautiful neutral color matches modern decors.

Scratch-resistant fabric perfect for pets.

Easy to assemble.

Supportive foam cushioning.
Cons:
A little on the lighter side.
9.Divano Roma Sofas
There's something special about Mid Century sofas. It's classic and modern at the same time! Reminds us of the sofa designs from the show 'Mad men' (you'll know if you are a fan). Divano Roma features aluminum grey color that would go pretty well with white and neutral color themes.
The tufted button design is what we love the most about this sofa. The linen fabric feels soft and comfortable. In addition, you will get two side pillows and 2 square pillows that remain almost invisible as they have the same color of the fabric.
For stability and support, there are 4 wooden legs at each corner. The 5th one is placed in the middle and is made of steel. The chance of tipping over is highly unlikely. If your kids are at home, this should suit you perfectly.
Assembling should be straightforward and no complicated procedures are required. Just to let you know it's slightly on the stiffer side.
Pros:
Additional steel leg provides stability.

Soft neutral color for modern decors.

Comes with 4 pillows.

Easy to assemble.
Cons:
Cushions are a bit stiff.
10.

Divano Roma Furniture Modern Sofas
Here's another Divano Roma sofa. It will change the feel of your entire decor with the blend of east bay grey color on the armrests and white back and seat cushions. It's more of a contemporary look that looks outstanding from far.
It's one of the best apartment sofas in the market because of its modular convertible design. You can easily transform this into a XL twin bed. If you have a surprise guest staying overnight, it's a great solution.
This couch doesn't take away too much space and still can fit in two adults quite comfortably. The inner part is mainly memory foam accompanied with two cushions. You can remove the back cushions but it's safe to clean with a damp cloth.
When you make this into a bed, the top part where your head should be has a little hard frame. We recommend placing a memory foam topper if you plan to use it regularly as a bed. Alternatively, just change your position and put your feet on the hard part.
Pros:
Contemporary design can lighten up any home.

Converts into a twin bed for sleeping.

Space-saving yet enough room for two persons to sit
Cons:
Top part of the bed is a bit hard to put head on (needs shifting position or memory foam topper).
Conclusion & Editor's Choice
We've come to the end of this post and need to pick a model that gives the best bang for your money. It was a tough decision. After a lot of debating and discussion with our product research experts, we have come to a conclusion.
The best apartment sofa award goes to Best Choice Product. It has an ultra-modern design that most people will love and feel suitable for their home decor in 2021. You can convert it to a futon bed and that helps you save space for an additional bed when a guest decides to stay overnight. The build quality is pretty strong compared to the price you pay. Highly recommended!