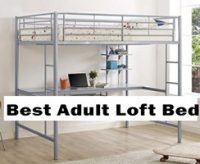 Looking for the best loft bed for adults?
Loft beds, bunk beds and stuff like that are almost always made to accommodate teenagers and kids. So, it's tough to find something that can hold up well to heavy weight and last longer.
If you are here, you might well have a small space to work with. Loft beds are a blessing in many ways and can make your room look less cluttered.
Apart from considering the build quality and weight capacity, we made sure each model has an appealing design that doesn't look like something stolen from a Disney movie!!
In terms of overall value, aesthetics and stability, the We Furniture ranks higher than all the other models. It has a small footprint and has an open design style that can be used in multiple ways.
Without further ado, here's what you came for!
| Images | Product Name | Weight Capacity | |
| --- | --- | --- | --- |
| | WE Furniture Loft Bed | 250 lbs | |
| | Avalon Full Workstation Loft Bed | 400 lbs | |
| | DHP Miles Full Metal Loft Bed | 300 lbs | |
| | DHP Abode Full-Size Loft Bed | 300 lbs | |
| | Concord Junior Loft Bed | 500 Ibs | |
| | DHP Studio Loft Bunk Bed | 200 Ibs | |
| | Twin Workstation Loft Bed | 200 Ibs+ | |
| | Dorel Living Denver Loft Bed | 250 lbs | |
| | DHP Simple Metal Loft Bed | 300 lbs | |
| | DHP X-Loft Metal Bunk Bed | 200 lbs | |
10 Best Loft Bed for Adults 2021-(Heavy Duty Bed)
1.

WE Furniture Loft Bed
Weight Capacity: 250 lbs
The simplicity and overall value for money makes We Furniture one of the best loft beds for adults. It stands well against large people climbing up and down & might as well last couple of years.
If space-saving is your ultimate need, this bed is just perfect. It accommodates a twin size mattress, which doesn't take a lot of space and still enough for one individual.
The open loft design is useful if you are not sure yet what you intend to do with it. You can either make it a workstation or use it as a storage space.
The loft bed has two ladders on both sides. So, you can place it at any corner of the room. The steps of the ladder might be the only thing of concern. They are not overly comfortable and pipe insulation can be a great way to solve this.
Based on user reviews,  the bed seems quite sturdy for the price. It might have a bit of movement when climbing up and down the ladder. If you use loctite during assembly, this bed should last more than you anticipated.
Pros:
Open design loft for versatile use.

Space-saving size.

Accessible from both sides.

Durable on the long run.
Cons:
Ladder steps are not super comfortable for climbing.
2.

Avalon Full Workstation Loft Bed
Weight Capacity: 400 lbs
Avalon is a full metal bunk bed that you can use as a workstation at home. It's got a desk, storage shelf and even a keyboard tray if you plan to set up a desktop.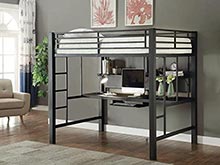 Considering it's a twin size bed, the footprint is small and takes up a tiny space at your home. You won't need any box spring as the slats will hold up the mattress firmly.
Underneath the bed, the clearance height is 56-in. That's good enough to sit and work comfortably. If you plan to set up a monitor, we recommend leaving the bookshelf out as it kills the depth of the desk.
As far the construction goes, it's totally solid and stable. You won't hear any squeaky noise or wobbling when getting up and down the ladder. For extra safety, there's a railing around the bed. In case, any kid uses the bed, this should keep him in place.
The Avalon bed is for those who seek a versatile bunk bed at an affordable price taking up just a tiny space of the room. Recommended!
Pros:
Spacious workstation for setting up home office.

Extremely stable and sturdy.

Enough head clearance for sitting comfortably.

Ladder on both side of the bed.
Cons:
Poles of the ladder need covers for comfortable climbing.
3.DHP Miles Full Metal Loft Bed
Weight Capacity: 300 lbs
DHP Miles is a minimalistic bed that has a simple desk area underneath for working and studying. The full bed size is great for full-grown adults to sleep in comfortably.
The metal construction looks sleek but it does have a solid build quality. The bed comes with metal slats for accommodating the mattress without the need for any box spring. If you have a nag of crawling out of bed, the 14-in guardrails will keep you safe.
We loved the high clearance of 58-in underneath the bed. When you are working on the desk, it will feel spacious and have room to breathe in. The desk itself is wide enough to hold a monitor, a lamp and other essential stuff.
For convenience, you can install the ladder to either side of the bed. The assembling process is straightforward and won't take more than 2 hours to complete. If you decide to buy this bed, there's hardly anything that you can complain about.
Pros:
Clean and modern design.

Tall guardrails for safety.

Ability to install ladder on any side.

In-built wide desk for working.
Cons:
Ladder poles are not comfortable on the feet.
4.

DHP Abode Full Size Loft Bed
Weight Capacity: 300 lbs
This DHP model is one of the best loft beds for adults for many reasons. It's well built and has a lot of headroom underneath to use as a workstation. The metal frame looks cool and will blend into any modern decor.
The built-in desk is great for working. You can place a monitor and a lamp to suit night time working. Besides, there is a two-step shelf for storing books and stuff. Keep in mind, the desk and shelf might vibrate a bit when going up and down the ladder. So, avoid keeping any stuff that can fall and break.
One of the best things about this bed is there are two ladders one on the front of the bed and one on the side. Even if you place it in the corner, you will have full access to the bed. Plus, the steps on the ladder are flat and don't hurt your feet when you climb.
The guardrails will protect you during sleep. You can still use a 12-in mattress if falling off isn't a matter of concern. Overall, it's a great value for the price!!

Pros:
Storage shelf and desk offers versatility.

Easy on the feet ladder steps.

Side and front ladders for accessibility.
Cons:
The desk is a bit narrow.
5.

Concord Junior Loft Bed
Weight Capacity: 500 lbs
Here's a heavy-duty loft bed that can accommodate grown up big adults. It has a solid pine wood construction and made to last for many years. Compared to the other beds, it has an interesting design and looks soothing to the eye.
Unlike other models in our list, this bed doesn't have high clearance under the bed. The height below is just 30-in. You can use this space for storage or put on a mattress for your kids or pets to rest. For more fun, you can place a bean bag and turn it into a lounging space.
Getting up and down the ladder is a breeze as the bed has just 46.5-in. You can place it on either side of the bed.
It's a full size bed with high weight capacity that is suitable for almost any adult whether you are heavy or tall. The recommended mattress height is 8-in but a 12-in mattress can also be placed as there is no real need for the guardrails.
Pros:
Solid wooden construction for durability.

Wooden slats eliminate the need for box spring.

Ladder can be installed on either side.

Low height is easy to climb.
Cons:
The ladder looks childish.
6.

DHP Studio Loft Bed
Weight capacity: 200 lbs
If you truly want to capitalize on saving space, this DHP bed is what you need. It's got lots of shelves on both sides underneath the bed that can help organize your stuff. And the in-built desk makes it perfect for any studio apartment.
It comes in silver and black metal finish that looks stunning. When you sleep on it, it feels stable and doesn't wobble at all. The metal slats add more stability and eliminates the need for any box spring.
The desk and the shelves are mainly particle boards. Despite that, they are quite sturdy and covered with metal brackets that look cool and add more structural integrity to the overall design.
We would recommend tightening each joint as you assemble the unit. This simple process will reduce wobbling. Otherwise, if you leave it for later, the bed won't be perfectly stable.
Pros:
Ample of storage space with shelves on each side.

Metal finish is great for modern decors.

The desk and shelves have metal brackets for protection.

Guardrails for safe sleeping.
Cons:
Assembly instructions are not comprehensive.
7.Coaster Home Furnishings

Twin Workstation Loft Bed
Weight Capacity: More than 200 lbs
Coaster Home makes some of the best loft beds for adults in the market. This particular model is no exception and really adds a lot of versatility to your apartment. The inclusion of a futon is a plus point.
It's a twin bed that won't take up much space. The overall structure is quite stable but it does have a bit of a wobble as you climb the ladder.
Underneath the bed there is a desk for working along with a chair. We really loved the futon chair as the front part can be raised to get a lounge like experience. There's a CD rack that you can use to keep mobile devices on charge.
The best part is this bed is exceptionally easy to assemble and a single person can put it together with minimal knowledge of DIY stuff. If you want the maximum bang for your bucks, get this bed today!!
Pros:
Futon chair adds additional comforting space.

Desk area for working/studying.

Easy to assemble in quick time.
Cons:
Need to buy the futon mattress separately.
8.

Dorel Living Denver Loft Bed
Weight Capacity: 250 lbs
Dorel Living is a modern adult loft bed. If you have been searching for a full bunk bed at the best possible price, this is it. The creamy white color looks appealing to the eyes and will make your bedroom standout.
The area under the loft is left open. You can either place a desk and transform it into a workstation or turn it into a kids play zone with a mattress and some toys- the possibilities are endless.
The entire thing is made from wood. Besides being super stable, it's also quite durable. On the sides, there are guardrails with solid headboard and footboard making the bed totally safe for people of any age.
If you assemble this bed properly, it will remain stable. However, for maximum security and eliminating wobbling, you can add some brackets. An extra person for help would be really handy and save you a lot of hassle.
Pros:
Open loft design for versatile use.

Durable wooden construction.

Ladder can be installed on either side.

Pleasing aesthetics.
Cons:
Requires two person to assemble.
9.

DHP Simple Metal Loft Bed
Weight Capacity: 300 lbs
This particular model from DHP is yet another open design loft bed that can fit into any contemporary style room. The rounded metal edges gives it a simplistic appearance that blends well into most decors.
There is 57.5-in of clearance underneath the bed. For most small homes, this space is a blessing and can be turned into something productive like a storage or additional sleeping space.
The metal slats will save you money from buying any extra foundation like a box spring. It can accommodate a 6-in mattress easily. However, if you are not fond of a guardrail, you can put on a thicker mattress as well.
In terms of build quality, it's certainly safe and secured but sometimes it can be a bit wobbly when moving on the bed. This happens quite a lot with loft beds and most people get used to it after sometime.
Pros:
Design the open space under the bed as you like.

Tall guardrail for extra protection.

Metal slats included.

Durable construction.
Cons:
Can produce creaking noises sometimes.
10.

DHP X-Loft Metal Bunk Bed 
Weight Capacity: 200 lbs
The DHP X-Loft might be the last but it's definitely a top contender in this list of the best loft beds for adults. You will love the dark black metal finish that gives it a unique modern appearance.
On a high note, the workstation below the bed is quite large and wide. If you have a full desktop set up along with other electronic devices, the desk will hold them all. The 56.5-in clearance provides some room to breathe.
We are satisfied with the stability of the bed. If you manage to assemble it and tighten the bolts properly, it should not wobble or creak at all. It might look pretty light and thin from afar but the build quality is good.
You can only set the ladder to its designated side. It's not a deal breaker though. You might need to cover or insulate the pipes to make it easier on your feet.
Pros:
Completely stable and free from squeaking.

Larger desk area accommodates all workstation stuff.

Easy assembly with only 1 person.

Guardrails for extra safety.
Cons:
The ladders pipes need to be covered for more comfort.
Loft Bed for Adults Buying Guide
1. Size: Twin vs full bed
Whether you want to go for a twin bed or for a full bed depends entirely on your preference. In most cases, full beds are more comfortable for adults. These beds have 5-in width that is sufficient for sleepers of any size.
If you aren't too big, a twin size bed will be enough. Most people living in a tiny apartment or studio apartment often opt for this size. The footprint is small and leaves a lot of space to fit in other pieces of furniture.
2. Weight Capacity
For adults, any bed having more than 200 lbs weight capacity will do the job! However, to be on the safe side, you might want to shop for loft beds that have at least 250 lbs capacity. The Concord Junior has the highest weight limit at 500 lbs among the models we reviewed here. 
3. Loft style
A loft bed has a space beneath and that's the whole idea behind the design. There are several styles that you can consider:
If you want to customize the space underneath the bed and still haven't decided what you want, a standard loft bed is best for you. There won't be any shelves, desks or storage areas. You can easily turn this place into a child's play, a workstation or an additional sleeping place with a mattress.
Adult loft beds with desks are popular because of their multipurpose use. If you need a working place but cramming for space, this is a great option. These beds have in-built desks and sometimes extra storage shelves to turn the space into an office. If you want to avoid the hassle of getting into DIY stuff, go for this.
Final Words
We are sure you would find a suitable model among this list of the best loft beds for adults. Most of these beds are stable and won't wobble if you manage to assemble them properly. However, all loft beds will have a sort of vibration or tiny movements that don't pose any risk. It's how they are designed. Once you get used to sleeping on them, you will fall in love with them.