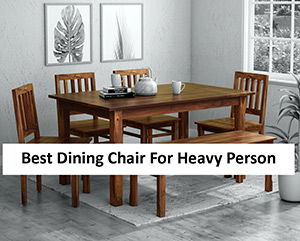 Nobody really cares about the weight limit of their dining chairs until one of them collapses under their weight in a room full of people. Get yourself a couple of solid plus size dining chairs if you never want to repeat that embarrassing history ever again. 
The key to ensuring a quality purchase is to consider the chair material more than anything. Metal and hardwood provide unparalleled durability but many contemporary high weight capacity chairs are made from resins too.
The heavier the material, the more it will cost but the longer it will last too. Keeping that in mind, I have rounded up and reviewed 10 best dining chairs for heavy person that are well-equipped to support up to 1000 lbs. of body weight. So let's explore:
| Images | Product Name | Weight Capacity | |
| --- | --- | --- | --- |
| | Flash Furniture 4 Pk HERCULES Series Chair | 500 Ibs | |
| | LuckyERMore Dining Chair | 450 Ibs | |
| | Flash Furniture HERCULES PREMIUM Series Chair | 1000 Ibs | |
| | Flash Furniture 2 Pk Chair | 1000 Ibs | |
| | LUCKYERMORE Kitchen Dining Chairs | 400 lbs | |
| | Merax Dining Chair | 300 lbs | |
| | Flash Furniture Silver Frame Chair | 900 lbs | |
| | UrbanMod Modern Dining Chair | 330 lbs | |
| | Flash Furniture Crown Back Stacking Banquet Chair  | 500 lbs | |
| | Dporticus Wood Dining Chairs | 450 lbs | |
10
Best High Weight Capacity Dining Chairs

2021
1.

Flash Furniture 4 Pk HERCULES Series Chair
Weight Capacity: 500 lbs.
You can never go wrong with sleek and tough-as-nails black chairs. They go with every kitchen setting. My personal experience with Flash Furniture chairs has always been beyond expectations. 
These Hercules series chairs are crafted from ultra-durable 18 gauge anodized steel which makes it perfectly capable of supporting up to 500 lbs. For extra-strong joints, the metal frame has been welded to perfection instead of being joined by some screws which could come loose at any moment. 
Its ladder style back adds a touch of sophistication to the dining area and is a breeze to keep clean too. 
The legs are also all metal and they come with solid plastic stoppers to make them glide easily and keep the chairs from squeaking and scratching your floor. The dimensions of the seats are 16.75" W x 16.5"D x 19.5" H which is adequate to ensure comfortable seating for very large adults like me. 
Its 2.5" thickly padded foam seat provides a cozy and luxurious seating experience. I loved the fact that the only assembly work you need is installing the seat which shouldn't take more than a couple of minutes. 
My only issue is with the quality of the screws included in the box. They are not as sturdy as I would have liked. 
2.LuckyERMore Dining Chair
Weight Capacity: 450 lbs.
Available in ladder back and X back styles, these aesthetically-pleasing chairs have a rugged metal frame with welded joint construction for extra durability. The best part about these chairs is that they come fully assembled so they are ready to pair up with your dining table right out of the box. 
Besides, they come with hardwood seats along with bold-colored, shiny metal frames that create a strikingly contrasting look and depth in any setting. 
The metal legs are dog-chew resistant and even with little to no care, these chairs could survive heavy abuse, these chairs can last you a lifetime. These seats are wider than what I have seen on most plus size chairs, so if you happen to a little on the chubbier sad, you will love it. Although the seats are comfortable on their own, you can add padded cushions for extra comfort if needed. 
The overall dimensions of these big and tall dining chairs are 16.3" (W) x 16.3" (L) x 31.1" (H), which is just about right to ensure a cozy seating experience for large, overweight people. 
No doubt the chairs are super heavy but the non-slip foot pads make them easy to glide across the room without breaking a sweat, plus they protect the floor from scratching too. The only downside is that without a cushion, it's not comfortable to sit on the wooden seat for a long time. 
3.

Flash Furniture HERCULES PREMIUM Series Chair
Weight Capacity: 1000 lbs.
These plus-looking Chiavari style dining chairs for large people are perfect special occasions like a wedding ceremony. The chair frame is built from a combination of commercial-grade resin and polycarbonate. 
This extraordinarily sturdy enables it to withstand a humongous amount of weight adding to the overall weight of the chair. These pre-assembled chairs are so neat and compact that you can put several of them in a small banquet hall without cluttering up your space. 
Since they are primarily designed for social events, the chairs are lightweight enough to be moved around and can be stacked for 8+ high for compact storage. 
Moreover, each chair comes with separate covers for the top and bottom to protect the material while stacking, so brownie points for that. The seat size on these chairs is 15.5" W x 16" D and they are about 17.75" tall, which is perfect for a chubby person of average height. 
You can amp up the seating comfort by adding seat pads to them. What's even better is that you can put these chairs in the patio as well. Don't worry about the rain or sun fading the color as the frame is made of UV treated composite material.
The leg bottoms are sturdy and square-shaped, so rest assured they won't wobble on grass. The only thing that bugs me is the height of the chairs. It's not the best option out there for people above 5'9".
4.

Flash Furniture 2 Pk Chair
Weight Capacity: 1000 lbs.
The fourth entry on this list of the best dining chairs for heavy person is a godsend for really huge individuals who need extra-sturdy chairs for working, gaming, or watching movies for hours. 
You can put a bunch of these neat-looking chairs in a church or banquet hall as well to create a cozy seating arrangement. Each chair is equipped with ganging bracket, allowing you to create row seating arrangements with ease. 
Its storage-friendly assign lets you stack up to 12 chairs on top of each other, so you can store as many spare seats as you want without occupying too much space in high-traffic areas like banquet halls or restaurants. 
You will find rubber bumpers on every chair which is useful for keeping the chairs from scratching the metal finish on the legs when stacked. The seats are 18" tall, 20" while and generously padded with thick foam, so they will always remain comfortable to sit on for hours, no matter how big you get. 
Tall people like me could use some for height for hours long legs, though. But the ridiculously sturdy build of the chairs more than makes up for it. The entire frame is made from 18 gauge welded steel, so durability issues are out of the picture. 
Despite the all-metal construction, the chairs aren't atrociously heavy to move around. The legs are covered with plastic caps to provide good stability and prevent floor damage. 
In a design so thought-through, the only thing that disappoints is the metal pieces that stick out from the sides and pinch your legs if you sit for too long. 
5.

LUCKYERMORE Kitchen Dining Chairs
Weight Capacity: 400 lbs.
These elegantly designed chairs would add a splash of glamor in commercial establishments like a lounge, bar, bistro as well as your living room. Good for you that these chairs come fully assembled, so they are ready to get cracking right out of the box. 
The plush PU leather design, wonderfully complemented by the comfort of a thickly padded seat and backrest is what truly makes them stand out. Even though the seat is only 18", people over 6 feet with long legs can comfortably rest on these chairs for hours.
The angle and amount of padding in the backrest is absolutely on point. Its padding is even thicker than it looks in the picture. How often does that happen? 
If you are looking for a super comfortable chair for someone who is suffering from sciatica pain or something similar, these chairs would be worth considering.
Easy cleanup is another top advantage of these sturdy leather dining chairs. Did someone spill coffee or cranberry sauce by accident on your brand new chairs? One clean swipe with a washcloth will take off the stain. 
Solid metal legs hold up really well against rough use. The metal frame coating mimics the rustic finish of solid wood and will amplify the beauty of any decor. 
The only thing some people find a little off-putting is the limited color options. Depending on what kind of look you are going for, you might have a hard time finding the matching color. 
6.

Merax Dining Chair
Weight capacity: 300 lbs.
Looking for a minimalistic neutral-colored dining chair to spruce up your dining space? Something that has enough width and sturdiness to accommodate the extra pounds and girth you've put on lately? Think Merax dining chairs. 
Available in beige and grey color, the stylish semi-assembled chairs would be a fun addition in your living room or office space as well. I find the camaraderie of espresso-dark chestnut wood legs and neutral-colored linen-textured upholstery very easy on the eyes. 
The wooden frame provides plenty of support without creaking even once. Not to mention that small fully padded armrests that make unwinding after a long day at work such a bliss. The armrests will also help you get up quickly after sitting down for a long time. 
Another standout is the polished copper nail head trims that run along the perimeter of the chair adds a retro touch to the decor. While I do feel the chairs could use taller seats since I am 6'2", 19.5" seat height is adequate to pair up with standard dining chairs. 
Large, overweight people would love the 22" width of these seats. The only major letdown is the quality of the padding. It doesn't seem to handle the huge pressure that well. So if you tend to go rough on your chairs, these might not the best option for you out there. 
7.

Flash Furniture

Silver Frame Chair
Weight capacity: 900 lbs.
Finding a vanity chair that won't crumble under the bodyweight of an overweight person isn't easy. That's why the next entry on this list of the best dining chairs for a heavy person is a really special one. 
These premium King Louis Chairs with their intricately carved edges and muted color scheme can be a good conversation starter. They aren't just pretty to look at but comfortable to sit on too. 
The solid resin construction coupled with thick vinyl padded seat and backrest will let you enjoy your meal in peace. I am quite impressed by the quality of the padding material as well. You can sit on this chair for as long as you want without worrying about the metal bar digging into your legs. 
900 lbs is a massive weight capacity and quite rare for a vanity chair like this. Both taupe and white vinyl color tones can help you create an elegant mix of modern and retro decor wherever you decide to put these chairs in. 
To top it all off, the upholstery fabric is stain-resistant and can be cleaned with one quick swipe of a washcloth. The seat is removable as well, so getting stubborn debris out won't be a problem either.
Now, coming to the not-so-amazing parts, I feel permanently attached seats would have better. It can move around when you get up which is a bit awkward. Also, people with really large butts might not find the seat wide enough. 
8.UrbanMod Modern Dining Chair
Weight capacity: 330 lbs.
From the striking cut out pattern to the curved shape and small footprint, everything about this chair screams of brilliance. The absence of padded seats might make you question the comfort but guess what? The chairs excel in this area too. 
Sculpted from heavy gauge stainless steel with chrome finish, these swanky tree chairs can be used for adding a nice contrast and personality to small kitchens and office spaces. These chairs are easily stackable as well for fuss-free storage and lightweight enough to for easy transportation. 
The assembly work is next to nothing. You just have to attach the legs and the chairs will be ready. The whole process shouldn't take you more than 15 minutes. You can spill an entire cup of coffee or glass of wine on it without worrying about staining. 
One clean swipe with a soft scrub and poof! The mess is gone. I loved how wide the seats actually are, exactly how a heavy-duty kitchen chair for heavy people should be like. Even the tallest and heaviest people you know can sit on these chairs comfortably. 
The only thing I didn't like was the fact that you will have to tighten the screws from time to time or they would just pop off eventually. 
9.

Flash Furniture Crown Back Stacking Banquet Chair 
Weight capacity: 500 lbs.
Next up on this roundup of the sturdiest dining chairs for overweight people is another ingenious creation from Flash furniture. Lightweight, unpretentious, and a delight to sit on, these dining chairs would make a good choice for both home and office settings. 
The colors aren't awfully bright, so it will beautifully blend with any decor. It is well-equipped to accommodate up to 500 lbs. heavy people and thick foam padding on the seat and back means hours of superior comfort. 
However, the cushions might soften up a bit with time, so that's one area where the manufacturer needs to work on. 
This minor drawback aside, the chairs are decidedly well constructed with its heavy-duty, reinforced 16 gauge metal frame and sturdy upholstery fabric. You can instantly spot clean the food and drink spills with a fabric cleaner spray. 
Moreover, the chairs are stackable too. So you can just tuck a couple of them in any corner of your room as your spare seating arrangement without cramming up the limited space you have. 
To round off the design, the chairs have plastic floor protectors too to keep your wooden floor unscratched while you drag the chairs across your room. 
10.

Dporticus Wood Dining Chairs
Weight capacity: 450 lbs.
The no-frills classic design of these chairs can be used for adding black accents to your dining area, study room decor, or even in commercial settings like a bar or quaint cafe. 
The height of the chair from the floor top the top of the seats are 17 ⅜" so they are good for average height people. If you are on the hunt for taller chairs, sadly, these ones won't cut it. 
Apart from this one little bummer, the chairs are a real bargain, thanks to the ultra-robust firmly welded metal frame and wooden seats. I especially love the luxe finish on the solid wood. 
It gives the chairs appear way costlier than they actually are. You might want to add a cushion on top of the seat to boost your comfort since sitting on hardwood for too long can hurt your butt. For such high-quality, assuredly durable chairs, the chairs are fairly priced quite fairly. 
Finding the Most Comfortable Dining Chair for Plus Size People – A Short Guide
As you can already see, there's no dearth of great dining chairs for big and heavy individuals. The only real challenge is to find a chair that feels comfortable, both to your body and wallet. 
In the guide below, I've outlined key aspects of heavy-duty dining chairs to steer you in the right direction- 
Weight Capacity
This is unarguably the first thing you need to check out while shopping for a heavy-duty dining chair. The frame of the chair should be able to support 400-500lbs of load at the very least. 
More robust models are rated for 600-800lbs while the more premium models can safely handle up to 1000lbs.
A typical dining chair can hold anywhere between 200-250lbs. If you are on the heavier side, you should avoid such chairs like plague. 
Choose a dining chair that can carry at least 50lbs more than your current body weight to be on the safe side. 
Backrest
It might not be apparent but the backrest of dining chairs has to support a significant percentage of your body weight as you lean back. 
Therefore, the load capacity of the chair's backrest matters just as much as that of the seat. While you're at it, also pay attention to the shape and height of the chair back. 
Too much curve on the chair backrest can hurt your shoulder blades. Look for a dining chair with a gentle curve to maximize your seating comfort. For dining chairs, in particular, the backrest height should be 20-22" above the seat with a slant of up to 5° to relieve pressure off your back. 
Padded Seat
Sitting on a non-padded dining chair for over 15 minutes takes away my ability to feel my butts. 
I'm sure most plus-size people will relate to this. The best heavy-duty dining chairs money can buy come with firm padding. Don't waste your time on chairs with soft, squishy cushions that dig into your skin. 
They are not meant to support heavy weight and are just plain uncomfortable. Ideally, the seat cushion should have the perfect balance of softness and fitness to elevate your seating comfort. 
Frame Material
Selecting the best dining chair frame material is another key to ensure long-term durability. After all, the quality of the material directly influences the weight capacity of a chair. Hardwood chairs would be a classic addition to your dining space and the material can infallibly withstand years of rough use. 
However, budget wooden chairs are often weaker around the joints, making them unsafe for overweight people. Chairs frames sculpted from 18 gauge steel can support up to 1000lbs. Solid metal legs hold up really well over time. 
To bottom line, if you like the look of wood, invest in a high-quality hardwood chair. Otherwise, direct your attention to chairs made of heavy gauge steel. 
Armrest or No Armrest
Armrests aren't essential for dining chairs since you can rest your elbows on the table. If the space between the armrests isn't wide enough for your build, you're going to feel terribly uncomfortable after a certain point. 
So, unless the space between the armrests is sufficient for you, pick a chair that doesn't have them. 
Closing Thoughts
That brings us to the end of this comprehensive guide to the best dining chairs for heavy person. I know how awkward it feels when you go to a party and are forced to sit on a flimsy chair that can make you the butt of jokes for the rest of the evening. 
It's only if you need heavier, plus size chairs to support your weight. You don't have to be skinny just to be able to sit comfortably while enjoying a nice meal with your friends and family. 
So go get yourself a great oversized dining chair that pairs up beautifully with your dining table and enjoy your meals the way they are meant to be enjoyed.