Are you looking for the best recliner for short person? 
Are recliners even made for short persons?
Yes, there are lots of recliners with low profile setting and smaller width that can support petite and shorter individuals.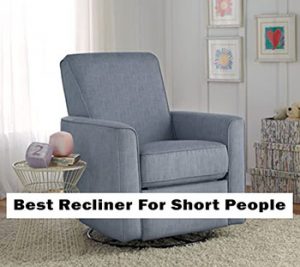 The amount of comfort you're going to get from these recliners are enormous! More often than not if you buy regular ones, you will find them to be too big and sluggish. You will feel like drowning in a big space.
But with these 10 recliners, you will feel at home, cozy and snug!
| Images | Height | Weight limit | |
| --- | --- | --- | --- |
| | 39" | 330 Ibs | |
| | 39" | 320 lbs | |
| | 38" | 225 lbs | |
| | 36.25" | 225 lbs+ | |
| | 40" | 350 lbs | |
| | 40.5" | 250 lbs | |
| | 40" | 300 lbs | |
| | 40" | 250 lbs | |
| | 40" | 250 lbs | |
| | 39.5" | 300 lbs | |
Before you head over to the full review, here's a quick overview of our top pick and budget pick.
Top Pick
The Ergoreal
is the best recliner we have for you! It's got everything from reclining to massage and heating. It operates through electricity and that makes it extremely easy to operate. Whether you are petite, short or buying for an elderly, this is a great choice.
Budget Pick
The Christopher Knight Recliner is our top budget pick. It looks more expensive than it's original price. The sleek design and wide footrests will make you love this stuff. If price is an issue go for this one! You won't regret it.
10 Best Recliner for Short Person With Short Legs 2021
1.ERGOREAL Electric Lift Recliner
Weight limit: 330 lbs
Height: 39-in
Can a small recliner have everything? Ergoreal is packed with practical functionalities that will make your idle time comfortable and enjoyable. For its compact size and dimension, it's regarded as one of the best recliners for short persons!
It has an infinite reclining capability and extends from 100-150 degrees along with the footrest. You can also get a footrest extender from the seller, if the current version isn't enough for you.
The fabric is water, dust and oil-proof. It feels comfy but doesn't sink in. The overall frame is mainly iron and as evident from the SGS testing that it's quite durable.
If you have been searching for a small recliner for an elderly, this is it. It's got vibration, massage and heating options that will soothe an elderly or even a young adult. Everything you need can be accessed using the remote control. On top of that the USB port and side pockets are additional user-friendly features that we loved most!
This recliner has wheels on it. Though it's common in the market, none has all the features together as this one has them. Highly recommended!
Pros:
Reclines infinitely with footrest for added support.

Equipped with massage and heating functions for soothing.

Effortless operation using a remote control panel.

Fabric holds its shape and doesn't sink in.

Fast and easy to assemble in just 15 minutes.
Cons:
Some users have shown concern over the remote to fail/malfunction after a period. It could be a one off case as there's not enough review to support this claim.
2.Mcombo Power Lift Recliner
Weight limit: 320 lbs
Height: 39-in
The Mcombo recliner is similar to Ergoreal we reviewed earlier. The only distinctive difference is the faux-leather upholstery that makes it look quite modern and stunning. It's arguably the best recliner for a short person in this top 10 list!
The backrest is just 24.4-in. You can't get any better or shorter dimension in the electric recliners category. The cool thing is there's a lifting mechanism that will help you stand up on the recliner effortlessly. Perfect for any short, petite and elderly persons!
The back doesn't recline to a flat position. But it's not a deal breaker as you can recline 140 degrees and that should be enough for most people watching TV or reading books. Because of the addition of heating and massaging features, we have rated this stuff higher than others.
Like Erogoreal, the Mcombo has a USB outlet and handy side pockets. You can control all the functionalities of the chair using the remote control panel. In terms of ease of use, we give 10/10.
The only addition we expected was a backup battery. If an elderly person was using this, it would be tough for him to get down when the electric power goes off.
Pros:
Shortened backrest and padded headrest for short people

High-quality faux leather looks classy and is easy to clean.

Massage and heat functionalities for extra soothing.

Electric powered lift up mechanism for effortless sitting.
Cons:
No battery backup when the electricity goes off (issue for only elderly).
3.

Dorel Living Slim Recliner
Weight limit: 225 lbs
Height: 38-in
Dorel Living is a great choice of recliner for short legs. The seat height is just 17.25-in and that should be well within the reach of most people within the 5-ft to 5.5-ft mark. The beige color just makes it look a little more irresistible!
It's a pushback recliner with a well padded footrest. Despite the manual mechanism, the reclining is quite smooth and noise-free. It does go back way far and that's the reason, you should set it up at least 14-in from the wall.
The tufted channel back cushion gives this sofa a bit of casual theme that blends well with the beige color. The seat and the arms are thickly padded, together with the tight area of sitting, you will feel snug! If you are a petite, you can relate for sure.
The assembling process is kept minimal and requires only screwing the legs and sliding the backrest on the seat. No tools required whatsoever!
The only thing that you might ever complain about is you need to put a little effort when pushing back the seat. And it's not a deal breaker by any means!
Pros:
Great outlook for casual decors.

Seat is specifically crafted for petite persons.

Seat and arms are thickly padded for comfort.

Effortless assembly takes few minutes.
Cons:
Requires a bit of force to recline the seat. Okay for most people but some might find it hard.
4.

Christopher Knight Home Recliner
Weight limit: over 225 lbs
Height: 36.25-in
Being short is not an issue if you manage to get your hands on the right kind of furniture! In fact, Christopher Club Chair is few of the best recliners for short persons. It has a low height with a snug seat that will make you feel cozy every time.
We give it a 10/10 on design and outlook. The piped edges and the smooth upholstery will change the atmosphere of your living room. The cushions are plush and it doesn't hurt your back by any means. The best part is it doesn't look like a traditional recliner!
You will have to push back in order to make the seat recline. That could be a little tiring but the good part is it reclines indefinitely without any fixed setting.
This recliner will take you just a couple of minutes to put together. If you think you are taller for this stuff, you can always change the legs with longer ones! It's a good point having screwable legs.
Among the few complaints, the significant ones were the push back option can take a bit of an effort and the seat is deeper than average recliners.
Pros:
Sleek and smooth design

It reclines continuously without a fixed setting.

Low profile is great for short people and small home.

Fast and easy to assemble.
Cons:
Need some effort to push back. Not a big issue for the average person.

The seat has a weird depth that may or may not be comfortable initially.
5.

Christopher Knight Home Samedi PU Recliner
Weight limit: 350 lbs
Height: 40-in
For the price, this particular recliner from Christopher Knight is the best bargain you can get. The sleek design and the white color makes it look more expensive than it really is. It's a must buy for the petite and short people!
The recliner basically works using the latch at the side. It doesn't take a lot of effort and takes you to almost a horizontal position. If you are one of those who love to fall asleep on your couch, this is it.
The entire structure is mainly wood. The outer PU leather has a premium look to it and it also feels comfortable on your skin. Nothing more you would want from stuff at this price point.
As you recline, the footrest also comes up. It isn't the widest of the footrests, nor the most heavily padded, but it does the job! Some users were skeptical about it as you will have to exert a considerable force to put it down.
Pros:
Two piece assembly takes less than 15 minutes.

The PU leather in white color blends into any modern decor.

Has a small footprint that makes it suitable for small homes.
Cons:
Can be a little difficult to put back the footrest in place.
6.

Christopher Knight Home Walter Recliner
Weight limit: 250 lbs
Height: 40.5-in
There's a reason we have three Christopher Knight recliners on this list. You can imagine how good these recliners are! This particular version has a tufted diamond design, contemporary armrests and a light beige color that stands out from the rest of the others.
Along with the reclining capability, there's a footrest that pops out to give you more support. The seat depth isn't too much to make you uncomfortable and the high back seat is at a perfect height to match a petite/small user's body. In that sense, it's the best recliner for small persons.
The seat has sufficient padding to make you feel at home. It's more on the softer side than stiff. For many this could be a deal breaker for buying the recliner instantly.

If you are not the only one to use this stuff, keep in mind, it won't hold too good against heavy weight and height in excess of 6-ft. For users at 5 to 5.5-in, this is more than perfect!
Pros:
A double footrest for more support and comfort.

Screwable birch wood legs that stabilizes the chair.

Cushions have soft and satisfying padding.

Refreshing color and design theme.
Cons:
Not suitable for heavy or taller individuals.
7.

La-Z-Boy Anderson Rocking Recliner
Weight limit: 300 lbs
Height: 40-in
The La-Z-Boy could be the best recliner for a petite person. It has a wide back (wide enough for petite) and the height of the back will support your back and neck perfectly. Plus, it has a rocker motion to compliment the reclining function!
The significant difference of this recliner from others is that the footrest operates independently of the reclining back. This gives you more room to adjust the footrest based on the level which makes you most comfortable.
The entire fabric is polyester and the inner fiber has a lot of give that makes it retain its shape longer. The seats are comfortable and don't make you sink in them. The rocker functionality works back and forth. It's good enough to soothe you.
The only issue we could find is it makes an annoying noise everytime you release the footrest. You can solve this in two ways. If you assist the handle while lowering the footrest, the noise will lessen. And, you can also put it on a carpet.
Pros:
Independent footrest that has 3 locking positions.

Equipped with rocking back and forth ability.

100% polyester looks and feels great.

Perfectly sized for petite individuals.
Cons:
The footrest makes a clunk noise when you lower it.
8.

ACME Arcadia Chocolate Microfiber Recliner
Weight limit: 250 lbs
Height: 40-in
If you wanted an inexpensive recliner that will do the job, Acme Arcadia could be the best option you have! Inside the huge armrests, the sitting area is snug. For petite and small individuals that should be comfortable enough.
You can use the side knob to access the recliner and the pull lever for the footrest. It doesn't recline all the way back, but good enough to make you feel at home and relaxed.
The couch is entirely made from hardwood and the top fabric is microfiber. You can imagine why the price is low and that's completely okay for most people. The large arms cushions are our most favorite as it allows you to rest your hands comfortably.
The issue which most users were concerned about was lowering the seat took some effort. Hopefully, you could adjust to it in a couple of days!
Pros:
Large armrests for comfortable sitting.

Low profile setting for shorter individuals.

Microfiber upholstery is stain-resistant.

Large footrest is good for long periods of relaxation.
Cons:
Takes some effort to move the back.

The seat is more on the stiffer side as the cushioning is thin.
9.

Lane Home Furnishings Recliner
Weight limit: 250 lbs
Height: 40-in
The Lane Home Recliner is quite similar to the Christopher Knight Home Walter! It has the same curvy arms with a much shorter back seat. In fact, the rich velvety fabric looks and feels even better.
The reclining mechanism doesn't go all the way back. But it has three different positions to recline. While sleeping on it is not suitable, you can relax on it for a few hours after a hard day's work.
The material of the chair is soft and offers a lot of support for the back. The seat is deep enough to feel cozy. The footrest is effective but it could have had a bit more padding. No complaints though for the price you pay.
To access the reclining function, you need to push back hard. For weaker individuals, it could be a little tough but not impossible.
Pros:
Velvety textured fabric is soft and comfortable on the skin.

Low profile design makes it the perfect recliner for short adults.

Welted roll arm is unique and visually pleasing.
Cons:
Needs some effort to recline.

The footrest padding is thin.
10.

ProLounger Wall Hugger Recliner
Weight limit: 300 lbs
Height: 39.5-in
Prolounger is the best wall hugger recliner available for short individuals. Set it up just 4-in away from the wall and you save plenty of space at your home!
Constructed with laminated hardwood, the entire stuff is filled with high density foam. The seat feels extremely comfortable as the coil spring system offers a lot of support. The top fabric is a khaki polyester microfiber that gives the final touch.
The whole thing takes just 15 minutes to put together. It comes in two pieces that makes assembling a breeze. For reclining, you will have to use the release latch on the right side of the couch.
The only issue we found was making the seat upright took more leg strength. Other than that, it looks like a great deal.
Pros:
Wall hugger design saves space.

High density foam and coil spring system offers lot of support.

Sturdy hardwood construction.

Polyester microfiber is strain resistant and easy to clean.
Cons:
Needs more strength to make the seat upright from the reclining position.
Things to Consider Before Buying a Recliner For Short & Petite Person
Comfort is equally important for all. That's why it's necessary to buy a recliner appropriate in size. A short and petite person cannot enjoy his leisure leaning on a recliner that comes in a bigger size than them. 
So, here's what you need to look for when choosing a suitable recliner for a short and petite person. 
1. Height and Width
The first and foremost factor to consider is the height and width of a recliner. In most cases, it is not mentioned whether a recliner is suitable for short people or taller people. 
So, you need to check it manually. If your height is 5 feet or so, then you better choose a recliner that is 36"-42". Recliners with more height will have its headrest higher which won't accommodate you perfectly. 
Similarly, choose the width according to your size. If you are a petite person then you cannot rest your hands on the arm rest while sitting in a bulky recliner chair. 
2. Weight Capacity
There are many perks of being a short and petite person. Not bothering about a higher weight capacity for a recliner is definitely one of them. However, you need to make sure that the construction of the recliner is strong enough to hold you securely. Most of the recliners here are over 225 lbs and up to 330 lbs.
3. Reclining Mechanism
Consider the type of reclining a recliner offers. These gliding chairs offer a 3 position, 4 position, and up to 6 position reclining.
But the best ones are those which have infinite reclining positions. It means you can recline it anywhere between 90° and 150° angle. Some even recline up to 180° angle, to a flat lying position.
4. Material Quality and Comfort 
Before buying a comfy recliner for yourself go through the material of the cushion and padding. Cushion cover materials include faux leather, upholstered fabric, and genuine leather. 
People have different choices for their comfort and also by means of durability as well. So, choose what suits you best. 
5. Other Features
Recliners come with a lot of other features. For example, some come with an easy-to-operate remote control, so that you don't need to bother finding the buttons on the side and press it. 
Other features include side pockets, unique designs, etc. Some recliners come with a backrest pillow for your comfort. While choosing yours, consider these features as well.
Final Words
It's not tough after all finding the best recliners for short persons! Isn't it? You can always get a regular recliner but we are sure it can never offer you the comfort that these recliners would offer. There's not much size difference between each of these recliners. Depending on the design and functionality, your purchase will vary. Hope it's a purchase well worth your money!
You May Also Like:
Quality Office Chair For Short & Petite Person
Recliners for Elderly & Seniors