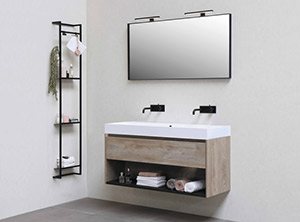 Interesting query, I must say. As someone who recently remodelled her master bathroom on a budget (and nailed it!), I believe my inputs would be of some value to you. 
Some people say the kitchen is the most important part of a home. To me, it's my bathroom where I self-reflect over absurdly long hot showers. 
I wouldn't mind doing that sitting in a bathtub that costs more than my entire house. But alas! My heart keeps wanting stuff my pocket can't afford. So I get creative, like I did while redoing my bathroom. 
I curated bathroom decoration ideas by top interior designs from the various corners of the internet. Some of them are worth their weight in gold. 
When executed properly, they definitely do help you create the impression of a hella expensive loo or powder room at a hella cheap cost. 
Without further ado, let's get to the point:
Click a link below to jump to the relevant section
1.White Is Right
White screams luxury and elegance, that's why the dining table clothes and bedsheets in high-end restaurants and hotels are always white. 
Revamp your dull, vanilla bathroom by repainting the walls white. Complement the look with a white sink and matching cabinets if you are going for a renovation. 
If all-white isn't exactly up to your liking, you can either jazz it up with neutral shades or add a pop of color with a dark but soothing shade like turquoise. 
2.Wood Accents
Wood is one of the most versatile decorative materials to have ever existed. It both lends a touch of modern influence and an air of rustic charm to the bathroom.
No matter how you use it, wooden vanity, cabinet, flooring pair effortlessly and with monochromatic bathrooms. If floor space is at a premium, you can also opt for sleek, contemporary, spacing- saving designs such as wooden wall-mounted or floating vanity.
If you don't want to splurge on a vanity or redo the flooring right away, fret not. There are less expensive ways to add a flair to your bathroom using woods. Think an accent wooden wall for that ski lodge or luxury resort-style bathroom. 
Transform your plain-looking mirror into a statement-making piece with a wooden frame that fits like a glove. 
Chic wooden shelves for magazines, planters, tissues, and other miscellaneous objects help to minimize the clutter and make your bathroom space look fresh, warm, and well thought out. 
3.Graphic Tile
Spruce up the look of your bathroom floor with striking graphic tiles. Geometric pattern tiles also have the same effect. You don't necessarily have to redo the entire bathroom with tiles. 
For that extra definition and oomph, upgrade the backsplash with the similar tile design used for the floor and you've got yourself a winner. 
4.Touch of Technology
Bathroom exhaust fans don't really get the hype they deserve. No matter how stunning your bathroom looks, if it smells like poo all the time, what's really the point of so much effort? 
Modern bathroom exhaust fans, like the ones equipped with Bluetooth speakers or dazzling LED lights are both awesomely functional and decorative. 
These things don't cost a bomb but they certainly create the impression of an expensive bathroom where people can take long, hit showers over Jazz music, whenever they fancy. 
The right model can make the most ordinarily kept bathroom look luxurious and extremely well-maintained. As a bonus, it will leave your bathroom smelling fresh all the time. 
5.Glass Bottles
How you choose to decorate your vanity can leave a lasting impact. Ugly plastic bottles have no place on a luxe bathroom vanity. 
Transferring all your drugstore essentials such as shampoo, conditioner, body wash and lotion into classy glass bottles is a sneaky little trick hotels use to make the bathroom look upmarket.
You can further dial up the poshness by swapping your plastic or metal soap tray with a stone pebbles soap dish. 
Apart from adding immense cosmetic value, it will also prevent your soap from becoming a goopy mess by allowing it to drain easily.  
6.Flattering Lights
Strategically placed lights alone can make a tremendous amount of difference to how your bathroom looks. Dark metal hanging pendant lights make a style statement like no other. 
Alternatively, you can play a little subtle and deck up your small bathroom ceiling with an LED daylight panel. It's perfect for bathrooms that don't get a lot of natural light. 
However, while ceiling lights do conjure up the illusion of a grander space, it also creates shadows which is not ideal for tasks like shaving or putting on makeup. 
To counter this problem, consider placing vertical scones or vanity lights on both sides of your mirror. It will give you the illumination you need for all the multitasking. 
This sort of lighting has been used by interior design experts for a long time to create a lavish atmosphere. 
7.Liven up with Indoor Plants 
Incorporating the elements of outdoor scenery in the bathroom setting is another tried and tested method that never misses the mark. 
There are lots of plants such as peace lily, spider plant, aloe vera, Boston fern which thrive healthily in the bathroom. 
Put them in wall planters made of porcelain or wood and enjoy the fresh, exuberant spa-like atmosphere, minus the staggering cost.  
8.Brass Accents
Brass bathroom fixtures have been synonymous to luxury since time immemorial. Changing the knobs on the door and vanity with brass knobs, adding brass wall sconce, upgrading the big mirror with a brass frame would help you create a luxurious oasis without breaking the bank. 
If budget isn't a concern for you, I'd suggest getting a vanity with brass frame, oil rubbed bronze brass faucet to act as a focal point of the bathroom. Black porcelain tiles with brass inlays bridges the gap between modern and traditional. 
Although retiling the entire wall will be expensive, it's totally worth it if your sole aim is to create the most exquisite bathroom one can imagine. 
9.Towel Story
For starters, always keep a bunch of clean and dry towels rolled up in the cabinet. If you already have hangers, swap your regular towels with plus graphic printed or embossed bath towels for a more refined look
Conclusion
Nothing is impossible if you know how to get creative with whatever resources you have. Being expensive and looking expensive can be mutually exclusive. 
As long as you do your research well, you will find plenty of bathroom accessories that look plush but don't cost the earth. Finally, it all boils down to execution. 
Every bathroom layout is different. What may work wonders for small washrooms won't have the same effect on a huge master bathroom. 
So take your time, picture how you want your bathroom space to look like, and plan accordingly. Good luck!