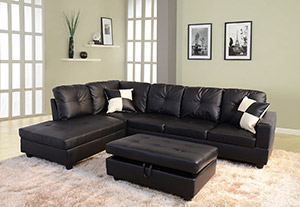 Sectional sofas can be a great focal point for living rooms, irrespective of the size. Its spacious, lounge-like design is very inviting. 
So if you are planning on creating a nice and cozy space to stir up conversations and have a good time with your friends and family, a sectional sofa would be the way to go. 
These opulent pieces of furniture are also extremely practical as well-spaced design maximizes the seating area without appearing too extravagant. 
Sectionals have been around for ages and have recently made a comeback with a bang. One of the best things about modern sectional sofas is that they can be assembled in different configurations to seamlessly adapt to different living room settings. 
In this article, I am going to highlight some of the trendiest and highly practical layout ideas to help you find the best living room arrangement style to map onto your interiors. 
Click a link below to jump to the relevant section
1.The Lounge Layout
L-shaped and U-shaped sectionals can be creatively used to create a cozy lounge setting for your friends and family. Ideally, the couch should be facing the TV, fireplace, or even better, by the window to receive a lot of natural light which would totally set a calm and serene atmosphere. 
This layout creates the impression of a room within a room which helps moderate living rooms appear more opulent and well-organized. 
2.L-shaped Layout
The L-shaped layout is a classic living room decoration technique, admired and profusely used by many for maximizing the seating space in small rooms without taking up too much space. 
If your apartment's door is too small to fit a traditional L-shaped sectional, you can get two regular couches and group them together to form a right angle right in the middle of the room. 
Alternatively, you can go for a sectional that can be divided into two separate pieces. A lot of L-shaped couches comprise a sofa and a chaise or loveseat. If you are getting just one sectional, you push it to the farthest corner of the room, against an accent wall or pillar. 
This sort of layout is ideal for creating a casual seating space for a group of friends or family. A plush L-shaped sleeper sofa can also double up as a temporary bed for a guest or two. However, if you are looking to create a formal seating arrangement for meetings or conferences, skip the L-shaped layout. 
3.The Conversation Ring Layout
For a more formal seating area to accommodate guests who will be wearing formal attire, pair the sectional up with lots of different types of chairs and a chic coffee table to outline the conversation zone in the living room. 
Adding extra chairs will not only expand the seating area but also draw the focus away from a distracting element like the TV or fireplace. 
If you wish to lighten up the setting a bit, position the sofa by the window, in a way that it blocks all the visual lines, creating a cozy, well-lit, and perfectly formal seating arrangement for office meetings.
4.Bookcase behind Sectional
Adding an aesthetic bookcase or bookshelf behind the sectional is a great way to organize your living room. An accent bookcase can provide an extra layer of visual depth. 
You can also top the bookcase with beautiful lamps or art pieces to add more flair to our seating zone. Also, a pair of leather ottoman in front of the couch can beautifully round off the setup. 
5.U-shape Layout
U-shape sectional sofas usually come with 3 pieces and are known for their remarkably plush designs and extra wide chaise. This kind of sofas are usually quite large and bulky, making them more suitable for large living rooms. 
Standard U-shaped couches can accommodate a large number of people, making them perfect for large families and homeowners who love to throw parties. The 90-degree angle formed by U-shaped sectionals provide a perfect viewing angle of the TV to every occupant, making movie nights with family a lot more fun. 
6.The Partition Layout
Creating partitions in an open-concept house or studio apartment can be challenging but it's the key to creating a cozy, comfortable seating zone that's not a part of your kitchen or another. 
Instead of pushing your sectional against the wall, keep it floating in the middle of the living room to outline a clear division between the seating space and the adjacent room. 
If you are not willing to spend more than a grand on the couch, you can find lots of attractive sectionals under 1000 here. 
7.Yin Yang Layout
Suitable for all sizes of living rooms, the Yin Yang layout requires you to place two sectionals in opposite directions a few inches apart to create an open walkaway in between. 
It's cozy enough to hang out with friends over a bag of chips and dip. And at the same time, it keeps the traffic flow smoothly when you are hosting a big crowd. 
8.The Open Layout
Keeping the open side of your sectional facing the entry point of the room simply looks more welcoming. It's a great layout idea for high traffic spaces as it will allow people to reach for their seats more easily. 
Round off the look with a sleek accent table. Keep magazines, a glass bowl filled with marble or a decorative plant, or a small lamp to further elevate the aesthetics. 
9.Circular Layout
Positioning the sectional around the focal point of the room, be it a TV or fireplace, is the most traditional way to decorate a living room. Forming a circle with a curved or crescent sofa would create a fun hang-out spot for your friends and family reunions.
It will allow enough seating space and lounging comfort for a large group of guests who want to watch a movie together, or grab some drinks and engage into heated political debates. 
10.The Seating Island
Using the sectional to conjure up a seating island is a highly useful concept for open floor areas that need some sort of division without affecting the free flow of the space. 
By choosing a sectional comprising outward-facing seat, you're allowing creating a very inviting atmosphere and at the same time, freeing up a lot of room for others to walk around. 
Conclusion
Sectional sofas are highly versatile and can transform any place into an elegant lounge spot or a cozy conversation zone for intimate groups, depending on where and how you choose to arrange them. 
The size of your room, the kind of atmosphere you want to create, and of course, your budget are the three most important factors to take into account while arranging your living room seating. Hope this guide helps. Be creative and don't be afraid for experiments.