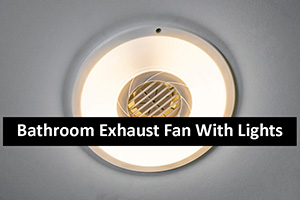 Traditional exhaust fans suck, especially if you are installing them in bathrooms!
Some exhaust fans come with lights and in fact after installation, you won't realize that it's actually an exhaust fan. What you get is a clean and discreet fan that can add aesthetic value to your bathroom decor.
So, our hunt for the best bathroom exhaust fan with light began from searching and filtering more than 50 models. We were focused on units that came under $150, quieter in operation and can suck out moisture better.
Looks like these 10 bathroom fans have what you desire. You are just one step away from getting it into your home!
10 Best bathroom exhaust fan with light 2021
1.Delta BreezGreenBuilder Exhaust Bath Fan
Air delivery rate: 80 CFM
Noise level: 0.8 sones
The Delta BreezGreenbuilder should be your #1 choice of the best bathroom exhaust fan with a light fixture. Combined with an affordable price range and durable motor, you are looking at a deal that can serve you for many years.
As soon as you turn on the unit, you'll notice it will take a few seconds to get started. It's the DC brushless motor that slowly takes off and that's the reason this exhaust fan will undergo lesser wear and tears than other models. Moreover, its galvanized steel construction will prevent corrosion— hard to find feature in this category.
Delta doesn't have a large light fixture. But together with a secondary light source, it will do the job. It comes with a 2700K LED light, which gives a bit of warmer color. Some might prefer a more neutral color, but that's totally up to you.
If you are a fan of keeping your fan on timer, you can install a timer switch. The Leviton LTB60-1LZ and Woods 59007 are the most compatible timer switches for this Delta exhaust fan. Moreover, with a GFCI protected circuit, you can install it in a shower ceiling.
As for noise, 0.8 sones is rather quiet. It will become inaudible as soon as you turn on the shower or any other water taps. If that's good enough for you, then go for it. While you can do the installation yourself, the instructions aren't super helpful. You'll need to do a few things more than what is provided.
2.

Hunter 83002 Ventilation Sona Bathroom Exhaust Fan
Air delivery rate: 110 CFM
Noise level: 3.0 sones
What Hunter offers is a kind of concealed exhaust fan with an outlook of a bathroom light. Those who are more concerned about keeping your bathroom decor neat, this might be your top choice.
Despite having the looks of a decorative light, this fan can move air at 110 CFM. That's good enough for 100-120 sq ft of bathroom space. It's seemingly louder than other models we reviewed, but you can live with that, period.
This bathroom exhaust fan comes with a night light installation option. So, the late night trips to the bathroom will be a lot easier on the eyes. For the primary light, you can use a 6-watt bulb and for the night light a 7-watt bulb is recommended. Some users have criticized the frosted coating on the light as it creates diffusion. So, you'll have to use another light source, if you are planning on doing makeup inside the bathroom.
The fan does a great job in removing moisture from the walls and the mirror and it's visible within a few minutes. To get the best performance, make sure that all the holes and cracks are sealed.
The only thing that could have been added was a strain relief. A strain relief will keep your wires from fraying and you'll need to invest a few dollars extra to complete the installation. You might as well do without it, but for long term durability, don't skip it.
3.

Broan-NuTone HD80L Heavy Duty Ventilation Fan
Air delivery rate: 80 CFM
Noise level: 3.5 sones
For those of you looking for a more budget-friendly bathroom exhaust fan, the Broan-Nutone HD80L is your best option. It should be good enough for a small bathroom and performance-wise it's as good as the price you, if not better.
There isn't much to talk about in terms of design. It has an average profile, but most importantly, it'll get the job done! You can use a 100-watt incandescent bulb and also add a dimmer for controlling the intensity.
At 3.5 sones, the unit is on the louder side. But when you are taking a bath, this shouldn't be much of an issue. Consider it's the trade-off between the price you pay and what you get.
It won't be much difficult to install the unit. It comes with key-holed mounting brackets and polymeric duct connectors to make the process easier.
4.

Tosca 7117-02-BN Bathroom Fan 
Air delivery rate: 80 CFM
Noise level: 1.1 sones
If you have been searching for modern bathroom exhaust fans with LED lights, you'll love this model from Tosca! It will give you that contemporary look that most brands don't offer. The best part is the price you won't have to pay a premium price for this aesthetic design.
We loved how quiet the unit was. It's hardly noticeable during the day when the home is a lot noisier. Being a 80 CFM exhaust fan, you would expect it to cover a small bathroom within 80 sq ft.
The light fixture emits 4000K light. So, it's close to white light and will keep your bathroom illuminated making it look clean always. And..yes, it's compatible with a dimmer and you can control the intensity from 1%-100%.
You can expect Tosca to last quite a long time. Because of its galvanized steel construction, it will be free from corrosion. Moreover, if you install a GFCI circuit, it can also be installed above a shower/bath.
5.

Broan-NuTone 744 Bath Fan
Air delivery rate: 70 CFM
Noise level: 1.5 sones
Not all the best bathroom exhaust fans that include lights look the same! This particular Broan Nutone exhaust fan resembles a recessed light. So, the minimalist look will add a sense of elegance to your bathroom decor.
If you have used recessed lights before, you might already have a hole in the ceiling. As the trim of this fan matches that of major recessed light manufacturers, your installation time will decrease. There's also wiring options to control the fan and light independently. For the light, you can use any R-30 or BR30 75-watt bulb.
Keep in mind, this unit isn't rust proof. So long you are using the exhaust fan on a regular basis and keep it running for an additional 15 minutes after every shower, there won't be any issues of rust.
The 1.5 sones sound level is bearable. If you follow the instructions from the manual perfectly you will have no issues. Many people who avoided the instructions were left with two metal slides that vibrate against one another and increase the noise level to some extent.
6.

Panasonic FV-0811VFL5E Ventilation Fan 
Air delivery rate: 80+110 CFM
Noise level: 0.3 sones
If you have a budget in the $150-$200 range, you can get your hands on the best bathroom exhaust fan with light from Panasonic. The Panasonic brand itself is self-explanatory of how well it's going to perform. In short, it's a reliable and durable product well worth the money.
With some careful observation, you will find that there's no crappy material used in this exhaust fan. It's a bit on the heavier side and has a centrifugal fan unlike other cheap brands that use blade fans. From the bearings to interior connectors everything is made from high grade materials. For a small home, you might need such a high quality exhaust fan. But if you have a high end home and you seek durability, go for it.
One of the best things about this fan is you have two airflow options- 80 and 110 CFM. So, depending on the size of your bathroom or the amount of steam and moisture, you can use either of them.
The light fixture is bright enough for a 100-120 sq ft bathroom. It does have a slight yellow tint to it, but not much contrasting to look odd. The only complaint we have is that the rated 0.3 sones doesn't sound as quiet as it should be. But it's still quieter than a lot of similar fans at this price range.
7.

Broan-Nutone 8664RP Exhaust Fan
Air delivery rate: 100 CFM
Noise level: 5.0 sones
With the Broan-Nutone 8664RP, you can clear off moisture and steam from a 100 sq ft bathroom unit. It will provide stellar performance and will add elegance to your bathroom decor.
What we loved most about this exhaust fan is its unique round white grille design combined with frosted lens. This design also allows you to install the fan in almost any ceiling locations and still keep it discreet.
The only area that needed improvement was the noise level. We aren't really fans of exhaust fans that make over 4 sones of noise. But it's how it is. In our experience, anything rated below 6 sones doesn't really bother you if the shower is on.
8.

Air King DRLC702 Round Bath Fan
Air delivery rate: 70 CFM
Noise level: 4.0 sones
The Air King is yet another budget exhaust fan that can add aesthetic value to your current bathroom. At 70 CFM, it's intended to be used in smaller bathrooms and that's the reason you shouldn't spend more than what the Air King costs.
The dome shape light and the stylish grill is a beautiful arrangement. Moreover, the shape and finish of the glass light lens evenly distributes light. There's a good chance you might not need a secondary light source. You will need two 60-watt A19 medium base bulbs to use the light function.
Now about the noise, it's certainly louder. But with a 4" duct installation, it should be quieter than other exhaust fans at similar noise level. You have to accept that considering the price range. There are few reports of the unit rusting at some point. So, you can coat it with polyurethane spray before installing.
9.

Homewerks 7141-110 Bathroom Fan
Air delivery rate: 110 CFM
Noise level: 2.0 sones
Homewerks might not be a popular brand, but it sure makes a comparably better bathroom exhaust fan and light combo. The performance is satisfying and can even outrank some of the other models we reviewed earlier.
This exhaust fan can serve a bathroom with 100-120 sq ft space. The LED light illuminates 4000K cool white light and is bright enough to cover your space. It is dimmable and with a good dimmer switch, you can control the intensity of the lighting.
We were surprised to find that this exhaust has a galvanized steel construction. So, you won't have to worry about corrosion. The noise is bearable and certainly not that loud to make you feel bothered. The issue we found was the instructions weren't clear and you will have to use some DIY skills or get an expert to do the job!
10.

KAZE APPLIANCE Ultra Quiet Bathroom Exhaust Fan 
Air delivery rate: 110 CFM
Noise level: 0.9 sones
Kaze Appliance is in the medium price range, but the value you get from it is pretty much premium. Right from construction to noise level, everything is top-notch and desirable in this category of products.

The motor inside is of high quality. It's permanently lubricated so that the fan can run without trouble and due to its operation in lower temperature, the unit has a higher durability. Moreover, the galvanized steel housing prevents rust from building out. You are looking at features not even premium brands provide.

There's an option for both primary light and a night light. The 11 watt LED light has a 2700K color temperature. It's neutral and gives you a natural feel. However, the light isn't bright enough and you will need to add a secondary light source to illuminate the bathroom completely.

We are definitely impressed with the noise level of this Kaze bathroom fan. It's a quieter bathroom exhaust fan with light compared to others we reviewed. The 0.9 will feel like 0.3 sones if you use the 6" duct adapter provided with the package. Recommended!
Conclusion & Editor's Choice
It's time to pick the best bathroom exhaust fan with light that's worth buying! While there are a lot of top contenders including Tosca, Panasonic & Kaze Appliance, we think Delta BreezeGreenBuilder is a better choice in terms of price, design and the quality of the motor.
The Delta runs quiet and the motor is designed in a way to last longer than others. Overall, there's hardly any area of concern if you are buying this bathroom fan and light combo.
Make sure to install properly whatever model you are going to get. Poor installation can often result in below par performance. If you think your DIY skills aren't enough for the job, consult an expert.
Related Post:
Battery Backup for Existing Sump Pump