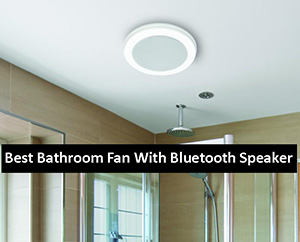 Who cares if the bathroom exhaust fan has a Bluetooth speaker or not?
Apparently, some do care! Like you and us!
Having a speaker with an exhaust fan especially in a bathroom can totally change the environment and make the dull showers lively.
That's the whole idea right? And.. you don't have to bring in your smartphone or other devices into the shower only to increase the risk of dropping or soaking them wet.
These are the best bathroom exhaust fans with bluetooth speakers just a few clicks away from your home!
Which bathroom exhaust fan with Bluetooth speaker should I buy?
So, we've got 5 options here! You can choose any one of them for making your showers more interesting and lively.
But more precisely speaking, your best option is Broan Nutone and it has a better audio production compared to the others in this list. The sound doesn't distort that much and most of the time you will get crisp and clear audio.
And… BTW Broan Nutone also happens to be our Editor's Choice for its overall value+performance vs. money! 
One of the first things to consider when buying any exhaust fan is the CFM. So, if you have a large bathroom space in the 100-120 sq ft range, units with 110 CFM are perfect for you. In that case, Broan Nutone and Delta Electronics are the ones you should be targeting.
For smaller bathrooms, we suggest going for the Delta BreezIntegrity. Its airflow rate is 70 CFM and can cover spaces of 65-70 sq ft. The good thing is it's affordable and the added music system really makes this a winner!
You can also buy exhaust fans based on the level of noise. However, anything in the 1-1.5 range is still quiet and nothing much to make a difference.
Some models are more durable and require less maintenance. You can look at features like for galvanized steel construction and brushless motors. The Delta Electronics has a brushless motor and HomeWerks has a galvanized steel body. Both are built to last.
For those of you looking for an all-inclusive exhaust fan with both light and speaker, Home Netwerks is your best bet. You will love the performance and the value it adds to your bathroom.
5 Best Bathroom Exhaust Fan With Bluetooth Speaker 2021
Click a link below to jump to the relevant section
1.

Broan Nutone SPK110 Sensonic Bathroom Exhaust Fan
Airflow rate: 110 CFM
Noise level: 1.0 sones
The Broan Nutone is one of the best bathroom exhaust fan with a better bluetooth speaker compared to some of the others in this list. Its High-fidelity speakers create superb music that will keep you entertained during your short stay in the bathroom!
For a 100-110 sq ft bathroom space, the power of the fan and that of the speakers are more than adequate. At 1.0 sones, it's definitely quiet and with the music on, you can hardly ever hear the fan running.
We wouldn't say the quality of the speaker's sound is top of the sky. You are not buying a soundbar here! At low to mid range volume, the sound doesn't distort. It feels crisp and clear. For listening to podcasts and usual music, this is good enough. However, at max volume, the sound can distort a bit.
The white polymeric grille cover looks elegant and can enrich the existing decor of the bathroom. For those of you who love music and needs the moist and humid air out of the bathroom, this combo product should be on your wishlist!
2.

DELTA BreezIntegrity Exhaust Bath Fan 
Airflow rate: 70 CFM
Noise level: 1.0 sones
The Delta BreezeIntegrity with a 3.0 bluetooth speaker is a strong contender for an exhaust fan that will add spice to your boring showers! The audio is perfectly audible and the Bluetooth doesn't have any glitches.
Like the previous model, this exhaust fan is quiet and satisfying. The best part is you can wire the speaker and the fan separately which isn't possible with the Broan Nutone. This gives you the freedom to listen to music without turning the fan on (useful when you are just doing makeover or getting dressed up).
The bluetooth speaker is compatible with most bluetooth supported devices whether it's your smartphone, laptop or tablet. If you have an Amazon Echo, you can use it in place of the original speaker. The plug provided is standard and so you can use other speakers as well. Certainly, it's a deal maker!!
The quality of the speaker isn't bad after all. It's nothing extraordinary, but does its job perfectly i.e producing music from the device! If you are intrigued by the idea of taking a shower and listening to your favorite songs or motivational quotes, this is the one for you!
3.

Delta Electronics Exhaust Fan
Airflow rate: 110 CFM
Noise level: 1.0 Sone
When it comes to durability and reliable performance, the Delta electronics is unbeatable! The combination of brushless motor & water-resistant speaker makes it one of the best bathroom exhaust fans with a Bluetooth speaker.
The fan's performance is adequate as it can clear out odors and steams in a few minutes. What intrigued us is the brushless motor that ensures a 70,000 hour runtime at minimum.  Moreover, the fan runs quiet and doesn't bother you!
The bluetooth speaker is powerful and the sound is loud enough to be heard even outside the bathroom. It has a good range and can stay connected to devices as much as 32-ft away. Its water resistant capability is suitable to use under the shower if installed in a GFCI protected circuit.
Some users have complained about the chime noise when you start the unit. However, you can avoid this if you wire the fan and the speaker separately. In that case, let the speaker turn on always and avoid the annoying chime noise.
Unlike the BreezeIntegrity you really can't connect an Amazon Echo Dot in place of the original speaker as the power cord doesn't match. Despite that, This Delta Electronics exhaust fan looks like a worthy purchase!
4.

HOMEWERKS WORLDWIDE 7130-03-BT Bathroom Fan 
Airflow rate: 90 CFM
Noise level: 1.5 sones
Homewerks worldwide is quite similar to the Delta Electronics exhaust fan in performance! However it has a better construction and outer design. So, it's definitely a great alternative.
This exhaust fan is made from galvanized steel that can resist corrosion. Depending on your usage, it can last a couple of years without any real maintenance. Moreover, the bluetooth speaker is moisture resistant and won't lose its functionality despite the considerable steam emitted from bathrooms.
The speaker is damn loud and produces clear music. Considering a bluetooth speaker is just a bonus feature added to exhaust fans, the quality is satisfactory. As for the beeping sound at the starting of the unit, it's not that loud and is bearable. So, you can get away without having to wire the fan and speaker separately.
This particular model doesn't have a light on it. You can check out the Homewerks light, fan and speaker combo, if you want everything together.
5.

Home Netwerks

Bathroom Exhaust Fan
Airflow rate: 80 CFM
Noise level: 1.5 sones
The Home Netwerks is the king of all exhaust fans in this list. With a fan, light and speaker, you really can't ask for more! The unit has a good build quality and might be worth the money as you won't have to spend extra money on buying these stuff individually.
The included LED is more of a cool white white and looks way better than some of the other lights with a warm tone. It will take a few seconds to turn on and some users are annoyed with this. However, it's not a big deal.
As for the fan itself, it does what it's supposed to do— clear steam and odour efficiently. The galvanized steel body adds in durability and low level of maintenance as rusting issues will be limited.
The bluetooth speaker is compatible with a wide range of bluetooth enabled devices and can stay connected up to 30-ft away. The sound is nothing outrageous, but is loud enough to hear it from other rooms. So, it serves the purpose quite well. In short, it's the best bluetooth bathroom fan with an LED light!
Final Words…
Hope this guide to the best bathroom exhaust fan with bluetooth speakers does help you. No matter what model you choose, 1 thing is sure. You're going to change the entire mood and feel of your bathroom. So, those late night or early morning showers will always feel great