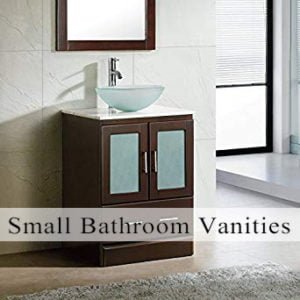 Remodeling a small bathroom can be challenging. It is very easy to go overboard and end up with a cluttered, untidy bathroom space. Buying a sleek, slim and contemporary vanity would be a great way to solve the space crunch. 
Vanities are more compact than standard cabinets and come with stylish sinks and faucets too. Vanities don't just look classy. They are extremely functional, versatile and practical as well. Apart from keeping your toiletries organized, it also helps you hide the exposed plumbing work. 
However, the burning question is how to find the best vanity for small bathrooms? How to ensure high quality without spending a fortune? What are the essential aspects to consider while purchasing?
By the end of this article, hopefully, you will get the answers to all these questions. But before I get to that part, read my detailed analysis of the top 10 best small bathroom vanities of the current times.
| Images | Products Name | |
| --- | --- | --- |
| | Simpli Home Bath Vanity | |
| | Eclife 24" Modern Bathroom Vanity  | |
| | Eclife 18.4'' Bathroom Vanity | |
| | QIERAO Bathroom Vanity | |
| | BATHJOY 24" White Bathroom Wood Vanity | |
| | Renovators Bathroom Vanity | |
| | Fresca Bathroom Vanity | |
| | Legion Furniture Sink Vanity | |
| | Eclife 14 Bathroom Vanity | |
| | Fresca Corner Bathroom Vanity | |
10 Best Small Bathrooms Vanity 2021
1.Simpli Home Bath Vanity
There aren't too many options when you are specifically looking for a 20" vanity. They all look nearly the same and the build quality is not up to the mark. This 20" small bathroom vanity is one of those rare products in this segment that actually stand true to its claims. 
It has a simple and streamlined design that will go with the decor of both modern and traditional bathrooms. There's nothing flashy about the appearance. It is made from a thick, heavy and durable material that imitates the appearance of high-quality wood. 
The color is soft grey combined with dark painted background in the center of the vanity door. It comes with a beautiful Quartz marble top and a 7.6 inches deep sink. The sink is deep enough to prevent water spillage while washing. 
Not just that, the marble top features 3 pre-drilled faucet holes for standard 4" bathroom faucets. If you wish to install just one faucet, that's also possible.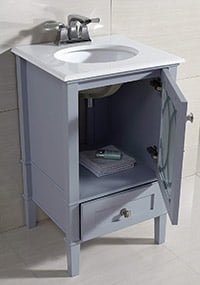 This minimalist beauty comes fully assembled. You just have to set up the top. The inside of the cabinet is open to make plumbing work a breeze. I also loved the material and aesthetically-sound design of the doors. These are made from rubberwood along with tempered glass.
What further makes it a strong contender for the title of the best vanity for small bathrooms is the placement of the hinges. They are neatly tucked inside the cabinet. This allows you to access all your bathroom essentials without fully opening the cabinet door. 
To top it off, it includes a roomy bottom drawer made from solid hardwood. It expands the storage space for extra towels you might wish to keep for guests.
Pros:
Contemporary and chic design.

Ideal for really limited bathroom spaces.

Quality build materials.

Hidden hinges for easy access to the inside of the cabinet.

Inside of the cabinet is open for easy plumbing work.
Cons:
Some users have complained that the quality of the quartz marble top is not up-to-the-mark.
2.

Eclife 24″ Modern Bathroom Vanity 
24" space saving bathroom vanities like this are becoming increasingly popular as remodeling options. This vanity from Eclife offers enough for storage space for basement bathrooms. Its stylish design doesn't look over-the-top and will gel with just about any bathroom setting.
If you are environment-conscious, you will be glad to know that this chic and compact vanity is sculpted from 15 mm MDF eco-friendly material. It sports a stunning black finish and is as sturdy as it gets. This set also comes with a full-size sink made from brass and temper glass. It is scratch-resistant, thus, easy to remove the stains from. 
To maximize your small bathroom space, the set also includes a modern faucet and a mirror. The faucet comes with a 1.5 GPM faucet aerator, designed to cut down water wastage by 30%. It indeed is a significant feature in these perilous times of climate crisis.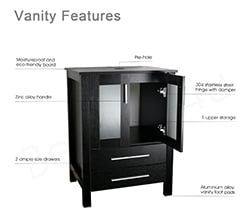 Despite the limited 24" width and 20" depth, it provides ample space for bathroom essentials including towels, washcloths, and the books you like to read while doing "bathroom-stuff". To increase the storage space without compromising the compactness, it features two sliding doors at the base. 
The soft-close frosted doors with well-designed hinges slowly close without much effort. I also loved the addition of aluminum foot-rest. As opposed to iron foot-rests, these ones last longer by fighting rust. 
Don't let the humongous number of hardware parts overwhelm you. All the parts are alphabetically and numerically coded. It will help you understand which part goes where, making the plumbing work a cinch. For more convenience, it also comes with a pop-up and a ⅜ inch hose that will fit most US bathrooms. 
Pros:
Made from premium-grade, eco-friendly material.

Hardware parts are clearly marked for easy assembly.

Comes with a mirror and a full-size, tempered glass sink.

All the necessary plumbing fixtures included.

Includes a water-saving 15 GPM faucet aerator.
Cons:
Requires meticulous plumbing work which requires at least 4 hours.  However, once the assembly is done, you will not be able to stop praising the glorious design.
3.E

clife 18.4'' Bathroom Vanity
Vanities that measures 24" across might not be a viable option for really crammed up bathroom spaces. As a great alternative, you can go for this 18.4" model from Eclife. This small bathroom vanity sink combo is smartly designed keeping in mind modern space-challenged urban apartments and basement bathrooms. 
The cabinet is designed using heavy-duty and eco-friendly MDF. This material lasts for years due to its ability to combat corrosion and harsh weather elements.
This unit comes with a simple and chic ceramic bathroom sink. It looks solid and shiny. You can remove the stains from it with just a swipe of a cloth. The previously reviewed model by the same brand required complex plumbing work.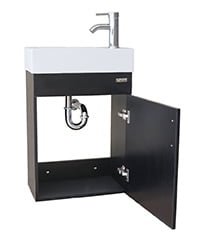 This one is far easier to deal with. To make the plumber's job easy, the unit comes with a long ⅝" water and U-shaped pop-up drain. The 360-degree adjustable P-shape bend inside the cabinet door makes the pipework easier. 
However, I should note here that most U.S homes require ⅜" water line hose. The hose included in this set is smaller. So you might add to purchase brass fittings for the setup. The total cost of buying additional plumbing fixtures is similar to the cost of a Chic-Fil-A salad bowl. So no major complaints on that part. 
Moving on, this beautiful vanity sink combo also comes with a stylish faucet. The faucet has a push stopper and utilizes a 1.5 GPM aerator to reduce water waste. 
The soft-close doors have sturdy hinges on them which are slightly tricky to use at first. But you will get the hang of them quickly. For a vanity so small, it can conveniently accommodate all your toiletries. 
Pros:
Spacious and highly functional cabinet.

P-trap for easy pipework.

Comes with a sink made of glossy frosted glass.

Water-saving faucet.

Hardware parts can be self-assembled.
Cons:
You need to purchase additional plumbing goods for the plumbing work.
4.QIERAO Bathroom Vanity
If you are looking for a modern and contemporary design for replacing your old bathroom vanity, this one is worth checking out. The first and foremost striking feature of this model is its solid oak wood pedestal. The dark espresso finish will instantly grab attention. It is topped with a tempered glass sink and a 12" modern faucet. You can also change the bowl if you want to. 
The glass sink is ¾  inch deep and comes with an overflow to prevent the water from creating a mess on the floor. This narrow small vanity could effectively utilize the vacant, forgotten corner in your bathroom. 
The cabinet itself has enough space for your toiletries. To keep things clutter-free, the vanity also includes a built-in towel bar for your hand towels and face cloths. 
The wooden pedestal's back is kept open to help you neatly tuck away the plumbing parts. The wall-mounting process is quite self-explanatory. However, you might need the help of an expert plumber for the slightly intricate plumbing work. 
Pros:
Contrasting colors combined with a sleek design.

Built-in towel bar.

Setting up the hardware part is fuss-free.

Includes all the plumbing essentials like a pop-up drain, connectors, and P-trap.

Plumbing parts can be easily concealed.
Cons:
Some users have reported that the drain tube is fragile.
5.

BATHJOY 24" White Bathroom Wood Vanity
Another strong contender to make its way to the list of the best vanities for small bathrooms, this 24" vanity has a country-chic vibe to it. This modern and minimalistic vanity is a perfect set for bathroom renovation.
This entire unit comprises of a faucet, a clear green glass top, a kitchen sink along with an attractive mirror. This way, you will end up saving the additional cost of buying these fixtures. 
I especially loved the quality of the faucet in this unit. It delivers great water pressure. On the other hand, the cabinet is made from eco-friendly , corrosion-resistant, moisture-wicking MDF wood and sports a soothing soft white finish. 
The cabinet itself has enough space for storing away your toilet essentials. The base features two spacious, 11 ½ inches deep drawers for washcloths and dry towels, providing easy access. 
Assembling the hardware parts isn't that tricky. Anyone with the intermediate-level mechanical expertise can put the parts together. However, it is best to hire a handyman to install the plumbing. An expert might require 3-4 hours to finish the job. To make his work easy, the package includes all the basic installation hardware.
Pros:
The soft white vanity will blend well with the decor of modern bathrooms.

Comes with all the necessary installation hardware.

Premium-quality faucet.

Two sliding drawers for additional storage.

Easy to clean.
Cons:
The sink height is small. A tall person ( above 5'9") might have to bend a little to use the sink. 
6.

Renovators Bathroom Vanity
This best vanity for small bathroom will not only adds a splash of glamor to your bathroom but also creates the illusion of bigger bathroom space. The aesthetically-sound vanity with sink could be a great fit for guest bathrooms as well.
To keep space-challenged bathrooms look neatly organized, it comes with a drop-in sink. This means that the sink will sit right into the vanity, no wall-mounting required.
The sink is built using Vitreous China, scratch-proof and stain-resistant material. The sink sits at a height of 34" from the floor. If you are an individual of average height, you don't have to bend over to use the basin. 
The 8" deep cabinet along with one drawer helps you keep toiletries, razors, hand towels, bath towels, face cloths and of course, magazines organized. 
You can easily install the drawers using the pre-drilled holes inside the cabinet. Setting up the cabinet is a cakewalk for anyone. However, if you don't have any prior plumbing experience, better seek the help of an expert. 
Pros:
Contemporary and chic design with white finish.

Lots of storage space.

The cabinet can be easily put together.

A drop-in sink sits right into the vanity.

The sink has a good height and depth.
Cons:
The unit doesn't come with clear plumbing guide.
7.

Fresca Bathroom Vanity
Add a stylish touch to the unattended corner of your bathroom with this no-frills vanity. Its grey color and streamlined design blend well in both modern and traditional bathrooms. A great choice for individuals who want to avoid over-the-top looking vanities.
There are a number of reasons why it is one of the best bathroom vanities for small apartment bathrooms as well as sizeable guest bathrooms. Despite having size constraints, it's 12.5-inch deep and 24" wide cabinet has adequate space for all your toilet essentials. 
However, there are no adjustable shelves inside it. Considering the cabinet size, it should a good fit for both powder rooms, kid's bath, small apartment bathrooms as well as spacious master baths. 
It lends an airy, roomy vibe to your bathroom space, making it appear clean, spacious and well-organized. The soft-close doors have sophisticated satin nickel handles which add more character to the design. 
To finish off the look, the cabinet has an integrated ceramic basin on top of it. It is nearly 18" wide and 5" inches deep but unfortunately, there's no backsplash included. The 4" faucet mount located right at the center gives the whole design a symmetrical appearance. 
Pros:
Great for both small and medium-size bathrooms.

Sturdy design that'll stand the test of time.

Plumbing installation is not-so-complex.

Solid hinges that work smoothly.

Has a good height of 34" from the floor.
Cons:
The cabinet doesn't have adjustable shelves. 
8.

Legion Furniture Sink Vanity
This 24" white vanity is another excellent way to keep your tight bathroom space neat and clutter-free. It has a small footprint and the cabinet can be self-installed, no prior mechanical expertise required. I especially loved the open back design of the cabinet which makes plumbing work easier.
Not just that, the unit also features a pre-cut P-trap. As long as the P-trap is of the same level as your water supply lines, the plumbing installation shouldn't be a problem. Even if they don't match, a skilled plumber will be easily able to figure out a way. The whole job will roughly take 4 hours. 
The construction of the vanity looks pretty robust. It is made from MDF that doesn't seal the moisture, therefore, it lasts long. Although not as sturdy, it mimics the aesthetic beauty of heavy woods, not the cheap and hollow vibe to it. The doors have soft-close hinges and can be closed with least effort. There are are no visible gap when the doors are closed. 
While the cabinet itself is spacious enough for your shampoo, soaps, shaving essentials, medicines et cetera, you can keep clean towels at the bottom shelf for easy access. Despite all the upscale features, you can acquire this sleek and sophisticated vanity at a low pocket pinch.
Like all good small bathroom vanity of the current times, this unit also includes an integrated ceramic sink. It has 3 pre-drilled holes for standard 4" faucets. You should ideally use silicone to attach the sink to the cabinet. 
The sink is rectangular which creates the illusion of bigger bathroom space. To sum up, if you are looking for a no-nonsense vanity sink combo for a powder room or dorm-room bathroom, take a closer look at this one.
Pros:
Attractive, rectangular porcelain sink.

Affordable price.

Base of the cabinet has extra space for towels and organizes.

Soft-close hinges.

Open back cabinet for easy plumbing access.
Cons:
The sink has a very small drain hole.

The opening of your bathroom's pipe might need to be expanded in order to properly position the vanity.
9.Eclife 14'' Bathroom Vanity
Stunning detailing, glamorous black finish coupled with a jaw-droppingly beautiful turquoise sink- that's Eclife 14" for you. It would be my personal choice in the hunt for the best vanity for small bathroom for its spectacular opulence. 
The color and exuberance of a tempered glass sink can totally transform the vibe of your powder room and half bath. This kind of vanity sink combos has been a part of modern spas, salons, and fancy barbershops for some time now. The build material of the cabinet is MDF board which is non-toxic for us and is good for our environment too. 
Despite measuring only 14" across, the cabinet storage is pretty standard. You can fit in your toiletries neatly in the narrow cabinet.I was particularly impressed by the addition of an adjustable splitter inside the cabinet. It helps you create two separate storage spaces for a more organized look. 
The process of assembling the sink and the cabinet parts is pretty basic. You can set it up under the sink or beside the sink, whichever suits your bathroom the most. For the ease of plumbing installation, hoses, drainage stoppers are included in the package. 
Pros:
All the basic plumbing hardware included.

Solid and elegant turquoise sink.

Takes merely 30 minutes to assemble the hardware.

14" is the ideal size for utilizing the tiny nook of your bathroom.

Open back cabinet to make plumbing installation easy.
Cons:
Installing the drain stopper is a little tricky.
10.

Fresca

Corner Bathroom Vanity
Here's another 14" vanity to smartly utilize the unused corner of your space-challenged bathroom. This Fresca bath model has a classic white design that will never go out of style. It is forever trendy. If you are looking for a vanity sink combo for redoing the bathroom or simply replacing an old and huge cabinet, take a look at this one.
This stunning white cabinet sports a soft-close door. You can easily adjust or remove the shelves inside it for the ease of plumbing. P-traps pop-up drains and other installation hardware are included with the unit for more convenience. 
The show-stopper of the unit is the acrylic sink with faucet. It fits right into the vanity and becomes the focal point of the bathroom area. The sink also features as an overflow to prevent the water from oozing out and spilling on the floor. 
All in all, it is a pretty basic vanity sink with an elegant design that can be squeezed into the tightest corners. 
Pros:
Easy-to-clean acrylic sink.

Modern door closing feature.

Comes with all the necessary installation hardware.

Hassle-free installation.

Includes a faucet with a 15 GPM flow rate to reduce water waste.
Cons:
The cabinet material is not as nearly as robust as plywood.
Tips on Buying the Best Bathroom Vanities for Small Spaces:
Here are the key factors to look into to make sure the vanity you are buying suits your bathroom space:
Material: Wooden vanities are indeed the best. But some of them are also made from plywood, MDF, veneer, and plywood. They are durable and also, more affordable than heavy wooden vanities. 
Design: For smaller bathrooms, low-profile wall-mounted vanities are the best. It saves valuable floor space in your bathroom. You can also go for a more traditional and rustic model with a narrow cabinet and a top-mount or integrated vessel. 
Some of the top models come with stylish and colorful sinks to add a generous dose of drama to your boring bathroom space. No matter which style you choose, make sure it complements the style of your house and bathroom. 
Size: This includes both the size of the cabinet and the sink. You should determine the right size by taking the measurements of your bathroom. Consider how much space you can spare without cramming up the bathroom. 
Vanities with pedestal-like cabinets, floating cabinets and wall-mounts are best suited for tiny nooks of bathrooms. Models that have room for under baskets or drawers enhance visual depth, making the bathroom appear more spacious than it actually is.
Sink Shape: If you are not much worried about taking up too much counter space, go for a rectangular-shaped sink. It will provide more room for brushing, shaving, and washing your face. However, round-shaped bowls are also quite in trend these days. It saves a lot of space and is easier to clean as well. Invest a few bucks more to ensure the sink comes with an overflow. 
Ease of Assembly: Most vanities come half-assembled or fully unassembled. Before purchasing, find out whether the vanity hardware possible to assemble by a single person. If it is lightweight, it is designed for easy self-assembly. 
To make the plumbing installation easy, the best small bathroom vanity in every budget group comes with necessary hardware like P-traps, pop-up drain, mounting rings et cetera. Cabinets with an open back further make the plumbing work easier. 
Creative Small Bathroom Vanity Ideas to Help You Renovate Your Bathroom
Large sink cabinets are a big no-no for small bathrooms. It not only takes up the valuable counter space but also makes the bathroom overstuffed. It disturbs the flow of traffic in the bathroom as well. 
You need to brainstorm clever ideas to utilize the small free space to its maximum potential. There are many different styles of vanities designed keeping in mind the limitations of small bathrooms. Here are a bunch of smart small bathroom vanity ideas for upgrading your bathroom space. 
Vanities with storage basket:

Some of the bathroom vanities come with storage baskets. These baskets can be kept underneath the cabinet for additional storage space. You can keep fresh towels, books, magazines, and knick-knacks on them. It also lends a fresh and airy look to the bathroom.

Wall-mounted vanities

: These small wall-mount vanities take up very small space. That's why it is ideal for half baths and powder rooms. You can put storage baskets under the cabinet to gain extra storage space for your bathroom essentials. 
Sure, they are a lot of work, especially the plumbing part. But once set-up, these contemporary wall-mounted vanities can dramatically improve the aesthetic value of your bathroom space.
Vanities with drawers:

Small vanities with sliding drawers add visual depth. It makes your bathroom appear enlarged. Also, these drawers and shelves help you put every inch of the vanity to good use.

Pedestal Sinks

: Pedestal vanities are smart, trendy and ooze out elegance. The pedestals come in various colors, ranging from pearl white to dark espresso. 
This kind of vanity is usually topped with quartz marble, wood or tile countertops and round frosted glass bowls. Make sure that the color of the pedestal and the sink are contrasting for a more glam look.
Corner Vanities

: Do you have a corner of your bathroom left unattended? Does that corner have exposed plumbing fixtures? In that case, you can transform that unused spot into a washing area with a narrow vanity. Choose a vanity with dark wooden vanity for white tiled bathrooms to create a stunning visual effect. 
FAQs about Small Bathroom Vanity
1. What is the ideal vanity size for a small bathroom?
Ans: Most vanities specifically designed for small bathrooms are typically 18-24 inches in width. However, some of the modern vanity designs measure merely 14" across. The cabinets are usually 15.5-18 inches deep in small vanities. Irrespective of the model you choose, make sure it completely fills the free space.
2. What is the height of a small vanity?
Ans. The height could be anywhere between 31-36 inches. If you are buying the vanity of a kid's bathroom or a short person, a shorter unit will be more suitable. A 36" tall vanity should be suitable for most average build adults. 
3. What is the difference between a vanity and a bathroom cabinet?
Ans: Bathroom cabinets are simple and streamlined storage spaces, similar to kitchen cabinets. Vanities are also a type of cabinets, but with one major difference. These storage structures come with a sink on top. 
4. Can you assemble a small vanity all by yourself?
Ans: Yes, most units come with clear instructions on how to hook up the hardware parts. However, you might have to call a professional plumber for the plumbing installation.
5.Will moisture in the bathroom damage the vanity?
Ans: As long as you choose a material pre-treated with water-resistance coating, no need to worry about water damage. Materials like plywood, rubberwood, and laminate don't soak up the moisture. Therefore, these are long-lasting. 
In Conclusion
In short, the best vanity for small bathroom will be the ones that complement your bathroom dimensions and decor. It is important to take the proper measurements of your bathroom before purchasing a product.
Don't just go by the looks. Consider whether it is really functional. If it keeps your bathroom space clutter-free, holds all your toilet essentials, looks dapper and fits your budget, go for it. 
Based on all these parameters, the only product that perfectly fits the bill Simpli Home Paige 20. It combines the spaciousness of a 24" vanity and the compactness of a 14" narrow cabinet. 
The material of the cabinet and sink is built to last for years. Despite being budget-friendly, it looks like an expensive vanity crafted from premium thick wood. I can't think of a better way to upgrade a small bathroom. 
Related Post:
Bathroom Exhaust Fan With Light