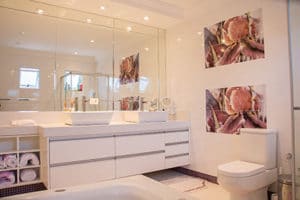 Your bathroom is one of the first places you see in the morning and also the very last one you go before bed. So it's a great idea to decorate your bathroom vanity to add a luxurious view to get you a refreshing feel whenever you enter your powder room.
So when you have finally decided to decorate or redecorate your bathroom vanity, you must be searching for some good ideas. Yes, you have to know how to decorate a bathroom vanity.
No worries, here we have brought out some tremendous ideas that you must note before giving it a go. Check it out.
The Basics You Need to Check
Well, before you start decorating your bathroom vanity you must check some basics to do it correctly. Here they are-
Style: One thing that makes a great difference in your bathroom vanity decoration is the style or pattern of the wall and floor. It leaves a big effect on the entire decoration. There are so many to choose-
Wooden
Tile
Plaster
Drywall
Stoned ones and many more.
Size: You must create a decoration plan according to the bathroom size. Because a small bathroom vanity is far more different from decorating the bigger ones.
Measurements and placements: You must take out the measurements and plan for the placements for new furniture and also decorating stuff.
Needed Things list: You must make a list of required accessories you will need to decorate or redecorate your bathroom vanity.
The Decorating Accessories Idea
Now, when you know the basic design, size and condition, let us introduce you to some very essential decorating stuff to enhance the beauty of your powder room. Here we have suggested a bunch of product list for you. Have a look.
Vanity Mirror: Though it's a very common stuff but just by choosing an uncommon one you can give your bathroom vanity a different and elegant look. Try to choose the bigger one and put it in the central point of your bathroom vanity space. You can use fancy spotlights next to the mirror or on the left or right side of the mirror to add a great look.
Towel Stand: You can also bring a great change in your bathroom vanity just by adding a stylish towel stand. You may get a wooden or antique one instead of going for a random stand.
Lighting: A fancy lamp can add a great look to your bathroom vanity. All you have to do is finding a uniquely designed one and fix it on a perfect place like, beside the mirror or between the double mirror sink. Besides, fragrant candles can be a good option for lightening and also control the odor.
Hand dryer: Fixing a hand dryer beside the sink is a smart option. It will make your bathroom vanity look a bit upgraded in style as well.
Vase: Choose a simple designed vase however made of wood, ceramic, mud or the antiqued one. Vases are a tremendous option to add a simply elegant look to your bathroom vanity.
Sitting area: Use a stool or decorated chair matched with the bathroom vanity furniture. You can also use it for keeping books along with sitting on it.
Sink: If your bathroom is a small one go for the single sink but if the room is spacious and has enough area then you can go for the double sink easily.
Vanity Cabinet: Designers now have brought a great change in furniture designs. So, you can simply get a well-designed one to give your bathroom vanity a wow look.
Dust Collector: keep a dust collector in aside to keep the bathroom vanity dust and dirt free.
Verdict
Decorating a bathroom vanity wasn't that important before but now it's no less important than decorating any other room of the house. Your day can get a good and refreshed start with a well-decorated bathroom vanity. So, what are you waiting for? Go can give your boring bathroom vanity a stylish look today with the unique and spontaneous ideas we have suggested up for you.
Thanks for being with us till the last line. Hope it helped you out.
Related Post:
Quality Battery Backup for Existing Sump Pump