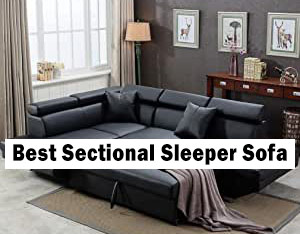 Check out the best sectional sleeper sofas on the market! We heard you and know that you need a decisive answer to your questions.
Sectional sleeper sofas are a kind of apartment sofa that have a detachable chaise and an arrangement for sleeping overnight. These furniture pieces are becoming immensely popular in recent times as people are going crazy over space-saving.
What you get is a large sitting area that can accommodate 4-6 people at a time. On top of that, the additional sleeping function will save from the hassle if a guest decides to stay the night.
We kept the price in consideration as these sofas can become quite expensive.
Here are the deals!
10 Best Sectional Sleeper Sofa 2021 Reviews
1.Stendmar 3pc

Sectional Sofa
Weight capacity: 300+ lbs
If you want the full value for the money and a long-lasting product, Stendmar is a class of its own in this category of the best sectional sleeper sofa. Whether you want to place it as a standalone sofa setting for multiple guests or as an overnight sleeper, the choice is yours!
This sectional sofa gets its durability and firm construction from the solid wood frame underneath the high-density foam cushions. On top of that, the microfiber fabric makes it even more comfortable on the skin.
While the couch is rated as firm to medium-firm, it's still comfortable enough to keep you seated or laid for hours. There's a springy vibe to the cushions and that's the best selling point of this entire sofa set.
For those of you concerned about cleaning, the back cushions and the side cushions are removable and have a zippered covering. So, you can easily take them apart, get the cover out and wash them.
Keep in mind, it's a large piece of furniture weighing 300 lbs. If there is a single thing we want to complain about it should be the legs. They need tightening on a regular basis if the sectional is left out in the open on a smooth surface. Not an issue if the surface has carpet on it.
Pros:
Removable back and side cushions are easier to clean.

Packed with durable solid wood frame.

Adds up to a queen-size bed for a great sleeping experience.

Microfiber fabric maintains color and quality for years.
Cons:
The feet often come loose and need to be tightened, especially when placed on a slippery surface.
2.

Homelegance Ferriday Sectional Sleeper Sofa
Weight Capacity: 600 lbs
Not all sectionals are space savers! Yes they are in a way when combined with a sleeper, but most of them are bulky in size. The Ferriday from Homelegance is the best small sectional sleeper sofa with dimensions of 61×65.5×39-in. When compared to other models in the market, it's convenient for small apartment owners.
This sofa has a pull out trundle bed along with a chaise. Considering, the bed actually stays inside, it's a pretty good deal. You can place the chaise only on the right side as seen on the picture. However, when you pull the cover out, there's a huge space for storage.
Starting from the strong stitching to the robust plywood frame on this sectional, we think it should last you enough to make the money worth it. The headrests are another standout part of the set as they are collapsible. It looks damn modern!
The only thing that could have been improved were the plastic feet. They do look stylish, but might not last as long as the sofa cushions or the frame.
Pros:
Pull out bed design makes the sectional compact and space-saving.

Storage space under the chaise helps to keep random things organized.

The headrests recline and keeps you in comfortable position.
Cons:
The feet aren't the most durable as they are made from plastic.
3.
FDW Sectional Sofa
Sectional couches with dedicated sleepers are hard to find. The FDW is one of the few and it's extremely convenient for any kind of home. The sleek and standard style of the couch will blend into your decor easily.
It's a L shaped sectional sofa and has a pull out trundle hidden underneath the two seater. The fact that it's on wheels, it becomes effortless to pull it out or push in. The overall cushioning is firm and made to last quite a while.
The upholstery is mainly PU leather. Its water resistant property will give you a low maintenance experience as spills or dirt won't stick to it. The weaker side of the sofa is the single stitching. We think a double stitching would have guaranteed more usage.
Like the Homelegance Ferriday, this one also has reclining headrests. There's nothing extraordinary about it, but it's always good to have a bit of customization features. Overall, recommended!!
Pros:
Pull out trundle bed on wheels is easy to access.

Simple assembling process saves time and effort.

Low maintenance PU leather upholstery.

Reclining headrests supports the head and neck area.
Cons:
It's a single stitched couch and hence the upholstery will have lower lifespan than the other materials.
4.

Danxee Sectional Sleeper Sofa 
Weight capacity: 300 lbs
The Danxee is the most comfortable sectional sleeper sofa on the list. The multi-density foam fill keeps the seats soft and supportive, while the velvet fabric makes it feel plush.
The seats recline back and can fill up individual needs. And when you get all the seats to recline back completely, you will get a nice sleeping surface. The chaise is detachable and reversible, so it will fit into all sorts of room settings.
When you sit on the sofa, it feels extremely soft. For those of you who hate stiff cushions, this is just perfect. Assembling is easy, but you might need extra bolts to secure the chaise to the couch as it might not come with enough bolts.
Pros:
Supportive seat cushions and velvet fabric feels super comfortable.

Reclining back seats are great for individual needs.

Converts to a large bed for sleeping.

Reversible chaise structure is convenient for most homes with tight spaces.
Cons:
Might need to buy some extra bolts to attach the chaise.
5.Best Choice Products Sectional Sleeper Sofa
Weight capacity: 600 lbs
When you can buy a piece of furniture that looks more expensive than it really is, you can't ignore the deal. This sectional sofa from Best Choice Products has a luxurious finish and not to forget that it converts into a full-size bed.
You can set this up in three ways. For a lounge experience , you can put the ottoman against the sectional or the opposite side of it. When you need to lay back, just set the ottoman against the sofa horizontally. With just a mattress topper, anyone could sleep on it.
It's upholstered with faux leather and hence the lower price and expensive look. The back cushions are plush and can be removed for cleaning the sofa. Though the seat cushions are a bit on the stiffer side, it's still one of the best sectional sleeper sofas in the market.
Assembling isn't difficult. But make sure to put the legs at the end, otherwise, it will become inconvenient to set this up.
Pros:
Reversible sectional with ottoman enables setting this thing in multiple ways.

Premium outlook thanks to the faux leather upholstery.

Sturdy frame that stays in place securely.

The back cushions are soft and comfortable.
Cons:
The velcro for attaching the ottoman cushion to the ottoman bench might come mismatched. You can solve this by buying two ¾-in velcro from any hardware store.
6.

DHP Emily Sectional Futon Sofa
Weight Capacity: 600 lbs (futon/bed), 350 lbs (chaise)
The DHP Emily is a modern sectional sleeper sofa that can fit into any living room. We are highly impressed by the option to set this up as a standalone futon/bed or a large lounger with the chaise.
When you set this up as a futon, it's 34" wide and has a 600 lbs weight limit. The best part is you can slide back the futon to a complete flat position to use it as a queen-size bed. Though it doesn't have the plush padding for long term sleeping, it's still good enough for emergency purposes.
The backrest and seating areas are tufted. The addition of the chrome metal legs makes it look extremely modern and stylish. Assembling everything won't take you more than 20 mins as you only need to screw the legs on.
Pros:
Great versatile set up with options to use it as a lounger or a bed.

High weight capacity and wide sleeping area.

Quick and effortless assembling process.
Cons:
It's not intended as a full-time bed as the cushioning is thin.
7.

Novogratz Brittany Sectional Futon Sofa
Weight capacity: 600 lbs
The Novogratz Brittany is quite similar to the DHP Emily we reviewed prior to this. It has a multi-seating position that can also be set up as a bed. The linen upholstery gives it an awesome makeover and the one you can't avoid. Is it the best sectional sleeper sofa? You decide!
This sectional futon is versatile because of the ability to set the chaise on either side. You can also make the futon work like a lounger by lowering the back just a little bit. When converted to bed, the 55.5-in Width of the sofa changes to 66-in.
The couch is surprisingly lightweight and can be moved without any stress. The cushioning isn't the thickest and so it would be more convenient to sleep on it on an occasional basis. However, you can use a memory foam topper to enhance the experience.
The only issue we found was the seat cushions don't have equal cushionings. But that shouldn't stop you from buying this!
Pros:
Versatile sofa with multi-seating positions.

The futon back folds down to make it a bed.

Linen upholstery gives it a gorgeous outlook.

Lightweight frame is easy to maneuver.
Cons:
There's uneven cushioning on the seat cushions.
8.

US Pride Furniture Convertible Sleeper Sectional Sofa
Weight capacity: Not specified
If you want a simple sectional sofa bed, US Pride is the one to get. The combination of PVC foam and fine fabric upholstery makes it quite comfortable for short relaxation and sleeping experience.
For the price, you really can't find a sectional of such quality. The sofa bed has a dimension of 71×45-in and that should be enough for a single person to hop in.
Keep in mind, the chaise isn't reversible and can only be attached to the left side. The seat cushionings are firm and should last you longer than some of the more plush versions. The lower frame is also suitable for kids to get in and out effortlessly.
The bed area isn't perfectly flat and has a dip on the edge of the cushioning. But that's just one small issue that you can ignore when considering the price.
Pros:
Built with strong wooden frame that should last a while.

Compact design is great for small apartments.

Low height ensures kids also have the fun.
Cons:
The bed area has a dip near the cushioning.
9.

HOMES: Inside + Out Walter's Sectional Sleeper Sofa
Weight capacity: not specified
People with a larger living room will find the Homes Inside Out a lot more suitable for their purpose. With a 107.75" wide seating area, it can accommodate 4 individuals comfortably.
One of the best selling points of this sofa is the hidden pull-out trundle. It's designed to save space and add an additional area for sleeping when the other rooms are occupied.
Apart from that the chaise can be used to gain a lounging experience with a seat depth of 62". You can only configure to one side as recommended by the manufacturer. The seat and back cushions are soft and can make you feel at home. What we loved most is the adjustable headrests as they will give you more support.
We didn't find any weaknesses that's worth noting. However, the cushions on this sectional aren't removable. So, if you have a party going and bits of food gets inside, it would be tough to clean them. All in all, it's one of the best sectional sleeper sofas that you can buy!
Pros:
Large seating area is perfect for guests and parties.

Sleeper bed is hidden underneath the sofa to save space.

Adjustable backrests is great for neck and head support.
Cons:
The cushions are not removable and hence cleaning isn't easy.
10.Furniture of America Corner Sectional Sofa
Weight capacity: Not specified
The amazing sectional sofa from Furniture of America is something that will make your money worth it. Along with a pull out bed trundle, you will get a storage space within the chaise. The black leatherette upholstery is simply the icing on the cake!
One of the best things about this sofa is the reversible chaise structure. You can either set it up on the right or the left. The cushions on the back are softer and can be removed for cleaning. The seat cushions are on the firmer side, but are comfortable to sleep even without a topper.
The internal structure is built with solid wood and veneer. We would expect it to last quite a while retaining the cushioning and firmness. Although the assembling process is easy, you might find some pieces that don't have pre-drilled holes. In that case, you might need a drill and a bit of help from another person.
Pros:
Space saving design thanks to the pull out trundle bed.

Extra storage space underneath the chaise.

Removable back cushions makes it easy to clean the edges.

The chaise is reversible which makes it suitable to set up in any space.
Cons:
Some pieces can come without pre-drilled holes, so it requires a drill for assembling.
How to Choose a Sectional Sleeper Sofa?
1. Shape and structure
Sectional sleeper sofas come in a variety of shapes. The most common is the L shape structure. We mostly reviewed the L-shaped models as they have a wide presence and affordable price range. You can also get U-shaped versions if you have a large living room.
Wood is the best and most affordable frame material for these types of sofas. It's also important that the frame has solid wood rather than filler junks that won't last long.
2. Size of the sectional sleeper
Size is another factor that you should definitely consider. Due to the addition of a chaise, the whole furniture set becomes quite large. But still, you can find models that are smaller in size and can accommodate your room.
If space isn't an issue. You could go for a larger one that can seat 4-6 people. We recommend getting a bigger sectional sleeper sofa as it will give you full value for money.
3. Sleeper options: Trundle or collapsible cushion bed
As the sleeping space is the decisive factor for buying these sofas, you will want to check out the options.
In our opinion, trundle type beds that remain hidden underneath the sofa is the best option. So, it saves space and also keeps it discrete.
Some sleeper sofas have collapsible back seats that will recline back completely to form a sleeping area. For a more comfortable sleeping experience, you will need a mattress topper on these sofas.
If you don't want the sleeper, you could try out regular sectional sofas. And there's a lot of them we reviewed recently. 
4. Ottoman and chaise
Not all sectionals come with ottoman. But some models have the ottoman to slide it against the sofa to turn it into a bed or a lounge. That's up to you!
Sectional sleepers will have a chaise. This is a mandatory part of the setting. There are a few of them that have extra storage space under the chaise. For space-saving buyers, it's perfect.
You will also want to check out whether the chaise is reversible or not. Reversible versions offer convenience as you can set it up on any corners of the room.
5. Upholstery material
Upholstery material is a personal choice and we don't differentiate between them that much. Most people love leather covers as it's easier to clean and doesn't doesn't get dirty. If you are a leather lover, check out these leather sleeper sofas.
Some models might come with Linen or microfiber and fabric of that sort. These feel more comfortable on the skin.
6. Adjustable headrests
Who doesn't love headrests on a sofa! But if the headrests are adjustable and have a reclining mechanism, it's even more useful. People who have a hard time sitting longer hours on a sofa, will find the adjustable headrests handy.
Conclusion & Editor's Choice
If you are seeking quality and durability over other things, the stendmar 3pc is the best sectional sleeper sofa for the money. We give it a high 4.5 stars out of 5 because of its long-lasting frame and high-density foam cushions that won't sag. The matching ottoman will turn this thing into a comfortable sleeper that's perfect for guests.
You can always try other models in this review. Depending on price and the type of sleeper, your purchase will vary. Make sure to get the measurements of your room as these sofas are quite bulky and you don't want to end up with a couch that doesn't fit in your space.