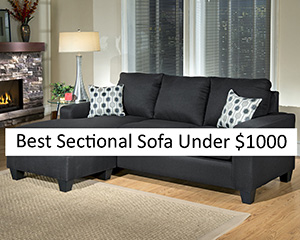 Sectional sofas have taken the market with a storm. So, here's a good opportunity to pick the best sectional sofa under 1000 dollars.
These sofas are often too expensive to purchase and unnecessary in certain cases. The models we reviewed were carefully chosen based on real user reports, recommendations and performance over the years.
We believe some of the sofas can outperform even their expensive competitors.
Sectional sofas might look large but they offer convenience as you can set them in a number of ways based on the space you have. Once you get one at home, you will know how much value they will offer.
So, let's get started!
10 Best Sectional Sofa Under $1000- (2021 Reviews)
Click a link below to jump to the relevant section
1.

Rivet Revolve Modern Upholstered Sectional Sofa
Weight Capacity: 450 lbs
The #1 reason why Rivet Revolve is the best sectional couch under $1000 is because of its durable and solid construction that gives you maximum value for money. While there are other fancy models in the market, nothing can match the price and functionality that you can get from this.
The chaise on this sectional can be placed on either side of the couch and that could be convenient to place it in different positions. As a bonus, the back and seat cushions all are removable. If you are mad about cleaning, you should love this small feature.
The frame of the sectional is made from hardwood and upholstered with durable polyester. It feels almost like a jean fabric. What's important is it will last longer and surprisingly pet scratches didn't leave any mark on the fabric.
We loved the supportiveness of the cushions. Yeah, you will sink into it, but won't hold you back when you want to get off. That's just the right kind of cushioning you can expect from any sofa models.
The only annoying part is the chaise cushion sits a little high on. So, when you sit at one end of the sofa near the chaise, the other end of the chaise raises up in the air. You can use some velcro strips to keep it down!
Pros:
Reversible chaise gives you more options to configure in tight spaces.

Extremely durable frame and top fabric.

The back and seat cushions can be removed for cleaning.

Supportive and cushy seat that's easy to sit in and get up.
Cons:
The cushion at one end of the ottoman rises up as you sit on another end of the sofa near the chaise.
2.

HONBAY Convertible Sectional Sofa
Weight Capacity: 660 lbs
If you are looking for a small and compact sectional sofa on a budget, your best bet is Honbay! The light grey color gives it a simplistic, yet sophisticated look that can turn around your living room quite a lot.
The cushioning on this sofa is on the firmer side. But that's okay if you hate the sink in and squishy sofas that lose their shape in quick time. The fabric has a look similar to that of expensive sofas over $1000 and might even last a considerable period.
The moment you sit on it, you will feel the curved back of the sofa to be supportive. This according to our experience has been a huge selling point for this model. Additionally, the option to install the chaise on either side of the sofa is always handy.
We think the armrests are the weakest point of this sectional couch. They are a bit flimsy and might not hold up well in the long run.
Pros:
The chaise is reversible and gives you options to set it up in a number of ways.

Durable fabric that doesn't attract pet hair.

Small and space-saving design is great for small apartments.

The curved back of the sofa offers good amount of support to your back.
Cons:
The armrests aren't the most durable and might not last long if you exert too much pressure on them.
3.

Poundex Bobkona Viola Linen Sectional Sofa
The Poundex Bobkona has a unique sectional configuration with a large chaise and ottoman. Its tufted seat and nail-head accent gives it a new persona despite the simplistic design.
The quality of the fabric is unbeatable at this price range. It doesn't have the velvety feel, but it's soft enough to feel relaxed. The seat cushions are firm and the back cushions are plush. When you think for the long run, this combination puts you in advantage.
Just like the previous sectionals, the chaise on this one is reversible and can be set up either on the right or the left. The chaise is huge and if you add the otttoman, it will create a sleeping space for one young individual.
If you have a robotic vacuum at home, it should be able to go beneath the sofa and clean it. There's ample of room underneath and was a real surprise to us.
The only issue was assembling the unit. Though the process is easy, it might take some time as the parts aren't labeled properly.
Pros:
Real wood legs looks beautiful and will last longer.

Large chaise and ottoman can be set up for sleeping.

Plush back cushions are super comfortable on the back.

Sits high enough so that your robotic vacuum can go underneath.
Cons:
The parts don't have proper labeling and can add up time to the assembling process.
4.

FDW Sectional Sofa
Weight Capacity: Approx. 450 lbs
The FDW sofa is the best sectional sofa under 1000 bucks for a good number of reasons. Having a trundle bed and fold-up headrests make it extremely versatile and the price makes it even more lucrative.
The sofa has a faux leather finish that gives it a modern appearance. You will be able to clean it with wet cloth easily without causing damage to the sofa.
We think the unique selling point of this sofa is its built-in trundle. It has wheels on it and can be pulled out with ease. The ability to slide off keeps it hidden when you don't need it.
Keep in mind, the chaise is fixed and can only be arranged on the left side. The interesting thing is you can detach the chaise and use it as a standalone piece. For comfort and support, the head rests can be folded up. You can't expect anything more in such a budget.
If you buy this sectional sofa, you might need to drill some holes to get past the assembling process. Other than this, most users were satisfied with the performance and usability.
Pros:
Pull out trundle bed offers extra sleeping space for guests.

You can detach the trundle and set it up separately.

Headrests folds up and down to support your head and neck.

Easy to clean faux leather upholstery.
Cons:
You need to drill some holes as some of the pre-drilled holes might be missing.
5.

DHP Emily Sectional Futon Sofa
Futon weight capacity: 600 lbs
Chaise weight capacity: 350 lbs
Futons are always a versatile piece of furniture. When you add a sectional chaise to a futon, it becomes even better. This modern low profile sectional futon won't cost you much, but the value you get is way more than that.
The futon seats have reclining back cushions that can quickly convert from a 34-in wide sofa to a 43-in wide sleeper. It's slightly smaller than a full bed, but enough for a single person to have a good night's sleep.
Just to let you know, the fabric material will vary between colors. The grey one is Linen, while the vanilla and black versions are faux leather. We think that the linen version would be more comfortable in the long run.
We would recommend using a mattress topper when you convert the futon into a sleeper. It doesn't have the thick padding to support your back on a regular basis.
Pros:
Add the chaise part to create a huge lounging sofa set.

Quickly convert to a full size bed as the back cushions reclines to a flat position.

Chrome metal legs are durable and offer a modern outlook.

Available in faux and linen fabric upholstery.
Cons:
The cushions in the sleeping positions lack padding and might need a memory foam topper for regular sleeping.
6.

Poundex Bobkona Belinda Sectional Sofa
If you want something that looks expensive, but costs you less than 1000 dollars, the Poundex Bobkona could be the best option. Its linen fabric upholstery will keep your guests thinking and believe you have a high-end piece at home.
The chaise isn't reversible. However, both the sofa and chaise creates a huge sitting space that can accommodate 4-6 people with no hassle. The innerspring and foam-filled cushions, though not plush, are supportive and comfortable.
The color of the fabric is a true grey and most users loved it. If you have pets at home, you might want to be extra careful not to let them sit on the couch. The fabric is thin and might become damaged with scratches.
Your only problem with this couch would be the assembling part. You will have a hard time attaching the chaise to the couch.
Pros:
Premium design and appearance.

Large sitting space to accommodate lots of people at a time.

Innerspring and foam filled cushions are ultra supportive.
Cons:
The chaise is hard to attach to the sofa piece.
7.

Gotland Outdoor Sectional Sofa
So, you've got a patio that needs some life to live in it. Gotland could be the best sectional sofa under 1000 for your patio as it is weather resistant and can easily accommodate 4-6 people! When you compare this set to other patio sets, you will know it's the best deal available now.
The cool thing about this sectional sofa set is that each piece is separate and can be arranged in any way you like it. There are 6 chairs in total and a tempered glass table to compliment them.
All the cushions have velcro to hold them in place. On top of that, you can use the clips provided to connect the chairs together. The seat cushions are thick enough to feel comfy, but you might need to add some throw pillows to keep your back in good position.
As this is an outdoor furniture set, it's treated with all-weather PE rattan wicker and rust-resistant galvanized steel frame. It can hold up to various weather conditions. However, don't let the cushions stay in the rain as they aren't waterproof.
Pros:
Strong and rust resistant steel frame makes this set extremely durable.

Each sofa piece is separate and can be arranged the way you want.

The cushions are attached with velcro to keep them in place.

Treated with PE rattan wicker to make them suitable as outdoor sectionals.
Cons:
Seat cushions aren't waterproof and need to be removed when it's raining.
8.

Homelegance Sectional Sofa
Weight Capacity: 500 lbs
If price is your main concern, but you really need something large to meet the demands of your guests, Homelegance Dalal could be a decisive option. It might not have the most awesome looks and that's okay for the price you are paying.
The frame is built from pine and plywood. We expect it to hold its shape and structure for some years. The 500 lbs weight limit is good enough for 2-3 people to sit and relax.
All the seats including the chaise have reclining backs. And in the middle there's a console with a cup holder. True to say, the wide spacious chaise was the reason we included this sectional sofa in the list. You could lay in it for hours and watch Tv or play games!
Assembling the unit is what frustrated us most. The parts aren't labeled properly and can easily kill an hour or so to figure it out.
Pros:
Wide chaise gives you room to lay and relax.

All the back cushions recline to keep you in the most comfortable position.

Center console with cupholder gives you freedom to enjoy your favorite drinks.
Cons:
Assembling process will take some time as the parts don't have proper labeling.
9.Merax Sectional Sofa
Weight Capacity: 300+ lbs
Merax Sectional sofa is highly rated as being durable and a long-lasting furniture piece. With a 3 seat sofa, a chaise and an ottoman, this could make your living room into a party hub overnight.
The top fabric is soft suede and inside there's high-density foam and spring material. We wouldn't say the cushions are hard, they are stiff and will soften over time. But when they soften, they become plush and more comfortable.
When you are searching for the best sectional sofa under 1000, you wouldn't expect the frame to be sturdy enough. But the Merax is an exception as its frame is built with heavy-duty hardwood. It will retain its shape even after years of use.
We loved the ottoman as it has a small storage section underneath the top cushion. You could store little things that you need often. The weakest point of the sofa is its legs. They are made from plastic and might need replacement at some point.
Pros:
Hardwood frame construction retains shape for years.

The cushions become softer over time.

Extra storage space under the ottoman is convenient for small homes.
Cons:
You might have to change the legs later on as they are made from plastic.
10.

Lifestyle Sectional Sofa
Weight capacity: unspecified
The Lifestyle sectional sofa set is quite similar to the Merax model we reviewed. However, it lacks the padding and is more suitable as a short term solution to your living room.
The sectional sofa has a dimension of 105″ x 76″ x 33″, which is good enough for 3-4 people to sit back and relax. This couch won't sink in and is on the stiffer side. You might love the feel of the back cushions as they are soft.
It has a faux leather upholstery that makes it easy to clean. The ottoman on this model also has a storage compartment and it might come handy.
You might buy this set considering the price, but keep in mind, you will need to drill some holes on the legs to connect them to the ottoman frame.
Pros:
Storage compartment inside the ottoman gives extra space for little items.

Back cushions are soft and removable.

Faux leather is easy to clean and maintain.
Cons:
Need some drilling as the holes on the ottoman legs could be missing.
Conclusion & Editor's Choice
It was a tough task to choose the best sectional sofa under 1000 as a lot of them had similar features and functionalities. But in the end, the winner is Rivet Revolve! The price is excellent and so is the quality of the frame. Due to its compact size, it will be perfect for most medium to small-sized homes.
You could also look at the other models if you require something more spacious and premium looking. Feel free to rate each of these sectional sofas and let us know which one you loved best!