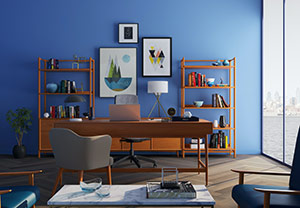 Some would say there's no right or wrong time to buy furniture. I disagree. As someone who has purchased and continuous to purchase her fair share of indoor and outdoor furnishings, I mark my Google calendar for upcoming furniture sales to get the sweetest possible deals. 
This is not a drill. 
Figuring out the best furniture sales seasons takes some serious observation skill, perseverance, and a good bit of research. 
Here, I have done both on your behalf so you can plan your furniture purchase schedule accordingly and get everything you've been looking forward to but at the lowest price. 
Let's get to it: 
Best Time of the Year for Buying Bedroom Furniture: Fall and Spring
Based on my observation, most furniture retail stores update their indoor furniture catalog twice a year – spring and fall. This means they will have to clear their stock as fast as possible to make room for new products. You know what this means, right? 
Sale!
Common sense dictates that you should start looking for deals at least a month prior to it. Therefore, the end of summer (aug-sept) and the end of winter (jan-feb) can get you some really attractive deals on indoor furniture. 
Also, President's Day Weekend Sales on the third week of Feb and Labor Day weekend in early September deserves special mention. 
The discounts on big-ticket items like luxury beds, bunk beds for adults, wardrobe, study table are somewhere between 30-60% on these special days, in most parts of the US. 
If you are moving to a new apartment or looking for a complete remodel of your living room, here's what you need to know-
Best Time to Buy Living Room Furniture: End of June- July
It's no secret that living room furnishings are generally pretty expensive. So if you are on a really tight budget, midsummer is the time to go on a living room furniture shopping spree. 
The discount percentage on items like luxury lounge chairs, mid-range sectional sofa, tables, and armchairs is huge during this time as specific brands renew their stocks from late Aug to September. 
So the time between late June to July is the best time of the year to cash on those "last chance" and "stock clearance sales". 
Another reason midsummer, especially July, is great for furniture shopping is that sales down usually down in summer, which compels the brands to racket up their discounts. 
Not to mention, all the public holidays and special days during this period will also have some massive stock clearance sale going on somewhere. 
Best Time to Buy Kitchen Furniture: Pre and Post Holiday Seasons
The month before any major holiday such as Christmas. Labor Day, Independence Day is the time most people gear up for hosting dinner for family and friends. 
This obviously drives up the sales of standard and extra heavy-duty dining chairs and tables, encouraging the brands to slash down the prices to beat their competition. Another time to get great deals is when the holidays are nearly over. 
The time between Christmas and New Year is when you can score some fantastic deals on kitchen furnishing and appliances. It's because at times, brands overstock and don't end up meeting the retail sales target. So slashing down the prices is the only way to clear up the stock fast. 
Best Time to Buy Outdoor Furniture: July-October
I can see why it would be tempting to binge-shop summer clothing and outdoor furniture in the late spring or beginning of summer. Yes, you can snag some amazing deals on patio and garden furniture. But if you are looking to save, hold your horses till July 4th. 
July to the first Monday of September (Labor's Day) is the time of the year when the most expensive outdoor furniture goes on sale. 
It's primarily because the outdoor furniture sales are on the wane during this span and the inventory is restocked in fall. 
Best Months to Buy Office Furniture- April, August, and September 
Individuals in the US have to file their annual tax return before or by 15th April. So if you are planning to replace or upgrade your office chairs and desks, this would be time to execute the plan. By the way, if you are having a hard time finding the perfect office chair for a really tall persoon, here are some great options to look into.  
August is the back-to-school shopping season. Therefore, the prices of school furniture drop heavily at this time of the year. If you are not in hurry, I'd suggest you wait till all the rush is over. 
There will be a second wave of sales at the end of September as retailers will have to update the showroom with new products. 
Conclusion
Now that you know everything you get started, do hurry up and save the dates, mark your calendars, start saving up – do whatever that is needs to be done. Most of all, be alert. 
Online or offline furniture shopping at the lowest price is all about keeping a close eye on the websites. Hope this guide helps you find everything you're looking for without making you overshoot your budget. All the very best!