The trend of Window AC has been replaced with Split ACs for a long time now. But, some of the best low profile window air conditioners are still trendy, classy and highly in-demand. 
In some cases a window unit is more preferred to the split units. Especially people who tend to move around a lot and change home frequently, are more likely into it.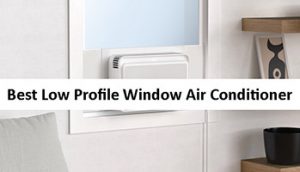 Low profile window units are compact in size, aesthetically pleasing in look, and efficient in its performance. They are perfect for cooling a small to medium size room. 
Since you are also in search of some great window units, we have done the shortlisting for you. Let's get into it.
Factors to Consider When Buying a Low Profile Window AC
Split ACs have been widely popular in the last few years but some window units still outrun those by its efficiency and design. Furthermore, to choose the best low profile window air conditioners, we consider some crucial factors in a window unit as follows.
1. Size and BTU
The first thing you need to crosscheck is the size of your room and an appropriate size of window AC. Usually the BTU and Coverage of Room size Guideline is as following—
| | |
| --- | --- |
| Range of BTU | Coverage Area (Square Feet) |
| 5000-8000 | 150-350 |
| 8000-12000 | 350-550 |
| 12000-18500 | 550-1050 |
| 18500-25000 | 1050-1600 |
Besides this chart, you also need to consider the dimension and weight of the unit and match it with your chosen window before buying a unit.
2. Noise Level
Some window units mention the level of noise in decibel (dB) that particular compressor is supposed to make. In most cases the manufacturers are true to words. But in some cases, they might not be. 
So, we recommend you to go through the reviews from users or experts before choosing one. Because, excessive noise can turn your peaceful sleep into a nightmare. 
3. Cooling Capacity and Other Features
Before choosing a window unit, go through the cooling capacity they are advertising for. If it is not mentioned, you can also consider the general guideline as we already mentioned above. 
Besides the covering area, the intensity of cooling and time required for cooling can vary from one unit to another. So, check the cooling capacity before picking the best window unit for yourself. 
Some units offer useful and convenient features like dehumidification, fan mode, energy saving mode, sleep mode etc. Others come with a programmable timer, WiFi and other Bluetooth Voice Assistant Compatibility as well. 
Depending on the budget, make a comparison of what features they offer.
4. Energy Efficiency 
Most modern-designed window ACs are Energy Star Rated. This means the AC saves energy which costs you less electricity and causes little to no harm to the environment. 
So, this is also an important factor to check before buying a window AC.
5. Safety & Maintenance  
Nobody wants unnecessary hardwork and unpleasant incidents over an air conditioner. So, you need to make sure that the unit is safe and low maintenance.  By low maintenance we mean that the unit filter is easily removable and easy to clean as well.
10 Best Low Profile Window Air Conditioner 2021 Reviews
1.

Friedrich CP10G10B Window Air Conditioner
Unit Dimension: 22.2 x 23.6 x 15 inches
Cooling Area: 450 Square Feet
BTU: 10,000
Friedrich is a well-known brand for their high-quality products. And continuing their legacy, the FriedRich chill series air conditioners have earned huge popularity already.
It is one of the best low profile window air conditioners that offers more than it promises. This powerful 10,000 BTU air conditioner is supposed to cool rooms up to the size of 450 square feet. 
It is capable of ice-like cooling the surrounding areas as well. You will love its ultra-quiet operation. The dehumidifier feature works like magic. You can enjoy a cool yet not soggy room with this window conditioner.
Even when the compressor kicks on, the unit makes minimal sound that is barely noticeable. Moreover, it's smart and remembers your last settings to run it on your preferences.
You can install it in your window or through the wall. The thing you'll love about it is the option to choose getting the inside air or the outside air.
The auto swinger louvers of this unit is a bit disappointing. It doesn't work that well as the louvers are much shorter than it should be. Apart from this tiny downside, this unit is worth every penny you spend on it.
Pros:
Programmable timer plus the MoneySaver setting helps manage energy use and reduce costs.

Ultra quiet mechanism doesn't interrupt your good night's sleep.

Low power start-up, and energy saver mode save energy and cut down the bill.

Auto restart feature resumes operating at the previous settings.

Filter alert lets you know when the unit needs a cleaning.
Cons:
The auto swinger louvers seem to be useless. It's shorter than it should be and makes noise while moving back and forth. 
2.

Midea U Inverter Window Air Conditioner
Unit Dimension: 21.97 x 19.17 x 13.46 inches
Cooling Area: 350 Square Feet
BTU: 8,000
The best and first noticeable feature of Midea U inverter is its unique and convenient "U" shaped design. For a lot of users, this could be a deal maker on its own.
This design cuts the noise from the compressor. And it makes the unit 9 times quieter than other traditional units. So you get to enjoy an uninterrupted quietness while sleeping or doing your chores.
This U-shaped design also offers more flexible window opening, especially if you have a vertical window. Since windows run over the lowest surface of U, you can easily slide it on and off. 
You might still find air gaps through the units, but it would take no time fixing the problem whatsoever.
Pros:
Saves more than 35% energy, thus saves your electricity bill as well.

U-Shape Design allows you to open and close your window with ease.

Designed in a manner to cut off maximum noise.

Gives you more control with the smart WiFi, iOS and Android connectivity.

Additional Bracket gives more support to the AC while installing it.
Cons:
After installation, you might find some non-ignorable air gaps depending on the type of window. However, you can apply adhesives and the additional foams they include with the packaging to close the gaps easily.
3.

Soleus Air

Window Air Conditioner
Unit Dimension: 31 x 21 x 18 inches
Cooling Area: 275 Square Feet
BTU: 6,000
If you are looking for a window Unit for your medium-sized room, yet don't want to block the view, This Soleus Air is definitely your best bet. It will give you a full window view and a cooler room.
It comes in an amazing design which makes it literally the lowest profile window air conditioner. In that case, the minimum height of your window has to be 16 inches or higher.
It takes no tools and time to install this unit. But make sure of the fact that your window sill is not more than 11 inches thick. This unit cools down the entire space in no time. It's aesthetically pleasing and also offers a nice and tidy look to the room.
Pros:
Doesn't block the window. So, it gives you the full window view.

Can be used both as a window AC or a mini Split AC.

Securely balances and needs no additional support.

Gives your room a very unique and classy look.

MyTemp sensor smartly detects your position and direct the cool air towards you.
Cons:
Not recommended for people living in a humid area since the unit bucket frequently displays Full (FL).
4.

TOSOT  Window Air Conditioner
Unit Dimension: 21×17.25×12.75 inches
Cooling Area: 350 Square Feet
BTU: 8,000
The TOSOT Window AC is the smartest little unit you can find on market. With those extra white panels it will perfectly go with any type of modern interior. 
It won't just cool your eyes, but gives you shivering coolness in those hot summer days. Besides, it will also keep the space moist-free with its amazing dehumidifying function.
The Smart Temperature Control is its most amazing feature. Whereas most units have the thermostat located on the unit itself, this TOSOT window AC has it on the remote control. The designer of this AC is clever enough to assume the remote will be somewhere near you. Thus, the unit will direct its air flow towards the remote, meaning you.
It runs fairly quiet, but not as much as the Friedrich or Midea U. However it's not crazily loud like some ACs. If you want to place it in your bedroom then you just need to place it on the window a little far from your bed. That's it. 
The TOSOT is definitely one of the best low-profile window air conditioners in terms of cooling capacity and design.
Pros:
3 in 1 function works as an Air Conditioner, Fan and Dehumidifier.

Lightweight and easy to install.

Cost-efficient for an 8,000 BTU air conditioner.

Multiple wind-direction louvers cool the room evenly.

Comes with insulating foam strips and foam board included in the packaging.
Cons:
This unit doesn't remember the last settings like many others do.

Makes loud noise after a time.
5.

LG LW5016 Window Air Conditioner
Unit Dimension: 19.6 x 19.4 x 12.4 inches
Cooling Area: 340 Square Feet
BTU: 8,000
The LG LW8016ER is another great low profile window air conditioner for a medium to large space as much as 340 square feet. The 3 fan speeds offer more control over the air flow according to your need.
This unit has a great feature— the 4-way air deflection feature. With this feature you can direct the airflow in four different ways and cool every corner of the room evenly.
The auto-restart feature is quite handy for use. Because, you don't need to worry about each sudden power outage and rush to start your unit manually. This unit will restart itself.
Setting up the connection with WiFi can be quite frustrating as some users mentioned. However, if somehow you sort it out, you can run it with just one touch on your phone. So, you can turn it on before even arriving at home and your room is already chilled. 
As some users have mentioned about the loud rattling sound, we don't recommend it for the bedrooms. Other than that you can go just fine with it installed on the other spaces at your house.
Pros:
Auto-restart function keeps you worry-free on those sudden power outage occurrences.

4 way air deflection makes sure every corner of the room is evenly cooled.

3 fan speeds give more control over the air flow.

Can be operated by phone and with WiFi.

Energy efficient and easy to install.
Cons:
Makes a loud rattling sound.

WiFi setup process is a little tricky.

There's no drainage hole, thus water drips off from the back case.
6.

Koldfront WAC6002WCO Window Air Conditioner 
Unit Dimension: 15.75 x 18.56 x 12.75 inches
Cooling Area: 250 Square Feet
BTU: 6050
If you live in a super humid area and looking for a nice little window unit, we've got your back. Koldfront is definitely going to blow your mind and body with its coolness. 
It's a nice portable window air conditioner that not only enhances the look of your house, but also keeps it dry. Yeah, its dry setting is amazing. So if it rains or gets humid often in your area, you won't have to worry after installing this unit.
It is also efficient in energy saving. Additionally, the sleep mode will adjust the room temperature nicely.
But there is one thing you should know. The adhesive of its flimsy insulation foams are almost permanent. So if you want to move the unit from this room to that, which is quite common to expect, you probably should buy some additional thick rubber insulation strips.
With that being said, this unit is amazing at its efficiency and service. And it is worth every penny.
Pros:
Highly recommended for people living in a humid area.

The "Dry" setting keep your room dry during heavy rain and extreme moisture.

Lightweight and easy to move from one room to another.

"Sleep mode" will adjust the temperature at the right level for sleeping

.
Cons:
Remote range is short.

Some users complained about the thermostat being inconvenient. 
7.

GE Profile PHC06LY Window Air Conditioner
Unit Dimension: 18.12 x 21.25 x 12.44 inches
Cooling Area: not specified (approximately 250 Square Feet)
BTU: 6,150
GE appliances have their own popularity and brand value for always keeping up with updated technology and convenient features. This GE low profile AC unit is no exception.
With a timeless appearance and amazing energy-saving feature, this unit is a perfect choice for a small to medium room.
The GE app will offer you much convenience in operating the unit from afar. Besides, the upward facing vents flow the stream of cool air towards the ceiling and thoroughly cools the room.
It doesn't throw the cool breeze on your face like most window units. So, if you have sinusitis or sensitive nose issues, give this a go.
The only disappointment with this unit is that it doesn't run that quiet in other normal modes as it promises. But if you run it on the Fan mode, this runs so smooth and silent. 
Pros:
Operates quietly when set on Fan mode.

Can operate through GE mobile app which is much handy.

Can be connected with and operated by your Bluetooth-enabled voice assistants.

Cools the entire space thoroughly.

LED Display automatically dims after a while which is perfect for light sensitive people.
Cons:
Compressor is quite loud when it's not on Quiet Mode. This unit is not recommended for installing in bedrooms.

Some users found difficulty in WiFi connectivity.
8.

Haier ESAQ406T Window Air Conditioner
Unit Dimension: 18.13 x 21.25 x 12.44 inches
Cooling Area: 250 Square Feet
BTU: 6,000
If you are planning on installing a perfect little AC on your low window, you should straighly go for this. As long as your window's minimum height is 13.38 inches, and the room is around 250 SqF, this is the best low height window air conditioner you will find in the market.
This is a highly recommended little unit with amazing features. It is energy star rated and operates in 4 functions including dehumidifying. 
The most amazing feature of this particular one is the compressor blanket. So, as soon as you hit the Quiet Mode on, the compressor blanket reduces all the noises while doing its job perfectly.
You can enjoy a sound sleep with this unit installed on your window. It blows the air upwards. So, even if the window is low, the entire room will cool within minutes.
Pros:
Set your specific schedule with the 24 hour timer.

Doesn't blow the air at your face, instead blows upwards

Perfect unit for low height windows.

The compressor blanket makes it ultra-quiet.
Cons:
No significant con found so far (which is another pros by the way).
9.

AMANA Window-Mounted Air Conditioner
Unit Dimension: 21.5 x 19.8 x 14.7 inches
Cooling Area: 150 Square Feet
BTU: 5,000
Small rooms like the kitchen, study room, home-work space and etc. don't need a large BTU unit. If you are in search of the best low profile window air conditioner for such a space, we've got this little beast for you.
This little unit is very lightweight and cheap in comparison to its quality. It cools the space efficiently with those 8 way directional air louvers.
Though this unit is not energy star rated, it will neither boost your electricity bill unnecessarily. So, you don't need to worry about that so much.
If you are okay with turning this little machine on and off manually, without a remote control, then you must give this a go. Both you and your wallet will keep cool. 
 Pros:
Perfect for small rooms.

2 fan speeds offer more convenience.

Very lightweight and easy to install and move along.

8-Way directional air louvers cools the room evenly.

Budget-friendly.
Cons:
The unit is not energy-star rated.

Doesn't come with any remote control.
10.

Della Window Air Conditioner
Unit Dimension: 15.26 x 13.45 x 19.04 inches
Cooling Area: 250 Square Feet
BTU: 6,000
Fairly quiet compressor, variable temperature setting and high speed dehumidifier—quite an impressive combination of features. This is what makes this ultra-slim profile window air conditioner worth your money.
This unit has a LED display on its body. You can set your required mode directly from the LED display or using the remote control, as you wish.
So many control features give you the freedom to use your window unit adjusting with your mood and the weather. The installation extras will just amaze you. With the installation manual and all those provided, you can do the installation so easily. 
Pros:
Adds an extra punch to your interior with the ultra sleek design.

Compressor is also fairly quiet.

Modes can be controlled with the LED Display or remote control both.

Comes with extra installation provides along with user manual.

Dehumidifies up to 46 pints per day which is quite impressive.
Cons:
The fan mode seems a little loud

Only some users had experienced a little malfunction— after dropping to a certain temperature it starts to kick on and off automatically.
Conclusion & Editor's Choice
As we have covered it all, choosing the best low profile window air conditioner varies on a few factors. However, we usually prioritize the efficiency and quality of the unit first. 
We have reviewed a range of window units of various sizes and features. We can pick whichever meets your needs. 
But based on the research we have done on this topic, our favourite low profile window ac unit is the Friedrich Window Air Conditioner. 
It's a powerful little unit that you can place anywhere in the house and it will do the job like magic. It's quiet and very efficient. However, you can go for any other unit from the other nine window ACs as well.