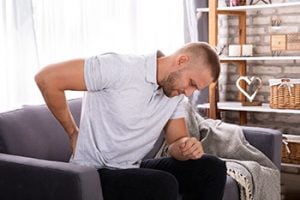 "One fifth of all people who buy luxurious and super comfy sofas suffer from back pain and shoulder strain"- The Dailymail
As most adults in western countries spend 55%-70% of their time sitting, It becomes crucial to choose an ergonomic sofa that can support your back.
Ditch those soft and slouchy sofas because we got the best sofa for back pain sufferers!
The sofas we reviewed will be a bit firm, yet comfy and most importantly will keep your back straight and put in a better position.
Here's the full guide of best sofa for back support! 
| Images | Products Name | |
| --- | --- | --- |
| | Signature Design by Ashley Sofa | |
| | Stone & Beam Dalton Sectional Sofa | |
| | Rivet Sloane Mid Century Modern Sofa | |
| | Serta Sofas | |
| | FDW Recliner Sofa Set Sectional Sofa | |
| | Zinus Jackie Classic Upholstered Sofa | |
| | Flash Furniture Darcy Contemporary Microfiber Sofa | |
| | Divano Roma Furniture Classic Sofa | |
| | Homelegance Bonded Leather Sofa | |
| | Carolina Sectional Sofa | |
10 Best Sofa for Back Support 2021 Reviews
1.Signature Design by Ashley Sofa
The Ashley Larkinhurst is one of the best couches for back support and the classic design just adds tremendous value to the product.
With a height of 38 inches, you can easily sit on it with your back straight and comfortably get off with no stress. In this price range, it's pretty hard to find nothing of this kind.
Some of the top features you can find in this sofa:
Faux Leather Like Design-

The sofa is made from a polyester blend of advanced microfiber material. But it looks and feels like faux leather. 

Reversible and Firm Cushion-

The bottom cushions can be removed and reversed. So, you can have it to last longer. The back cushions are fixed and firm. They have a good spring system and hold the shape for a long time.

Complementary Sets Available-

You can find complementary furniture sets that include love seat, recliner and queen sleeper sofa. Perfect for full living room decoration.
We found the pillows to be thick and firm. That's an advantage if you like to add extra support to your back. Although microfiber, the fabric is quite resistant to pet scratches.
Pros:
Sofa feet is detachable.

Comes fully assembled.

Stylish rolled arms with spacious seat.

Back cushion is high enough.
Cons
Not as heavy as you would like.
2.

Stone & Beam Dalton Sectional Sofa
Looking for firm sofas for bad backs? Get the Stone & Beam Dalton! It has the right height and depth suitable for back pain and as well as comfort.
We loved how low maintenance the unit was and very easy to clean with a towel or spot spraying.
Here are some of the unique features of this unit:
Sinuous Spring System-

This sofa has a sinuous spring system that will hold the shape far better than regular sofas. Great for bad backs.

High Density Reversible Foam Cushions-

All the cushions both bottom and back are reversible. The foam material is high density and has a polyester fabric wrap.

Durable and Sturdy Frame-

The frame is made from hardwood and laminate wood, so you can expect the sofa to take on huge loads without cracks or breakage.
One of the coolest things about this sofa is its arm. The arms are well padded and comfy unlike other sofa arms that are rough and edgy.
'The fabric is applied with stain resistant spray, so it's easier to clean but gives off smell for some duration.
Pros:
Suitable height for back rest.

Well-built and stable.

Firm and not too soft.

All cushions are reversible.

High density foam filling.
Cons:
Has a smell that can take some time to go off.
3.

Rivet Sloane Mid Century Modern Sofa
The Rivet Sloane is one of the best sofa for back support. It has a mix of classic and modern design that can fit in any room decor.
You won't feel too soft or firm sitting on the sofa. But to be precise, it's on the firmer side, which is exactly what you need for back support.
Medium Depth for Upright Sitting-

Apart from the back cushion, the seat has a depth of 22 inches. So, there won't be any slouching problem and you can keep your knees at 90 degrees!

Harwood Solid and Durable Frame-

The frame is curved out of hardwood giving the sofa stability and durability. It's not too heavy but not too light even!

Rugged Polyester Easy Clean Fabric-

The sofa is wrapped with polyester fabric. It's not waterproof but if you drop any liquid, it won't penetrate inside. Easy to clean with a damp cloth.
Keep in mind that the cushions and seats are not reversible. So, you can expect them to lose firmness quicker than other sofas. Overall, it's a great furniture to have at home.
Pros:
Durable fabric capable of withstanding rough use.

Firm and comfortable cushion.

Modern and sleek design.

Appropriate depth for maintaining good posture.

Sturdy wooden legs.
Cons:
The armrest feels a bit flimsy.
4.

Serta Sofas
The Serta Sofa is the best sofa for back support on a budget. It will hold its shape for years and will perform better than other sofas in the similar price range.
We loved the small size and particularly long height of the sofa. Worth buying!!
Check out the top features of this sofa:
Appropriate Size for Small Homes-

The sofa has a length of 78", which can fit in any small room or studio apartment. Maneuvering this unit is also relatively easy and will fit through any regular doors.

Individually Wrapped Coils Provide Extra Support-

The coils inside are wrapped individually. So, you will get support from every corner of the cushion. It also becomes easier to replace the coils if one or few of them becomes loose.

Deep Seat Perfect for Taller Lads-

The seat is relatively deep. If you are a tall person, it will work perfectly for you. For shorter people, it will be a bit slouchy.
Additionally, you will get two throw pillows with the set. And being a linen covered sofa, it is very easy to clean and liquid won't soak inside fast. The unit comes disassembled, so it's easier to put in any room you want.
Pros:
Hardwood laminate frame that's super durable.

The cushions are not too soft nor too firm.

Assembling requires no additional tools.

Pillows for extra support included.
Cons:
The back cushion of the sofa is a little too squishy and don't bounce back to their normal shape once you've rested against them. They require constant "fluffing".
5.

FDW Recliner Sofa Set Sectional Sofa 
The FDW is probably the best recliner sofa set for back pain. You get a single recliner with a loveseat and 3 seater sofa altogether in this package. It's a bargain you cannot miss for your small home.
It won't be as durable as some of the premium sofa sets, but well worth buying for people in tight budget! You need to fill those spaces, duh!
Check out the features:
Durable and Easy to Clean Pleather Material-

The sofas have a pleather fabric that makes the unit cheaper but far more durable than genuine leather. It also provides waterproof effects, so no worries for spills.

Complete Space Saving Sofa Set-

The size of each sofa falls in the small to medium range. It won't take up much space and also give you lots of seating options for your family members and guests. 

Well-built Recliner-

The recliner is built from solid wood frame and it will hold up pretty well. But don't expect it to last years if heavyweight adults frequently use it.
Other than these, the sofas are quite high and offers good back support. Only the love seats have soft and slouching cushions, which can be used for relaxing and fun!
Pros:
Doesn't take much space.

Has good elasticity and holds its shape.

Durable and waterproof pleather fabric.

Switch function for easy movement of the recliner.
Cons:
The love seat cushions don't seem firm enough.
6.

Zinus Jackie Classic Upholstered Sofa
The Zinus Jackie is the best sofa for lower back pain. It's not too deep and also very firm. If you love firm and pushy sofas, you will love this one. However, it lacks softness and that's the only thing you need to consider when buying this.
The sofa set has a modern design and the color is greenish grey. Looks very appealing and will fit in any decor.
Here are some signature features of this sofa:
Solid Frame With Protective Legs-

It's made from natural wood that provides stability. The legs can be removed by unscrewing and they have padding underneath for protecting the floor.

Perfect Height and Depth-

The seat depth is 22 inches from the edge of the seat to the front of the cushions and a height of 35 inches. This sort of dimension is good for bad backs.  

Padded Armrests-

The armrest has a moderate padding that can be pretty helpful when sleeping on the sofa. But more padding would have been better.
We won't say the sofa is extremely comfortable. This is not the unit for comfy frenzy people. The springs do push you forward and keeps your body straight!
Pros:
Easy to assemble and disassemble.

Appealing color and design.

Sturdy frame and legs.

Cushions have zippers for changing the foam.

Firm and helps to maintain good posture.
Cons:
7. Flash Furniture

Darcy Contemporary Microfiber Sofa
The Ashley Darcy is an ergonomically designed contemporary sofa. Its neutral white color will add ambience to your decor and the design supports back pain.
What you will find in this sofa:
Perfect for Both Taller and Shorter People-

With a height of whooping 40 inches, most tall people will find it comfortable to sit. And the seat depth is also suitable for smaller people to sit upright.

High Resiliency Foam Cushions-

The foam cushions are soft and not too firm. On top of that, polyester fabric provides durability.

Easy to Clean Fiber-

The microfiber covering prevents spots from spilling food and liquid.
The sofa has a 5 year warranty that gives you freedom to replace or ask for a refund if you don't like the piece. Though the frame wood is not the most high quality one but it's very sturdy.
You should know that the cushions and seats are not reversible. Only the seats can be removed for cleaning!
Pros:
Comes unassembled making it easier to transport to any room.

Fits through most regular sized doors.

Padded armrest.

Optimal height and depth.

5-years warranty.
Cons:
A little bit on the softer side. Not recommended for elderly people.
8.

Divano Roma Furniture Classic Sofa
We wouldn't believe if anyone said that sofas for bad backs can also be comfortable. The Divano Roma proved us wrong and it's certainly one of the most comfortable sofas for back pain.
Check out the top features:
Super Comfy Double Recliner-

Apart from the middle, both sides of the sofa reclines. It's not a complete reclining unit as the back cushion just moves an inch or two to the back. You have a footrest that reclines and operates through switch. Perfect for adults and elderly!

Superior Back Support-

The cushions are overstuffed making the sofa firm and also provides a bit of softness for comfort.

Soft Durable Fabric-

It's all wrapped with linen from the front to the back. The fabric is durable and will feel soft to touch.
The color of the sofa is mix of navy blue and bit more grey. So, it's not very contrasting and suitable for most decors. Keep in mind that the unit comes unassembled. So, you will need to put some effort to get it together.
Pros:
Two recliners in a single sofa set.

Keeps the lower back and head aligned.

Recliner works through switches (not manual).

Wide and spacious seats.
Cons:
I wish there were a few color options.
9.

Homelegance Bonded Leather Sofa
The Homelegance Center is yet another comfortable sofa for bad back. If you are suffering from post surgery pain or any back pain of sorts, this sofa set will be worth spending money.
Let's look at some of the features of this sofa:
Double Gliding Recliner-

Yes, it's not a traditional sofa. Both the seats have reclining capability. It's not automatic, you will have to operate manual using a lever. The seats are made from bonded leather and the body is wrapped with faux leather.

Extra Storage Compartment-

Underneath the sofa when you lift the footrest, there is a storage area. It's on both the recliners. Great for storing kid's toys or snacks that you will need when watching TV or reading books.
Apart from all these, there are two cup holders in the center panel— perfect for keeping bottles and glasses! The arms are rounded and nice sewn.
During reclining, the sofas make constant contact with the center cup holder panel. So, it makes a bit of noise. Nothing serious but it can rupture the outer fabric after few years.
Pros:
Keeps your back straight.

Durable and spill proof fabric.

Double storage space beneath the sofa.

Fast and easy assembly.
Cons:
If you have short legs you may face hard to rock in it.
10.

Carolina Sectional Sofa 
If you need firm sofas for bad back, The Carolina Sofa should make you more than happy. It's one of a kind sofa set that can be set up as you like and perfect for small homes!
Better check out the features before purchasing:
Flexible Configuration-

The sofa set has 5 sections- two armless, two armed and a corner section. You can set them up in L or V shape. And.. you can also set them up individually where you need to relax.

Firm and Upright Sitting-

The cushions are more on the firm side. As anyone with back pain knows the need for a stiff cushion. But with time, it will soften up a bit and will feel more comfortable than ever. The armless sofa has a height of 34.5 inches, which is suitable for upright sitting.

3 Color Options-

You can choose between deep red, dark blue and light grey colors. We recommend the light grey tone as it can easily mix with any decor.
As a bonus, you can also add a footrest to any of the sofa sections- available for purchase separately from the manufacturer. The polyester fabric is soft and durable. And you can remove the back cushions for cleaning.
Pros:
Customizable sitting arrangement.

Perfect height for maintaining good posture

Initially firm but will soften a bit over time (will not sag).

Will not take up much space.
Cons:
Back cushions are not reversible.
How to Choose the Best Sofa for Back Support?
1. Supportive spring system
Most sofas with good back support will have a spring system that will remain firm and not squash inside.
In more expensive ergonomic sofas, you will find hand-tied spring systems or more commonly known as eight-way hand tied spring system. These sofas have springs on every corner and requires intensive labour hours and hence the price.
You can also find sofas with sinuous springs that works as great as the had-tied ones.
Whatever might be the spring system, check whether the spring remains firm even after considerable use. 
2. Firm cushioning
You want the sofa cushion to be soggy and extremely soft. These kinds of sofas won't support your back and will create more back pains.
The cushion should be firm and a little soft to touch. The firmness is what will keep your shoulders and back straight.
If the sofa is difficult to leave once you sit on it, this is an indication of the lack of back support. When buying online, read the reviews and what other users reported.
3. Supports upright position and prevents slouching
You should be able to sit on the sofa in an upright position. You should be able to bend the knees from 90-degree to 110-degrees.
Check the depth and height of the sofa and match with your height. A general rule is to avoid short and shallow sofas. Because you will be forced to slouch.
Too high and wide, your knees will be forced to stay upwards from the ground. This situation will restrict blood flow to the nearby arteries and result in long term pain and discomfort.
4. Recliners that supports back pain (optional)
Recliner sofas are best for both comfort and back pain. You can change the position of the back support but still maintain a straight posture.
Recliners also feature foot rest, which is great for people who loves watching TV or reading books for hours.
The only difference between non-reclining and reclining sofas is the price. You can pay a bit more to get recliners and will keep your back pain away.
5. Sturdiness and durability
Most people only judge a sofa by it's cushioning and ignore the frame. The frame is what gives the sofa stability and durability.
Cheap quality frames will wear out and break. The frame should be made from high quality materials like hardwood or that kind.
The fabric and the foam fill is also critical factor behind durability. Good quality foam will keep the shape and survive for years.
6. Size of your room
Don't just buy a sofa because it has good back support and you love it. You also need to find a space for it.
If you have a large space, you can get a full sofa set like FDW recliner set. Otherwise, you can buy something smaller that can accommodate two to three persons. 
7. Design and aesthetics
You really can't ignore the design of your sofa. It should fit in with your surroundings and decor of the room. The sofas we reviewed have modern and classic designs. We are sure you can find one that satisfies you.
But… Don't put too much emphasis on design. You want a sofa that is friendly to your back. And even if it's a little low on design, it will be worth buying. 
How Different Is Regular Sofa from Sofas for Back Pain?
Regular sofas that feel super comfy have the following features that makes them different from those we reviewed in this list:
They have plush fabric with extremely soft cushioning.

When you sit, your body, especially the back dips inside the cushion. Thus, you remain in a slouched position.

The legs often remain in a curled position.

Your back, shoulders and pelvis are never straight and remains in multiple awkward positions when you move.

Super comfy sofas are usually overpriced because of people's misconception of soft= comfort.
On the contrary, sofas for back pains are stiffer, firmer and keeps you in an upright position!
How to Maintain Proper Posture When Sitting on Any Sofa?
If you have a sofa that is very deep and sucks you in, you can follow the below tips to maintain a good posture and live a pain free life:
Tip #1- Get yourself as much as possible to the back of the sofa. It works with sofas with wide seat but firm cushioning.
2- For very deep sofas, you need to build a firm support using pillows. If there is no support for your head and shoulder, put a pillow near your shoulder area and underneath your head.
3- If the seat angles backward, you will need to use pillows above your thighs and lower back to support the pelvis.
4- If no other way works and you can't find pillows, you can stacksit on the edge of the sofa. Just sit in a way that enables you to put your knees in 90-110 degrees without using the back of the sofa at all.
5- If nothing works or feel comfortable, you can use your regular sofa as a recliner. Stretch your legs over the length of the sofa and rest your back on the armrest. Add additional pillows to keep your back and pelvis straight.
6- Throw the regular sofas and get the sofas we reviewed for superior back support!
Conclusion and Editor's Choice

The Ashley Larkinhurst is the best sofa for back support! It has firm and comfortable cushions that will keep your back pain away. The price, durability and design makes it our top choice!
If you love recliners, you can opt for other sofas we reviewed. Whichever sofa you buy, you will be thanking yourself for making the right decision!