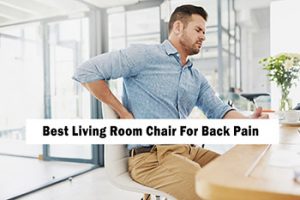 Are you searching for the best living room chair for back pain?
Technically, not all chairs are designed to fit all kinds of body shapes. So, we mixed up the list with large, tall and small chairs that can support all kinds of users.
We focused on the positioning of the chairs for back support and hence all of the chairs have some kind of reclining functionality. So, whether you like to sit upright, lay back or need just a slight recline, you will find them all. 
If you are a bit on the heavier side, don't worry. All of these chairs have 250+ lbs weight limit. Comfort is inevitable once you buy one of them.
Check them out!
Top Pick
The FDW Wingback is our top pick for the sole reason of value for money. It can recline to a completely flat position and has pretty comfortable cushioning that can hold their shape for a longer duration.
Budget Pick
The Homall Recliner is our budget pick and it's more sturdy than you expect. The frame is made from steel and has PU leather covering that feels great on the skin. It doesn't have the contemporary outlook but it sure gets the job done!
10 Best Living Room Chair for Back Pain 2021
Click a link below to jump to the relevant section
1.FDW Wingback Recliner Chair
Weight limit: 250 lbs
The FDW Wingback Recliner is a deal breaker giving you the best value for money. Its relatively firm and comfortable padding makes it the best living room chair for back pain. The design and look is sophisticated enough to place it in home or business environments.
It has the ability to recline 160 degrees, which means you can lay back and sleep on it. The footrest offers ample support but due to the design of the chair, it's more suitable for people less than 5'10.
The legs and frame are quite sturdy and durable as the construction is made from solid hardwood. The seat has PU leather upholstery and you won't have to worry about spills. Moreover, it can withstand sunlight pretty well.
For back pain sufferers, this chair is just perfect. Padding on seat, armrests and everywhere. You can either seat upright, fully reclined or slight reclined.
Installing the chair won't take you more than a few minutes. Just remember to slide in both sides at the same time, otherwise one side can lock into place.
Pros:
Firm yet comfortable having lots of padding.

Reclines to a completely flat position.

Water resistant PU leather is easy to clean.

Durable and long-lasting construction.
Cons:
The chair is a bit on the shorter side. So, people over 5'10 will find it difficult to use.
2.

Signature Design by Ashley Recliner Chair
Weight limit: 250 lbs
The signature Design by Ashley is a top-rated chair for heavy people with back pain. It's a bit oversized and has plenty of room to accommodate large or taller individuals. The rolled arms and window pane stitching makes it perfect for contemporary living rooms.
This is a pull tab recliner that can go all the way back and when fully reclined measures about 66-in. The polyester and polyurethane blended fabric gives a leather-like look and still feels like fabric. The best part is it doesn't look like fake leather by any means.
Using the recliner could be a bit tough for petite or weaker individuals. But the level of comfort you are going to get outweighs everything else. The head support is sufficient for medium height people. If you are taller, you could use an extra pillow for lumbar support.
The one thing that needs fixing is the recliner does rock a little bit in a reclined position. Apart from that, you don't have much to complain.
Pros:
Roomy seat design is suitable for larger and heavier users.

Polyester fabric is soft and comfortable to sit.

Cushions hold their shape and offers a lot of support.
Cons:
Might rock a bit in reclined position.
3.

Homall Recliner Chair
Weight limit: 265 lbs
The Homall recliner is pretty similar to the FDW recliner we reviewed earlier. It's a bit on the shorter side but in terms of functionality it's one of the best living room chairs for back pain. 
The outer material is PU leather that feels great on the skin. If your home is filled with pets and children, you are saved as PU leather is easy to clean. Both the back and footrest have thicker foam padding which will offer ample of back support.
Judging the price, the Homall is a great deal as it has a durable steel frame and can last more than you expect. It has four sturdy feet equipped with non-marking pads. So, your floor will remain safe from scratch.
For shorter and average users, the size is perfect. However, anyone over 5'7" might find face issues such as feet hanging out of the footrest and lesser head support. The good thing is this chair reclines all the way back and makes a great piece for relaxing.
Pros:
Durable and sturdy steel frame construction.

PU leather cleans easily with just a wipe.

Thick padding is good for bad back.

Non-marking pads on feet keeps floor safe.
Cons:
The size is on the shorter side and taller users will find difficulty to accommodate comfortably. 
4.FDW

Recliner Gaming Chairs
Weight limit: 300 lbs
There are not a lot of gaming recliners that you can find in this budget. The FDW recliner is great for multipurpose use, whether you want to just sit and relax or lay back and sleep for a while. The chair is built with a wooden frame and high-density sponge that will feel good on your back. It also has a lumbar support which makes it the best type of living room chair for lower back pain.
As for the outer fabric, it is PU leather that feels soft and looks amazing. The chair has a generous amount of padding on different strategic sections. On the plus side, it reclines completely flat.
Users up to 5'9" will find the chair fits them right. However, for 6+ ft, the headrest and footrest might fall a bit short. Once you get this delivered to your home, it will take just 3 minutes to put it together.
Pros:
Adjustable recline positions that goes all the way flat.

Easy to clean soft PU leather cover.

Suitable size for most average users.

Lumbar support can ease lower back pain.
Cons:
Might need a little effort to push the chair back (not an issue for stronger lads).
5.

Esright Massage Recliner Chair
Weight limit: 300 lbs
If you want a chair with a little more extra comfort, the Esright should be on the top of your list. It's got swiveling and massaging capabilities that will keep you occupied for longer hours without getting a bad back.
The chair doesn't have a kneading feature as you can find on some of the higher-end models. It has a gentle vibration and heating function. You can use either of them independently. Without any argument, it's got to be the best living room chair for back health.
The swiveling feature is a bonus. Though it doesn't lock into place, it can keep you entertained. There are two cup holders and storage pockets which we think might be a deal-breaker for some users. If you love to binge to your chair for longer hours, this should help.
The chair reclines 140 degrees. So, it doesn't go all the way back. But it has plenty of room to sit comfortably whether you are heavy or big. The only issue we could find is that you need to get out of the chair to close it and some users might not like that type of hassle.
Pros:
Independent heating and massage function.

360-degree swivel makes it more fun to sit on.

Cupholders and storage pockets are great for people who wants to keep necessary items close.

Extra thick sponge cushion gives lot of back support.
Cons:
Need to get out of the chair to close the reclining position.
6.

Herman Miller Sayl Ergonomic

 Chair 
Weight limit: 350 lbs
If you think your back pain is a curse, you won't ever regret buying the Herman Miller Sayl. It's an ergonomic chair designed to adjust to each individual's position and body type. The more you use it, the more you will know how much you craved for such a chair.
Everything in this chair is adjustable. You can adjust the height from 15.5-in to 20-in and the seat can be pushed forward or backward. The armrests can also move up, down and sideways.
The suspension back is the deal-breaker as it supports the spine for longer duration sitting. Is it the best living room chair for back pain? We think it is! This can easily fit into any environment- professional or home!
In terms of performance, this chair will last 5+ years without any major collapses. The only thing that could come off is the foam rubber on the armrests. The 12 year warranty that comes with the chair will cover all of your issues, if you happen to face one. For more performance, you can also get the Herman Miller Aeron.
The chair is extremely lightweight and the seat is a bit shallow. But in reality, the shallowness of the seat is what makes you sit upright and maintain good posture. Highly recommended!!
Pros:
Highly adjustable chair that meets individual needs.

Suspension back design supports spine.

Lightweight frame is easy to move around.

Encourages proper posture.
Cons:
The cushions on the armrests might come off at some point.
7.Best

Massage Recliner

Chair
Weight limit: 265Ibs+
We wouldn't believe how effective a massage chair can be to relieve back pain. Unlike some of the simpler massage chairs, this particular model has a lot of adjustable options that will be instrumental in relieving long term back and neck pain.
The massage track completely follows the shape of the users with built-in sensors. The sensors will measure your spine's length and the overall body weight and adjust the intensity accordingly.
There are also airbags strategically placed from shoulders to the feet areas. And.. together with a heating system that works on the back and feet, your joints will recover faster. Without questions, it's one of the best living room chairs for a bad back.
If you are someone in the 6-ft height range, the recliner will fit you perfectly and the massage will hit on the right spots. Most of the users who were suffering from pain in the feet, back or shoulders have praised the chair highly.
The chair's functionalities are comparable to other higher-end models, the only difference is it doesn't have a real leather finish.
Pros:
Different kinds of massage triggering strategic positions on the body.

Body scan technology automatically adjusts intensity to individual body shape and weight.

Right height and fit for tallers users.

Great for sleeping as it reclines all the way flat.
Cons:
The instruction for assembly could have been easier.
8.CANMOV Power Lift Recliner Chair
Weight limit: 300 lbs
Manual recliners can be a little intimidating for some users. If you are one of them, go for the Canmov power lift recliner. With just a push of the remote control, you can recline effortlessly.
The chair has a lower lumbar support which puts it in the category of the best living room chair for lower back pain. You can sit in it for hours and still feel great every time.
Seat and armrests are overstuffed with thick cushions. If you love your chair to be plush, this will be perfectly suitable for you. The recliner can go into 3 positions and can be accessed with only two buttons- one for back and one for front reclining.
While everything was spot on, the directions of assembling were not clear. But that won't stop you from getting this chair.
Pros:
High weight capacity and roomy seat is great for larger users.

3 position reclining with touch of a button.

Lumbar support keeps lower back at ease.
Cons:
The assembling directions are not clear.
9.

Best Selling Davis Fabric Recliner Chair
Weight limit: 250 lbs
The Davis Fabric recliner might not have a lot of bells and whistles. But it can keep you occupied in a comfortable position for a long time. The creamy clean texture can change your entire living room's outlook.
It's upholstered with bonded leather and feels soft to touch. The recliner goes 35 degrees back but it doesn't recline to a horizontal position. For sitting purposes, it's perfect for all sizes of people. However, users less than 5'7" will find it usable in all positions.
The armrests are at a good height and for most users they are effective. Small apartment users will love the chair because of its compact design.
Pros:
Visually pleasing design and color.

Bonded leather feels great to sit on.

Compact design is perfect for small apartments.
Cons:
The reclining position might not support people over 5'7".
10.

Flash Furniture Recliner Chair
Weight limit: 250 lbs
Introducing you to the most comfortable living room chair for bad back- The Flash Furniture! With supportive cushions and relaxing Ottoman, your hours will feel shorter than ever.
The chair has a strong structure and designed in a way to support your back. Most users with back pain have praised the chair as it helps to maintain good posture.
Though the chair doesn't recline all the way back, it has 4 reclining positions. This gives a little bit of freedom to find your own sweet spot for relaxing.
What we truly loved was the Ottoman. While most recliners have a footrest, this one is an exception. The ottoman feels more comfortable and doesn't come with issues of locking in or becoming loose over time. Moreover, the seat can swivel around which we think is a great addition.
The only thing that could have been improved was the assembling instructions. They are only diagrams and no written descriptions.
Pros:
Plush and soft fabric upholstery.

Designed to get relief from back pain.

Ottoman instead of footrest offers more comfort.
Cons:
Assembling instructions are not detailed.
Final Words
You might be wondering do these chairs really provide relief from back pain? If you have a medical condition, then it's better to consult with a doctor. However, for average users who want to have a comfortable time, these are the best living room chairs for back pain. Some of them have ergonomic design and functionality. Overall, you won't regret buying any of the chairs from the list.