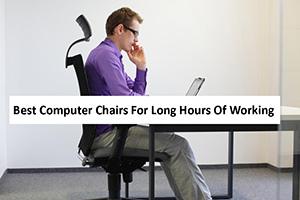 So what if we are going to spend the rest of our lives chasing EOD deadlines or playing Minecraft on PC? Being tied to a computer is our destiny but being stuck to a shoddy chair isn't. 
To make grinding for long hours on the computer a little less miserable, we will be taking a thorough look at 10 of the best computer chairs for long hours that are both easy on both your back and wallet. 
But how did we separate regular chairs from ergonomic chairs ideal for extended periods of sitting? Good question. 
An ideal chair for people who spend a great deal of time sitting at their desks should support the natural alignment of the spine. 
Apart from terrific back support and multiple adjustment modes, we also took stock of backrest height, seat depth, and many other small factors that can make or break the deal. We will talk about this in more detail later on in this article. 
But first, let's take a look at the 10 most ergonomically-sound chairs we have on the market today: 
10 Best Computer Chairs for Office Work and Gaming 2021
1.

NOUHAUS Ergo3D Ergonomic Office Chair
Weight Limit: 275 lbs.
Kicking off our list of the best ergonomic office chairs with this chic and contemporary design that'll blend nicely in any office setting, game room, or recording studio. 
The chair's uniquely designed lumbar support seamlessly conforms to the curvature of your spine which keeps lower back stain miles away.
You can tilt the back to max 125 degrees (not 135 as mentioned in the description) which is the ideal position to relax after spending a ginormous amount of time in front of the PC. 
I also loved the neck-hugging design and smooth adjustability of the headrest. Leaning on it for a quick nap can actually help you get more work done by minimizing neck and shoulder fatigue. 
Another show stealer is the 3D armrest can go up and down and even swivel at an angle to keep your arms at the most comfortable resting position throughout the entire seating session. 
My only complaint is that the armrest has no locking mechanism. Nevertheless, the assembly is quick and hassle-free. Even if you have never assembled a chair before, it won't take you more than 15 minutes. 
Pros:
Adjustable lumbar support, headrest, and armrest. 

3D design of the lumbar reduces lower back fatigue. 

Tilts up to 125 degrees for that plushy lounge feel. 

Tear-resistant, soft, and breathable mesh fabric. 
Cons:
No armrest position locking function. 

Some would find the armrest too short. 
2.

Herman Miller Embody Ergonomic Office Chair
Weight Limit: 300 lbs.
All the best chairs for long periods of sitting should focus on even distribution of body weight to relieve pressure from the back, tailbone, buttocks. And to accomplish that, the chair needs to provide serious lumbar support, which Miller Embody has in abundance. 
If you have a huge build and suffering from lower back pain, tailbone injury, or something similar, this chair would be a great option. The way the Pixelated back flexes and adapts to the shape of your back as you move or stretch is incredible. 
When you apply weight, it makes you feel as if you are suspended without having to work for it. It offers 4 adjustable recline positions and on the highest setting, it leans back to about 55 degrees. 
The amount of adjustability the chair offers isn't something to rave about but it's still sufficient for general use. From the seat depth, height, armrest position, lumbar tension, recline angle- all of these adjusts smoothly to help you maintain an ideal sitting posture.
Pros:
Comes fully assembled.

Flex back design lets you side stretch while sitting on the chair. 

Well-suited to people suffering from chronic lower back pain.

Has enough back and leg support for 10-12 hours of comfortable sitting. 

Breathable fabric. 
Cons:
Armrests don't have back and forth control. 

Doesn't tilt forward much. 
3.

AmazonBasics

Office Desk Chair
Weight Limit: 275Ibs
This computer chair doesn't have the bells and whistles of high-end executive chairs but it certainly has the looks. Made with premium bonded leather and reasonably thick cushioning, this would make a great budget ergonomic chair for short to average height individuals. 
The padding is a bit on the firmer side, which is expected in this price range. However, it does soften up a lot once you fully break it in. It doesn't recline back but it smoothly rocks back and forth, resulting in improved blood circulation and reduced muscle fatigue. 
The tilt-tension control knob beneath the seat lets you turn on/off the rocking mechanism. However, it doesn't allow locking the chair in the tilted position, which is a bit of a bummer. 
You will definitely need an add-on lumbar support cushion because the chair offers none. I won't label it as a deal-breaker because, with added lumbar support, the chair is acceptably comfortable to sit on for long stretches of time. Isn't that the whole point of buying an ergonomic chair anyway? 
On an even brighter note, the assembly is a cakewalk. There are a lot of pieces but the instructions are pretty straightforward. So it shouldn't take you more than 20 minutes to get the chair ready. 
Pros:
Pleasantly affordable. 

Seamlessly rocks back and forth. 

Adjustable seat height. 

Reasonably thick, albeit slightly firm padding. 

Can be set up in no time. 
Cons:
Doesn't recline.

The bonded leather material isn't the sturdiest. 

The armrests don't extend very far, making it a bit uncomfortable for people with long arms. 
4.

Homall Gaming Chair Office Chair
Weight Limit: 300 lbs.
Gaming chairs belong to the gold-tier of ergonomic chairs, a godsend for gamers, movie-bingers, and IT professionals like me alike who literally live by their computer desks.
Despite the reasonable price tag, this gaming chair is littered with many of the features only found in high-end models. It reclines almost flat to the ground like a futon. So you can just crash on your chair after spending an eternity coding or finishing all seasons of Dark. 
Apart from the terrific reclining range and a solid suspension system, the chair also boasts one of the finest padding and lumbar support I've ever seen in budget gaming chairs.
The cushion hits the right balance between soft and firm and doesn't compress too much under heavyweight. 
Moreover, the back beautifully molds and flexes to perfectly align with your spine's natural S-shaped curve. The adjustable headrest pillow is a fantastic touch, making the chair look irresistibly inviting. 
The only thing this wonderfully designed and attractively priced chair lacks is an adjustable armrest. If it doesn't bother you too much and you want to save some bucks, this could be the best chair for sitting in front of a computer all day for you. 
Pros:
With the headrest pillow, the chair is tall enough to accommodate people above 6 feet. 

Reclines almost flat to the ground. 

Solidly built, intuitive controls. 

The padding is neither too stiff, nor too soft- just perfect. 

Gives an insane bang for the buck. 
Cons:
Fixed armrest height. 

The installation guide leaves a lot to be desired. You will have to make a few adjustments as all the bolt holes don't line up easily due to some minor structural issues. 
5.

Hbada Ergonomic Office Recliner Chair
Weight Limit: 250 lbs. approx
The next entry to grace this list of the best computer chairs for long hours has all the glitz but not the exorbitant price tag of high-end gaming chairs. If you are a giant six-footer who needs a chair to work and crash on, Hbada has a lot in store for you. 
The chair employs syncro-tilt mechanism, which, in simple words, means if the backrest moves 2 inches, the seat will move 1 inch. This helps to maintain a comfortable gap between your torso and thighs, promoting an ideal reclined sitting posture. 
The S-shaped back support bulges out a little to fill the potential gaps between your lower spine and the lower back cushion when you lean back. The max reclining range is 155 degrees which is good enough for stretching or taking a nap after a long day. 
The swiveling headrest and extendable footrest have the perfect width and add a plush lounge touch to the chair. 
It comes with an add-on lumbar support pillow which is okay at best. Some people might find the lumbar curve too high, constantly poking in the back like a rock instead of firmly resting against it. It also keeps sliding off from the rear corner. 
About the adjustability, you can control the seat height, distance from the seat pad to the backrest, headrest height and angle, and of course, tilt lock position. 
I love how easily it reclines without any push-back. There's no tension limiter, so unless you lock it into your desired position, you will fall on your back. The armrest is well-padded but isn't adjustable. However, it does lower automatically when you recline back. 
This review would be incomplete without mentioning how good the woven mesh fabric is. It breathes well and keeps you comfy and sweat-free on the hottest days. 
Pros:
Minimalistic design, well-suited for tighter spaces. 

Swiveling headrest and pull-out footrest included. 

The breathable mesh fabric prevents the back from getting all sweaty. 

Comes with extra hardware for breezy installation. 

Caster wheels roll smoothly on carpeted floors. 
Cons:
The lumbar support pillow quality isn't up to the mark. 

Lack of tension adjustment creates a slight tip-over hazard. 
6.

noblechairs ICON Gaming Chair 
Weight Limit: 330 lbs
This chair is a hybrid between a computer chair and a gaming chair, which is precisely what sets it a notch above the rest. From construction quality to tilt mechanism, everything is top-notch. 
The PU leather is thick, looks elegant, and is a cinch to clean up. Some might find the cushion a bit firm initially but it does soften up over time. 
The back design with a detachable lumbar support pillow is ideal for someone who has serious spinal injury or recently underwent a back surgery. 
Not to mention the neck pillow which perfectly aligns with the curvature of the neck, keeping your shoulders relaxed and fatigue-free during long periods of sitting. 
The adjustability options should be huge for a premium-range chair like this and ICON Gaming Chair doesn't disappoint here either. From back support to armrest height and angle, everything can be tweaked easily to give you the desired comfort. 
Pros:
Sturdy frame and upholstery. 

The padding is firm but doesn't lack suppleness. 

Well-illustrated assembly instructions. 

Reclines far back. 

Robust wheelbase. 
Cons:
The armrests, although adjustable, are very stiff and have no top-padding, leading to sore elbows. Using additional armrest covers should fix the issue, though. 
7.

SIHOO Ergonomics Office Chair
Weight Limit: 350 lbs. approx.
Clean and low-profile design combined with a robust build and decent adjustability- SIHOO is all the attributes of a quality mid-range ergonomic chair. Thanks to the clearly explained instructions, even someone with zero technical expertise can assemble the pieces in 30 minutes tops.
There's no wobble at the back and the wheelbase is as strong as they come. It glides effortlessly on the carpeted floor. Both the lumbar support and headrest smoothly pivot to ensure good sitting and breathing posture during long stretches of seating.
 Additionally, it also allows you to dial in the lower back support to your desired position, which would be a serious advantage for people suffering from severe lower back pain. The mesh fabric breathes well and successfully manages to keep sweat to a minimum. 
For an ultimate lounging experience, the backrest leans back to 125 degrees and can be swiftly locked into any position in between the 90-125 degree spectrum. The chair rocks back and forth without a hitch. And with its tilt-tension adjustment lever, you get full control over the rocking motion. 
Pros:
Spacious seat and flex-back to help you stretch to accommodate various body sizes and shapes. 

Adjustment knobs for recline angle, lumbar support position, and seat height, and tilt lock.

 Breathable mesh fabric. 

Adjustable lower back support alleviates lower back pain. 

The armrest moves up and down. 
Cons:
The armrest surface is too hard. 

Pushing the backrest forward from the recline position can be a bit tricky at times. 
8.

Modway EEI-757-GRY Articulate Office Chair
Weight Limit: 331 lbs.
Curved back design and great lumbar support are common in all the best office chairs designed for long hours of sitting, Modway is no exception. All the key comfort components of the chair are fully adjustable to keep you rested at the optimal seating position for almost an entire day. 
Another impressive feature of the chair is the height adjustment. The gas piston for height adjustment on this chair is nothing short of brilliant. It raises the seat quite high, making it a great match for tall people using tall computer desks. 
The cushion material is firm but in a good way. It neither compresses nor digs into your skin too much under massive body weight. The armrests need to be attached to the bottom of the seat with bolts. So if you are short on space, you can set it up without the arms too. 
The middle lever below enables and disables the tilting mechanism. If a gentle rocking motion helps you relax better, disable the lock and the chair will rock back and forth. 
Pros:
Great match for extra tall desks. 

The armrest can be bolted in various positions. Can be installed without the armrests too.

Contoured seat for great balance and support. 

Adequate lumbar support. 

Seat base and backrest move independently for added comfort. 
Cons:
Assembly instructions are minimal. 

Not the best option for small individuals.
9.

SMUGDESK Office Chair
Weight Limit: 250 lbs.
Another economical option for tall people, this is a hybrid between an office chair and rocking chair. It rises to a decent height for tall desks and effortlessly reclines all the way to the back, so yes, you can take a nap on it. 
You can lock the chair in three positions, including in forward tilt position help you get closer to the desk and focus better. The bonus retractable footrest is something to be thankful for if you sit in front of your computer all day. 
Its elastic mesh backrest beautifully flexes and molds to the contours of your back to lower the strain. Another aspect that amplifies the comfort of the chair is the alignment of the headrest and lumbar support. Assembling the chair pieces single-handedly won't be a problem. 
Everything you'll need for setup is included in the box to make your job easier.  
Pros:
Reclines completely flat. 

The back design conforms to different body shapes for ultimate comfort. 

Retractable footrest. 

Perfectly aligned lower back support. 
Cons:
The armrest front and back edges are very stubby and could use more padding. 
10.

Serta Ergonomic Executive Office Chair
Weight Limit: 350 lbs. approx
The best computer chairs for long hours actively promote good sitting posture and keep back pain away no matter how weird your sitting position is. Serta accomplishes this feat by allowing the lower back support to move with your body. 
So even when you sit in a fully upright position, the lower back support will continue to press against your back to alleviate the pain and numbness potentially resulting from prolonged sitting. This is a watered-down explanation of Serta's "Back-in-motion" technology. 
If you are battling chronic limb injury or nerve pain, therefore need serious back support, this one ticks all the boxes. All the usual adjustable components can be customized easily and the padding is amazingly thick and cushy.
The piston lets you adjust the seat both really low and high, making the chair suitable for both petite and 6 foot plus, muscular individuals. 
 Pros:
Back-in-motion technology delivers continuous lower back support in forward tilt position. 

Easy-to-assemble. 

Excellent seat height range. 

Amply padded and adjustable armrests. 
Cons:
The armrests wobble a bit.

People below 5'10" can have a hard time keeping their feet planted to the ground in the fully tilted position. 
A Foolproof Guide to Choosing the Best Ergonomic Chair for Long Hours of Sitting
Sitting behind the desk for hours isn't even remotely at easy as it sounds, especially when the chair sucks. 
Unless you want to go to bed with an achy lower back and numb tailbones at the end of your stupidly long day at work, you better look for an ergonomic chair specially designed to maintain proper desk ergonomics. 
Buying a computer chair isn't the same as buying a t-shirt that you can just replace with a new one in a snap. A quality chair should be able to smoothly adapt to your changing body shape, size, and height over the years. 
To bring you closer to the chair of your dreams, here are some of the key attributes of the most comfortable computer chairs designed for long hours of sitting:
1.Chair Tilt Mechanism 
Posture-related injuries aren't just bad for your productivity. Sitting on a poorly designed stiff chair for several hours can really mess with your lower back and neck. 
That's why quality office and gaming chairs employ a special tilting mechanism to take the pressure off your lower back. Below I have explained the most common tilting/reclining functions integrated into computer chairs: 
Multi-function Reclining Mechanism
Multi-function reclining chairs have been a go-to choice for IT professionals who spend countless hours coding, programming, and designing software. These chairs allow you to adjust the backrest and seat base independently to get into your preferred seating angle. 
By being able to easily customize the angle of your chair, you can minimize the strain on your lower back, making it a suitable option for people dealing with lower back issues. 
Like multi-function tilt but better, syncro tilt office chairs justify their steep price tag by supporting the natural spinal curves to promote great posture during long hours of work. 
In syncro tilt chairs, the backrest and the seat typically recline at different angles, typically at a 2:1 ratio. This helps you remain in an ideal ergonomic sitting position at your computer desk without raising your feet off the ground. 
The fact that you won't have to use your upper limb strength to keep the backrest reclined makes it one of the most comfortable chairs for extended periods of sitting, 
Automatic Weight-Sensing Mechanism
Also known as free-floating chairs, this special reclining mechanism is usually reserved for premium, high-back executive chairs. 
As the name suggests, these chairs can automatically adjust the tension, recline, and locking position based on your body weight and seating position. 
There are no levers or knobs to tinker with. At present, the growing popularity of these chairs has led manufacturers to introduce this mechanism (or lack of it) mid-range chairs as well. 
Chairs with knee tilt mechanism strike the right balance between price and comfort. On these chairs, the point of recline starts from the center of the chair, extending all the way to the area below your knee. 
This serves two purposes- one when you rock back and forth, your feet will remain planted on the ground. And two, the extra weight allotted behind your legs allows the chair to move back and forth fluidly and effortlessly. 
Office chairs using pushback or swivel tilt mechanism usually belong to the lower end of the price spectrum. It's the most basic tilt mechanism that pushes the seat, armrest, and backrest backward in unison. 
The angle between the backrest and the seat won't change a bit when you recline back which doesn't translate to a comfortable seating experience for long hours. 
Apart from the mechanism, the other features that will impact the comfort and durability of your computer chair are as follows: 
2.Backrest Height and Head Support
You will be thankful for having an ergonomic chair with a high-back rest and height-adjustable dedicated headrest if sitting at your desk is a part of your job. 
Some high-end chairs allow you to adjust the angle of the headrest up to 30 degrees up and down to naturally adapt to the curvature of your neck and back of the head for optimal comfort. 
3.Fabric and Cushioning
Plushy memory foam padding can elevate comfort and relieve the strain from your torso and lower back, which is a must if you plan to sit and work for long hours. 
As far as upholstery is concerned, mesh is the most common fabric in low to mid-range chairs. It's highly breathable and wear-resistant but on the downside, mesh chairs lack sufficient padding around the edges. Plus, they also offer very limited color choices. 
If you are a sucker for aesthetics and crave the lavish touch of soft cushioning, vinyl, faux leather, or real top-grain leather, if you can afford it, are your options. 
4.Armrest
Armrest design is often the most overlooked aspect while shopping for a chair. But shouldn't be. You don't want your arms dangling off the edge if your job demands you sitting at your desk for 12 hours a day. 
Some basic chair armrests can be pivoted horizontally while some advanced models incorporate 3D and 4D mechanism, allowing you to fine-tune the angle as well as the length of the armrest to ensure a perfect fit. 
Closing Thoughts
Sitting at your computer desk for long periods can take a huge toll on your body, especially back, shoulder, and neck. Having an ergonomic chair will help you have a correct seating position and stay comfortable. 
Both are keys to ensuring unflinching focus and productivity. Since everyone's body is shaped differently, finding the best computer chair for long hours can be a hit or miss. 
That's why we put in hours of research and used all the available resources to curate a list of ergonomic chairs no one can go wrong with. Hope this helps to get you closer to the chair you're so desperately searching for.