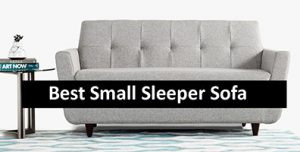 Sleeper sofas need more love and recognition, you know? These sleek multifunctional couches seamlessly transition into a cozy bed without sacrificing any essential space in your tiny living room.
With the ever-increasing mortgage rate in this country, not a lot of us can afford to live in a huge apartment. But what we can do is make the most of whatever little spare room we have. That's when small sofa beds enter the scene. 
Generally measuring below 85" in width, these compact sleeper sofas are the smartest way to maximize the limited space you have in your living room. Most contemporary models look like oversized chairs and some of the premium ones can unfold into both a chaise and a queen-size bed.
Irrespective of what your specific requirements are, there's at least one model that'll perfectly fit the bill. And to point you in the right direction, we have ranked and reviewed 10 best small sleeper sofas on the market today. 
10 Best Small Sleeper Sofas 2021
1.Novogratz Brittany Sleeper Sofa
Weight Capacity: 400 lbs. for the sofa and 225 lbs. for the bed
The first product to grace this list of the best compact sofa beds is a contemporary design coupled with dreamy comfort at an exceptionally affordable price, Novogratz Brittany is pretty much everything sofa beds for small spaces should be. Crashing on its firm yet cushy memory foam mattress after a long, tiring day would be a delight. 
Memory foam's ability to contour to the shape of our bodies is what makes it so comfortable to lie on. The sofas are available in 9 color options and come semi-assembled, meaning minimal setup work for you. 
Design and build-quality wise, the sofa is a clear winner with its sturdy wooden frame, slanted rubberwood legs, curved armrest, and elegant tufted back. The upholstery fiber is designed to be pet-friendly and easy-to-clean, so getting rid of all kinds of stains and pet danders won't be hard at all. 
The top surface of the sofa seat would be around 14" from the floor when unseated. While that's a decent seat height for people of average height, people taller than 5'4" will find their legs hanging off the edge. 
If we go by the dimensions of the sofa, which is 54″L x 32″W x 35.5″H, it should easily accommodate 2 well-built adults a skinny adult or kid. 
When extended all the way, the sofa transforms into a full-on twin-size futon measuring 86″L x 54″W x 35.5″H, which is spacious enough for two adults to stretch and sleep peacefully. 
However, the memory foam is only 3" thick and the padding is even thicker around the edges. So I'd suggest adding extra padding on top to ensure a good night's sleep. 
2.

Signature Sleep Casey Faux Leather Sleeper Sofa 
Weight Capacity: 600 lbs. for sofa and 450 lbs. for bed
These elegantly crafted faux leather sofas would be a great way to spruce up the decor of your small family room without forking out mega bucks. Even though it's faux leather, by no means does it look unauthentic and cheap. 
The velvet upholstery fabric isn't of the best quality but it looks good and feels extremely smooth to the touch. One of the biggest advantages of this swanky sleeper sofa is the huge weight capacity of both the couch and the bed. 
If you have a 28" extra-narrow door and you're wondering if it will fit through it, I'm happy to announce that it will as the backrests of the sofa can flip towards the center.
Besides, it's super easy to assemble and fold-out into a comfy 72" full-size bed with a soft and very comfortable 3 ½" thick memory foam mattress. Two overweight, huge adults can comfortably crash on it for the night. 
On the downside, the height of the backrest leaves a lot to be desired if you are a tall person. I wish the armrest was padded too for added comfort during those long and broody Saturday-evening reading sessions. 
3.

Mainstays Sleeper Sofa
Weight capacity: 400 lbs. for the sofa and 270 lbs. for the bed

Make a statement with this sleek and low-profile black couch that unfolds into an 83.8" comfy sleeping arrangement. The couch is 53.3" wide, so it should easily fit through a standard 30" wide door. However, ultra-narrow 28" doorways would be too tight to fit through, something to keep in mind while making your decision.
The bed part of the sofa is undoubtedly the product's biggest strength. Even though it's a few inches shy of a regular twin-size bed, it should be spacious enough for two average build adults. 
The futon mattress is nearly 4" thick and made of soft, plushy, and high-resiliency memory foam. 
Although you can use additional padding to spruce up the comfort, it won't be necessary for most people. Since the upholstery material is pitch black faux leather, a quick wipe with a clean cloth will be enough to eliminate (or cover up) coffee ad wine spills. 
If you're dealing with a more stubborn kind of dirt, spot treating with rubbing alcohol should be 100% effective and safe for the fabric. 
Easy-to-assemble and take care of, this faux leather bed comprises a 17.7" high seat stuffed with cushy yet firm padding that thankfully doesn't compress too much when you sit on it. 
The backrest on this small apartment-sized couch is 39" high which is standard for most contemporary sleeper sofas for apartment rooms. It's not exactly the most comfortable height for very tall individuals but it won't pose a problem unless you'll be sitting on it for too long. 
4.

YAHEETECH Sleeper Sofa
Weight Capacity: 771.6 lbs.
If you're on a tight budget, consider jazzing up your cozy living room with this chic and low-profile sofa. This sofa bed with storage lets you keep your limited room space clutter-free by allowing to tuck the mattress cover and cushions behind the back. 
When stretched all the way, the cool couch smoothly transitions into a 69.7×42.7×9" crash pad, which is roomy enough for an average build adult. I loved the fact that you can recline the backrest to 3 positions in a jiffy to take your comfort level up a notch. 
Both the backrest and seating area use high-quality springs to keeping sagging to a minimum. The padding is slightly firmer than I expected but very comfortable, nonetheless. 
Keeping the fabric spotless and tear-free should be easy with very little upkeep. A regular fabric cleaner spray is all you need to de-stain the upholstery material.
Putting the sofa bed together is a cakewalk as the unit comes almost fully assembled. All you need to do is attach the legs which shouldn't take more than 5-6 minutes. All the necessary hardware for assembly are included in the box. 
Despite its entry-level price tag, the quality of the metal legs and hardwood frame doesn't feel flimsy. Do they compare to the build quality of its pricier counterparts? Not really. 
But for the price, it's as good as it can possibly get. I would replace the included cushions with softer ones, though. The stock pillows are way too firm. 
5.Professional Deals Loveseat

Sleeper Sofa
Weight capacity: 400 lbs. approx.
This petite 57" wide, 19" deep, and 33" tall sleeper couch would make a nice and cozy sleeping arrangement for kids and short people. Even though the included memory foam futon is only 3-4" thick, it's one of the most comfortable memory foam sofa beds I've come across so far. 
The superior cot material underneath provides great stability and keeps you from feeling the metal bars underneath. Converting the couch into a twin-bed is as easy as it gets. 
You just have to gently snag the mattress off the frame and voila! Measuring 72″x37″x2.5″, the twin-bed is a little on the narrower side but since it's primarily designed for kids and petite people, it makes sense. 
Assembly work is minimal. Just attach the legs in place and you're good to go. Sofa beds usually go through a lot, especially when it's a crash pad for a couple of kids. Thankfully, the upholstery fabric is a sturdy and easy-to-clean polyester fabric. 
Unless you go full hulk on it, it won't wear out easily. The only minor issue with this sofa bed is that the mattress tends to slide off the frame when laid flat. That's it. 
6.

Signature Design by Ashley Sleeper Sofa
Weight Capacity: 300 lbs.
Maximize every square footage of your family room with this exquisite sofa chaise sleeper. Fashioned after mid-century upholstered couches, this versatile sectional sleeper sofa can be transformed into a sitting, lounging, and comfy sleeping space in a heartbeat. 
The blue color version would make a great accent sofa for your living room. When folded out, the fashionable couch turns into a 78×50" plush queen-size temporary bed for your guest's overnight stay. 
The hybrid mattress made with a blend of gel memory foam and standard upholstery foam offers excellent resiliency and lumbar support.
I'd suggest using a 3" mattress topper with it for maximum comfort. About the chaise lounge, it's a great little spot to unwind and watch TV for hours. I loved the inclusion of zipper storage underneath the couch where you can safely store the cushions, a perfect sectional sleeper sofa for small spaces.  
On the downside, however, the height from the floor to the top surface isn't much, so if you are over 5'7"-5'8", your feet will dangle off the end which would defeat the purpose of buying a chaise lounge.
So do take stock of this while choosing a sofa bed. Also, the couch is 84.25″ W, so keep in mind that your doorway needs to be at least 30" wide in order for the couch to fit through. 
7.

Ottomanson ARM-SB-19 Sleeper Sofa
Weight Capacity: 500 lbs. approx
The robust construction quality, petite size topped off with a sophisticated, understated design has rightly earned this couch a position on this best small sleeper sofas. This 37 x 88 x 38 inches convertible loveseat is the perfect size for condos, offices, and kid's rooms. 
Its backrest is well-padded and taller than what standard couches offer, so tall people like me will be able to comfortably keep an upright posture while sitting. 
The built-in storage area underneath the seats is another big plus. That's where you keep the detachable armrests and cushions when not in use. 
The unfolded 5" long sleeper section can easily accommodate two kids or an adult. For safety reasons, you shouldn't let two adults sleep on it. About the comfort, the cushioning is more on the firmer side but is decent enough for a temporary bed for a guest. 
You can always amp up the cushiness with a mattress topper if needed. I'll knock off a point only for the tedious assembly work. It's definitely a two-person job and could take you up to 45 minutes to put all the pieces together.
8.

Kodiak Futons Phoenix Sofa bed
Weight Capacity: 400 lbs approx
What do you picture when you think about the best sleeper sofa for small spaces? The aesthetics? Easy convertibility? Built-in storage space? Sturdy construction and uncompromising comfort? Check, check, check, and double-check. 
This sleek vintage-style sofa with tray-style armrests is crafted from a very high-quality hardwood and tear-resistant polyester fabric. It's impressive how closely it mimics the suaveness of suede material. 
It comes with a thick, high-resiliency mattress that easily adapts to the shape of your for optimal comfort. You can pair it up with a 2" mattress topper for added support and stability. I loved how smoothly it transitions from couch to bed position and vice versa. 
The fully stretched futon measures 75L X 54W X 8H, the same as a standard full-size bed. While it's spacious enough for a stout adult, it will be too narrow for two people unless we are talking kids. 
Although you can assemble the parts alone, it will be a lot easier and quicker with a second pair of hands. 
9.

DHP Hamilton Estate Futon Sleeper

Sofa
Weight Capacity: 600 lbs.
The penultimate model on this round-up is a petite, apartment-friendly sofa bed that'll make a nice sleeping arrangement for a kid, teenager, or an adult not taller than 5'5". It's one of the easiest-to-assemble sofa sets on this list as there aren't many pieces to put together. 
What's even better is that it comes with a zipper storage compartment under the seat for the legs and other accessories. In the sitting position, the couch is 71" wide, 37.5" deep, and 32.5" high which is ideal for campers, RVs, and apartments where space is at a premium. 
The mattress is about the size of a full-size bed and isn't really the most comfortable one around. But with a pillow top memory foam mattress topper, you won't have any problem sleeping comfortably on it. 
Quality-wise, heavy-duty microfiber seems fair for the price but the fact that food crumbs stick to it very easily will make cleanup a bit difficult. 
10.

DHP Emily Futon Sleeper Sofa
Weight Capacity: 600 lbs.
Wrapping up our list of the best small sleeper sofas with this suave and low-profile futon. This classic vanilla white sofa bed hits the sweet spot between affordability and functionality. The 71" couch equally comfortable in both sitting and sleeping setup, unless you are a really tall person. 
It's only 15.5" high from the ground to the top of the seating surface with a 6.5" seating cushion, which isn't exactly the ideal couch dimensions for a 6 feet tall couch potato. 
On the brighter side, it requires minimal assembly and the best part is, it weighs only 84 lbs. So moving around your sleeping arrangement from one room to another will be a walk in the park. The included mattress is about 6-8 inches thick and has the perfect balance of firmness and softness. 
If a heavy adult will be sleeping on it, I'd recommend using a mattress topper. The padding material isn't that sturdy and would compress too much under heavy pressure. 
Therefore, sleeping on it without a cover could allow the metal bars to dig into your skin. Overall, it's a nice affordable futon bed for kids and adults who aren't taller than 5'3". 
Conclusion
The tinier your apartment, the harder it gets to find furniture that not only fits but also looks great and lasts long. And since we only want the best for you, only 10 models lived up to our ridiculously high standards. 
So when we say these are the best small sleeper sofas on the market today, rest assured that we have done enough research before coming to this conclusion. 
These tall-rounder, space-saving sleeper couches are made from the finest quality wood and offer a huge variety in terms of both designs and price range. We have done our part here. Now it's your turn to thoroughly read the reviews and make an informed decision. Good luck with that!