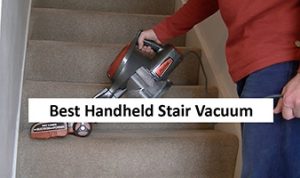 Stairs are often the most neglected areas of our home! And cleaning them can be equally stressful and boring.
To make it super easy, we got the best handheld vacuums for stairs. They are lightweight, compact and powerful enough to clean the stairs perfectly.
So, getting around the edges and reaching out to different steps of the stairs will never be an issue again. Moreover some of them are versatile enough to be used on upholstery and to clean moderate levels of dirt and debris.
Check them out!
7 Best Handheld Vacuum for Stairs Cleaning 2021
Click a link below to jump to the relevant section
1.

Shark Rocket

Hand Vacuum
Run time: Plug-in model (unlimited runtime)
Weight: 3.7 lbs
Dust cup capacity: Not specified
Carpeted stairs can be pretty annoying especially when you have kids and pets at home! If you want a lightweight vacuum that can keep up to your stairs and also do a good job multitasking, then Shark Rocket is your best bet!
In short, it's the best handheld vacuum for carpeted stairs and the reason behind is its motorized cleaning head. The size of the head is suitable to fit on any narrow stairs and because it swivels, you can actually clean the edges of the carpeted steps efficiently.
Apart from that, you will get a crevice tool, dusting brush and stretchy hose. The crevice tool can offer additional cleaning when going over the edges. However, the game-changer is the stretchy hose as it makes the vacuum versatile to use in other areas of your home.
The suction is quite powerful and capable of sucking up pet hair, litter and even large chunks of food. The Shark Rocket is a plug-in model, but its 15-ft cord should be enough to clean stairs without the need for an extension.
Pros:
Motorized brush head fits on narrow stairs and cleans edges perfectly.

Enough suction power to suck up dirt from carpeted stairs.

Stretchy hose allows cleaning in unconventional areas.

Plug-in model ensures that you can clean as long as you want.
Cons:
The cord isn't retractable and can sometimes become messy.
2.

Eureka EasyClean Handheld Vacuum
Run time: Plug-in model (unlimited runtime)
Weight: 4.8 lbs
Dust cup capacity: Not specified
Like Shark Rocket, the Eureka vacuum is efficient to clean up dirt from carpeted stairs. It weighs just a little bit more than Shark, but the unit's weight distribution doesn't make you feel strained. A 20-ft cord ensures you get maximum coverage with unlimited cleaning time.
Eureka offers a riser visor system that can make cleaning the stairs and vertical upholstery a breeze. Not only that, it has two motors, one for the brush and the other for suction. So, you can expect it to clean carpets thoroughly. Without doubt, it's the best handheld vacuum for stairs!
What's interesting is its ability to clean hardwood or laminate floors safely as you can remove roller brush. It's a surprising feature that adds tremendous versatility to a vacuum of this stature.
For those looking for a brush attachment, you can get the Eureka 72A! It's a new and developed version of this vacuum, but comes at just a little bit higher price.
There's nothing much to complain about this vacuum. If the only thing that we wished improved is the dirt cup capacity. The manufacturer doesn't provide the exact measurement, but as it fills up pretty fast, we think it's quite small.
Pros:
The risor visor effectively cleans and suck up dirt from carpeted stairs.

Usable on hardwood or laminate floors as the roller brush can be detached.

Extended 20-ft cord offers great coverage.

Exceptionally powerful for a lightweight handheld vacuum model.
Cons:
The dirt cup fills up quickly. Enough for stairs but can be stressful when you are cleaning other areas as well.
3.

BISSELL Lithium Ion Cordless Hand Vacuum
Run time: 17 minutes
Weight: 4.29 lbs
Dust cup capacity: 0.74 quarts
We reviewed quite a number of cordless vacuum models here! But the best cordless vacuum for stairs is none other than Bissell. The 17 minute runtime might look less, but when you consider the suction capability, you can do more work in less time.
The motorized brush head gives you that cleaning power and can pick up visible dirt, grass and pet hair comparably better than some of the other cordless models on this list. The brush head might look broad, but when we tested it fitted on the stairs nicely. You will be only left with the edges and the crevice tool will do the job!
Being a battery-powered vacuum, you can't expect it to provide high performance on lush carpet surfaces. If your stairs are uncovered or have a thin carpeting, then this machine should be quite competent.
It has a double-layer filtration system, which means the suction power will remain stable. Usually, vacuums with poor filtration will experience hair clogs and limit suction! It could be a deal maker in the long run.
While all things good, this unit takes a couple of hours to get fully charged. If you aren't cleaning several times a day, this shouldn't be a problem.
Pros:
Good performance on cleaning pet hair and stair edges.

Comparably better suction that what you get from cordless models.

Dust cup is large enough to clean the stairs without frequent emptying.

Double-layer filtration limits clogs and maintains suction power.
Cons:
Not suitable to clean multiples times a day as charging can take several hours.
4.Sowtech

Handheld Vacuum
Run time: 30 minutes
Weight: 2.2 lbs
Dust cup capacity: unspecified
You might have never heard about Sowtech as it's not as popular as Bissell or Shark. However, we were much surprised by the capability of this vacuum, despite being cordless and immensely lightweight.
What makes it a great handheld vacuum cleaner for stairs is the fact that you won't have to bend over. The extenders do a great job and considering cleaning stairs can be painful, this is an effective design.
It comes with 6 accessories including a crevice tool and a pet hair attachment. You could tell how well it can clean stairs. But you need to be realistic. This model doesn't have a high suction power. So, you can't expect it to clean every dirt in your home. It's still effective for regular cleaning of bits and bits of pieces and pet hair.
One of the defining features of Sowtech is its stainless steel filter. Just wash it and no need to replace it ever. The 5 stage filtration along with the cyclonic action ensures that the performance will be stable throughout the 30 minutes runtime.
Pros:
Longer run time compared to other cordless vacuums in the market.

Maintains maximum performance because of the innovative filtration system.

Lots of attachment to get into different corners and clean different kinds of dirt.

Extension pipes allows you work without bending.
Cons:
Lacks high suction power, but acceptable considering the price and battery life.
5.

Shark WV201 WANDVAC Handheld Vacuum
Run time: 9.5 minutes
Weight: 1.4 lbs
Dust cup capacity: 0.08 quarts
The Shark WV201 is the most lightweight handheld vacuum cleaner in this list. It's a tiny vacuum designed to clean tight spaces without causing strain on the hands. Despite the size, we found the suction to be powerful enough to clean the stairs.
The tapered nozzle of the vacuum can pick up both large debris and also fine dust. You can use the attachments to clean pet hair, upholstery, thin carpets and even tight spaces inside the car. That's so much versatility for a small machine!!
At just 1.4 lbs you can use it for an extended period of time. And..when it's done just leave it on the charging station. It will take just 2.5 hours to get back into action.
Considering the size of the vacuum, you are bound to get a dust cup with limited capacity. Then again, you won't be buying this for heavy cleaning!
Pros:
Lots of handy attachment to get into tight spaces on the stairs or the car.

Good suction power enables cleaning pet hair and large debris as well.

Extremely lightweight and slim design is easy on the hands.

Doesn't take much time to get fully charged.
Cons:
Low capacity dust cup. However, it's easy to empty and makes up for the drawback.
6.

NOVETE Handheld Vacuum Cleaner
Run time: 30 minutes
Weight: 2 lbs
Dust cup capacity: 0.64 quarts
It's tough to get a lightweight cordless vacuum that has a good runtime. With 30 minutes runtime at 2 lbs, Novete is one of the best handheld vacuum for stair cleaning. Considering it's a wet dry vac and that too on a budget, you have a great deal on your hand!
Among the 3 attachments you get, the crevice tool is best suited for cleaning stairs and tight spaces around the home. You also get a rubber nozzle that can clean up liquids up to 100 ml. And when you are done cleaning the big messes, just use the dust buster to get off any remaining debris.
Honestly, we were surprised how well it can clean up both dry and wet debris. The dust cup capacity is appreciable and makes your money totally worth it. Ready for one more surprise? This vacuum has a detachable battery! Which means you can get a second one or replace it when it dies out.
The only issue you probably will face is it can make a mess when emptying the cup. So, you might well do it outside the home or inside a large garbage can to limit dust dispersal.
Pros:
Can clean both wet and dry debris.

Useful attachments to get into corners and clean fine dust.

Larger cup capacity means less time emptying.

Battery can be detached and replaced increasing the lifespan of the vacuum.
Cons:
It can get messy when emptying the dirt cup.
7.

Dirt Devil Plus

Handheld Vacuum Cleaner
Run time: 20 minutes
Weight: 2.2 lbs
Dust cup capacity: unspecified
If you still haven't decided which one to buy, you could check out the Dirt Devil. It might not have a large collection of attachments, but it does a good job! The runtime and weight is optimum to use it on a daily basis.
The powered turbo tool is the defining feature of this vacuum. It gets power directly from the vacuum and can efficiently clean stairs and upholstery. There's a QuickFlip crevice tool that can help you get inside the cushions and other tiny places.
The suction power is adequate but not the most powerful. If you are buying it for just small cleaning purposes, then it should be alright. We also loved the indicator that tells you when it's charging and when it's done.
To use this vac, you will need to buy filters as the filtering is disposable. However, these filters come at a cheap price and won't cost you much in the long run.
Pros:
Get into tight spaces whether it's stairs or the cushions.

Powerful stair cleaning tool that will keep your stairs fresh and hygienic.

Above-average runtime.

Indicator lets you know when the vacuum is done charging.
Cons:
You will need to buy a disposable filter for it. But not an issue as they are cheap. The only problem is the time spent on replacing them.
Conclusion & Editor's Choice
Whether you want a cordless or corded model, we leave that up to you! In terms of superior cleaning capability and unlimited runtime, the Shark Rocket is the best handheld vacuum for stairs! You will be able to clean moderate to thick carpeted stairs with it without any issues. It's a versatile unit that can complement if not replace your larger vac machines.
If you are going for a cordless vac, the best option could be Bissell. It's a bit on the heavier side, but you won't be disappointed as it can clean a lot of things apart from the stairs.