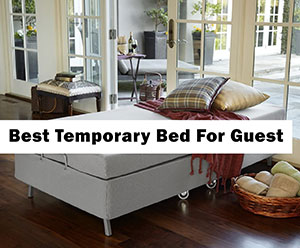 Have a lot of guests coming over? That's why you are searching for the best temporary bed for guests!
It's a tricky category filled with loads and loads of useless products. You can't buy em all and test and see which is right for you.
With our years of experience in analyzing consumer products, we finally managed to go through each model and make a short list. The result is here! 10 temporary beds that can stand the test of time. They are gonna last longer and give you more comfort than average products in the market.
Let's get started!
| Images | Product Name | Weight limit | |
| --- | --- | --- | --- |
| | Zinus Memory Foam Folding Bed | 250 Ibs | |
| | SoundAsleep Dream Series Air Mattress Bed | 500 Ibs | |
| | Giantex Folding Guest Bed | 220 Ibs | |
| | Milliard Diplomat Folding Bed | 350 Ibs | |
| | Linon Home Dcor Folding Bed | 275 Ibs | |
| | Air Mattress King Size Inflatable Bed | 700 Ibs | |
| | Milliard Tri-Fold Foam Sofa Bed | 250 lbs+ | |
| | King Koil Air Mattress Bed | 600 Ibs | |
| | Zinus Traveler Elite Folding Guest Bed | 250 Ibs | |
10 Best Temporary Bed for Guests 2021 Reviews
1.

Zinus Memory Foam Resort Folding Guest Bed
Weight capacity: 250 lbs
Hands down Zinus memory foam is the best folding bed for guests and in terms of outlook none can beat it. It does have the look of a box spring mattress- get ready to get complimented!! The quality and comfort makes it feel more like a regular bed than a temporary bed.
The bed frame is crafted out of solid steel and covered in fabric that gives the box bed look. It comes with memory foam which is CertiPUR-US certified and that speaks for its durability and performance.
The mattress is not the regular twin size and needless to say it will save you space. When folded, the dimensions become 38.6"x15.4"x48.6". It's more on the firmer side but together with a topper, it really could replace any regular bed for short term use. The best part is you can hardly feel the metal slats below the mattress.
For portability, it comes equipped with large wheels. Based on our experience, we can say the wheels on this are sturdier than the others. But there's a catch. There's no locking system on them. It might move a little bit when you get off or on, but nothing significant to cause any trouble. Place it on a carpet for the peace of mind if it concerns you.
Pros:
When fully laid out looks like box spring bed.

5-in high density foam gives maximum support.

The metal slats beneath doesn't feel on the back.

Large and sturdy wheels adds portability.
Cons:
The wheels don't have locking system.
2.

LUCID Rollaway Folding Guest Bed
Weight Capacity: 350 lbs
Let's face it. You might not have too many expectations from a portable bed, but the Lucid bed will prove you wrong. It offers great support and comfort pretty much comparable to your regular beds, making it one of the best temporary guest beds in the market today.
The deal breaker feature of this bed is its spring supported base. Compared to wood slats or wire mesh, it's more supportive and makes you feel comfortable in any position you sleep. Moreover, the mattress itself has a medium firmness, which should suit most sleepers.
Mattresses in this category often have slipping or sliding issues. But the Lucid bed has a non-slip textured mattress cover that will keep it in place no matter how much you move during sleep.
When folded up, the dimension changes to 12"x48"x34". What that means is it's convenient to store when there's no guests at home. The bed is pretty low to the ground. While it can be an issue for elderly, it's a blessing for children who have a habit of rolling over and falling.
The only difficult part is assembling the bed. You might find the holes of the wheel bar not aligned properly. A little bit of help from a second person would be perfect. In some cases, you might even need to drill a bit to get the wheel bolts to fit through the holes.
Pros:
Spring supported base gives maximum support.

Non-slip texture on the mattress cover bottom prevents sliding.

Locking wheels keeps the bed in place.

Low bed height is safe for children.
Cons:
The wheel bolts might not properly align with the holes. So, assembling can take some time and effort.
3.

SoundAsleep Dream Series Air Mattress Bed
Weight capacity: 500 lbs
If you are looking for genuinely portable guest beds, it's got to be an air mattress. The sound Asleep Dream is a lot more supportive compared to traditional air mattresses due to its air coil system. For small apartment owners, it's a blessing in disguise.
This air bed has an eco-friendly PVC cover that makes it waterproof and at the same time extra durable. Most air beds will leak at some point but this one will last longer than usual. Once you fill it up, it will stay in shape for more than two weeks.
The 40 air coils inside the mattress keeps it flat and closer to how real beds feel. The best part is it has raised edges and is a deal breaker for people who have rolling over issues.
The bed has a built-in pump and is extremely easy to inflate and deflate. It's a wall socket model pump, so it's suited for indoor use. If you want to camp with it, you will have to use a portable generator.
We found the power cord of the pump to be short and shouldn't be a problem if the wall socket is near to the bed. Other than that, it's well worth the money.
Pros:
The mattress cover is waterproof and leak resistant. It has a sure grip bottom for stability.

Air coils offers support and replicate the feeling of sleeping on real beds.

The sides are raised to keep you in place throughout the night.

Internal pump system makes it easy to inflate the bed.
Cons:
The pump makes a loud noise.

Power cord is short and can be a problem when the socket is far away.
4.

Giantex Folding Guest Bed
Weight Capacity: 220 lbs
The Giantex folding lounge bed can be a great alternative, if you are looking for multipurpose use. When you don't have guests at home, use it as a lounge chair. Though not highly rated in terms of comfort, it's going to last longer than regular squishy chairs in the market.
The bed has 6 adjustable back positions which makes it perfect as a guest or living room bed. The entire bed can be folded and stored in a compact shape. As the frame is made from reinforced steel, it will last for years.
The mattress on this bed is 3-in, though the manufacturer advertises as 3.5-in. The firm feel of the mattress could be suitable for some users with a stomach sleeping habit. If you are looking for an ultra soft experience, this isn't for you. However, the firmness is what makes it durable.
We really didn't expect a bed of this kind to have wheels on them. In fact, there are 8 wheels and 4 of them are lockable. Considering the price, it's a great product by all means!
Pros:
Adjustable back positions makes it suitable for multipurpose use.

Lightweight and folds into compact shape.

Reinforced steel frame construction makes it highly durable and long-lasting.
Cons:
It's on the firm side and not suitable for long term sleeping (perfect as a temporary bed, period).
5.

Milliard Diplomat Folding Bed
Weight Capacity: 350 lbs
Featuring real memory foam, the Millard Diplomat could be the best temporary bed for your guests! It's a foldable bed with a medium-firm feel. Whether you are living in a dormitory or just need something for surprise guests to sleep, this is the solution.
The bed has a wire lattice base that should give you enough support. Though it's not as springy as you expect, it makes you feel comfortable. The memory foam mattress is a little bit on the firmer side but not too firm to hurt your back. The best part is you won't feel the wire base underneath.
When folded up, it does become quite thin and compact to store it easily. As a bonus, it's equipped with wheels that can rotate 360-degrees. Two of them are lockable and should keep you safe and securely positioned.
Many of the users have reported about the mattress getting hot at night. If you live in a colder climate or have an AC on, this shouldn't be a big issue.
Pros:
Memory foam adjusts to your body shape and keeps you at ease.

Smooth-rolling wheels with 360-degrees rotation helps to move it in any direction.

Wire lattice base will last longer.
Cons:
Can become hot when sleeping overnight.
6.

Linon Home Dcor Folding Bed
Weight Capacity: 275 lbs
If you want something more affordable the Linon Home Dcor foldable bed should get the job done! Though the mattress is built with only polyester polyurethane foam ,most users have found this to be comfortable.
The frame is metal and the base has wooden slats. We aren't really a big fan of wooden slats as they don't last too long. If you are using this bed solely for guest sleeping, this shouldn't be a big issue.
The mattress has a 4-in thickness and most foldable beds are of this size. So, not much to complain about here. If you can add a topper on it, this should give you a good night's sleep.
Issue or not, the bed is quite low to the ground. It can feel a bit awkward at the beginning, but you will get habituated soon.
Pros:
Mattress cover helps to prevent accidental spills and keeps the bed clean.

Sturdy metal frame construction.

Medium-firm mattress that keeps you comfortable.
Cons:
Sits low to the ground and some people might not like this.
7.

Air Mattress King Size

Inflatable Bed
Weight Capacity: 700 lbs
Introducing you to the best portable mattress for guests from the 'Air Mattress'. When most air beds leaks in a short span of time, this bed holds its shape as it's covered with stretch and collapse resistant material. We stand by this product and vouch for its long lasting performance!
The 700 lbs weight limit isn't exaggerating at all. The laminated vinyl makes the bed structurally strong and prevents all sorts of leaks, stretching and breakdown. We found that once you inflate the bed, you won't be able to pump air for several weeks. That's unimaginable when you buy an average air mattress from local retailers.
On a high note, the mattress has a stylish bed skirt and fitted top sheet. When you lay it out, your guests can really tell if it's an air bed. As for the performance, the whole surface is supportive and doesn't sag anywhere.
Here's why it's truly portable! Other than using the built-in pump to inflate, you can also use a hand pump to do the job. This becomes essential when you are camping and there's no good power source available.
The only complaint with the bed is it can form bumps on top and bottom after a considerable period of use. If you are planning to use it for guests and one off occasions only, this shouldn't be an issue.
Pros:
Laminated Vinyl covers makes the mattress strong and resistant to leaks.

High weight limit makes it usable by individuals of any size and stature.

Great design and outlook.

Truly portable with additional option of hand pump inflation.
Cons:
Bumps might appears when you use it on a long term.
8.

Milliard Tri-Fold Foam Folding Mattress and Sofa Bed
Weight Capacity: 250 lbs+
If you love sofa beds but lack the space to accommodate one, you sure want to check out the Millard Tri-fold bed. It's kind of unique and perfect for guests and college dorms.
The foam inside is CentiPUR-US certified and feels great on the back. The size is twin XL measuring 78"x38"x4". All you gotta do is stack the foam cushions and they can be stored in a tight space. It's lightweight and carrying them around the home is easier for one person alone.
When stacked it can act as a couch. However, there's no support material on the back and the only option is to place it against a wall. No complaints though as it isn't made for this purpose. The mattress is firm and lacks the soft and squishy composure that some people like. As for negatives, there's one. It can get hot quite a bit when you are laying for too long.
Pros:
Machine washable cover is great for cleaning.

Great space-saving alternative to sofa beds.

Lightweight and easy to move around.
Cons:
The mattress can get hot when you are sleeping overnight.
9.

King Koil Air Mattress Bed
Weight Capacity: 600 lbs
The King Koil is yet another comfortable guest bed option! It's a lot comparable to the bed from 'Air Mattress' we reviewed earlier. With a high weight capacity, literally any person whether big or heavy can sleep on it without issues.
The top part has a waterproof and thick cover that makes the bed resistant against leaks. The air coils keep the bed in uniform shape and make sure that your spine is perfectly aligned. Even if you sit on the edge of the bed, it won't collapse!
You don't need any external pump to raise the mattress. There's a built-in pump that inflates the bed in 2-3 minutes. The bed has a nice height to it and doesn't make you feel like sleeping on the floor.
The bed won't collapse. However, some users have noted that after 2-3 months of use, the bed slowly deflates after each inflation.
Pros:
External thick waterproof layer prevents leaks.

Air coils for extra spinal support.

Fast inflation with internal pump.

Strongly built to support heavy users.
Cons:
The air holding capacity can slightly become weaker over course of use.
10.

Zinus Traveler Elite Folding Guest Bed
Weight Capacity: 250 lbs
The last in our list is the Sleep Master folding bed. There's nothing extraordinary about the bed, yet it's sturdy and gets the job done! 
The frame is made from steel and has a quite different folding design compared to the others in the list. And for that matter, you will have to give extra effort when unfolding.
It's lightweight but surprisingly stable. You will love the feeling of sleeping on it. The spring base gives enough support to sleep comfortably overnight. The mattress does have a firmer feel to it but it's bearable.
Pros:
Awesome stability and strong frame.

Spring base is supportive for most types of sleepers.

Lightweight and easy to carry around.
Cons:
Requires extra bit of an effort when unfolding.
How to Pick the Best Temporary Bed for Guests
1. Consider your options: Air mattress or folding bed
When buying temporary beds, you can either go with air mattresses or folding beds. Both have their own pros and cons.
Air mattress is best for users living in a small apartment. When you no longer need it, just deflate it and store it away. Basically you are saving all the space. The issue is it can leak over time and might need replacement after a year or two.
Whereas, folding beds can save a bit of space but not as efficiently as air mattresses. The upside is these beds will last longer.
2. Bed dimension folded and unfolded
It's important to know that portable beds often come with mattresses just a bit smaller in size than regular mattresses. Take a measure of the space where you will be placing the bed and then have a go at the dimensions of the bed when unfolded.
The next step would be to check the folded dimension. The more compact it is the better. 
3. Quality and feel of the mattress
How do you really judge the quality of a mattress? It's complicated and we could write an entire book on it. Let's skip that. Generally, you will find memory foams, polyurethane foams and sponge foams in temporary folding beds. As the category is devised to serve short term usage, you can't compare them to higher end mattresses. Just make sure it's not too squishy and has a medium firmness.
4. Wheels for mobility
Almost all the folding beds in this list have wheels on them. Having wheels on the beds isn't mandatory but if you do have them, they will increase the portability and help you move around the home with ease. The Millard Diplomat has 360-degrees rotation on the wheels and offers maximum moveability in all directions. Additional locking mechanisms are appreciated and will provide more stability.
5. Frame and base construction
Steel is our favorite material of construction. As different kinds of guests with different body composers will be sleeping on it, you can't take a chance with thin and non-durable hardwood and stuff like that.
Usually, beds in this category might come with steel slats, wood slats, wire mesh or spring base. We found the spring base models the more supportive. However, wire mesh is more durable and long lasting than the spring base version.
Conclusion & Editor's Choice
Why do we consider the Zinus memory foam to be the best temporary bed for guests? It's definitely our Editor's Choice and for a good number of reasons!
Even though you are buying a bed for guests, you don't want it to shout and say this is 'bed is temporary'. Zinus does a great job in covering that up and it's designed to look like a box spring mattress. Smooth and detailed!
It folds & unfolds effortlessly and will last pretty long considering the steel frame construction. When you sleep on it, you can't feel the metal slats beneath. Overall, a must buy for people who have a lot of guests coming and staying over.
Let us know what you have chosen and any suggestions that you have!