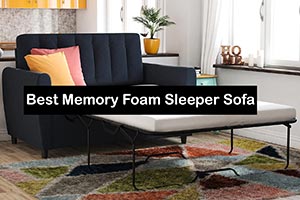 Confused, what's the best memory foam sleeper sofa?
But hey, first you should know that a sleeper sofa isn't the same as a sofa bed.
Sleeper sofas are more convenient as they remain hidden under the couch. They are more comfortable as they come with a mattress. Alternatively, you could also get a sectional sleeper couch, if you have more people at home. 
While there are lots of models on the market that come at high prices and might not be a good idea when you just need this for an extra guest at home.
So, we did the digging considering the price and overall quality. Here's our top 5 list of the best sleeper sofa with memory foam mattress!
5 Best Memory Foam Sleeper Sofa 2021 Reviews
Click a link below to jump to the relevant section
1.Novogratz Brittany Sleeper Sofa
Sofa weight limit: 400 lbs
Sleeper weight limit: 225 lbs
The Novogratz Brittany will give you the most bang for your bucks. It's got a modern and space-saving design that can do wonders for any small apartment. The comfort level of the seat cushions were up to the mark and they are comparatively more durable than other sofa models in the list.
Let's talk about the sofa part. It's upholstered with linen fabric with a ribbed tufted backrest. If you are a short person between 5'-5'5", then you will find this sofa to be at the right height.
The cushioning is a bit on the stiff side, but it doesn't feel uncomfortable by any means. You will love the back cushions as they are attached by a velcro. So, getting them apart and cleaning becomes super easy.
It's considered as one of the best sleeper sofa with memory foam mattress because of its fold out bed system. While many of the similar products on the market makes creaking noises, the bed on this one is silent and folds in and out smoothly.
A few things to consider! The fabric on the sofa attracts pet hair and can be frustrating when you have a few cats and dogs at home. The twin mattress on the bed is slightly shorter than the standard size.
Pros:
Comfortable sitting position for short individuals.

Removable back cushions are great for cleaning.

Smooth and noise-free folding bed mechanism.

Eye-catching modern design that can blend into any decor.
Cons:
Mattress is slightly shorter than standard twin size

The fabric can attract pet hair quite a bit.
2.

DHP Casey Sofa Sleeper 
Sofa weight limit: 600 lbs
Sleeper weight limit: 450 lbs
The Signature Sleep sleeper sofa will transform your living room into an emergency bed room when there are extra guests at home. The best part is it doesn't look like a bed and looks more like an authentic couch.
The seat cushions have independently encased coil seat cushions that will give you comfortable experience when lounging for a long time. Here's the dimension of the sofa: 70″L x 32.5″W x 35.5″H. For two people, it should be more than enough.
The memory foam mattress comes in twin, full and queen sizes. If your home is expected to fill with people, the queen should be your first choice. When you sleep on it, you won't feel anything hard touching your back. Yes, you can use it as a regular bed. Just keep in mind, people over 6'3" will hang off a little bit.
While the bed and the sofa frames are quite durable for the price, we found the fabric to tear off near the bottom and the corner parts after some months of use. But it could be a one-off case.
Pros:
Multiple sizes available and gives you more options if you have more guest at home.

Laying on the mattress is comfortable as the base doesn't hit you on the back.

Independently encased coils on the seat cushions provide more support.
Cons:
The fabric near the bottom and the corners aren't the most durable and can tear off with time.
3.

Signature Design by Ashley Levon Sleeper Sofa
The Signature Design by Ashley has a contemporary design that makes it stand out from the rest of the models in this list. The wide and spacious seats will give you plenty of room to sit and rejoice, while the sleeper will give you additional space to house your guests!
It's a queen size sleeper sofa with a tweed-like upholstery. You will love the neutral color as it will blend into any sort of decor. We loved the additional 4 back pillows and 4 throw pillows and they complement the design perfectly.
This piece easily falls into the best memory foam sleepers list as sleeping on it is extremely comfortable. You will also love the seat cushions as they are backed by supportive pocketed coils.
At dimensions 96 W x 40 D x 38 H inches, it's definitely a large furniture piece. If you have a large living room or a bedroom, this should be your go to sleeper sofa.
If any negative side that we want to talk about is the frame material of the sofa. It's made from particle board. Though there's no safety or stability issues, it might not be the most durable. Not a big issue considering the price!
Pros:
10/10 on design and styling of the sofa.

Extra back and throw pillows perfectly compliments the design.

Pocketed coil seat cushions offer maximum support when sitting.

Wide and spacious sofa for large homes.
Cons:
The frame isn't the most durable but should last enough to make the money worth it.
4.

Mainstays Sleeper Sofa
Mainstays could be a great fold out sleeper sofa option if the previous models are not in your price range. The Certipur-US certified mattress speaks of the quality and safety of the product!
We actually loved the faux leather upholstery with tufted back. It looks sleek and modern. If you have a studio apartment/office, this should interest you. The wide track arms on the couch should give you extra comfort.
The memory foam mattress has 3-4" thickness. We are sure it should be enough to give you a good night's sleep. In case, you want to use it for regular sleeping, just add a memory foam topper.
The fold-out base of the mattress is quite sturdy and should last a considerable period of time. That being said, you should keep your expectations under control as this isn't a $1000 product.
Don't forget to check out our leather sleeper sofa collections! We are sure you will find some great options!
Pros:
Velcro holds the seat cushions when you lay the bed flat.

Faux leather upholstery makes it look sleek and modern.

Sturdy bed frame with good stability and balance.
Cons:
Might be a bit thin for regular sleeping (add a memory foam topper to solve this).
5.Professional Deals Loveseat Sleeper Sofa
Sofa weight limit: 800 lbs
Sleeper weight limit: 500 lbs
Just moved into a new home and need a cheap memory foam sleeper sofa? This 57" loveseat sleeper should do the job! Despite the low price, the sofa is surprisingly comfortable and forced us to include it on the list.
The Sofa has denim-like fabric upholstery and looks like they will last pretty long. We found the back cushions to be softer than the seat cushions. But that's good in a way as firmer cushions offer more support and hold their shape.
Assembling the sleeper sofa is easy and shouldn't take you long. The bed mechanism is smooth and has a cot material below the mattress. So, when you lay on it, you won't feel any discomfort, despite the mattress being on the thinner side.
The plastic feet of the sofa was the only thing we didn't like. It doesn't wobble or become unstable and things like that, but in the long run, they might wear out and need replacement.
Pros:
The denim-like fabric upholstery is durable and will probably last much longer.

Back cushions remains attached with the sofa when you pull out the bed.

Simple and fast assembling process.

There's cot material under the mattress that provides more comfort.
Cons:
The feet of the sofa is plastic and might need replacement at some point.
Conclusion & Editor's Choice
The Best memory foam sleeper sofa award goes to Novogratz Brittany. It's backed by a lot of positive user reviews that speaks of its quality and durability.
The smooth and noiseless bed mechanism is praise worthy and it isn't the most expensive on the market. Being a memory foam sleeper, you will be able to use it as a regular bed as well as an emergency bed for guests.
Do let us know if you have any suggestions or you think there's a better model than what we reviewed!