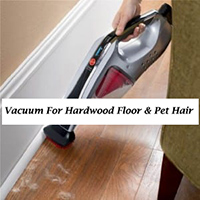 Let's get straight to the point! You need a vacuum that's gentle on hardwood floors and cleans pet hair effectively.
In simple words, you are looking for the best hardwood floor vacuums for pet hair.
We understand exactly what you want. So, we decided to test out the top vacuums in the market that can do the job!
Some models had too much power or overpowering brush rolls. Others were ineffective in clearing our pet hair and other small debris.
Finally, we came to this list of 7 pet+hardwood floor vacs! And some of them are even versatile enough to do a good job on carpets, rugs and upholstery.
7 Best Hardwood Floor Vacuums for Pet Hair 2021
Click a link below to jump to the relevant section
1.

Bissell PowerEdge

Stick Vacuum
When it comes to maneuverability, a stick vacuum wins everytime! The Bissell Poweredge is truly the best stick vacuum for pet hair on hardwood floors because of its brushless function and great suction capabilities in tight corners.
The unique and probably the most effective function of the vacuum is its V-shape design. It creates a 90-degree angle, which allows you to collect pet hair from lots of places which otherwise wouldn't be possible.
No matter what you throw at it- litter, dog hair, cat hair or plant dirt, it will clean them all (so long they are on a hardwood floor). There's no moving parts in this vac and only a rubber line to direct the debris towards the suction. It sucks up pet hair inches away with precision.
Although it's a stick vacuum, it comes with a cord. So, you won't have to worry about running out of power. The filters will last indefinitely as you can wash them and reuse them. The downside is if it comes to that point when you need to change the filters, it would cost you quite some money.
It isn't the most effective on carpets as it starts bumping. So, if you are looking for a lightweight vacuum specifically for cleaning hardwood floors, this could be a great purchase!
2.

Hoover Linx Bagless Stick Vacuum 
Compared to the Bissell Poweredge, the Hoover Linx is a versatile option. It will work on thin carpets and just about any hardwood floor. Despite being lightweight stick vac, it can outperform some of the other expensive models in the market.
What makes Linx the best hardwood floor vacuum for pet hair is its ability to lay flat and clean from under furniture and low profile stuff.  It uses a powered brush roll that can transition quickly from hardwood cleaning to carpet cleaning. Whether it's dust, bird feathers or cat hair, this can encounter them all.
Don't get it wrong as it looks like a cordless vac but in reality it has a long 20 foot cord. We would assume it can cover a large space without having to re-socket now and then. Most users loved it for its easy to pick up weight at around 8 lbs. Ladies, if you are reading this, this one will save your life.
The replacement filters are damn cheap and can be found easily. The best part is you can wash and re-use the filter. Overall, it's a money-saving machine! You will be surprised to know that the dirt cup has an indicator to let you know when it's full. The only downside we could find is the dirt cup has small capacity and needs to be emptied often.
3.

Shark HV382 Rocket DuoClean Vaccum
It's not a surprise that the top vacuums for hardwood floors are all stick models. The Shark HV382 is no exception with a dual ability to clean both carpets and hardwood floors effectively. On a high note, it's more powerful than your regular stick vacs and works like a canister.
You have two settings on this vac. Setting I is more gentle and appropriate for hardwood floors. Here, the brush roll and soft roller both spin together slowly to keep the surface safe and out of scratch. When you move into setting II, the brushrolls start spinning faster to ensure deeper cleaning.
The HV382 is the best vacuum for cleaning dog hair on the hardwood floor because it doesn't clog or break even if you pick up long strands of hair. If by chance, the hair wraps around the brush, just use the little razor next to the brush to clear it out. Clever design! What's more? There's an additional multi-pet tool to capture pet hair from different kinds of surfaces. 
The LED lights on the floor nozzle is quite handy to clean out debris in hidden spots where natural light can't reach. It's an ultra lightweight vacuum that will save you hassle and lots of energy especially if your home is a large one.
4.

Dyson (214730-01) V8 Stick Vacuum
Whether you love it or hate it, you cannot disagree that Dyson makes some of the top rated vacuums in the market. The Dyson V8 won't disappoint you, especially those of you with a hardwood flooring. It will pick up litter, pet hair and just about any small debris you throw at it.
Consumer reports rated the Dyson V8 at a high score of 93 among other stick vacs they tested. Considering, it is a cordless model, we decided to keep it at #4 as the run time isn't sufficient for larger homes. Despite that, the cordless functionality gives you more freedom and is enough to cover one room of hardwood floors on a single charge.
The stick vac comes with a soft brush made of woven nylon specialized to operate on hardwood floors. Most users loved this part of the unit and it is a decisive factor for buying the vacuum. You will also get a carpet head, turbo head, soft dusting brush, crevice tool and a combo tool with the package.
When you pull in hair or debris, it goes straight into the canister and doesn't get stuck into the filter. So, your after-work becomes less as you no longer have to pick particles from the filter to keep it clean.
You can easily detach the handle from the vacuum and use it as a handheld unit. It's more like a two vacuum in one and that's what makes your money worth it.
5.

iRobot Roomba 690 Robot Vacuum
There's a growing trend for robotic vacs these days! And rightfully so. While they aren't the most effective for deep cleaning, they are perfect for hardwood floors, especially when cleaning isn't your thing or you stay away often.
The iRobot Roomba 690 is a budget robot vac that will clean your home remotely. While the navigation skills of the 690 isn't as great as some of the more expensive versions like the 890,960 or i7+, but it still does a great job. Give it some time, probably a week or two to figure out the floor layout and it will dock itself more often without losing its way.
We think it's one of the best robot vacuums for cleaning pet hair on hardwood floors because of its 3 stage cleaning system and multi-surface brushes. It will pick up small dust particles to more sophisticated pet hair. It has dirt detectors also which will keep it busy on concentrated areas of dirt.
We work quite well even on carpets. But the cleaning power is noticeable if the carpet is thin. The good thing is it automatically transitions from hardwood floor to carpets. The Roomba 690 is compatible with both Alexa and google assistant. The 90-minute runtime is enough for most small homes!
6.

Shark Rotator Professional Vacuum
You can search all day long but you can't ignore the Shark Rotator vacuum. This upright vacuum quickly converts into a lift away pod that makes your life easier for cleaning the areas above the floor. And not to forget, it works perfectly over hardwood floors and pet debris!
The vacuum has a swiveling head that can go around corners to clean off the slightest elements. The addition of a premium pet power brush is what makes it so versatile. On the plus side, it works on carpets as well.
The bagging system ensures that all the dust stays inside and no chance of allergens spreading in the air. It has a washable filter along with a HEPA filter to give you maximum protection from dust. The dirt holder has a 40-ounce capacity and enough to save you from re-emptying often.
The Shark Rotator keeps up with pet hair quite well. However, thick long hair strands can get wrapped around the roller. Unlike other rollers where you have to remove the roller to get the hair out, on this one, you just have to cut the hair and pull them out. A 5 minutes of extra work isn't all that bad.
The best selling point for the Shark is its assortment of accessories for various purposes. With the Rotator, you will get a dusting brush, a straight nozzle, upholstery tool, car detail kit, dust away attachment and lots more!
Note: If you are confused between the Shark Navigator (which is a great vacuum BTW) and the Rotator, the Navigator doesn't have the option to be turned into a canister vacuum.
7.

Bissell Hard Floor Bagless Canister Vacuum
If you liked the previous Bissell vacuum, you will like this one even better. It's a suction driven vacuum that can clean up long pet hair without any issues. The articulating wand goes almost flat against the floor, giving you more chance to clear up debris under the furniture.
Along with a hard floor head, you will get an upholstery brush, crevice tool and a carpet head with a rotating brush. While it performs exceptionally on hardwood floors leaving no scratches whatsoever, it's not the most effective on thick carpets. Anyways, it's one of the best vacuum cleaners for hardwood floors and pet hair in the market. 
Despite being a canister vac, this model is compact and lightweight. The dirt cup has a capacity of 67.6 ounces and that could be enough for most households. If you have several pets at home, you might need to empty it a few times. As for the filters, they are washable and can be reused.
The canister has an 18-foot retractable power cord and together with the 7-foot hose, you get real freedom of cleaning your home. It is this its and bits of helpful features that makes your money totally worth it.
While the wheels on this vacuum are safe on the floor, they aren't most swift. You might feel you are pulling in the vac rather than rolling. That's the only issue we could find.
Conclusion
Our Editorial team, unequivocally voted Bissell Poweredge as the best hardwood floor vacuum for pet hair!
The decision is made largely because of its unique V shape design that lets you collect dust from unimaginable places. The handheld design is another factor, we took into consideration and it makes life easier. Finally, it can clean out just about every pet related debris without leaving a single scratch on the hardwood floors.
The other models are equally and in some cases more effective. Depending on your budget and need for versatility, your purchase will vary.