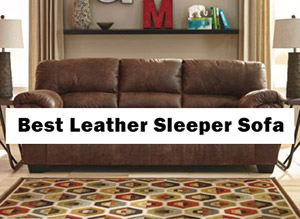 Are you thinking about surprising your guest who is going to stay overnight with a sleeper sofa?
We all know that a sleeper sofa offers a combination of sofa and sleeping couch. How about a leather sleeper sofa? Leather sleeper sofa is not just more durable but it also gives an amusing aesthetic outlook.
But the problem that occupies here is that we become confused in finding out the best leather sleeper sofa. Not anymore! We have done the work for you and found out the worthy leather sleeper sofas with all the premium features you would want.
Now you can enjoy both comfort and maximum durability in your leather sleeper sofa along with their stylish outlook that charms your room.
10 Best Leather Sleeper Sofas 2021
Here are the top 10 leather sleeper sofas we have found by comparing among lots of models. We have enlisted them by judging comfort, durability, price, and design.
1.

Best Choice Products Sleeper Sofa
Weight Capacity: 500 lbs
We chose this sofa as our top choice for the best leather sleeper sofa as this has the most comfortable faux leather design. Everyone admires this modern leather sleeper sofa for its comfort and scratch proofing technology. 4 Metal legs are at the perfect height for both sofa and futon.
The combination of futon and sofa is in the perfect place on this sofa as you can change the backrest reclining in three different levels for your seating or laying comfort. With two armrests on both sides, it also comes with two cup holders in the center that maximizes comfort.
It comes with chrome silver metal legs with leg storing compartment which looks very much stylish for a sofa. Cup holders turn in to backrest when you switch to futon where you can use their armrests as pillows. The sleek craft of faux leather really fits as a charming & premium quality leather. Size dimension of 30.5″ ×65.25″ ×31″ makes it perfect for small house and studio apartments.
Pros:
Comfortable & stylish leather.
Armrest and cupholders included.
Easily switchable from sofa to sleeper.
Comes in a very reasonable price.
 Cons:
The cushioning is not so soft or comfortable comparing to its competitiors.
2.

DHP Emily Futon Sofa Bed
Weight Capacity: 600 lbs
DHP offes another top leather sleeper sofa that comes with a black faux leather. This type of leather is the best material you can use for a sofa. The square design and silver chrome legs really gives it a  dashing premium look. It comes with split seat and backrest with individual futon seat options.
Whole body structure is built with metal which is the most strong material to use for long lastingness. 16 inches seat height of this leather sleeper sofa is perfect for all. This includes a good leg storing space which increases its comfort as a sofa. 71×34×32 inches dimension of this is sofa fits in almost every room.
You can use it for small rooms and studio apartments without facing any spacing problem. Changing its locations is also easy for you as this highly durable sofa is very easy to move for its chrome metal legs and very lightweighted structure.
Pros:
Split seat technology with split futon options included.
600 lbs heavy weight capacity in such a lightweighted sleeper sofa.
Faux leather used for stylish look and cushioning comfort.
Fits in easily in small rooms for its space saving dimension.
Cons:
3.

Signature Design by Ashley Sleeper Sofa
Weight Capacity: 500 lbs
Signature design by Ashley is a queen-sized sofa with the most classic look. It is built with amazingly strong wood frame which crafts out rounded arms. Its comfortable adjustment is really appreciated as it has very firm seat cushions and armrest cushions. However you are not getting any leg storing space in this sofa which is a bit disappointing for some people.
Overspring mattress of this sleeper sofa works like magic. With an easy lift mechanism, you can pull out a very comfortably cushioned queen size mattress. The mattress is also durable enough since it has inner steel frame. The cushions are wrapped with thick poly fiber.
This sofa is a perfect fit for a mid sized room with its 89×39×38 inches dimension. This dimension is perfect for crossing all types of doorways. Its height is 20 inches which is also perfect for people of all heights and measurement. The heavy wooden frame is a bit hard to move or lift but it is really durable for a long term use.
Pros:
Wooden structure sleeper sofa with classic design.
Comfortable and cushioned sofa bed innerspring mattress.
Rounded arm frame for excessive seating comfort.
Easy lift sleeper option mechanism.
Strong metal frame for mattresses durability.
 Cons:
Too heavy to move anywhere.
4.

Modern Tufted Bonded Leather Sleeper Futon Sofa
Modern tufted bonded leather sleeper futon sofa is a very high quality leather sleeper sofa. It has the finest quality leather coverings. Its leather upholstery is strong enough to prevent rips and cuts. So, scratches are nothing in front of it. Comfort is really count able with this type of leather sleepers.
An amusing design of tufted structure with nailhead stream makes gives it an eye catching look. 78×35×38 inches dimension makes it perfect to use as both sofa and sleeper. You are also getting leg storing space along with its wooden leg design which is highly durable.
For further comfort and reliability, this sofa offers armrests in both sides and split seat. You can change any of those three split seats to futon individually. Its sophisticated design really kills the look with astonishing black leather and and b&w nailhead trim. Considering its price, this the best budget leather sleeper sofa in our opinion.
Pros:
Highly durable wooden legs.
Comes in a very reasonable price.
Impressive black and white nailhead trim design.
Split seat and split futon technology.
Finest quality leather for astonishing comfort and strength.
Cons:
Rough and uncomfortable cushioning system.
5.

FDW Sectional Sleeper Sofa
FDW sectional sofa is another best leather sleeper sofa in our opinion. Everyone would not need such a big sofa which is the reason of this sofa not being in top of our list. This sectional leather sleeper sofa is waterproof which makes it the best choice for any comfort condition. Its high-quality leather covering can be cleaned just by wiping it with tissue or mop.
The comfortable cushioned backrest and seat pad is so much comfortable along with armrests in both end. This L shaped sofa is perfect for family gatherings, watching tv, gossiping with guest etc. Its 77×36×24 inches dimension amuses by saving space while its shape is like an L. It can easily go through doorways.
You can change this beautiful sofa to a bed in 3 seconds by pulling the chaise and making it longer. You can make it big enough for multiple people to sleep. Besides its cushions are impressively comforting with soft cushions and comfortable leather.
Pros:
L shaped sofa with instant futon transformation.
Water proof leather suface with PU technology for easy cleaning.
Comfortable padding and cushions along with armrests.
Solid strong wooden body structure.
Adjustable hardest and high resilient sponge.
 Cons:
6.

DHP Andora Coil Futon Sofa Bed
Weight Capacity: 600 lbs
DHP Andora coil futon sofa bed is do far the most affordable sofa with premium specs. Not just its features but also its modern leather design is very eye-catching. This sofa is available in 4 different colours including black, white, blue & grey. The wooden legs beneath those tufted seats of this sleeper sofa are really admirable.
When it comes to comfort and durability, this sofa is no less than its highly priced competitors. Back cushions, arm rests and seating pads are all encased with coils which makes it so soft even for the heaviest peoples. It also offers center legs for additional leg support.
Turning such a comfortable sofa into a futon is so easy with its multiple options. You can adjust the backrests leaning level. Besides, its split seat design lets you transform its seats into futon individually. 34×76×33.5 inches dimension makes it perfect for all types of rooms. It is really mesmerizing to get all these features in such e low cost.
Pros:
Multi position backrest cushion & split futon seats.
Sponge coils included for the best of comfort.
Space saving and unique design.
Heavy weight capacity.
Comes at a very reasonable price.
Cons:
Poor quality leather is used in this sofa which tears up easily.
7.

DHP Casey Sofa Sleeper
Weight Capacity: Sofa-600 lbs,  Bed- 450 lb.
A blue velvet sofa can change the whole view of your living room. This signature sleep sofa has that colour and design that is both refreshing & unique. It is crafted in modern design as a sofa with wide armrests for extra comfort. Besides, its wooden legs with a few inches of space gives a more stylish outlook.
The memory foam mattress and cushion used in this sofa is one of the best materials. Such a premium quality foam makes it one of the most comfortable leather sleeper sofa. Additional comfort and durability to withstand heavy weight is also promised with its coil seat cushions.
This compact design sofa dimensions 70×32×35 inches which is nearly the ideal size for small rooms. Switching to futon mode is really easy since all you need to do is pull out the mattress. Most importantly, this sofa is crafted with faux leather which is an ideal leather to be durable and scratch proof.
Pros:
Manufactured with highly durable faux leather
Compact design with storage efficiency
Comfortable foaming and cushioning reliability
Incredibly high maximum weight capacity.
Cons:
The futon surface is not as comfortable as sofa's cushion.
8.

Samuel Sleeper Sofa
If you are looking for something really strong then here it is! Samuel sleeper sofa is the most durable sleeper sofa we have found out. Strong metal body structure cushioned with foam makes it both durable and comfortable at the same time. Wooden legs add more strength to its heavy weight lifting capacity.
Three split seats with hand rails in both ends is the perfection of a sofa like this. Now you can pull out its cushion and transform it into a futon easily. Now your sleeping couch is ready. You dont feel the same comfort anymore? Not a problem, because its cushions are removable.
This sleeper sofa is perfect for mid-sized rooms with its 85×38×36 inches dimension. Your comfort and reliability is extended to a level further with its leather. Its breathable PU leather is a high quality material which is highly durable so it can withstand sharp pokes, scratches & water fills easily.
Pros:
800 lbs magnificent heavy weight capacity.
Comes with breathable PU materials.
Can be used for the long term for its durability and cushion removability.
Perfect dimension for mid-sized rooms.
 Cons:
Cheap quality rods and parts were used in this product.
9.

Stone & Beam Fischer Sleeper Sofa
Weight Capacity: approx 350 lbs
Fond of classy wooden looks? Then this is the ideal choice with its updated classic look. It is built with the finest quality wooden frame that can last for several years without any faults. Such a strong body and resilient cushion combine the most advanced weight spreading system that lets it carry heavy weights and still produce softness with comfort.
79×35×34 inches dimension of this sofa can be turned into a queen-sized bed within a few cushion. All you need to do is pull out the cushion. The reversible cushions used in this sleeper sofa is also features it to be one of the best sofas for comfort and durability.
This sofa comes with a fixed back for durability purposes which really does work amusingly. The outer look of this traditional sofa also comes with ensured long lastingness. Top grain leather upholstery covering the whole cushion, backrest and armrests makes it more comfortable along with preventing tear down problems.
 Pros:
Comfortable foam padded cushions.
Reliable long lastingness ensured with high quality heavy wooden frame.
Attractive classic design with eye contrasting colours.
Can be converted to a queen-sized bed anytime.
Cons:
Too heavy to move this sofa anywhere.
10.

Dilleston Sofa Bed 
Weight Capacity: approx 250 lbs
Dilleston sofa bed is very much unique because of both its design and structure. It also gives a bit funky and fashionable out look. Inner frame material used in this sofa is pure wood which makes it really strong. But its silver chrome metal legs makes are no less than its wooden frame when it comes to long lastingness.
The whole sleeper sofa is stylishly presented in upholstery leather outfit of grey colour. This colour and design gives it a modern vibe and charming display. The cushioning foam is also soft enough for enjoying a good nap it this futon. Total dimension of 74×73×35 inches makes it so much efficient to place in any type of room when its compacted.
Adjustable armrests for pillow top seating along with adjustable backrest cushion makes it ideal for any type of use. You can enjoy both sofa and futon with no efforts needed. Getting this stylish and comfortable sofa in such e low price would never be a mistake for anyone.
Pros:
Adjustable armrests and pillow-top seating.
Built with strong wooden frame material.
Highly durable and comfortable upholstery grey leather sleeper.
Easy to fit in any rooms and doorways..
Cons:
The futon surface is so hard that it might cause back pain.
Final Verdict
Now that we have reviewed the best leather sleeper sofas with an honest briefing, it must be easy for you to choose the best one according to your budget. If you want a big sleeper sofa for your room with no budget compromises then we would recommend you FDW sectional sofa as the best choice. But if you want something in a reasonable price and long lasting reliability, then  Best Choice Products leather sleeper sofa would be the ideal one. Now it totally depends on your budget and your requirements. We have the best ones enlisted in various price range so, best of luck.