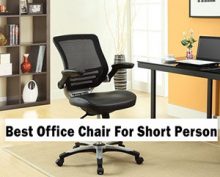 9-5 or 9-8! Office hours suck up a considerable amount of time from our lives. If you are a short person ranging from 5-ft to 5'6", the problem is even greater!
Analyzing over 30+ chair models, we finally reached a conclusive list of the best office chairs for short person. We considered chairs with seats going as low as 14.75-in and with adjustable features to support various body shapes and sitting habits.
Our recommendation: If price isn't an issue and longer painless working hours is your priority go for an ergonomic model. Otherwise, there are few budget-friendly models that will do the job.
Here's what we got for you!
| | Product Name | Lowest seat height | Weight Capacity | |
| --- | --- | --- | --- | --- |
| | Herman Miller Aeron Chair | 14.75-in | 350 lbs | |
| | Steelcase Amia Task Chair | 16-in | 400 lbs | |
| | SIDIZ T50 Office Desk Chair | 15.7-in | 300 lbs | |
| | Rimiking Home Office Chair | 14.57-in | 200 lbs | |
| | Furmax Office Gaming Chair | 15.2-in | 280 lbs | |
| | Steelcase Leap Fabric Chair | 15-in | 300 lbs | |
| | SitRite Ergonomic Chair | 16.7-in | 300 lbs | |
| | SIHOO Ergonomic Office Chair | 17.16-in | 250 lbs | |
| | AmazonBasics Leather Chair | 16.5-in | 275 lbs | |
| | Flash Furniture Office Chair | 13.5-in | 250 lbs | |
10 Best Office Chair for Short Person 2021
1.

Herman Miller Aeron Ergonomic Chair
Weight capacity: 350 lbs
Lowest seat height: 14.75-in
When it comes to professional use and something that you are going to live with for years, there's hardly any margin for compromise. The Herman Miller chair isn't inexpensive, but undoubtedly it's the best ergonomic office chair for a short person! 
Professionals who sit and work for 10+ hours will gain the maximum advantage from this chair. Everything on it is adjustable. The height can be raised from as low as 14.75" to 19". Arms have adjustable height and can slide in different directions to give you the ultimate comfort experience.
The adjustable postureFit works like a lumbar support which basically consists of two flex pads that can adjust to the curves of your spine. For any users with back pain issues, this is a deal maker!
Sitting long hours calls for some additional features and thankfully this chair has it all. When the upright position feels uncomfortable you can recline up to 3 postures. The tilt limiter sets the position to which you wish to recline!
The huge 12-year warranty speaks of the durability of the product. It's a sufficiently big investment that will pay off once you spend a decade working on it.
The only thing that could have made it a game changer was a headrest! But you can buy an Atlas headrest separately and install in the chair!
Pros:
Adjustable seat height and armrests makes it perfect for short people.

PostureFit flex pads supports the curves of your spine.

Set your own recline range with the tilt limiter.

Increase or decrease the effort required to recline.
Cons:
Doesn't come with a headrest. Need to buy it separately.
2.

Steelcase Amia Task Chair
Weight capacity: 400 lbs
Lowest seat height: 16-in
If you have a bit of experience buying office chairs, you should know a thing or two about Steelcase. The brand is well known for making ergonomic, durable and high quality office chairs. This particular model is affordable and the best office chair for short heavy persons, considering the higher weight limit.
The Amia has both adjustable seat height and depth. Whether you are skinny or bulky, it shouldn't be an issue. The seat goes as high as 21" and you can adjust the depth from 15.5" to 18.5".
One of the deciding factors to buy this chair is the flexible seat edge. This helps to release pressure from the back of the legs. Moreover, there's flexors on the back that give support to your lower back.
While many office chairs have fixed arms that keeps you limited. The arms on this chair have 4-way adjustability and allow you to work in various positions without feeling any discomfort.
As for negatives, there's one. The seat cushion is on the stiffer side and could be a bit painful when sitting 10+ hours, but nothing unbearable!
Pros:
Low height setting is suitable for shorter people.

Adjustable seat depth makes it usable for different body structures.

Arms are completely adjustable and supports multiple posture.

Lower back support with flexors installed at the back of the chair.
Cons:
The seat cushion doesn't have too much padding.
3.

SIDIZ TN50 Chair
Weight capacity: 300 lbs
Lowest seat height: 15.7-in
The Sidiz T50 is much more affordable than the previous chairs we reviewed. Considering the price and all day long sitting comfort, it's the best office chair for short persons! The mesh cover could be the decisive factor for many users.
Apart from adjusting the height, you can also change the seat depth from 18.3" to 21". Though we would have loved it more if the lowest depth would have been close to 16", it's still good enough for people at 5'7 and over!
The T50 has arms that move in 3 ways to support different sitting positions of the user. It does have a reclining feature with a limiter, which means you can recline to a specific position every time you lean back. A reclining lock would have been more preferable, nevertheless for an office environment, this is okay!
The back of the seat is made of polyester mesh and offers superior comfort compared to those that don't have it. There will be less sweat due to higher air circulation.
If there was a thing to complain about, it would be the sit cushion. It isn't the most comfortable in the world, but not the most uncomfortable either!
Pros:
Mesh backrest is great for ventilation and all day seating.

Reclines to 5 different settings when you lay back.

Caster wheels are durable and long-lasting.

Moveable armrests adds comfort.
Cons:
The seat cushion is on the stiffer side.
4.Rimiking

Home Office Chair
Weight capacity: 200 lbs
Lowest seat height: 14.57-in
The Rimiking chair is not like your regular office chair! It lacks the adjustability and some of the bells and whistles you have seen in the previous chairs. However, it can add a touch of elegance to your workspace. If you are an executive who loves style over other things, this is for you.
The chair has a mid-century design with a twill upholstery. So, it's easy to say this is more of a casual chair. But don't underestimate it. It does have an ergonomic curved shape that supports the spine and reduces back tension.
For a chair that costs just a fraction of the Herman Miller, it does a great job! Starting from the seat and back cushions, which are softer and more comfortable. The absence of the armrests (largely to support the design theme) explains that the chair is for short-duration use. If you are intending to use it for 8-9+ hours, this isn't for you!
For petite users, there's good news. The seat height starts at 14.57" and can be stretched to 18.51". It has a depth of 17.32", which we think is on the higher side, but won't make you sink in it.
Pros:
Elegant twill upholstery & mid century design is great for both home and office use.

Curved back design keeps you at a comfortable position.

Short people will enjoy the lower seat height.

PU casters will run safely on hardwood and carpets.
Cons:
Doesn't have armrests and hence not suitable for all-day sitting.
5.

Furmax Office Desk Leather Gaming Chair
Weight limit: 280 lbs
Lowest seat height: 15.2-in
Let's face it! Most office chairs that have a sort of ergonomic design and adjustable features will cost you more than $300+ and some even higher than $1000. Despite that, Furmax is the best office chair for a short person in budget! Trust us, you can't get a better deal than this.
It has a high back with a leather covering that gives it the look and feel of a gaming chair, still making it perfect for the office environment. You have the option to rock back and forth, which should give you some freedom to relax and get your work done!
The chair doesn't have the padding that you can find in some of the higher end products, but it has sufficient lumbar support that can beat other chairs in the $100-300 price range. The seat height is adjustable up to 18.3" and the padded armrests are comfy enough. Overall, we really loved the chair!!
Pros:
High weight capacity that can accommodate heavier people.

Can rock back and forth to prevent boredom and fatigue.

The high back design supports the shoulder and head.
Cons:
The leather upholstery might not last long with heavy usage.
6.

Steelcase Leap Fabric Chair
Weight capacity: 300 lbs
Lowest seat height: 15-in
The Steelcase Leap has gone one step forward with it's amazing adjustable functionalities! Everything from height, depth and the arms are customizable to one's needs. We would highly recommend this to people who have to sit more than 8-10 hours on a daily basis.
The shape of the chair has a natural curve to keep your spine in a comfortable position. In addition, a lumbar support makes the chair truly ergonomic. Due to its design and the ability to relieve pressure from different points of the body, we consider it the best office chair for a short person with back pain.
The seat height can reach up to 20-in. But for most petite individuals it's the seat depth that plays a big role for comfort. The seat depth is also adjustable and starts as low as 15.75-in. The arms on it can move in multiple ways to accommodate the changes in your posture.
The ability to control the lower back firmness and the tension level of reclining makes it quite a unique chair that can sustain your body over the years. It might develop a bit of screeching sound when you lean back, but application of WD-40 will solve this issue.
Pros:
Lumbar support and curved design keeps the back at good position.

Naturally glides with 5 reclining positions, which allows varied postures.

Lower seat depth ensures that petite users sit comfortably.

Prevents lower back pain as you can control lower back firmness of the seat.
Cons:
The seat can make screeching sound when leaning back after months of use (solves with WD-40 spray).
7.

SitRite Ergonomic office Kids Desk Chair
Weight capacity: 300 lbs
Lowest seat height: 16.7-in
Did you ever expect to have a footrest in your office chair? The SitRite just made it possible. It's a pretty affordable ergonomic chair that will keep you relaxed and in good shape.
Due to the size of the seat and the ability to adjust depth up to 1.7-in back and forth, petite users ranging from 4'10 and 5'3 will have the maximum advantage. No more slouching as you can sit upright with your arms reaching the armrests easily.
The back of the seat will support your lumbar perfectly. Most users reported the chair hitting them in just the right point to make them feel comfortable throughout the day. It might not have an all adjustable profile, but it sure is one of the best desk chairs for a short person.
The footrest on it is detachable and can offer additional support when your knees aches. You can easily move from one corner to another corner of the room using the Urethane wheels. And.. when you don't need them, just lock them in place.
This chair is for those who have a smaller hip and a hip over 45" would cramp for space. The seat is surprisingly softer and can wear out faster than the others!
Pros:
Adjustable seat depth is suitable for petite to medium body types.

The back design supports the lumbar area perfectly.

Footrest for preventing fatigue on the feet and knees.

Fits petite users better allowing upright position and preventing slouching.
Cons:
Users having hip size over 45" will have a hard time to sit.

The seat is too soft and can wear out quicker.
8.Sihoo

Ergonomic Office Chair
Weight capacity: 250 lbs
Lowest seat height: 17.16-in
We wouldn't say that the Sihoo chair is made for petite users! But in terms of ventilation and pressure relief, it's the best office for short person ranging between 5'6 and over!
The chair has some of the most useful features on a budget. Starting from the adjustable headrest that will support your neck area. The backrest and the height are also adjustable and are easy to operate. You will love the breathable mesh on the back as it promotes airflow and keeps you seated for hours.
The seat is well padded with a high density sponge cushion. It can relieve pressure from your buttocks. And not to forget about the adjustable lumbar support! To be honest, you can find a combination of lumbar support, the curved ergonomic shape and headrest at such a price.
Pros:
Headrest is adjustable and prevents pain from building up in your neck area.

Thick padding on the seat is great for sitting longer.

Promotes airflow with the mesh back.

Adjustable lumbar support is hard to find in this price range.
Cons:
The armrests are stiffer and not much comfortable.
9.

AmazonBasics Leather Padded Office Chair
Weight capacity: 275 lbs
Lowest seat height: 16.5-in
We wouldn't boast too much about the Amazon basics! However, if budget is your primary concern and you desperately need a chair to make through the office hours, this could be a good option.
It's a swiveling chair covered with faux leather upholstery. Nothing to take back here, it looks sleek and professional from the outside. The chair has a narrow sitting area and needless to say petite users will find it snug.
It doesn't recline but can rock back and forth. And if you want you can sit completely upright. The height is adjustable and can reach up to 20". For convenience, the caster wheels are a nice addition.
Let's be realistic! This chair isn't intended to last for decades. The seat cushions will flatten in a course of a few months. It's a tradeoff you need to make with price vs quality! Nevertheless, it's a worthy purchase considering the price and the Amazon brand value.
Pros:
Faux leather upholstery makes it look professional.

Rock back or remain seated in upright position.

Adjustable height supports users at 5'6 and over.
Cons:
The seat cushions might flatten up and lose shape after some months of use.
10.

Flash Furniture Office Chair
Weight capacity: 250 lbs
Lowest seat height: 13.5-in
The Flash furniture office chair is quite similar to the Amazonbasics in design and quality. Its USP is in it's low high setting that allows users at 5-ft to sit without leaning or slouching.
It has a PU leather upholstery that looks cool. The seat is soft and somewhat supportive. The best part is you can buy an additional lumbar cushion from the manufacturer!
You can tilt back on the chair or lock it in an upright position. At this price, it's nice to have this subtle feature that will relieve pain from your back. The seat rises to a 17-in height at maximum, making it a true petite office chair.
The armrests don't have enough cushioning and can be a bit painful when sitting for a longer duration. Thankfully, you aren't paying a premium price for this!
Pros:
Swiveling functionality allows movement in all directions.

Low seat height enables petite users to sit at ease.

Leather upholstery is soft and durable.

Tilt back or keep it upright
Cons:
The armrests are hard and not much comfortable on the elbows.
What to consider when buying an office chair for a short person?
Let's keep it simple. The following are the exact factors that we used to analyze and list the top 10 dedicated office chairs for short people.
1. The right height and depth
For users at 5'6" or lower, minimum seat height should be 16-17-in and the minimum seat depth should be 15-16-in.

For users at 5'2" or less, the minimum seat height should be around 15-in and lower & the seat depth should be less than 15-in.
2. Adjustable features: seat and arms & more
Adjustability is a blessing when it comes to chairs in this category. Though such chairs come at a price, the value gained is worth it. You will find some chairs with adjustable seat height and seat depth. This ensures that the chair will fit you even if you aren't sure about the dimensions. Some even come with arms that can move up and down, sideways that will support multiple postures.
3. Ergonomic design
Chairs that have a curve to it will support your spine better than those run flat. The adjustable functionalities also fall into this factor. What an ergonomic chair does is it keeps you seated for hours with minimal fatigue and strain on your back, knees and the elbows. The tradeoff is the higher price!
4. Mesh back for breathability
If you are in an environment where the AC is on all the time, this isn't mandatory. However, a mesh back will prevent sweat from building and keep you comfortable longer.
5. Tilting/reclining ability
The tilting ability is basically the ability to go back and forth. It isn't necessarily a fully functional reclining motion, but if you set the tilt limiter you can control how much you want to lean back or just lock it up in an upright position. Chairs with such capabilities are often the ones that allow you to remain seated for 8+ hours.
6. Additional features: Headrest, footrest & lumbar support
A headrest is always great to have as it can support your neck. But it isn't mandatory. What you need more is a chair with lumbar support. This will keep your lower back in good shape. As a bonus, a footrest will keep your feet and knees from aching.
Conclusion & Editor's Choice
If you have reached all the way to the end of this post, we are happy to single out the best office chair for short person. And it's none other than the Herman Miller with the lowest seat height of 14.75". This means users with height as low as 5-ft and over and use it comfortably.
It's a fully adjustable and ergonomic chair that will support seating for 10+ hours without any fatigue or back pain. We know it comes at a premium price. But considering your career and the long lasting durability of the chair, it could be a wise decision!
The choice is yours with plenty of chairs to choose from satisfying users with different budget and needs!