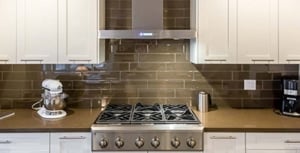 It's not a child's play to choose a quality range hood from the market. You have to pick one that provides efficient air flow and has a quality filter in it.
For months I searched for the perfect range hood for my kitchen and I had to dig a little deeper to find the right one for me. Though it took some time, I finally managed to separate the best range hoods for gas stoves from the ordinary ones.
In this review, I have added the most prominent range hoods that I found through my recent research. I am sharing these with you so that you don't have to go through the troubles of finding the best ones. So let's get started.
| Images | Products Name | CFM | |
| --- | --- | --- | --- |
| | Cosmo Under Cabinet Range Hood | 200 | |
| | Broan 413004 ADA capable range hood | 160 | |
| | AKDY Kitchen Wall Range Hoods | 400 | |
| | GOLDEN VANTAGE Range Hood | 400 | |
| | Kitchen Bath Collection range hood | 412 | |
| | Zuhne Ventus Range Hood | 450 | |
| | Broan Power Module Range Hoods | 250 | |
| | Ancona Slim Range Hood | 325 | |
| | Perfetto Kitchen and Bath Range Hood | 343 | |
| | Broan F403023 Range Hood | 190 | |
10 Best Range Hoods For Gas Stoves 2021
1.Cosmo Under Cabinet Range Hood
CFM: 200, Noise: <56db
The Cosmo under Cabinet Range Hood is designed in a slim figure to save space at your kitchen. This design is suitable for apartments and condos. You can use this range hood with or without a carbon filter kit.
For top venting or back venting, you can use this range hood at ease. By placing it vertically against a wall, you can use it for back venting. But if you want to use it as top venting, you can place this range hood horizontally under a cabinet.
The air flow through this range hood is 200 cfm making it very efficient for use it in an apartment kitchen. Inside t+9..11his range hood, there is a motor with three speed settings. You can adjust the speed according to your need.
It makes a maximum of 56 DB of sound. This is very quiet for a range hood and good for avoiding unnecessary noise.
The whole body of this range hood is made of stainless steel. So, it is very durable and is of unparalleled quality as the material is 430 grades.
Finally, to trap oil and grease, aluminum mesh filters are used in this range hood. The filters are reusable and they are quite durable too. With the help of such filter, you can keep your kitchen free from grease and unwanted combustion product that is produced in your stove.
In short, if you want a quality range hood for your apartment kitchen, the Cosmo under Cabinet Range Hood is a good choice.
Pros:
Comes with 2 LED bulbs.
Reasonable Price.
String suction power.
Quiet operation.
The filter is easy to clean.
Needs low maintenance.
Cons:
The lights are quite deep.
2.Broan 413004 ADA capable range hood
CFM: 160, Noise: <56db

If you want to have an effective filtration, a high quality of the range hood and that too with a good value, the Broan 413004 ADA Capable Range Hood is a great one to choose.
This range hood has different widths to match with different appliances. For apartments and condos, you can choose the width according to your choice. Moreover, there are various colors too. So, you can match the color with your house and will not look odd at all.
It includes a removable filter that helps to keep the air clean. The filter has a combination of grease and charcoal. This combination makes the filter more effective when it comes to having a cleaner indoor recirculation exhaust.
The fan inside this range hood is designed to last longer and provide years of trouble-free output.It will go on for a long time and you don't have to change the fan any time sooner.
To protect your appliances, there is a protective lamp included as well. The lens of the lamp distributes the light evenly all over the top of your appliances. So, every part of the appliances is protected.
Lastly, there are control switches in this range hood for light activation and controlling the fan speed. The switches make it easier for you to control the speed of the fan and the range of the light emitted. To sum it up, this is a quality range hood for a good price and for having an efficient air circulation.
Pros:
The fan is very quiet.
It's easy to clean.
Suction is good.
Cheaper than others.
Cons:
3.AKDY Kitchen Wall Range Hoods
CFM: 400, Noise: <65db
The whole body of the AKDY 30 inch Wall Mount Range Hood is made of smooth brushed stainless steel. Such material makes it both lightweight and durable. You can use for years without worrying about any damage.
There is a three-speed motor inside this range hood. So you can control the speed at you will. If you need more you can set the speed to maximum and to have less exhaust, you can set the speed to minimum. The exhaust rate is 343 cfm. With this flow rate you can make your kitchen grease free faster.
With this range hood, you will get a touch control panel. This control panel lays in front of the range hood.
There are two LED lights attached on the corners of this range hood. These lights help to illuminate the cooking top you are using for cooking any time you want.
In this range hood, you will find a two-piece, dishwasher safe, easy-to-remove mesh filter. It helps to keep minimum maintenance so you don't have to waste too much time cleaning the hood.
Finally, you will get an air flap inside this range hood. This helps to keep the waste heat outside and not come back inside even if the range hood is turned off. So, to sum it up, this is a very good quality range hood that will keep your kitchen neat and clean all day long.
Pros:
Easy touch controls.
3-speed settings available.
Fairly easy to install.
High-quality aluminum mesh filter
Comes with timer and 12-hour clock.
Cons:
Some user complains that the hood is quite loud.
4.GOLDEN VANTAGE Range Hood
CFM: 400, Noise: <65db
The most important part of a range hood is its filters. Without the filters, there is no point of using a range hood. So, for your range hood, you need the best quality filter you can get.
In the GOLDEN VANTAGE Range Hood, you will get filters made of stainless steel. This filter is easy to remove and also dishwasher safe. So, there is no way the filters will get damaged any time soon. This is why it is one of the best range hoods for gas stoves.
You don't want the heat to that went out to come back in the kitchen. To avoid such things from happening, there is a non-return air flap in this range hood. This air flap helps to keep the heat from escaping. This works even when you keep the hood turned off.
There are Halogen Lights to help you see everything clearly when you are working under this hood. Moreover, there is a remote control to help you control the hood for a distance. You can also control the speed and airflow with the touch panel control of LED display screen.
If you want to have a range hood that you can control from near or from a distance, this is the one you should pick.
Pros:
Control system is get at able.
Allows both ducted and ductless installation.
Filters are very efficient.
Dishwasher safe filters.
Cons:
Buttons get stuck sometimes.
5.Kitchen Bath Collection range hood
CFM: 412, Noise: <58db
With the Kitchen Bath Collection HA75-LED Range Hood, you will get High-end LED lights. Each of the lights has 49 individual bulbs. So this makes the lights 3 times brighter than any average range hood with LED lights. The lights are of course here to protect your appliances or the cook-top to be specific. Also they will help you to cook comfortably as you will get sufficient light at any time of the day.
You will get a touch screen control panel which is easier to navigate than any button control or switch control or other analog control. Moreover, the control panel is sleek that makes it quite classy to look at. What I like the most about this control panel is that you can easily clean this without any dust or debris getting stuck in the corner, a problem you will definitely face with a switch.
There are 3-speed settings for the fan. You can adjust the speeds and suit your different needs as you want. If you want more flow of air, simply raise the speed with the premium touch screen panel. Do the same to reduce the speed as well.
In this range hood, you will get an adjustable chimney. There are three sides to this chimney. What good about this is that there are no welded seams visible on any sides. Conclusively, I would like to say that I like this range hood for its efficient filtration of the fan and I am sure you will love it too.
Pros:
Lights are brighter than others.
Digital control panel.
The duct is easy to fix.
Charcoal filters capture more gas and smoke.
The filter is dishwasher safe.
No welding seam visible.
Cons:
Can't be mounted on the ceiling.
Requires professional installation.
6.Zuhne Ventus Range Hood
CFM: 450, Noise: <48
For modern makeovers and upscale projects, the Zuhne Ventus 30″ Kitchen Wall Mount Range Hood is trusted by builders and architects. This range hood is quite energy saving and it won't produce too much noise to annoy you.
There are high lumen LED lights in this range hood that increases your comfort of working under a range hood. And the easy to clean filters that it includes lasts for years.
Get a high flow of air with the advanced technology of this range hood. The higher airflow requires very low energy to work. So, this saves your electricity bill as well.
Some people love ducted installation of the range hood and some love ductless installation. Whichever you are, this range hood is in your favor. Because it supports both of the installations. In short, to save energy and have an easy installation this is the best range hoods to choose.
Pros:
Lightweight but durable.
Powerful yet quiet fan.
Efficient filtration available.
Lights provide good illumination.
Cons:
7.Broan Power Module Range Hoods
CFM: 250
The body of the Broan PM250 is quite durable with a silver finishing. On top of that, the bottom of the range hood is enclosed. This helps the range hood to be more prominent with its color. It also makes the range hood very easy to clean.
In this range hood, you will get a two-speed motor. That means you can increase or decrease the speed as you like. There are rocker controls that allow easy controlling of the speed. This motor provides 250 cfm of the exhaust.
Candelabra bulbs are used in this range hood. These bulbs spread a very gentle light wave and it feels really comfortable to work under this light. They are of dual incandescent and require only 40 watts to run.
Inside this range hood, you will get an aluminum mesh filter. You can wash it whenever you want. Doing so, you can maintain an optimum capture of grease. This also helps to keep the kitchen fresh.
And last but not least, this range hood allows both ducted and ductless installation. So, you can install it easily using any one of these ways.
Pros:
Good suction power.
The fan is noiseless.
Good for the budget.
Easy to install.
Good build quality.
Cons:
Air filtering is less efficient.
8.Ancona Slim SD330 Under-Cabinet Range Hood
CFM: 325
If you are looking for an under cabinet range hood that's quite, features bright lights, and is super easy to install, this could be an option to consider. The original bulbs provided by the manufacturer are halogen (GU-10) lights. While the bulbs adequately illuminate the stove, replacing them with LED bulbs could save a lot of energy.
It has a no-nonsense, minimalistic profile. The body of the range hood is sculpted from premium-grade stainless steel. It will gel well with the environment of a remodeled, contemporary apartment kitchen.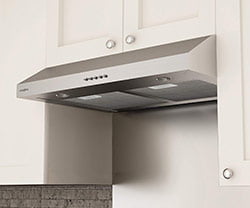 The unit is 30-inch wide accompanied by a full-width aluminum mesh filter for enhanced exhaust ability. It is super easy to clean manually and is also dishwasher safe.
The air flow rate of 325 CFM is best for venting out odor, heat, and smoke from medium to large kitchens. The flow rate perfect, neither too low nor high enough to blow back any smoke inside.
The fan has three operating modes. While you can easily speak on phone on the low and medium settings without raising your voice, you will have to speak louder the highest setting. All in all, the operating sound is much lower than many modern range hoods I've come across in my life.
Pros:
Everything is very basic, no rocket science such as touch pad, etc.

Full-width, dishwasher safe aluminum mesh filter.

Comes with two bright halogen bulbs.

Great air flow rate.

Easy to install.

Quiet operation.
Cons:
The fan rattles a bit at the highest setting.
9.

Perfetto Kitchen and Bath Range Hood
CFM: 343, Noise: < 65db
This 30" convertible wall mount range hood can be installed on both vented and vented ducts. If you don't want to spend extra on installation and go for DIY setup, good news for you. The package includes almost all the essentials you'll need for a fuss-free installation.
This wall mount extractor is one of the most aesthetically pleasing units in this segment. It has a classy stainless finish paired with a full-width tempered glass canopy.
The design is outstanding and will definitely add a dash of glamour to any kitchen. It's not just about the looks, the quality of stainless steel used in the body appears to be sturdy, something that can stand the test of time.
The soul of this equipment is its mighty 194 watts motor. Despite having lots of torque, it doesn't produce deafening noise. The fan offers 3-speed settings and has an airflow rate of 400 CFM.
To multiply the air drawing capacity, the unit uses two re-usable mesh filters instead of one. It is capable of instantly vent out smoke, odor, grease, and steam with its massive flow rate.
There are 5 push buttons to operate 3 fan settings and LED bulbs. I also love how low-maintenance the range hood is. You can toss the filter in your dishwasher and be done with it.
Pros:
Fast and effective exhaust.

Simple installation.

Convertible design of both vented and ventless kitchens.

Stunning design.

Easy to clean and maintain.
Cons:
The lights are not durable.

No clear instructions on how to replace the bulbs.
10.

Broan F403023 Range Hood
CFM: 190
This four-way under the cabinet style convertible range hood has a unique design. While all convertible range hoods offer flexible installation, this one has taken things to the next level.So what exactly makes it one of the best range hoods for gas stove?
Horizontal ducting, vertical ducting or even non-ducted installation, you can customize the setup in any way you want to. To transform the unit into a non-ducted hood, you will have to separately purchase a non-ducted filter.
The slim and sturdy unit has a gorgeous black stainless steel finish. It features a lamp lens cover which can hold bulbs up to 75W which is not included in the package. Once the bulb is installed, it beautifully brightens up the stove top.
The quality of metal used in the hood could be improved, I feel. It doesn't seem robust. However, considering the price-point, I can get past this minor flaw. The hood is 30" wide and will easily fit standard size cabinets. won't say that the installation process is a cake walk. But if you have the basic technical knowledge, you can do the setup without professional help.
The fan has two-speed settings. When ducted, it exhausts grease and smoke at 160 CFM. If you install the 7-inch round plate included in the package (during non-ducted installation), the flow rate can increase up to 190 CFM.
Combined with a top-quality aluminum grease filter, the range hood can create high displacement air flow to keep the air inside the kitchen cool and fresh.
Pros:
Allows for both vented and ventless operation.

Stunning black finish.

Value for money.

Chore-free maintenance.

Instantly removes steam, odor, and grease.
Cons:
The hood box could be sturdier.
How to Choose the Best Range Hoods for Gas Stoves
To identify and pick the right range hoods for gas stoves from the market you can check out the features below.
Build Material:
A quality range hood obviously has a better build quality. The most efficient building material for a range hood is stainless steel. This material can absorb more heat than other materials, and they are comparatively cheaper but stronger.
So if you pick a range hood made of stainless steel, you will get it at a lower price but it will be more durable. So, make sure you check the build material while purchasing.
Airflow and Fan Speed:
The rate of air flow determines how efficiently a range hood works in your kitchen. If the air flow rate is high it will quickly take the unnecessary heat out. This flow depends on the speed of the fan installed inside the range hood.
If you see the fan has three different speed settings, then this is the better one to choose. Still, it depends on the number of burners you have. So, choosing a three speed range hood will be good overall.
The Brightness of Light Emitted:
The lights of a range hood help you work comfortably in your kitchen. If the lights are too bright then you will face difficulty and it may also cause a bad headache for some.
And if the lights are too dark, then you will not simply see anything. So you need to pick a range hood with the perfect lighting for you.
The Filter:
The filter of the range hood is the most important part of it. It helps to suck in the air and provide a comfortable environment in your kitchen.
So, you have to check if the filter of a range hood is of good quality or not before picking one. A quality filter will be dishwasher safe and so they will serve you for years.
Control Options:
There can have switches to control the lights and the fan speed. But some range hoods will offer a touch panel to control the above options. And some will have a remote control as well. Each option is suitable for different people.
So, before you purchase, check these options and pick one that you are most comfortable with.
Our Top Pick
From this list, the Cosmo under Cabinet Range Hood is the one we choose because of its overall features. First of all, it's very easy to use. You can easily install it without expert help. It provides a strong suction power. Moreover, it doesn't make too much noise. Also, the filter is very easy to clean and is quite efficient. Overall, this range needs very low maintenance but provides performance with higher efficiency. That is why we choose this one from our top range hoods list.
FAQ (Frequently Asked Question)
Q: What is the best build material for a range hood?
Ans: Undoubtedly, stainless steel is the best option.
Q: How many filters a range hood has?
Ans: Different range hood different numbers and their efficiency vary as well.
Q: Can a wall mount range be mounted on the ceiling?
AnsL It depends on the allowance. If the range hood is built to mount on both the wall and ceiling, then it can be mounted. Otherwise, it can't be.
Final Verdict
In the end, I would like to say that, all the range hoods you see in this review are the best range hoods for gas stoves for their unique features. They are a bit different from one another and vary in prices and designs. But they get the job done more efficiently than any other ordinary range hoods.
So, you can undoubtedly pick any one of them and I can assure you that you will get the features you want in your range hood. Finally, I hope this list of range hood was helpful for you.
Related Post:
10 Best Frying Pans For Eggs – (Buying Guide)
Best Frying Pans for Fish Searing [Review+Guide]