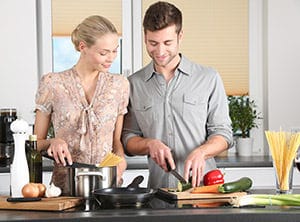 The kitchen had been such a part of our day to day life at home that you can't ignore anyway. But owning a kitchen is one thing, keeping it full of essential items is another.
Especially, we've seen people to struggle with what to keep in the kitchen and what to not. People who've moved into a new apartment, or newly married couples- these are the type of users we're talking about.
Worry not, we've got your back. In this article, we've attempted to list down the most essential items that you need for your kitchen, and beyond.
So, without wasting any more time, let's get started-
The Knife
You may wonder why on earth we listed it as the first item? Well, in a broader sense, a chef's knife is the item that you need whenever you get to cook any kind of food.
However, it's not necessary to be an expensive one. We mean, a few variations in the type of knives may give you helpful hands.
The Refrigerator
When it comes to a family cooking space, a refrigerator is the superstar. No matter how small or a large family you have, it's a must for every kind of kitchen.
Now, when you get to buy one, don't get confused with the expensive price tags or shiny advertisement. There are slots for both high and low end budget. But apart from the prices, we'd highly prohibit to sacrifice the quality.
The Countertop
As like as the knives and the refrigerator, stovetop or countertop is a non-negotiable item for your kitchen. Starting from cutting items to maintaining a clean kitchen, it comes in help every time. And when it comes to the question fo which one you need, there are a lot of varieties.
Some prefer gas-range stovetops, where some other prefer glass made stovetops. The second one is pretty easy to clean and maintain.
The Chopping Board
The chopping board is one important item and we simply can't ignore its importance in any kind of kitchen. No matter you're cooking delicious dishes or preparing salads to eat while watching a movie- you will need a chopping board.
But let us warn you, there is a number of variations in terms of material, size and type. Most common ones are of wood or plastic made.
However, no matter which type of material you chose, make sure that it doesn't hamper the sharpness of your knives.
Wooden or Steel-made Spoons
One of the busiest workhorses of a kitchen is the spoon. No matter you cook, clean, prepare or simply make a cup of coffee, you will need one of them.
Now, there are many types of them available in the market. Mostly used ones are- wooden, melamine, plastic and so on. Based on your purpose, you should be selecting the right one.
A Seating Space
Although, many of our readers may not think about having a seating space in the kitchen. But it really adds up tons of value and beauty, if you do so.
If you are lucky enough to have a space to place a dining table or tea table, turn that into an eat-in area. Create some space for all the family members and get along with the vibe.
A Range Hood
The range hood is also termed as extractor hood, exhaust hood and so on. But no matter whatever you call it, it's duty is to keep your kitchen free of grease, fumes, combusted products, steam, and heat. Usually, they're located right above the stove or cooktop. And there is a mechanical fan attached in to draw the fumes everything that comes along with it.
A Whisk
Some of us may wonder that, how can a whisk be a must-to-have item for a kitchen? Well, not practically. But if you include one of them, it will be your key to super-efficient cooking and preparing.
With a whisk in hands, you can mix up fabulous salad dressing, or a pan sauce just within a couple of flicks.
A Ladle
A ladle is a soup-spoon, which is also used to deal with ladle juice, pour sauces etc. Once you have it in the kitchen, you might turn it into some other uses like skim fat from broth, scoop large ingredients and so on.
Bottom Line
Apart from the ones that we have listed in this article, there are tons of other products that you might use on daily basis in your kitchen. But these are the sweet first set of items to start with. Hopefully, it will be in use of yours.