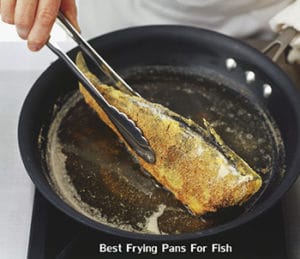 "56% of U.S consumers eat fish only twice a month"- FMI survey 2019
If you are eating fish only twice a month, you still need long-lasting cookware to make those delicious recipes.
The fish frying pan is the ultimate solution. Whether you like to deep fry or sear, this cookware will always make your fish cooking experience better with more use.
A frying pan has its own place, among other essential kitchen items. Whether you buy a cast iron or carbon steel, it will serve you for generations!
We put in 20+ hours of research and all of our culinary experience to find 10 of the best frying pans for fish.
Without further ado, let's get started!
Oh! And don't forget to read the buying guide at the end of this article.
| Images | Products Name | |
| --- | --- | --- |
| | Lodge 12 Inch Seasoned Carbon Steel Fry Pan | |
| | De Buyer Carbon Steel Fry Pan | |
| | Scanpan Classic Fry Pan | |
| | T-fal E83407 Pre-Seasoned Nonstick Fry Pan | |
| | All-Clad 440465 D3 Stainless Steel Fry Pan | |
| | Cuisinart 625-30D Chef's Nonstick Pan | |
| | Tramontina Professional Fry Pans | |
| | T-fal E76598 Nonstick 12 Inch Fry Pan | |
| | Iron World Cast Iron Skillet Pan | |
| | Amsha Kitchen Frying Pan | |
10 Best Frying Pans for Fish Cooking 2021
1.

Lodge 12 Inch Seasoned Carbon Steel Fry Pan
Looking for the best pan for searing fish? The 12-inch Lodge pan is the one and the only thing you will ever need when it comes to frying fish.
Why do we rate it so high? We know it's a carbon steel pan. And probably cast iron is a bit better than carbon steel. But cooking with Lodge will give you more control and help to cook the fish evenly. Yes, the 12-gauge carbon steel disperses heat efficiently without any damage.
The french fry pan like design and 12-inch surface area helps to sear big fillets easily. Also, the long handle with rivets provides maneuverability.
Though the pan comes pre-seasoned from the factory, we don't think that provides any value. It's best to season the pan again and, you will get a nonstick surface perfect for cooking fish and delicate ingredients.
The only thing different you will find in this pan compared to a cast iron is that it's more lightweight.
Pros:
The size and design allows convenient movement of food.
Perfect for cooking at high heat.
Versatile use over stoves, ovens and induction cookware.
Safe to rough cleaning.
High quality and strong carbon steel construction.
Made in the USA.
Cons:
The seasoned layer can peel off when washed abruptly.
High heat cooking might cause warping, and that will not be convenient for cooking on induction surfaces.
Final verdict
The Lodge fish frying pan is your go-to pan if you prefer carbon steel over cast iron. Overall, it's totally worth buying judging by the price and the value it offers.
2. De Buyer MINERAL B Round Carbon Steel Fry Pan
You probably can't get a better carbon steel frying pan than De Buyer. But it does have it's own flaws, so we had to rate it just below the Lodge frying pan.
There are lots of things to love about this pan. The first thing you will notice is the design of the pan. The surface is completely flat, and the sides are slanted. These are the features you expect from a high-quality frying pan.
The 12.5-inch diameter is just perfect for searing fish and cooking big meals.
Let's not forget that the pan has two handles. One long handle to assist when cooking and a shorter handle to help carry the pan.
Probably the biggest issue is with the handles! Why? Because both handles are covered with epoxy, which limits the use of the pan in the oven to just 10 minutes and 392° F.
You will need to season the pan and give some serious efforts before you get that nonstick surface. If you are passionate about cooking, this makes the best frying pan for cooking fish.
Pros:
Ultra high-quality carbon steel construction.
Double handle for maneuverability.
Holds a lot of heat so that food browns well.
Slanting design to prevent spilling.
Lightweight and durable.
Cons:
Handles are coated with epoxy making the pan unsuitable for oven applications.
Final Verdict
The value that you will get over the years from this pan will outrun the price you pay today. Keep in mind, if you are not willing to give enough time for seasoning and maintenance, this pan is not for you!
3.

Scanpan Classic Fry Pan
The Scanpan is one of the best frying pans for fish simply because of its roomy design and ergonomic handle. For veggies and fish, this is an ultimate cookware meant to last for years.
What we observed is, you will need very little oil to fry anything on it. And then when you are done with the stovetop cooking part, transfer the entire thing to the oven. It can handle up to 500° F oven heat.
With a 14-inch diameter, you get a lot of room for extra potatoes and veggies with the fish. The height is 1.5-inch, which isn't much but certainly not the shortest.
As for cleaning, this doesn't work as well in the dishwasher. Hand cleaning without any cleanser is the way to go. The handles don't have rivets and that also makes cleaning effortless.
Pros:
Plastic handle grip remains cool to touch.

Wide space makes maneuvering food items.

Fast cleaning as handle don't have rivets.

High heat limit on oven.
Cons:
Final verdict
If you are getting this pan, you should be extra careful not to clean it in any rough manner. Water and a paper towel will do fine. And make sure to buy a lid separately as this model doesn't come with one.
4.T-Fal E83407 Pre-Seasoned Nonstick Fry Pan
Here's the truth! Once you buy this cast iron pan from T-fal, it will last for ages. And that's what you call true value for money.
This cookware can handle extremely high temperatures as much as 600° F with no warping and damage. So, that makes it versatile to use on stovetop and as well as in the oven.
However, the long handle makes it unsuitable for oven applications. But who cares? The handle has a curved surface that helps in holding the pan comfortably.
Keep in mind that cast iron pans will take time to heat evenly. But once it does, it will retain heat longer. That makes it perfect for sauteing and searing.
We loved the large surface area of the pan and the fact that it also has a depth of 2.5-inches. This is great for cooking large dishes for 3-5 people.
Despite all the great features, the pan has a major drawback. It has a convex bottom. So, the oil slides to the side.
Pros:
Large and deep enough for comfortable movement of the food items.
Has pouring spouts on each side for draining fat.
Pre-seasoned and ready to use.
Made of high-quality materials.
Cons:
Final verdict
The price of the T-fal E83407 is ridiculously low and makes the pan highly affordable. You can't get a better cast iron pan at such a price. Considering all the flaws and positives, it's still one of the best frying pans for fish.
5.

All-Clad 440465 D3 Stainless Steel Fry Pan
The All-Clad has one of the deepest designs and a drip-less pouring rim that makes cooking a breeze. The stainless steel body looks appealing and certainly works on induction stoves.
Without the lid, there's 3-inches of height to this pan. You can easily cook a fish curry with loads of vegetables. The steel lid does a great job of trapping heat inside. And it works inside ovens as well.
Though it's a stainless steel body, the core is aluminum. So, you will get an even distribution of heat and it remains consistent without fluctuations. This is one of the reasons that All-Clad makes this list of the best frying pan for fish.
The only thing that disappoints us is the handle. It doesn't have a non-slip grip and can sometimes be a bit difficult to handle.
Pros:
Deep allows cooking different kinds of dishes.

Heavy duty construction.

Rims support dripless pouring.

Can be used on induction stoves.
Cons:
No grips on the the handle.
Final verdict
If you use a mitten or are good with fry pans, you should be able to use this. Other than the handle issue, this model is over the top and will add a tremendous value to your kitchen.
6.Cuisinart 625-30D Chef's Classic Nonstick Pan
The Cuisinart nonstick fry pan is built to last for years. The aluminum core gives it strength and durability but still feels easy on the hands.
It's one of the best frying pans for fish simply because the size isn't too big or too small. The height is 4" and the base is 8", which is perfect for searing or cooking fish curry.
The pan is oven proof and can handle up to 500° F and the lid up to 350° F. The base is flat enough to be usable on a glass-top stove. Due to aluminum construction, you can't use it on induction stoves.
Handling this fry pan is overly easy with the two stainless steel handles on each side. The lid that comes with it is also sturdy and break-resistant.
Keep in mind, the surface is quite delicate and requires soft handling. So, use only silicon or wooden utensils to cook. With good care it can last 5-8 years with superior performance.
Pros:
Rated for oven use at 500° F max.

Optimal size for cooking fish dishes.

Flat design makes it usable on glass-top stove.
Cons:
Final verdict
This pan is for those people who want nonstick experience when cooking their favorite fish dishes. If you know how to care for such pans and not a rough cook, this is for you!
7.

Tramontina Professional Fry Pans
If you are into fish, you definitely got to try out the Tramontina fry pans. Other than induction, they work with most stovetops and ovens as the construction is aluminum.
The quality of the pan is extremely good. The moment you take it on your hands, you can feel the quality. The handle is the best part in this pan. It's equipped with a soft grip and has a longer handle compared to the other models. So, those fish and veg flips become a whole lot easier.
This thing heats up evenly and cleaning is also straightforward. You won't need any sort of abrasive detergent or cleanser to get the grease off. Though the seller says it's dishwasher safe, we recommend using only hands to wash it.
You will be able to use this on gas, electric and even on glass top stove. For an oven, the temperature limit is 400° F.
If you are buying this, you will need to buy the lid separately. You will find Tramontina lids for this pan or any other lids matching the size will work.
Pros:
Heavy duty aluminum construction.

Works with most stovetops and ovens.

Longer handle with grip for more control.

Super easy to clean.
Cons:
Requires delicate handling and not suitable for the dishwasher.
Final verdict
Due to the long handle, this pan becomes more like a newbie-friendly model, especially when you are cooking fish. You need to have more control with fish and this pan is good for that.
8.T-fal E76598 Ultimate Nonstick Fry Pan
The 2.5-inch deep T-Fal is one of a kind fry pan that can make fish cooking effortless and help you to maintain consistent heat. Its unique thermo spot technology is nothing short of magic!!

This is an aluminum pan with scratch-resistant and non-stick interior. You can use it on stove tops as well as inside ovens up to 400° F. The thermo spot ring around the pan turns red when temperature reaches 374° F. So, preheating is super easy on this.
The handle has a silicon grip for comfortable and safe handling. Its contoured shape feels good on the hands. You get a tempered glass lid with the pan that can withstand up to 350° F of ovenheat. Cooking on this pan doesn't require expert knowledge. The heat transmits evenly and helps you cook your fish with less movements.
We kind of have a mixed response regarding the base. Some users have found the base to be perfectly flat, while others found it have a bit of slope. But that doesn't impact the taste of your food.
Pros:
Preheating indicator for efficient cooking.

Scratch-resistant interior.

Deep and spacious enough for cooking fish and vegetables.

Handle with non-slip grip provides safety
Cons:
The base might not be perfectly flat.
Final verdict
This fry pan is best for newbie cooks who want more control over their cooking. Even if you are a seasoned campaigner, you will love the heat indicator on this model.
9.Iron World Cast Iron Skillet Pan
If you are still looking for options, here's a sturdy cast iron pan from Iron World. Though the price is almost double the price of T-fal, we could find no superior benefits worth mentioning.
What we can say is that this is a high-quality pan that will not break your bank and still survive for generations.
The surface area is large enough to sear big fish and cook heavy meals.
The manufacturer claims that it has been made with ancient Chinese techniques. We didn't really find anything extraordinary about this frying pan.
It has a rough texture, and some of you might not like it. But that won't hamper your fish cooking.
You will get 3 bonus items with this cast iron pan. There's a silicone handle holder that you can wrap around the handle for holding the pan safely. You also get an oven glove and an interesting cookbook on BBQ.
Pros:
Rounded long handle for easy gripping.
Pouring spouts at each end for safely dripping fats and sauces.
Strong and ultra-durable.
Bonus items: Glove, cookbook and handle cover.
Cons:
Roug surface area might not look appealing.
Final verdict
If T-fal doesn't appeal to you, you can spend a bit more to get this high-quality frying pan from Iron World. The price is still reasonable enough to buy. The deep pan that comes with this set is one of the best pans for deep frying fish.
10. Amsha Kitchen Frying Pan
At about the same price of the T-fal frying pan, you get two pans from Amsha Kitchen. You get a deep frying pan and a shallow frying pan that will provide superior value for your money.
But there's a catch! T-fal has better quality and finish. But if you do consider getting an extra pan, this is the one to get.
The deep pan is almost 3" deep, and both the pans have a 10.25" surface area. It's not much but enough to get your fish done.
The pre-seasoning is not up to the mark. You need to season it again before you use it.
The handle has a rounded shape, which is always handy when cooking.
Overall, we think you might want to get this set and check out for yourselves.
Pros:
Great value for money.
2 frying pans for the price of one.
Suitable for deep fish frying and searing.
Cons:
Final verdict
If you have past experience in cooking with a cast iron, you can probably get the job done with any cast iron pans. Buying this set will almost make your kitchen complete!
Things to Consider Before Buying a Fish Frying Pan
Cast iron is probably the most used material for fish frying or for any kind of frying! But there are other materials too.
This guide will help to buy a fish frying skillet even if you have never fried fish before!
1. Choosing Between Different Materials
Cast iron frying pan
The Upsides:
Able to retain consistent heat for a long time
Cast iron can develop its own nonstick surface, so that makes cooking fish easy
In most cases, you will find manufacturers pre-season the cast iron pan. So, that'll save your time and effort.
The handle and body are cast in one piece, so the handle is more secure.
The Downsides:
It needs more maintenance and regular seasoning. Otherwise, rust will form.
Can damage stovetops made from glass or ceramic due to scratch and sliding.
Carbon steel frying pan
The Upsides:
Carbon steel is suitable as an egg pan and as well as a fish pan because it forms its own nonstick surface. The nonstick surface formation also takes lesser time than that on the cast iron.
It's more flexible and lightweight. And also, due to the minimum carbon content of carbon steel, it's less brittle and more durable.
It's best for high heat sauteing as the heat transfer is pretty fast.
The Downsides:
Changing the temperature requires more time, so that makes delicate sauteing a bit tough.
Cooking acidic and alkaline foods like seeds and vegetables is not suitable as the metallic taste might transfer.
Stainless steel frying pan
The upsides:
The best thing about stainless steel pans is their glossy look and the fact that they are so easy to clean. The grease will come off easily with just a few scrubbings.
These pans have multi-purpose use in the form of frying, sauteing and searing.
More lightweight than cast iron or carbon steel and so they can be maneuvered easily.
The downsides:
Not great for oven cooking as stainless steel gets oxidized when exposed to temperatures above 500°F. So, they are mostly used for stovetop cooking.
Nonstick frying pan
The upsides:
Nonstick pans are great for cooking with less oil, and thus you can make healthy dishes with it.
These pans are also lightweight and easy to handle for elderly people and women.
Ease of cleaning is the biggest advantage of using nonstick fry pans.
The downsides:
The nonstick surface will eventually break, and you will have to buy a new one at some point. It's also subject to wear and tear due to scrubbing and contact with metallic utensils.
2. Expensive Vs. Inexpensive
Hmmm… Confused about buying an inexpensive pan or expensive pan?
Yes, it might seem that a $200 pan might have something more than a $30-40 pan. But the reality is the performance is the same on both.
For example, expensive cast iron pans will be slightly more lightweight and have a smooth surface. The inexpensive ones will have a rough texture and more heavy.
But in terms of cooking, both show similar qualities. In fact, a heavier and rougher model takes lesser time for developing the nonstick patina.
3. Pouring Spouts
Most cast iron pans have pouring spouts that stops you from making a mess. But you won't find them in carbon steel and other pans. So, if pouring spouts is your top priority, get a cast iron pan.
4. Maneuverability
For maneuverability, stainless steel and nonstick pans outperform carbon steel and cast iron. If you buy a heavier pan, check if the handle is long and have a rounded shape. This will help to move the pan easily with lesser effort.
Conclusion and Editor's Choice
Our editorial team always pinpoints a product to find the best among the best! But for this best frying pans for fish review, we have a tie between the Lodge and T-fal.
If you want a super versatile fish frying pan, go for the Lodge 12-inch. And if you are more passionate and like the old way of cooking, T-fal E83407 is perfect!