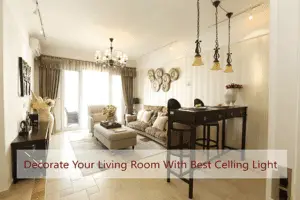 Looking for a way to give your living room a classy look? Then, it's time to decorate your room with better lighting.
There are a lot of living room lamps and light fixtures designed for different purposes. But ceiling lights are especially excellent for living rooms.
To match the appropriate type of lighting you need, we've listed 10 best ceiling lights for living room. All of these are functional to place strong overhead lighting above you.  They'll also make your living room a great place to lounge.
Read our review to pick the best one to create a beautiful and functional living space.
| | Product Name | |
| --- | --- | --- |
| | NEW Round Flush Mount Ceiling Light | |
| | Saint Mossi Chandelier | |
| | Saint Mossi Chandelier Flush Mount Light | |
| | Ridgeyard Ceiling Lights | |
| | Saint Mossi K9 Crystal Rain Drop Light | |
| | LightInTheBox Ceiling Light | |
| | Hurbo European Ceiling Light Lamp | |
| | Surpars House Mini Style 1-Light | |
| | WIFI Smart Light Bulb | |
| | ZEEFO Mini Led Ceiling Light | |
10 Best Ceiling Lights For Living Room 2021
1.NEW Round Flush Mount Ceiling Light
Low ceiling? Looking for a slim, flat type but modern design fixture lighting? If your primary purpose is lighting, opt for this round flush mount ceiling light from Hamilton Hills. It's an awesome light made of quality materials.
It's one of the thinnest ceiling lights available on the market. You can easily mount this light on the ceiling, but it's more useful for low ceiling height. It comes with 3000K LED lights that offer a warm feel to your eyes.
The brushed nickel base is modern and very lovely to look. It provides a bigger and broader light. The frosted lens distributes the light evenly with exceptional color accuracy. So, you can illuminate your larger room evenly with this simple piece. It's also dimmable.
The fixture is easy to fix on the ceiling. You don't need to follow any lengthy assemble instruction while installing. Moreover, it's also safe to install even in damp locations.
You should love its energy efficiency feature. You can enjoy its bright and warm lighting without increasing your electricity bill.
Finally, it comes with everything you require to install it. The package includes the light, bracket, the diffuser, and a silicone gasket.
Pros:
Decent looking.
Extremely simple design.
Easy and safe to install.
Provides warm-feel lighting.
Highly energy-efficient.
ETL and cETL certified.
Inexpensive.
Cons:
Not for decorative purposes.
2.Mini Style 1-light
When it comes to buying functional and decorative ceiling light, you should check out Mini-style chandelier. This modern and classic style chandelier will not only illuminate but also enhance your living room setting.
A great looking living room can be improved with the mini style crystal chandelier. It's also perfect for the dining room, hallway, and passway.
This chandelier provides light, comfort and style, all in one fixture. It is simply impressive to look at and easy on the eyes too. So, you can also use it for your kids' room.
This mini style chandelier has an 8-inch diameter base and 6 inches in height. It contains 3-cm diameter crystals that display bright and brilliant lights. So, it'll add the shiny and shimmery effect in your living room.
So, all about this light is good. But what's about the setting/ installation process?
Well, it's straightforward to install. You don't need an electrician to fix it. It requires only one 40-watt E12 bulb. It looks really very fantastic once completed.
Don't be surprised to see its much more expensive looking that it is!
Pros:
Bright and brilliant crystal shade.
Easy to put together.
Elegant design.
Very lightweight.
Great for the price.
Cons:
It doesn't come with the bulb.
3. Saint Mossi Chandelier Ceiling Light
 
Are you looking for a dynamic crystal fixture that you can put up wherever you like? Then, you might want to check this beautiful piece of Saint Mossi.
The modern elements with chrome finish let this light to blend with different styles. The unique design makes it perfect to fit any room. You can give a great looking to your living room, bedroom, dining room, entryway, and even bathroom with it.
It comes with 100% real crystals that display bright and multi-directional light.
100% real crystals!!
"Yes" you heard the Right.
It also features a bright stainless steel chrome finish base. The crystals along with the chrome finish base create a stunning glittering. Moreover, the sparkling cast light around making it very classy.
One of the convenient features of this fixture is it is dimmable with a dimmer switch. Although full assembly required, the included instruction will guide you in installing it.
Finally, it comes with cotton gloves. So, you won't feel any problem to keep the product clean.
Pros:
High-quality & solidly built.
Multi-directional, stunning glow.
Compatible with LED bulbs.
Gorgeous and functional.
Fairly priced.
Cons:
Full assembly required.
No bulb included.
4.Saint Mossi Chandelier Flush Mount Light

This is our second inclusion from the brand Saint Mossi. It's not because of the brand's reputation but for the quality and features of this light. This fixture is perfect for rooms with high- ceilings. The raindrop style crystals beautify your living room setting.
This spark of beauty features small pieces of 100% real K9 crystals. These provide not only beautiful sparkles but also ensure high-end quality. The dangling crystals add a simple, but stylish and classic look to the fixture.
It's not only stylish but also functional. The ceiling lighting uses 6 LED GU10 Bulbs. So, the illumination that it offers is well enough to brighten up any room.
It's easy to assemble. The product comes in a well-organized box to make the set-up process as easy as possible. Even without the instructions, it's straightforward to assemble. The white gloves that come with it will make your work easier.
This fixture features high-end materials that make it more reliable and durable for years to come.
Pros:
Elegant and stylish design.
Made of high-end material.
LED light compatible.
Super energy saving.
Fairly simple to assemble.
Well-made and durable.
Cons:
It comes without the bulbs.
Not perfect for rooms with less height.
5.Ridgeyard Ceiling Lights
Another modern, luxurious pendant ceiling chandelier on our list is from Ridgeyard. Whether you are a romantic person or not, Ridgeyard ceiling light never goes out of style.
The K9 crystal body along with the candle- like lighting adds a romantic style to the chandelier. So, to bring a romantic look to your living room, dining room or bed room, this candle-like lighting is second to none. It can also be impressive for the corridor, stairs, and entryway.
The cognac crystal along with the silver metal base reflects the most light. And thus it makes greater illumination. It makes the fixture more beautiful than any clear chandelier.
The Ridgeyard ceiling fixture uses ten bulbs to brighten up your room. It is compatible with different types of bulbs. You can use halogen bulbs, LED bulbs, energy saving bulbs, dimmable bulbs and so on with it.
Pros:
Much more elegant and luxurious.
Look great and romantic.
Easy to assemble.
High-quality and well-made.
Cons:
The assembly instructions are not clear.
A little challenging to put together.
6.Saint Mossi K9 Contemporary Ceiling Pendant Light
Surprisingly, this is our third inclusion from the brand Saint Mossi. Interested in learning why? The reason is not only the brand name but also the high-quality material, and many compliments of the product.
If you're looking for a ceiling light for decorative purposes, this will do great. The mini style is good for a small apartment. With its beautiful size, you can hang it on the ceiling in your living room, dining room, kids' bedroom and hallway.  If you have a low ceiling, you may cut the cable that attaches the crystals.
The K9 crystal ball droplets are stunning.  When light shines through the transparent crystals, it creates an alluring prism effect.
This Contemporary crystal chandelier is easy to put up. Even attaching the large crystal balls to the strings is easy if you figure out how to do it. The crossbar installation is also relatively simple.
Let's be honest to point out one point here. If you're looking for an excellent spotlight, this is it. But remember, it won't illuminate anything outside what is directly underneath it. So, not ideal for dining room or kitchen or anywhere you need light.
Finally, it is a splendid design that comes at an affordable price!
Pros:
Modern and sophisticated.
Absolutely stunning.
Easy and fast installation.
Well-made, lasts for years.
Cons:
The lights are bright, but not enough to illuminate a room.
7.LightInTheBox Ceiling Light

Are you looking for a contemporary ceiling light fixture that you can put up in any room you want? Then, you should check this beautiful piece of LightInTheBox.
To light up your life, this Semi Flush Mini Style Chandelier is an excellent one. Its contemporary semi-flush mount style fits any room decoration.
It looks good to be put anywhere, especially the bedroom, office, study room or hallway. If your room size is 20 to 30m2, it's perfect to provide adequate lighting throughout your home.
The chrome finish base creates a highly reflective, yet cool grey metallic look. The fabric shade and cloth cover make it more fashionable and beautiful. Although the fabric is prone to collect dust, you can clean it with a soft bristle brush.
Pros:
Great little design.
Provides bright light.
Extremely easy to install.
Easy to clean.
Fairly priced.
Cons:
The moon-shaped part may collect dust.
Bulb not included.
8.Hurbo European Ceiling Light Lamp
Need the brightest illumination in your living room? Then, you can check out Hurbo Pendant Fixture.
If you have rooms with high ceiling, this fixture is a great piece to consider. And the Classic European style complements with your home décor. It fits nicely in the dining room and living room. However, it also looks great in the balcony, corridor, hall, and entrance.
The candle pendant design looks romantic. Your partner will surely love this. If you plan to surprise your partner on any special date, choose this romantic-designed light. Moreover, it lights up with six bulbs that beautifully delivers the right amount of lighting in any room.
The Crystal and Glass material provides beautiful sparkles. This Pendant Fixture Lighting is more than just look. It lights up with six bulbs. That means, it'll deliver adequate light in your room.
Finally, it comes at a pocket-friendly price. But it looks luxurious with its stunning classic design!
Pros:
Classic European design.
Beautiful, looks great.
Provide very bright lighting.
Energy-saving.
Easy to set up.
Light Bulbs included.
Good price.
Cons:
Needs more detailed instructions to assemble it.
9.WIFI Smart Light Bulb
Do you want to add some flavor to your living room? Then, WIFI Smart LED Color Bulb is the ceiling light that offers more than lights. We do recommend this bulb if you want to add some spice to your living room. And for a party room, it's an amazing addition. However, it's also suitable for the general bedroom.
Its static and dynamic colored lighting creates a different and romantic environment. You can enjoy listening song while spending quality time with your friends or family. When playing music, the change of light follows the rhythm of the music. Amazing! Isn't it?
It offers an amazing sound effect. Its 25W advanced stereo with noise reduction technology will deliver clear premium sound. It's also very convenient that you can control the volume using your phone or remote control.
This piece of light is dimmable and offers multicolor. It lets you navigate the light effects from warm white lights to any colors as your choice. It features not only warm white color light, but also RGB color and 24 types of dynamic lighting modes.
Moreover, it allows you to adjust the brightness of each light. You can also change the flush speed for dynamic lights.  And what's super cool about this product is all you can do remotely by remote control.
But that's not all.
It comes with the voice control feature. You can simply navigate the color, brightness and on/ off with this feature. It works with the Google Home Assistant and Echo Alexa. You just need to download DoHome App from Google Play, App Store or the QR of manual. Don't be afraid! The app is very user-friendly.
So, everything is excellent about this product. But what's about its energy consumption?
Well, simply to say it can be a great investment. Its 7W LED is equivalent to 60W. So, you can significantly save your electricity bill.
Pros:
Multi-color and different lighting mode.
Light brightness adjustable.
Remote control navigation.
Convenient and easy to use.
Super energy saving.
Cons:
The app is very basic for choosing music.
Not compatible with the iOS phone.
10. ZEEFO Mini Led Ceiling Light
If you don't have the ceiling height available for a hanging fixture, it's a great idea to go for ZEEFO Mini Led Ceiling lamp. It's a great tradeoff between beautiful qualities and ample lighting.
It is a pretty cool light fixture that can provide sufficient overhead lighting. It's also perfect for the medium-sized bedroom, kitchen, bathroom or where space is tight. In a larger room, you can use the lights in a group or in-line.
It's the perfect sleek-designed unit for regular family occasions or romantic dinners. We're sure that your partner will like the romantic and interesting light effect casting the ceiling.
This cute and attractive looking light is relatively cheap compared to larger fixtures. So, are you worried about the low price that it might not meet your expectation?
The high-quality materials make this small unit durable and long-lasting. And it will definitely exceed your expectations. You must love its beautiful chrome finish.
Pros:
Compact design.
Special metal material.
Cute looking and functional.
Well-made and durable.
Energy saving.
Easy to install.
Cons:
Single fixture can't provide sufficient lighting in larger room/ area.
Different Type of Ceiling Lights For Living Room
Do you want to make a wiser and more appropriate choice for ceiling lights of the living room? Then, you should first understand their different types.
In general, four types of ceiling light work fine in the living room. These are:
Semi-flush.
Flush.
Pendant.
Chandelier.
Semi Flush
Why should you choose a semi-flush mount for the living room?
Perfect for living rooms that don't have a vaulted or higher ceiling.
Delivers quite strong overhead lighting.
For a larger room, you can use in a group or in-line for better lighting.
Can hang down to add a new dynamic lighting to your living room.
Close to ceiling design.
Don't' take up too much space.
Looks good to be put anywhere.
Suitable for traditional room setting.
Relatively inexpensive.
Flush
Why should you choose a flush mount light for the living room?
More useful for the room with a low ceiling.
Provides bigger and wider lighting.
Awesome for lighting purpose.
Not suitable for decoration.
Great for aisle, hallway, stairs, and offices.
Pendant
Why should you choose a pendant for the living room?
Delivers downward- focused lighting in a specific area.
Works as task lighting to highlight parts of the room.
Ideal for rooms with high ceiling.
Feature dangles and down on it.
Usually comes with adjustable chains and cords.
Great for dining room, living room, restaurant, hallways.
Chandelier
Why should you choose a chandelier fixture for the living room?
Especially beautiful and intricately designed.
Very impressive to look at and Expensive looking.
Usually contains the sophisticated and elegant element like crystal.
Comes with the LED bulb that provides light output helping to brighten up the living room.
Intensifies room's looking to make it more relaxing and soothing.
Functional and decorative.
Best Ceiling Lights For Living Room- Buying Guide
Better lighting for a better life.
Buying a ceiling light is not rocket science. But before purchasing a fixture for your living room, you have to consider some factors.
Size Of The Fixture
The size of the ceiling light should be compatible with your living room size. Which fixture size will good look to your room, it all depends on your room size and the distance of the ceiling. If you have a small room with a low ceiling, flush or semi-flush lights are great. The hanging mini size chandelier is also a good idea to decorate your small living room. Chandelier with crystal dangles is ideal for the larger living room with a high ceiling.
Style Of The Light Fixture
Ceiling lights come in different styles. Some are only for lighting purpose, while some are functional as well as decorative. Ceiling lights may be classic, modern, elegant, gorgeous, or expensive looking (but affordable). Choose the light fixture that matches to the other decoration of your living room.
Quality Of The Materials
You won't buy a ceiling light for one or two days use only. Right? You must want to be sure that you're getting the best quality out of your hard-earned money. A ceiling light for the living room is not just a piece of plastic hanging on your ceiling. The quality of a ceiling light affects the looking and durability of the product. An inexpensive fixture with the high-end materials may make it expensive looking. It'll definitely add something special to your room.
Light Intensity
First, consider how much light or illumination you need to brighten up your room. Depending on it, select the number of bulbs and watts that a ceiling light requires. Ask yourself, why you want to use a ceiling light? Only for lighting or lighting plus decoration? Consider your purpose.
Remember!
The number of bulb and watts and used time will effect on your energy consumption. It's a good idea to go for energy efficient ceiling lights if you need to use multiple ceiling lights for a longer time.  It'll help you to save a lot of money from the electric bill.
Conclusion & Editor's Choice
Now it's time to point out the winner.
To be honest, all of the light fixtures in our list are excellent to meet your expectations. They'll illuminate not only your room but also make a dramatic style statement.
However, we recommend the Mini Style Flush Mount Crystal Chandelier as editor's choice. It dazzles so brightly together with its ball crystals and all other mini pieces that you can't imagine.
Considering the quality, design, brightness and price Mini Style chandelier is one of the best ceiling lights for living room. It will not only suit your preference but also meet your lighting needs.
Hope, from our list you'll be able to pick the right one that will speak to your home.
Thanks for reading!
You May Also Like:
If you feel sweaty vibe around the room then you may consider a cooling fan for your room.