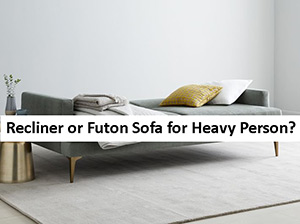 Both recliner and futon sofa are multi-functional furniture that guarantee fantastic seating comfort. If you do your research well, I'm sure there will be no dearth of models specially designed for big and heavy people. 
As someone who has owned both at some point in her life, I believe I'm qualified to draw a comparison between these two. 
The easiest way to find out which one would suit your needs the best is to know how you intend to use it. But it's not so simple, isn't it? Therefore, below I have highlighted the key functions, pros, and cons of recliner and futon sofa to give you a clear insight. 
Click a link below to jump to the relevant section
About Recliners
I'm yet to find one person who owns a recliner and isn't obsessed with it. Recliners, by definition, are single-seater sofas with a reclining backrest. There are numerous robustly built recliners for heavy-weight, tall individuals.
There's a lever on the side of the chair for it on manual recliners. Power recliners, on the other hand, have a button for the job. 
If you move up the recliner hierarchy, you will find power recliners with lift mechanism which gently pulls you back in sitting position from fully recline position with the push of a button. Finally comes the god-tier recliners- the duo power models. 
These have built-in footrests which automatically pop-up when you push the recline button. In short, this thing is fire! 
The craze of recliners has pushed manufacturers to introduce the reclining mechanism in sectional sofas as well. Reclining sectionals allow you to individually recline each seat of the sectional. 
Make no mistake. They do cost a fortune but it's the price you have to pay for the most futuristic living room upgrade one can imagine. 
However, standard single-seater oversized recliners don't cost as much. They can be a great addition in small living rooms and won't wear anytime soon. 
Many recliners can recline up to 180 degrees, making them perfect for a quick nap or stretching after a long, intense gaming session. The ones with footrests would be an amazing choice for pregnant women. New moms can comfortably nurse and rock their babies to sleep whilst sitting on a recliner. 
What Makes Recliners a Great Option for Heavy People? 
Recliners, in general, are significantly more heavy-duty than standard sofas. Irrespective of your weight, you won't wear it out anytime soon. Moreover, they come in a wide range of weight capacities. Most oversized recliners, especially the motorized ones can easily handle up to 600 pounds. 
Apart from the sweet reclining mechanism, recliners are also known for their high-quality leather fabric and plush stuffing. Also, no matter how reclined on inclined the back is, the headrest will always remain optimally positioned to keep your neck region fatigue-free. 
The whole thing is strategically designed to support your body weight and keep your back, shoulder, neck, and head perfectly relaxed. Any high-quality oversized recliner for heavy people should give you the feeling of sitting on a cloud. Period. 
About Futon Sofa
Futon beds are standard, heavy-duty sofas with a great twist. You can fold the backrest of the sofa out to make yourself a proper bed. In the couch mode, they feel just like any other couch, nothing to write home about. 
The quality of the folded-out futon solely depends on the model. There are some really great ones, alongside some really crappy ones.
Futon beds are way cheaper than buying an actual bed. There are plenty of models out there that are well-equipped to suit the specific needs of tall and heavy people. 
Futon beds can be both 1-seater or multi-seater, depending on your needs. One caveat is that you will need enough space in your living room for a full-size futon sofa. 
On the downside though, it doesn't offer the same level of adjustability and luxury as a recliner. However, thanks to technology, there is a way to get the best of both words- a recliner sofa sleeper. It's usually a two-seater sofa, each equipped with a reclining backrest and a folding bed. 
To top it off, you can operate each seat individually. They aren't cheap, of course, but they are worth every penny if you can afford them. 
What Makes Futon Sofa an Ideal Choice for Big and Heavy People
Oversized sleeper sofas are designed to support the weight of multiple seaters. Therefore, their weight capacity can go as high as 900 pounds. 
If you are keen on setting up a temporary sleeping place in your living room, a futon bed is your safest bet as there's no hinge involved. It's practically impossible to break the futon because it rests on the floor. 
While recliners are good for taking a nap, a big and heavy person will be more safe and comfortable sleeping on a futon bed. Premium convertible futon beds offer the same level of lounging comfort as a recliner to overweight people. 
Recliner or Futon Sofa for Heavy People- What's the Conclusion? 
For sitting, lounging, and long hours of gaming, an oversized recliner is pretty hard to beat. Besides the cool reclining feature and ultra-robust frame, it also boasts plush stuffing and premium fabric, to ensure ultimate comfort and durability. 
The footrest is a huge bonus too. If you are a large, overweight person, sitting in an upright position for long hours can take a toll on your back. 
With an extendable footrest and easy reclining back, you can distribute your weight evenly across the entire recliner for a comfortable seating experience. 
However, it's not the safest place to sleep overnight for a heavy person. If you want your sofa to double up as a queen-size bed, a futon sofa would be a better and safer option. 
Since the futon part will rest entirely on the floor and not attached to a hinge, it's impossible to break, no matter how heavy you weigh. 
To sum up, a recliner is ideal for lounging, reading a book, gaming, or taking a short nap in between those activities. But if you want a second place to sleep, opt for a futon sofa.