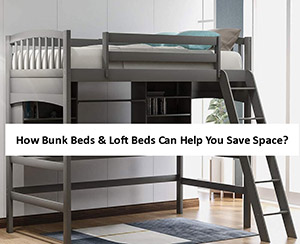 Essentially, both bunk beds and loft beds are designed to maximize the limited free space. Both beds are ideal for small shared bedrooms and dorms. 
The main difference between loft and bunk beds is simple. The former can accommodate only one person, while bunk beds can sleep up to 4 people. 
As I said right at the beginning, both can help you save space. However, which one would be right for your needs depends on how many people will be sleeping on the bed. 
Both variants have their fair share of advantages and disadvantages. In the following sections, I will explain why bunk beds and loft beds are great solutions for small spaces. 
Click a link below to jump to the relevant section
About Bunk Beds and Why They Are Great
Did you know that the concept of bunk beds was introduced to us by Egyptians somewhere between the 1400s-1500s? But it started gaining global popularity only from the 1980s. 1980-1990s era portrayed bunk beds as the choice of bed for cool kids. That trend stayed and the rest is history. 
Bunk beds are an ingenious way to maximize sleep space without occupying any extra square footage. Whether you're expecting a new family member or simply looking to create more space for sleepovers, a bunk bed will cater to your needs. 
Modern bunk beds aren't anything like their century-old counterparts. A lot of people, including my own mother, used to be unsure of the durability of the top bunk of bunk beds.
Today, manufacturers use heavy-duty wood, stainless steel, and high-quality alloys to make the frames of bunk beds. Top bunk collapse risk is down to nothing. All thanks to the extra-strong welding joints. 
The sheer popularity of bunk beds has inspired manufacturers to create heavy-duty bunk beds for adults. Some of the best models can handle up to 400 lbs on both top and bottom bunk. 
That's just one of the many varieties of bunk beds available today. 
Turn your bachelor pad or dorm room into a perfectly cozy hang-out spot with a futon bed bunk beds. The top bunk is a standard but the bottom bunk comes with a cool twist. 
It's actually a futon sofa that you can fold out into a futon bed. It's fun, it's utilitarian, and most importantly, it doesn't take a huge amount of space. 
Apart from the classic full over twin and twin over twin bunk beds, there are also triple and even quadruple bunk beds that will easily sleep 3-4 kids. 
This means you are actually getting three to four beds to the space of a single bed. It's the ultimate way of organizing a small space.
The stupendous benefits of bunk beds don't end here. Children grow up really fast and there might come a point when they want a little bit more privacy. 
If you buy a detachable bunk bed now, you can separate them into single beds for your growing child when the time comes. Detachable bunk beds are a real money saver when you move to a bigger apartment. 
How Bunk Beds Help You Save Space: 
Bunk beds come in double, triple, and quadruple bed options, meaning you can sleep up to 4 people without cramming up the limited space with four individual beds. 

Twin over futon bunk sofa beds gives the benefit of two beds and a couch without gobbling up any extra square footage. The bottom bunk in these models easily converts into a comfy couch for you and your roommates. It's both space and money-saving. 

Bunk beds that offer storage space in the form of two drawers at the bottom bunk is a fantastic option for a growing family living in a small apartment. 
With storage options built right into the bottom bunk, you can keep your kids' toys, clothes, books, and other essentials organized without cluttering up the room. 
About Loft Beds and What Makes Them Stand Out
The credit for the rising popularity of loft beds goes to their omnipresence in college dorms. Loft beds open up the floor space, making small rooms appear larger than they actually are. Unlike bunk beds that can sleep multiple kids, a loft bed can only accommodate a single sleeper. 
Loft beds are more practical in shared bedrooms of teenagers and working adults who need an extra layer of privacy. You can use the space below the bed for keeping all your stuff. 
Better yet, you can set up a study area/office space by pulling up a chair and a computer desk. It's like creating your own little world on your side of the room. 
Although loft beds are generally more expensive than a standard twin or full-size beds, it comes with a huge additional storage space underneath which you can use in various ways. 
In a mutual room where space is at a premium, a loft bed will free up a lot of room for your wardrobe, computer, books, and other stuff. Some loft beds offer enough space below the bed to fit a compact futon. 
You can place the futon in a corner and your study desk right beside it to personalize your living space. Like bunk beds, a lot of modern loft beds are perfectly suited for adults. Frames made of solid wood or reinforced steel are a better and safer option for adults, despite their slightly steeper cost. 
How Loft Beds Help You Save Space: 
Loft beds a practical and economical solution for small rooms. You can utilize the space beneath the bed in several ways to declutter a shared bedroom. You can use the space as an extra storage space for all your personal stuff. 

You don't have to dedicate a separate corner of your already crowded room to set up a place to study or work. A lot of loft beds will have adequate space underneath to accommodate a small chair and desk. You can even squeeze in a small couch for a middle-of-the-study/work nap. 

You can save essential floor space and still decorate the room just the way you fancy by setting up a small library, a futon bed, or a wardrobe right below your cozy bed. 
There are numerous loft bed models on the market that gives you free rein to personalize your bedroom without having to worry about space limitations. 
In Conclusion
Bunk beds and loft beds were primarily designed as space-saving solutions for shared bedrooms. However, contemporary options are more than just that. 
You can give your own room or your kid's room a sophisticated makeover with a bunk or loft bed that matches the setup and color scheme of the room. 
But when it comes to versatility, loft beds get a solid brownie point for freeing up the floor space for reuse. Getting a bunk bed makes more sense if you have to accommodate multiple children/teens/adults in one room. 
In short, both are awesome, and the only way to choose the right bed between these two is to determine how you exactly want to utilize your room space.