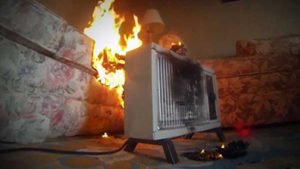 Winter is my favorite time of the year, for I get to be as lazy as a panda under my toasty blanket. It's super chilly where I live and without a proper heating system, I'd be more frozen than the ice cream you're eating right now. Since I cannot afford a central heating system, I bought a portable space heater to keep my room warm during this time.
While it was doing its job just fine, I was worried about the safety and fire hazard.
According to a
report
by the National Fire Protection Association (NFPA), home heating devices were responsible for 52,050 house fires between 2012-2016. This tiny little trivia baffled me.
Since I'm not a fan of fire accidents, I always ensure safe operation of my space heater. If you are about to buy a space heater (or already own one), it's time for you to learn about the basic safety rules of using this equipment.
But before I discuss that, let me answer two of the most burning questions (irony, much?) asked by new space heater owners.
1.How Long Should A Space Heater be Left on?
It depends on three factors-
The dimension of your room.

Ambient temperature.

Your own comfort level.
I keep my space heater in a 500 sq.ft room for as long as I feel comfortable. The indoor temperature in the month of January hits the 35 degrees F mark, so it's pretty darn cold. Since I read a book for 2-3 hours at night, the space heater stays on during that time.
3+ hours of heating at 1500 watts is enough to warm up my room. Thankfully, my device comes with an auto-shutoff feature. Even if I forget to turn it off, it will shut itself down in 8 hours.
2.Are Space Heaters Safe to Leave on Overnight?
Definitely not. Always, and I repeat, always switch off your heater before you leave the room or fall asleep. Although most modern heaters are designed to run overnight, I won't risk it. When you are asleep, you won't know if the wires or the heater itself heat up too much.
My space heater is fairly large in size, therefore, doesn't heat up easily. If I'm keeping it on for more than 3 hours at the highest setting, I often check the cord to see if it's warm.
If you are owning a space heater for the first time and worried about heating issue, plug it in for an hour directly to the wall socket and keep an eye. If the plug reaches room temperature, it's perfectly normal. Don't worry about it.
Space Heater Safety Rules to Follow to Protect Your House from Getting Burnt to Crisp
Fire hazard is not the only thing to worry about. Space heaters also emit carbon monoxide. If you keep it on for too long, it may lead to carbon monoxide poisoning. The scariest part is that there's no immediate side effect of it. It will make you sick and eventually, super sick over time.
However, you can avoid all these dangers as long as you are following all the basic safety guidelines. Below I have made a compilation of the important safety rules you should follow to keep your family and house safe and healthy-
Make sure to buy a space heater that has features like auto shutoff, programmable timer, overheat protection and tip-over protection. Also, the larger your heater is, the lesser is its chance of overheating.

NFPA guideline clearly states that you should not keep any inflammable substances near your space heater. The heater should be at least 3 feet away from furniture, curtains, bed, and blanket.

Make sure that the smoke alarm in your house is fully functioning. Don't disconnect or deactivate it. Also, change its batteries in every 6 months.

If you are using a non-electric space heater such as oil heater, install carbon monoxide detectors in your house, if possible.

The heater should be placed on an even and hard surface. Don't keep it on a carpeted floor.

Most space heaters operate on 1500 watts at highest temperature setting. To prevent circuit overload, use a three-prong ground outlet to plug a cord. Avoid plugging it into an extension cord.
Summing up
Most space heater-related hazards occur due to lack of attention and care. I have been using it for the last 5 years without any issue. It really doesn't take a lot of hard work. All you have to do is switch it off when you are not in the room or asleep. If you can spare a few extra bucks while buying a heater, you can get your hands on a model that turns itself off in case you forget. Pay attention to these minor details and enjoy the chilliest months of the year cooped up under your blanket.
Happy winter!