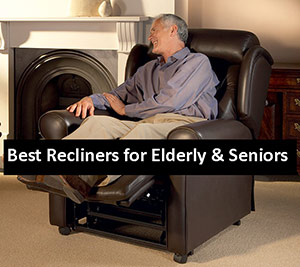 About 30% of elderly people aged over 60s experience some form of mobility issues. Being specific, this ratio moves between 22.5% and 46.7% in older adults.
And the last thing these seniors will want is to depend on others for their every little movement. So, you can and you should buy the best recliner for elderly members at your home to give them the feeling of independence.
Mobility impairments, back-pain, loss of memory are very common problems that appear with the aging process. Recliners are designed for seniors often considering these common elderly issues and the maximum life assistance they offer.
In this article we are going to review some of the best recliners suitable for seniors. Additionally, we will add a buying guide in the end to help you choose the most suitable one for your loved ones.
10 Best Recliner For Elderly 2021 Reviews
1.

Giantex Power Lift Chair Recliner
Weight Capacity: 330lbs
The Giantex Power Lift Chair Recliner is an amazing power lift chair for elderly people with limited mobility. It is made of high-quality fabric filled with dense sponges. That is why this recliner is soft and comfortable for seniors. Moreover, at the same time, it is odor-free and easy to clean.
This power recliner is considered one of the best recliners for seniors for its counterbalanced lift mechanism that pushes the entire chair up nearly at a standing position. So, if you have an elderly or a post-surgical patient who is having problems with getting up and sitting down, this quiet and smooth recliner can be a great support.
Another good thing is that it is extremely easy to operate. There is a handheld remote control that is connected with the chair by a cord. So, there's no chance for the remote control to get lost and make the users bow down to find it.
This ergonomically designed power lift chair fully reclines and you can set it at any position you want. But a big drawback of this recliner is a lack of vibration and heat massage function.
Pros:
Sturdy construction, higher weight capacity..

Remote control attached with a cord, so it won't get lost.

Quiet and smooth gliding.

Soft and comfortable cushion.

Storage pockets on the right side of the chair.

Simple two-button remote control.
Cons:
Footrest only comes up in a semi-reclined position which is not suitable for the taller people.
2.

Mcombo Electric Power Lift Recliner
Weight Capacity: 320lbs
Are you looking for a multi-purpose Power Lift Chair for seniors that will offer great comfort and massage at the same time? -If your answer is yes, then take a pause and check out this Mcombo Electric Power Lift Recliner. 
Mcombo is the best recliner for elderly people with chronic pain and limited mobility. Its TUV certified actuator and counterbalanced lift mechanism lifts the chair up and helps the user to stand up without stressing out their back and knees. 
There are eight vibrating points around the chair offering a full-body massage along with a lumbar heating point. Heating and Vibration function works separately, and you can set a 10/20/30 minutes timer for both.
So, the elder users can sit and relax on this recliner and enjoy a hot body massage without even depending on anyone. But a fact you should consider before buying is that it only reclines up to 140° angle.
It is perfect for medium-height people. But, you have the privilege to make your custom-made recliners by contacting the manufacturers.
 

Pros:
Features Full-Body Massage with 8 vibrating and heating points.

Durable and easy to clean upholstery.

Features USB Charging ports and Cup holders.

Offers Custom-made-service.
Cons:
Remote control is quite sensitive which can be problematic for elderly people.
3.

ERGOREAL Power Lift Chair Recliners
Weight Capacity: 300lbs
The ERGOREAL Electric Lift Chair has so many features to offer that it is difficult to find out exactly which of them makes it the best recliner for seniors.
This infinity recliner operates by 2 separate remotes for the ease of elderly people. So, the users may set it at any position they would like.
There are 8 massage nodes which have 5 modes and 2 intensity levels to adjust from. With its 25V safe and quick heating method it will let the seniors enjoy their alone time independently.
You will find no other recliner as comfortable as this recliner when it comes to its cushioning and construction materials. Its eco-friendly camphor wooden frame makes it a sturdy recliner. Besides, the water and termite-proof high quality linen upholstery offers the same feel and more than a comfy sofa with back support will offer.
The ultra-soft cushion is designed with multi-layers filling, high-density foams and sharped springs. Despite the fact, it is still firm enough to prevent you from sinking into the chair.
Pros:
Super comfortable and deformation tested cushion.

Durable, waterproof, and termite-proof linen upholstery.

It's an infinity recliner and reclines up to 150°.

Features 8 massage nodes with 5 modes and heat function.
Cons:
The buttons on the remote control is hard to press for seniors with arthritis.
4.

Signature Design by Ashley Recliner
Weight Capacity: 300lbs
The Signature Design by Ashley is popular for its fashionable design and spacious seat. The quiet and robust dual motor technology is strong enough to carry heavier weight (literally meaning an oversized person.)
One motor moves the entire chair to help the senior users get up. The other motor moves the back and footrest at a slow pace, considering the ease of seniors.
Its leather-like upholstery is actually made of thick poly fiber, which offers you comfort and style at the same time. It's definitely one of the best lift chairs for elderly people with great taste in fashion.
This is an oversized recliner as it is advertised. So, consider this fact before buying as it might make certain people uncomfortable. So, if you are not looking for something of this size then you should proceed on the next options in our list.
The high backrest featuring thick cushions make it very comfortable. But, since it is not an infinite recliner, when reclined, its lumbar support stands too low for many users. In that case, you can use one or two lumbar pillows to give support to your back.
Pros:
Dual motor lift chair.

Stylish design with sturdy construction.

Comfortable poly fiber upholstery gives a look like stylish leather.

High backrest with thick cushion.

Infinite position recliner, offers you a lot of locking positions.
 

Cons:
Slow power movement and no massage function.

Lumbar support is positioned too low.
5.

Harper&Bright Designs Recliner
Weight Capacity: 330lbs
The Harper Bright Designs is quite similar to the Ashley in terms of design, but it has a slightly higher weight capacity. Unlike the Ashley recliner, it features velvety smooth faux leather which makes it easier to clean.
The Harper Bright is one of the great recliners for elderly for its smooth reclining transition and effortless lift up functionality. It is a 3 position recliner. Despite not being an infinite recliner, it offers the maximum reclining angles allowing the users to sleep in comfortably.
This is a perfect recliner for seniors to give a try. But before buying this you must be aware of the fact that its upholstery has been reported to be quite slippery by some of its users. So, it might not be a good idea to buy it for seniors with too much mobility issues.
Pros:
Heavy-duty power tested recline motor.

Comes with great weight-capacity.

Features velvety smooth faux leather upholstery with secure double-stitching.

Reclines up to 160° angles, which is almost at a flat position.
Cons:
You can set it at only 3 specific positions, and the back doesn't rise up straight.

The faux leather upholstery is much slippery.
6.

U-MAX Massage Recliner
Weight Capacity: 330lbs
U-MAX Massage Recliner is a classic black, soft faux leather upholstered recliner, specially designed for seniors. Its padded back, head and armrest ensures a great comfort for the users.
Two separate remote controls operate the recliner to make it easy for elderly with Alzheimer and Dementia. It's also quite lightweight, so if users need to move it along in the house, it won't be hard at all.
The footrest and back operates together and the other remote works to lift and recline the backrest up to 130°. This amazing recliner features 4 points of vibration massage and a heating point at the lumbar part. You can set the timer (15/30/60 minutes) for vibration and heat massage and choose from 5 massage modes. But there are no rollers for massaging, only vibration.
This massage recliner works great, but a few users made mention that it gets wobbly and noisy after using for a while.
 

Pros:
Lightweight and easy to move along.

One of the easiest remote control recliners for elderly.

Features 2 cup holders, and 4 storage bags.

Features Vibration and heating function with timer.
Cons:
Footrest and back don't work separately.

Some users claimed it gets wobbly and noisy after a few months of use. 
7.

Magic Union Power Lift Chair Electric Recliner
Weight Capacity: 280 lbs
Most of the power recliners have big spacious seats. But it might not be as comfortable for seniors who aren't that big. So, we have chosen the Magic Union Power Lift Massage Recliner for short and petite seniors.
It can also be defined as the best recliner for elderly women as they tend to prefer a smaller power recliner than the usual.
This recliner has all the necessary features similar to the U-MAX and ERGOREAL power recliners. It has 8 vibration massage points and heat function for the lumbar part. Two separate remotes ensure easy operating.
As it is a streamlined version, the weight capacity is lower than the others.
Pros:
A perfect recliner for senior women and petite people.

Faux leather upholstered and stylish design.

Sturdy wooden frame and thick padded headrest and armrest.

8 Massage points focusing four areas and heat function for the lumbar part.
Cons:
Backrest and Footrest don't work separately.

Weight capacity is lower than most other recliners.
8.Coaster Home Furniture Recliner
Weight Capacity: 350lbs
The Power Lift Recliner by Coaster Home Furnishings is designed for those whose primary concern is to sit and relax with ultimate comfort. With a fashionable, yet simple look, this recliner fits perfectly for transitional space.
As the recliner comes with massage and heat functions, it's more comfortable than the models that don't have them. So, the users can spend hours sitting on this lift recliner, read books, watch TV and even take a nap.
It lifts and reclines from an almost flat position to a normal seating position. The strong and robust motor helps the users to get up to nearly standing position.
So, if you have seniors at your home with some mobility issues, then don't hesitate to buy this cozy power lift recliner for elderly people. But if they have arthritis, joint pain and need some heat massage besides lifting, then you probably should go for the other options we have for you.
Pros:
Perfect recliner for tall people.

Textured chenille upholstery makes it super comfortable.

Most suitable for transitional space.

Reclines up to almost flat position.
Cons:
Doesn't come with the vibration and heating function.

Some have made complaints about loud noise.
9.

Domesis Renu Leather Power Lift Chair Recliner
Weight Capacity: 300lbs
This classic looking Domesis Renu Recliner is another great choice for the elderly with limited mobility. It is an ideal recliner for senior citizens for it's extremely easy to operate, 2 buttons remote control.
All a user needs to do is to hold the UP and DOWN button to lift and recline the chair. Though many people do not prefer a single motor power recliner. But it is really handy for people with limited mobility and dementia.
Renu leather upholstery offers a great deal of comfort while giving a top grain leather alike look. Its backrest, seat, armrest and footrest are ergonomically designed and manufactured. High density foam and breathable leather-blend fabric upholstery ensures a relief from back pain, and muscle strain.
The Wall hugger function makes it a great space saving furniture. But its open cross brace makes a tip-risk for the users.
Pros:
Wall hugger function allows you space saving.

Upholstered with breathable leather-blend fabric.

Offers great comfort and stylish look.

Simple 2 buttons remote control.
Cons:
Users have a TIP risk as the front of the cross brace is open. You might have to retrofit the front with a bracket to eliminate the risk.
10.

Irene House Dual Motor Lift Chair Recliners
Weight Capacity: 300lbs
The last one in our list is Irene House Recliner. This is an almost all-rounder recliner for seniors. Before telling you why we said 'almost' let's review the good sides.
It  operates through two extremely quiet motors that move, lift and recline the backrest and footrest individually. It's an infinite position recliner, so you can go back anywhere between 105° and 180°.
Apparently it is the best recliner for elderly to sleep in as it completely goes to a flat position very easily. With a sturdy construction, leather upholstery, and the padded high-density sponge offers the highest level of comfort.
Your beloved seniors can relax and enjoy their day by reading books, watching TV, even sleeping comfortably. This recliner comes with a lumbar pillow for additional lumbar support. Moreover there is a side pocket to store small belongings like remote, books and paper.
However, the only thing missing and making this amazing recliner an 'almost' all-rounder is a heating and vibration massage function. If only this feature could be added, you wouldn't be looking for any other recliner for your elderly family members.
Pros:
Reclines fully, up to 180°.

Perfect to sleep in comfortably.

Quiet and smooth operating dual motor.

Comes with a lumbar pillow.
Cons:
Doesn't feature vibration or heat massage function.

Though the seat is fairly wide, yet a few people have complained it to be narrow.
Why should you buy a recliner for elderly?
We can give you a whole list of reasons for what makes this piece of furniture so important for the seniors. Here's just a few of them-
Provides Mobility Assistance – Mobility issues make older people dependent on a caregiver and to some extent that is okay. But asking for help every time they get up and sit down often hurt their self-esteem. A recliner can assist them with mobility. 
Offers Comfort and Promotes Right Posture- Comfortable recliners for elderly can help them accommodate mobility limitations. These recliners are designed in a manner that would lift them up to a standing position and from there it moves along from a normal sitting position to a sleeping position.
Gives a Sense of Independence- Recliners give the users a little bit of liberty and a lot of comfort while enjoying reading a book, watching TV or having a nap. It also helps them overcome back pains by promoting a good posture. Some recliners even offer vibration and heating functions.
Reduces Risk of Fall- A suitable recliner for seniors will save a lot of time and energy for both the users and the caregivers and reduce the risks of fall.
What to Consider in a Recliner When Buying for an Elderly
Recliners are not that hard to pick when it is for you or for the other members at home. But when that other member is an elderly, the scenario changes completely.
There are a number of things you should consider when buying a recliner for older people. These following are the key factors to crosscheck-
1. Specific Needs of Each Individual User
The first thing you should bear in your mind to choose a recliner should be an individual user's needs and preferences. So, you need to consider the health condition of your elderly user. Depending on their current health issues, moving abilities and specific problems, choose a suitable recliner. For example, seniors with arthritis and back pain often need hot massage, so pick a recliner for them that features massage and heat functions.
2.Design and Functionality
The best recliners for elderly always come in such designs that are specifically featured for the senior people. Still you should look for how much it reclines, whether it is an infinite recliner or a 2 or 3 position-recliner.
Besides the pricing, you should check if it comes with any special features such as heat and massage function, cup holders and side pockets and things like that.
An important thing about functionality refers to whether the backrest and footrest work simultaneously or separately. People have different preferences in that.
 3.Convenience and Comfort
Look for the seat height, backrest height and seat width and reclining positions and make sure it matches with the individual user.
A comfortable chair for seniors with soft and firm mattress and easy-to-operate remote control are two other things you must choose according to your loved one's preference.
 4.Weight Capacity
It is a big concern when you are choosing a recliner specifically for an elderly to avoid any unexpected incidents.
Though looking at the picture often a recliner might seem sturdy and robust. But don't get away with it and check the manufacturer's recommended weight capacity for each recliner. Additionally you can have a look on the frame and construction materials to get a rough idea on its sturdiness.
 5.Electric-Powered Vs Battery-Operated
Always choose electric recliner chairs for the elderly people. The big NO for battery-operated recliners is because it needs labor and that will rather harm than help an independent elderly.
Though manual recliners are cheaper than most power recliners, most of them do not have heat and massage function, infinite locking positions and enough weight capacity. 
Editor's Choice and Conclusion
Although all of these 10 best recliners for elderly we reviewed are specifically designed for seniors to ease their lifestyle, definitely there is always a personal favorite. But we think two of the models we reviewed will meet a senior's need best.
Our first choice is the Giantex Power Lift Chair Recliner. The extremely quiet and smooth motor combining with the comfortable cushion makes it suitable for all older adults with little to severe mobility issues.
If the users have joint pain, arthritis and vibration and heat massage function is a big concern, then we would recommend the ERGOREAL Power Lift Recliner. It's an extremely comfortable, infinite position recliner that will make your money worth it.