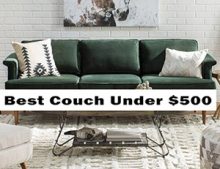 Can you really get the best couch under $500 that looks elegant and lasts long?
Considering how expensive couches are, it's tough to find something in this budget range.
But we got you covered! These 10 couches not only have the look you desire, they also come in budget.
Some of the models we reviewed even have convertible sleeper or futon features that will make your money more than worth it.
If you are in a hurry and need a single recommendation, go for the Lifestyle Solutions. It is a 3 seater with microfiber upholstery. As you are not the only person who needs a space to relax at home, this sofa will come much handy.
Without further ado, here's what you got for you!
| Images | Product Name | |
| --- | --- | --- |
| | Lifestyle Solutions Micro Fabric Sofa | |
| | Rivet Aiden Tufted Loveseat Sofa | |
| | Christopher Knight Home Sofa | |
| | Novogratz Brittany Sofa | |
| | HONBAY Convertible Sectional Sofa | |
| | DHP Emily Futon Sofa Bed | |
| | Best Choice Products Modern Faux Leather Couch | |
| | Zinus Jackie Love Seats Couch | |
| | EMILY Modern Sofa Bed Sleeper Couch | |
| | Novogratz Leyla Loveseat Couch | |
10 Cheap Couches Under $500 That Look Stylish & Comfy
1.

Lifestyle Solutions Micro Fabric Sofa
The best couch under 500 dollars is not a dream anymore! The Lifestyle Solutions brings you a couch that you can relax on all day long and that too on a budget. The beautiful curved arms just makes it a whole lot appealing in your living room.
The 3 seater sofa has a high weight capacity of 790 lbs. It will easily accommodate bigger and heavier users without any issues. As the sofa isn't too deep, it will fit in any tight space- good for small apartment owners!
The cushions have High-Density foams inside them. They are little on the stiffer side but will hold their shape longer. The best part is you won't sink in and that will keep you in a comfortable position.
The outer upholstery is mainly polyester and microfiber material. So, it has a softer touch to it. The frames and legs are wood and will last longer than those made from plywood. You will just need 20 minutes to assemble everything without any use of tools.
Now for the flaws. There are two. The fabric does have a odor initially and you need to air it out to get rid of it completely. The back part is a bit low for taller users but it still supports the shoulders quite well.

Pros:
Hi-Density foam retains firmness and keeps body in right posture.

Suitable for heavy and bigger individuals.

The straps on the sofa shield cover keeps the cushions from falling.

Fast and tool-less assembly.
Cons:
The back is a bit low that can be less supportive to taller users.

Has a odor and needs some time to air off.
2.

Rivet Aiden Tufted Loveseat Sofa
The Rivet Aiden is one of the few top rated couches that comes under 500. The Mid-century design looks elegant and doesn't speak for the price. That's great if you are on a tight budget but still want to decorate your living room gorgeously.
The sofa is a lot more supportive than plush. You won't feel sinking in and it will keep your head and shoulder properly aligned. It does have a lower break-in period and your purchase will depend whether you like it soft or stiff.
The back cushions are removable and also reversible. If your home is full of pets and kids, you will find it a lot easier to clean or change the sides. The quality of the fabric seems durable as it has held up quite well against rough use and kids jumping on it.
Many homeowners are concerned about the back of a couch as well. The Rivet Aiden has leather cover on the back. So, if your couch is in the middle of the room, it will look stunning from all angles.
A little addition of the height to the legs would have been perfect. You can always change the legs if you want.
Pros:
Easy to clean as the back cushions are removable and reversible.

Elegant design and full leather back is suitable for modern decor.

Doesn't tear or break against rough and heavy use.
Cons:
The sofa is pretty to the ground and can be uncomfortable for taller people.
3.

Christopher Knight Home Sofa
If you are looking for a Chesterfield style compact couch, then Christopher Knight is your best bet. It's got the classic rolled up arms and button tufted back.
The love seat cushions are spacious enough to accommodate two individuals or one who loves to spread their body and relax. It's the best sofa under $500 with extremely comfortable cushions that are soft and a bit squishy.
The cobalt blue is not like the regular navy blue. If you have a vibrant living room, this loveseat will blend in perfectly. The outer fabric has a velvety touch to it and is soft to the skin. The good thing is you can remove the fabric to wash it. That saves you from accidental spills and pet hair.
For small home and studio apartment owners, it looks like a dream come true. However, if your living room is too big, it might not be the best option as it looks quite tiny.
Pros:
True Chesterfield design that draws in attention.

Button tufted back prevents the cushions from overheating.

Extremely soft cushioning for ultimate relaxation.
Cons:
The compact design is not suitable for big living room

s.
4.

Novogratz Brittany Sofa
If you are binged to Netflix and need a more relaxing sofa that will comfort your back longer, you will love the Novogratz Brittany. Use it either as a futon or convert it to a sleeper sofa.
The whole frame is quite sturdy and can handle 600 lbs of weight. The ribbed tufted cushion back will provide breathability when clinging on the sofa for a longer period.
The back has 3 reclining positions. It starts with a regular sofa stance, then recline it back for leaning and the last stage converts the sofa to full size sleeper. We won't say it's the most comfortable sofa ever, if you love the stiffer feeling, this is for you!
The outer fabric is stain and wrinkle resistant. It's good for messy individuals, but the downside is it's not much comfortable on the bare skin. Certainly bearable!
The only real issue we found was the seats not having equal cushioning. Considering the under 500 price tag, it's a win-win bargain.
Pros:
Great for overnight guests as it converts into a sleeper.

Sturdy wooden frame that can hold heavy people.

Stain-resistant fabric cleans up easily.
Cons:
Sometimes there is occasional uneven cushioning on the seats.
5.

HONBAY Convertible Sectional Sofa
Sectional couches might be the trend these days. But they are quite expensive as well. If you are looking for an awesome sectional couch under $500, Honbay is your right option. Its firm and supportive cushions will last longer than other models in the same price range.
The sectional design allows you to configure the sofa in a number of ways. You can either make it a right or left side chaise couch or use it as a two seat sofa with the ottoman chaise. Small home owners will love the idea of the design.
You won't be needing any tools to assemble it. Just one individual with half an hour time will get the job done. The downside is figuring out the instructions will kill time.
The sofa doesn't have a lot of depth. If you like sitting a bit upright and in good posture, this is for you. We recommend this for families with lots of members staying in a small to medium size room.
Pros:
Sectional design makes it convertible into lots of different settings.

Supportive and firm cushioning for durability.

Dirt and hair resistant fabric.

Fits into tight spaces.
Cons:
The instructions for assembling aren't clear and it can add up to the overall assembling time.

The seat depth isn't too much and it will limit you from laying back.
6.

DHP Emily

Modern Convertible Couch
The DHP Emily is one of the highest-rated futon sofas on the market. The majority of the users are sold just by the elegant and eye catchy look of the sofa. It's a great piece of furniture for your modern living room.
The futon sofa is convertible to a full side bed when sitting and lounging becomes boring. If you have a habit of laying down and watching TV, you will find it quite handy. It's good enough for a single person but not quite big for two adults to sleep at the same time.
The cushions are more on the firmer side but still offer a lot of comfort. The 16 inch height of the sofa is suitable for most users whether they are tall or short.
Assembling the futon will take you less than 30 minutes. The only thing to worry about is the plastic-like smell when you take it out of the packaging. Just leave the windows open and let it air out for a few days. The smell doesn't stay for long.
Pros:
Eye-catching aesthetic for modern decors.

Space-saving design that converts into an overnight sleeper.

Easy and fast assembling process.

Firm cushions that hold their shape for longer period.
Cons:
Has a plastic-type smell initially that needs to be aired out.
7.

Best Choice Products Modern Faux Leather Couch
Need an extra space for overnight guests? We got you. It's a reclining couch that converts to a sleeper in no time. It's unique style and faux leather covering is comparable to none!
When you use it as a regular sofa, two persons can enjoy laying back with comfortable armrests. There's a foldable cup holder in the middle for keeping your drinks and snacks. As you convert it to a sleeper, you can remove the armrests and fold down the cup holder.
The faux leather gives this sofa the modern look you desire. The cushioning is a bit firm and won't sink in. If you prefer holding proper posture, this sofa will work for you!
We also loved the ground clearance under the couch. It can be used to store extra items without making your room clutter. The chrome metal legs look stunning but two of them don't have the pre-drilled holes. So, you have to work on them a little bit.
Pros:
Reclines completely to make a sleeper bed.

Has two cupholders in the middle.

Removable armrests offer comfort and convenience.

Sleek and modern design is great for most living rooms.
Cons:
You need to drill holes for two of the chrome legs.
8.

Zinus Jackie Love Seats Couch

The Zinus Jackie is a great piece of furniture to compliment your existing sofa set. It will add an extra space for you to read books, watch TV or just chilling after a hard day's work. The good part is it won't consume a whole lot of space in your living room.
The fabric and the wooden frame are all durable. One thing is sure, you will get your money worth it even if it lasts 2-3 years. The neutral gray color of the sofa can match almost any kind of decor.
The assembling process is straightforward and won't take you more than 15 minutes to put it together. The armrests do have a hint of padding to them. But we recommend getting some pillows to make it more comfortable.
Though it's a two-seater sofa, it's best to use by only one person. It's extremely lightweight and sitting two persons will decrease the durability of the frame. Nevertheless, it's a great bargain!
Pros:
The foam cushioning is supportive and holds its shape.

Compact and space-saving sofa for small homes.

Hassle-free assembling process.

Tear and the scratch-resistant fabric are suitable for home with pets.
Cons:
Arms are too narrow and flimsy.
9.EMILY

Modern Sofa Bed Sleeper Couch
We reviewed a couple of sleepers before but this one is the best sleeper sofa under 500 for many reasons. The White color looks absolutely stunning and will completely change the aesthetics of your living room.
One of the best things about this sofa is it can be arranged in a number of ways. Use it as a lounger or chaise or a sleeper. The sleeper is queen size and is big enough for two individuals to sleep and roll comfortably.
The cushioning is not the most soft in the list. However, with an extra mattress topper, your life will get easier. Despite that, it's an unbeatable deal that is worth spending money for.
The manufacturer provides a hex tool to assemble. Some users have even assembled it within 5 minutes. If you are the only person available to set this up, you are literally saved. If the sofa had armrests on each side, it would have been much better. Still, no complaints from our side!
Pros:
Convertible into a chaise or a queen size sleeper.
The chaise can be assemble on either side according to the design of your room.
Stunning white color is visually appealing.
Simple and fast assembling process.
Cons:
There are no armrests on the sofa.
10.

Novogratz Leyla Loveseat Couch
Loveseat lovers will love the Novogratz Leyla! The wide and spacious design gives you ample of room to cramp in and even take a nap! The innovative multifunctional design makes it the best loveseat under 500.
The high and big armrests will keep clinging to one corner of the couch. It can be arranged in multiple settings. You can lay the armrests flat individually or both at the same time to convert it into a sleeper. There's hardly any love seat in the market with such capabilities.
We are quite satisfied with the quality of the cushioning. It's a bit firm but not overly firm and most people found it extremely comfortable to lie or sit down. There are additional pockets on both the arms that you can use to keep your smartphone or tablet.
The assembling process is quite simple and will not stress you out. The only thing to complain about is the couch is low to the ground. But with a furniture riser, you can solve this in no time.
Pros:
Unique multi-position loveseat that converts to a sleeper.
Large armrests for leaning and relaxing.
Has pockets on both arms to store devices or books.
Comfortable cushioning for all day long sitting.
Cons:
It's a bit low to the ground and taller individuals might not like it (Can be raised with a furniture riser).
Couches Under $500- Buying Guide
1. Size of the couch
Sometimes we come across a beautiful piece of furniture! We make the order only to find that it's too large for our space. Whether it's a couch or anything, always measure the space you have and then make the buying decision.
If you have a small space, it's best to buy a two-seater couch. For large spaces, there are 3 seaters and other elongated models.
2. Type
Couches come in a variety of shapes and types. When considering the $500 price range, the choices might be limited. In general, you will find the following types of couches:
Love seats: Usually come with two seats
Standard sofas: A bit elongated and have room for 3-4 people to sit
Sectionals: These are modular couches and are commonly built with L shape to save space.
Sleeper sofas: You can turn these sofas into a bed. Works great if you have guests coming frequently.
Futon couch: Futon couches are perfect for lounging and also sleeping in emergency cases.
3. Style
You can find various styles of couch. Depending on the type of decor you have, your choice of couch style can vary.
Mid-century and Chesterfield styles are popular choices and add in a classic look. There are also contemporary styles that are often unique and modern.
4. Construction materials
It would be perfect if you get your hands on an oak or beech wood couch. However, that's not a choice when you are buying couches under $500.
Your best option is a pine wood frame or any wood that would last longer than hardwood. In some cases, even hardwood can be a good option, so long it has a high-quality construction.
Just make sure the couch has little to no plastic components that can break or deteriorate over time.
As for upholstery, faux leather, linen and microfiber are commonly used in this price range. All have their own pros and cons.
5. Comfort & Feel
The comfort and feel of the sofa will depend on how you prefer. Some people love firm and supportive couches, others swear by soft ones. Our list consists of mostly firmer models and can be great for posture and avoiding back pain.
Final Words
Finding the good quality couch under $500 was a daunting task. There were lots of models that came within this price range but lacked style and durability. We also looked for extra features like reclining and multi-position sitting and that made our work more difficult. But here we are with a handful of gorgeous sofa sets that could blend into any decor. Now it's your turn to get one to home!