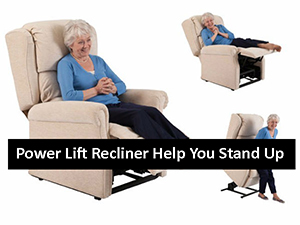 More than 18 million people have mobility issues and it's not just old age that's causing it. Accidents, surgery pain or any long term disease can limit your mobility. 
There are a few products in the market that serve this specific market. However, the most effective of them are power recliners!
Keeping safety and ease of use in mind, we set out to find the best power lift recliners that can help you stand with almost no effort. The good news is there are quite a lot of them, but sadly only a few of them are worth the money.
Those that offer maximum value for the money are reviewed here! Check them out!
10 Best Power Lift Recliner 2021 Reviews
1.

Mcombo Electric Power Lift Recliner
Weight capacity: 350 lbs
The Mcombo features a strong and powerful recliner with lots of versatile features! For people with post-surgery pain or an aging body, you simply can't get better than this. Based on our research and user review analysis, it's the best power lift recliner that will help you stand up without any stress.
With the push of a button on the remote, this chair will lift up and you can stand up with ease. The recliner will go back up to 140-degrees, which we think is good enough to make you feel comfortable. One of the good things is you can raise your legs up without having to lean back too far.
The recliner has both massage and heating functions. There are 8 vibration points and the heating element is on the lumbar point. You can also set up time for either 10, 20, 30 minutes of heat and massage. Keep in mind, the heat and vibration works together only.
Overall, we found this recliner comparably easy to use and clean. Unlike other recliners, it should be more durable!
Pros:
Recline or lift up easily with remote control.

Lots of vibration points and heating function is soothing.

Raises legs up without leaning too far back.

USB outlets to charge devices and side pockets help to store important items close.
Cons:
The armrests can become loose sometimes and you might need to apply a little pressure to get them down.
2.

Signature Design by Ashley Yandel Power Lift Recliner
Weight capacity: 300 lbs
Do you have an elderly citizen at home to take care? The signature Design by Ashley is designed with the elderly in mind as it has one of the slowest and most smooth lifting functions. It ensures that seniors or disabled individuals sit and get up as safely as possible.
The leather like upholstery is actually poly fiber and it looks quite stunning. Also the high back design allows average and tall sized users to sit comfortably.
The recliner will take 1 minute to lift from a fully reclined position and just 14.5 seconds to become upright. The best part is you can lift the leg rest keeping the back completely upright. This gives a lot of freedom to watch TV or read books.
We found that the recliner lifts much higher than expected, which is a lot more easier to get up. Anyone with surgery or old age issues will find it extremely handy. The wide seating area is also appreciable as it makes the recliner usable for heavier and bigger individuals.
Pros:
Slow and smooth lifting function is safe for disabled and seniors.

High back design and wider seat is suitable for both tall and bigger people.

Leg rests lift keeping the back upright.

Sit and stand more comfortably as the lift position is higher.
Cons:
There's not much lumbar support on this chair.

The cushioning is firm and some users might not like it.
3.

U-MAX Power Lift

Recliner
Weight capacity: 330 lbs
The U-Max is the best power lift recliner in budget. It's massage, heating and storage capacity which is hard to find at this price range. The PU leather upholstery makes it much easier to clean and also adds to the aesthetics of the chair.
The lift mechanism on this chair is smooth and safe. You will get two remotes to control the lifting and the footrest functions. The footrest will go up first and then the back, which gives you the opportunity to watch TV without having to lay back.
We really loved the massage function as it is positioned near the leg, thigh. Lumbar and the back portion. Additional heating on lumbar is soothing and makes the recliner effective for seniors or someone suffering from post surgery pain.
One thing to note is the recliner is a bit on the shorter side and it will work better for people lower than 5'10". But on the plus side, heavier people will find it more comfortable because of the sitting space.
Pros:
Two separate remotes makes it easy to operate.

Extra cup holders and storage bags comes handy often.

Massage function on key areas along with lumbar heat capability.

Watch TV comfortably as the footrest rises earlier than the back reclining.
Cons:
The wires are tough to connect as the instructions are not clear for this part.
4.

BONZY Classic Power Lift

Recliner
Weight capacity: 300 lbs
If you want a simple and effective recliner, Bonzy could be the perfect option. It prevents stress on the back and knees as the chair lifts up and then tilts slightly. The velvety fabric upholstery makes it soft to touch and super easy to clean.
The recliner operates through a remote with a few buttons on it. You can recline to your desired position and stop at any point. This gives you customized sitting and a range of options for different kinds of users.
Like the previous models, the footrest on the chair goes up first and then then it reclines. For seniors and disabled users, this is a deal maker by all means!
The height of the back will work for people less than 5'5'' and needless to say it's designed for small to medium height users. The only complaint we have is that the cushions can become lumpy after a few months of use, but it still offers the same comfort as you get on day 1.
Pros:
Generous amount of cushioning with velvet fabric is comfortable to sit.

Stop at any position you like during reclining.

The lifting position is appropriate for stress-free standing.

Extra pocket to store necessary items.
Cons:
The cushions might become lumpy after a while.
5.

Giantex Power Lift Chair Recliner
Weight capacity: 330 lbs
The Giantex is one of the great recliners that lifts you up. It's pretty similar to the Bonzy recliner we reviewed earlier, but this one more durable cushioning! It doesn't have the bells and whistles, but it will get the job done!
The chair operates with just a touch of a button and it can go almost to a flat reclining position. This is a real bonus as it lets you sleep and something not a lot of recliners in the market have. You can also stop at any position you like.
The lifting mechanism is fairly smooth and slow. Guaranteed, you will get the safest lifting experience. We also loved the arms as they aren't super bulky and feel great on the arms. The cushioning is firm but supportive, which is something a lot of people might prefer over soft and sinking ones.
We were quite surprised by the durability of this recliner. Seriously, for the price, you can't expect more!
Pros:
High quality fabric and durable cushioning for longer use.

Easy to use remote control with fewer buttons.

Suitable for sleeping as it can recline back a long way.

Streamlined arms are more comfortable on the arms.
Cons:
The back doesn't go into complete upright position and has a slight recline.
6.

CANMOV Heavy-Duty Power Lift Recliner
Weight capacity: 300 lbs
Here's a recliner that's perfectly suitable for petite users: The Canmov! It has overstuffed cushioning on the back, seat and the armrests. That's the reason why it can offer superior levels of comfort.
The lifting mechanism works effectively and there's nothing to complain about it. The back doesn't go fully flat like the previous model, but the footrests lift up higher than the back. This is great for sleeping or watching TV!
You can recline back to 3 set positions and they are easy to reach. People with back pain will find it more comfy as there is a lumbar pillow on the back, The upholstered fabric is anti-skid, which means you won't slip while getting down from the chair.
We think the chair should last a few years as its frame is built with solid metal. The only negative you will find is this chair is quite narrow and larger individuals won't fit in it.
Pros:
Ample of padding around key positions for higher comfort.

Lumbar pillow offers greater support for people with back pain.

Durable metal construction.

Side storage back to keep necessary items close.
Cons:
Narrow sitting area is not suitable for larger users.
7.

Upholstery Power Lift Recliner
Weight capacity: 350 lbs
The fully upholstered power lift recliner from Coaster Home Furnishing can be a budget purchase for users who don't have much to spend. It will do the job of lifting and reclining effectively.
The recline mechanism goes from 110-130 degrees. The motion is quite slow and smooth. Senior citizens who have used it found it extremely easy to get in and out of the chair.
The frame construction is mainly plywood upholstered with polyester. We wouldn't say it will last a decade, but for the price, it will support you for the time being.
Unlike the other models which are mostly stationary, this one has wheels on one end. This makes it easier to move around the room. 
Pros:
The price range makes it affordable and can be great help in emergency situations.

Smooth and slow lifting function is safe for elderly and people with surgery pain.

Wheels on one side of the frame is great for moving it around.
Cons:
Might not hold up for year due to the low-cost frame construction.
8.

Harper&Bright Designs Power Lift Recliner
Weight capacity: 330 lbs
The Harper&Bright Designs stands out from the other recliners in the market from the point that it lifts up much higher and offers lots of support in strategic areas. If you are suffering from a post surgery pain then this is the best power lift recliner to make you stand up with ease.
Before you even go into technical features, you would admire the aesthetics of the chair. The upholstery is faux leather with a double-stitching. You can expect it to take some beating over the next few years.
It's tough to find a power recliner for taller users. But in this case, the recliner will support users over 6'1". It offers maximum support in key pressure points like the head, neck, arms, back and the lumbar section.
The back goes to 160-degrees, which is pretty close to laying flat. The only issue we have is the leg rest doesn't go as high as expected. Most users can bear it, others will need to look for models whose leg rests go higher up.
Pros:
Lifts up higher than average which is great for stress free standing.

Suitable for sleeping as it reclines to almost flat position.

Supportive cushioning on key pressure points offers ergonomic experience.

Double-stitched faux leather will hold its shape longer.
Cons:
The leg rest doesn't go too far up and can be an issue for some users.
9.

ERGOREAL Power Lift Chair Recliners
Weight capacity: 300 lbs
Petite and smaller users looking for chairs to help stand up, the Ergoreal can be a great alternative to some of the more expensive ones on the list. It has all the massage and heating functions that will add value to your purchase.
Though the frame isn't metal, the camphor wooden board is quite durable and also keeps the costs low. The linen upholstery is a lot stronger than regular fabric. It looks like a deal that's totally worth the money.
You will get 8 massage modes with a heating function. You can also adjust the intensity of the massage in two settings. Together with the high-density foam, it's going to be a comfortable journey all along.
The chair can recline up to 150-degrees and that is enough to keep you in a relaxed position. This particular model is designed for smaller users. However, there's another Ergoreal chair with similar features that can work for taller users.
Pros:
The linen upholstery is aesthetically pleasing and more durable.

The massage and heating functions gives more value for the money.

Side pockets to store devices and books.

The back cushion is firm but supportive.
Cons:
The buttons on the remote are hard to press, especially for users with arthritis.
10.

Domesis Renu Leather Power Lift Chair Recliner
Weight capacity: 300 lbs
If you are still not sure, you can check out the Domesis Renu. This Faux leather upholstered recliner is strongly built with alloy steel. Users who don't need any extra features and are looking to just lift up and down from a chair, this is for them.
The seat and the back has plush fabric with high-density foam padding. For the money, it looks more expensive. It can be a great gift for someone recovering from an injury.
It's designed as a wall hugger, so it will save some space. Keep in mind, the back and footrest moves at the same time. Overall, we really loved its functionalities!
Note: The buttons on the remote don't have labels. If you have someone with Dementia using this chair, they will find it hard to operate. But the chair itself works smooth and slow.
Pros:
Easy to use with only two buttons on the remote controller.

Plush padding on the neck and leg areas.

Gorgeous design looks more expensive for the money.
Cons:
Small size might not be suitable for tall and larger users.
Conclusion & Editor's Choice
We gotta make an unbiased decision here! The best power lift recliner that will help you stand up with minimal stress is Mcombo. The additional massage and heating functions work equally well and can be beneficial to people suffering from surgery pain.
There are other recliners in the list that could fit in your budget and needs. Some of them are priced higher because of their versatile functions and durability, others are priced low as they lack the additional features.
You May Also Like:
Best Oversized Recliner for Heavy & Big People
Best Ergonomic Chair for Watching TV