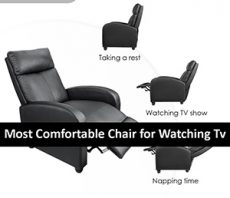 Watching TV can be a real pain when you don't have the right chair to sit!
Those Netflix hours won't be the same again with the best ergonomic chairs for watching TV. These chairs are carefully chosen based on comfort level and how well they support your back.
Sure! Nobody wants to pay thousand dollars for a simple TV chair. So, you need to be a little considerate here and keep your expectations under control. The good news all the models reviewed comes in a fairly affordable price range with effective functionalities!
The next time you watch TV, it shouldn't be a pain any more!
Let's check out the most comfortable chair for watching Tv & Netflix for hours.
How to Choose the Best Chairs for Watching TV
1. A Lot Depends on the Space You Have
In most cases, people tend to choose an overstuffed chair for watching TV. But rather, you should consider your space available before hitting the purchase button. Users with small living rooms should choose the Jummico or Giantex 360 swivel as these are smaller in structure and smaller footprint.
2. Choice of Upholstery Material
You will find three types of upholstery in chairs: Leather, fabric and microfiber.
For TV chairs, you will be fine with a fake or PU leather upholstery as it will also keep your costs low.
If you have pets and children at home and need something that is easy to clean, go for a microfiber chair. However, the color options are limited.
Fabric chairs are available in a huge assortment of colors and often gives you the most comfort out of all the upholstery material.
3. Comfort Level and Stuffing
Some users really love their couch super soft. The trade off is these chairs will lose their shape in the long run. We recommend buying a chair that is on the firmer side and has a bit of a give. Your back will remain in a far better position and the chair will likely survive all those abuses of hours of watching TV.
4. Functionality of the Chair
Now it's the time to consider what functionalities you want from your chair. The easiest option you have is a manual recliner. These chairs are much affordable and also give you freedom to go back and relax.
Power lift recliners are a top of the class. These chairs rise to a level, so you don't have to put pressure on your back. If you are recovering from an injury or have an elderly who likes to binge watch TV, go for it.
Some chairs come with an ottoman combo. The ottoman will help you to stretch your legs and keep you seated for hours.
5. Lumbar Support for Preventing Back Pain
It's tough to find a lumbar support in an affordable price range. But if you manage to find one, go for that. Lumbar support helps to fill the gap between the lumbar spine and the seat, so your spines inward curve remains in a better position. The Giantex and Esright chairs do have it and aren't that expensive.
6. Consider the Price— Too Expensive Is Not the Way to Go
For watching TV, you don't want a chair that will eat up your money only to last a couple of months. Choose something affordable and still give you the best bang for your bucks. Luckily, most of the chairs we reviewed aren't super expensive.
| Images | Product Name | Weight limit | |
| --- | --- | --- | --- |
| | Homall Recliner Chair | 265 lbs | |
| | Flash Furniture Recliner | 250+ lbs | |
| | JUMMICO Fabric Recliner Chair | 265 lbs | |
| | Stone & Beam Armchair | 300+ lbs | |
| | Giantex 360 Degree Swivel Gaming Chair | 330 lbs | |
| | Big Joe Lenox Fuf Foam Filled Bean Bag | | |
| | Christopher Knight Home Chair | 250 lbs | |
| | Homelegance Fabric Barrel Chair | 300 lbs | |
| | Esright Fabric Power Lift Chair | 320 lbs | |
| | Domesis Renu Leather Power Lift Chair | 300 lbs | |
10 Best Chair For Watching Tv 2021
1.

Homall Recliner Chair
Weight limit: 265 lbs
The Homall Recliner is a compact & modern chair that can make your TV watching routine a lot more comfortable. Its steel frame construction is durable and should last you a few years without replacing.
The PU leather upholstery feels soft on the skin and there won't be any wrinkles no matter how long you use it. Apart from the reclining back, there's an adjustable footrest to keep your foot at rest. Despite being a compact chair, it has a large seat cushion and even the back cushion is thickly padded.
It has a unique lumbar vibration feature with a different massage mode. This makes it the best chair to watch TV and for those with lower back pain, it's just perfect. The chair sits at 17.7-in and should be good enough for most average sized users.
We found the chair to be easy to clean and maintain. If you have hardwood floors, it should be safe on it because the feet are covered with non-marking pads. The Homall recliner is for those who love to binge-watch TV, play games or just sit and talk for hours.
2.

Flash Furniture Recliner Chair
Weight limit: 250+ lbs
The Flash furniture chair is one of the best deals for watching TV. The padded reclining chair along with a ottoman makes it extremely easy to get in and out without any stress. Though it doesn't look expensive, it sure does the job of keeping you seated for hours nicely.
The recliner back is a deal maker on its own. You can take it all the back and also use a manual stopper to recline back everytime to your desired position. The back doesn't completely stay upright and has a slight incline. Nevertheless, it's a great TV chair for adults.
We would recommend this chair for people less than 6'1" as the height of the cushions is at 15.5" off the floor The chair is lightweight and easy to move around when you need to.
What's more? The swiveling caught our eyes first. This means you will have more freedom and talk with people around the home while watching TV. The artificial leather on the chair also covers the bottom of the chair and the ottoman. If your home is full of hardwood floors, this should keep it free from scratches.
The only major complaint we found was the metal bar kicking on the back cushion. It might be a manufacturing defect that some users have experienced. Just throw in a pillow and it should be okay.
3.

JUMMICO Fabric Recliner Chair
Weight limit: 265 lbs
The Jummica Fabric and Homall recliner are astonishingly similar in features and functionalities. But Jummica is one step ahead as it comes in a variety of stunning colors that can light up your living room.
Instead of artificial leather, it is covered with breathable fabric that feels comfortable even after hours of sitting. The back reclines from 90-165 degrees and you can also set your limit to how much you want to recline back.
If you are one of those who loves to raise your feet while sitting, this is a great option. The foot rest is adjustable to a number of angles. Moreover, the chair has a sturdy steel frame construction that will make your money totally worth it. It's the best ergonomic chair for watching TV on our list without any doubt.
Assembling the chair isn't that tough. You just have to slide the backrest to the base and get the legs on. That's it!! The only regret is the arms aren't that high, so it will be hard to reach them when you recline back too far.
4.

Stone & Beam Armchair
Weight limit: 300+ lbs
Craving for an overstuffed couch that you can sink in for hours? That's what Stone & Beam Lauren is all about. It's a casual chair that might not have the best ergonomic features, but when it's come to watching TV, who cares!
It's got a silhouette with track arms that gives it a modern feel. The construction is quite sturdy as the frame is made from hardwood. The upholstered fabric is a lot more durable than some of the other models as it can withstand stain and moisture quite well.
Despite being soft and squishy, this sofa doesn't become slouchy. That's the reason we think it's the most comfortable chair for watching TV. It has medium firmish cushions and needless to say they will last long. We felt the arms needed a bit more padding, but with some throw pillows this could be solved.
The covers on the cushions are removable and also reversible. So, you get to use them longer and clean them effortlessly. The seat depth is 24-in and if you are a medium to big guy who loves to sit around carelessly, this sofa is for you!
5.

Giantex 360 Degree Swivel Gaming Chair
Weight limit: 330 lbs
This chair from Giantex stands out from the others in terms of its unique design and functionality. It's a floor model chair with a swiveling base and something quite hard to find in the market. You'll love the convenience this chair offers but you'll need to consider the height as well, in case you are not comfortable sitting low to the ground.
The whole cushioning has built-in high-density springs in it with an ergonomic shape. A thick sponge surface keeps you seated for hours and that's what you want from movie watching chairs. Luckily, the top fabric is linen which will be a lot more scratch-resistant if you have pets at home.
If you have children at home sitting on it, don't get afraid. The swiveling base is extremely stable and won't tip over. Moreover, you can remove the swiveling base cover when it gets dirty.
What truly led us to include this chair is its foldable frame that makes it super easy to store in tight spaces when you don't need it. The back can recline up to 4 different settings and both of these functionalities should be enough to make you hit that order button!
If there is one thing that could have been fixed was adding a lumbar support. Anyways, you could always add a pillow for that!
6.

Big Joe Lenox Fuf Foam Filled Bean Bag
Bean bags are always fun to have at home! After a tired day of work, you can lay on a bean bag in any way you like. However, most large bean bags are expensive! The Big Joe Lenox is an exception and comes in a fairly affordable price range.
Unlike other premium bean bags, this one is not the fluffiest. But that's understandable. It's still comfortable and good enough to sit and relax for hours.
This model comes in various sizes starting from kid size to XXL. We recommend the XXL as it gives you the full value for your money and allows a number of people to sit together.
The manufacturer claims that the bean bag doesn't go flat and rightly so. During its lifespan you will hardly ever need to refill it. If it happens to go flat, just toss the stuffing around and it will revive its original fluffiness again.
Keep in mind, this foam filled bean bag isn't a replacement for a chair or couch. When it comes to watching TV in a laid back position, nothing can beat this!
7.

Christopher Knight Home Chair
Weight limit: 250 lbs
It's always great to have a contemporary style furniture piece at your home! The Christoper Knight is a great deal considering the price and durability. If your living room lacks sophistication, this could fill in the place.
Firs up, what you'll notice is the wide back cushion! For medium to average users, this should be really comfortable as you'll have more room to fit in. When comparing the cushioning of the back to seat, the back cushions are softer. The seat cushioning is a bit stiff, but we wouldn't complain much about that.
The chair has a stable base as the legs are made from sturdy wood. So, we think it will hold its place over the years and give you maximum value for money.
This chair seats at 19.7-in from the floor. For taller users over 6ft, this might be an issue, however, for most average users, it's perfect!!
You will get this chair in a number of colors and fabric options including PU leather. Depending on your preference, you should make the final decision!
8.

Homelegance Fabric Barrel Chair
Weight limit: 300 lbs
We couldn't leave Homelegance out of this list as we think it's one of best chairs to watch TV! The polyester fabric on a retro-styled frame looks classy. The compact design makes it usable in any tight spaces.
The cushioning is mainly high-density foam. Initially when you sit, it will feel firm. But as time goes, it will soften up a bit and contour to your body shape nicely. That's the reason why it has so many positive reviews.
It has a 19-in height from the floor to the top of the seat cushion. For any average user between 5'9 and up will find it convenient to use. However, for smaller users, you might need a pillow at the back for more support.
It comes in four different unique colors that can compliment the other furniture pieces in your living room!
9.

Esright Fabric Power Lift Chair 
Weight limit: 320 lbs
Who says a power lift recliner is just for the aged and injured people? Considering the functionalities of the Esright power lift chair, it could be the best recliner for watching TV. The support you will get from the chair is amazing!!
Getting in and out of a chair has never been easier. With just a touch of a button, this chair will lift up and down. You can also set the reclining position of the back to your needs. And even the footrest is retractable.
There's a massage function that will work on your shin, thigh, lumbar and the head areas. It's more of an intense vibration and feels great on the body. Whether you are tired, or suffering from post-surgery pain, this chair will keep up to that.
The seat and the back are overstuffed and will contour to the shape of your body. The best part is all the materials used on it meets CARB standards, so it's safe to use in California.
The only thing annoying was the footrest. It's pretty much hard to close. Other than that, you're in for a great deal.
10.

Domesis Renu Leather Power Lift Chair
Weight limit: 300 lbs
Domesis Renu is a streamlined version of the Esright recliner. The power lift functionality along with thick foam cushioning makes it the best ergonomic chair for watching TV. You won't know how and when those boring hours passed!
The chair is constructed from laminated hardwood and steel. So, technically it should last a couple of years! We were more impressed with the leather and fabric blend upholstery that feels soft and durable.
Getting in and out of the chair is extremely easy as you just need to use two buttons. If you have pain in your knee or back, you definitely deserve a chair like this. The seat is deep enough to let you sink in.
It's a wall hugger recliner that won't eat up much space at your home. For a small to medium-sized living room, you can't find anything better than this!!
Conclusion & Editor's Choice
Finally, we've come to the end of this post and it's time to pick a winner. It was a tough choice, but we had to make it anyway. The Homall Recliner Chair is what our editorial panel thinks is the best ergonomic chair for watching TV.
It's designed in a way that it won't eat up much space, but still it's spacious enough to feel comfortable. The Lumbar support with the massage function is what makes it stand out from the others. It's safe on hardwood floors and will be durable enough to make your money worth it.
You might as well check out our review on living room chair for back pain. Some of the chairs are equally effective for watching TV. Hope this list is extensive enough to help you make an informed purchase!