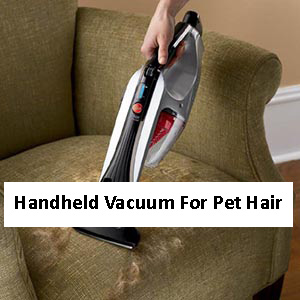 As pets shred hair often, you will need a vacuum that you can pick up quickly, maneuver easily and also reach tight corners- preferably a handheld vacuum.
Upright vacuums simply don't work when it comes to cleaning pet hair.
We made a list of the best handheld vacuums for pet hair cleaning after a solid 50+ hours of research. Whether it's corded or cordless, it doesn't matter. What matters is the suction power, pet cleaning attachments and the design of the vacuum, so you can move it with ease.
If you are here to get the most lightweight vacuum or the most versatile vacuum for cleaning pet hair, we covered it all.
10 Best Handheld Vacuum for Pet Hair 2021
1.

BLACK+DECKER dustbuster Handheld Vacuum
Run time: 12-20 minute
Dust cup capacity: 750 ml
Weight: 4.15 lbs
Black & Decker has always been the go-to vacuum for most home users! Get the best out of this brand to clear out stubborn pet hair from carpets and other hard to reach areas. The super large dust cup is a deal maker and one that most users underestimate until they really feel the need.
Despite being a handheld vacuum, it offers tremendous suction. There are two-speed settings and most work is doable in the first setting. On the highest setting, the battery will last only 12 minutes compared to 20 minutes in the lowest setting.
It's the best handheld vacuum for pet hair and you won't know until you have used the motorized rubber bristles. And much to our satisfaction, it can even lift off cat litters as well. When you need to go in deep, just use the crevice tool.
When it comes to the design, we found the vacuum to be easy to maneuver for someone with back or hip issues. If you are looking for a vacuum that can do a lot of jobs apart from cleaning pet hair, this is the one to get.
Pros:
Large dust cup that's easy to empty with just a touch.

Deep pet hair cleaning from carpets and hard to reach areas.

Adjustable speed lets you control cleaning.

Designed in a way to limit strain on the back and the hips.
Cons:
Loses battery life fast on high-speed setting.
2.

BISSELL Lithium Ion Cordless Hand Vacuum
Run time: 30 minutes
Dust cup capacity: 700 ml
Weight: 4.29 lbs
Bissell had made quite a reputation in the market and constantly challenges Black & Decker. The General consensus is Bissell has more powerful suction and a better battery life. And from our analysis, we think it's true.
This Bissell vacuum works efficiently on upholstery and carpets. Needless to say it's the best handheld vacuum for cleaning pet hair on furniture! The upholstery tool works magic here.
For lifting pet hair on stairs, you can use the rotating brush. From the first look it might look broader, but it's still compact enough to get the stairs and other small areas done. Use the crevice tool for the final touch near the corners and in tight spaces.
One of the big reasons why the Bissell has a better suction is its double-layer filter that limits dirt from clogging up. On the plus side, the filters are washable and can save you some bucks in the long run.
Pros:
The motorized brush head is easy to remove and cleans pet hair efficiently.

Cleans upholstered furniture and tricky areas.

Excellent filtration system ensures consistent suction power.

Clear dust cup makes it easy to see when it is full.
Cons:
No place to hold the attachment with the vacuum. So, you will need to store them separately and that's not so convenient.
3.

BLACK+DECKER 20V MAX Flex Cordless Stick Vacuum
Run time: 20 minutes
Dust cup capacity: 558 ml
Weight: 3.20 lbs
The competition is getting tough! The Black+Decker has another handheld vac to give Bissell a good run. The dust cup capacity is slightly decreased and that ultimately made the unit a lot lighter. As the center of gravity remains under the handle, cleaning pet hair will never be stressful again.
Sure, it won't replace your regular upright vacuum. But from our tests we were happy that it can get rid of dust, leaves, dry foods and pet hair. The included attachments like floor head, pet hair brush and the long crevice tool are super effective in what they are intended to do.
The vac has a 3 stage filtration system and a cyclonic spin action that maximizes the performance. You can expect great suction even when the battery is at the end. As for charging, there's a docking station that makes it easy to charge and grab it when it's done!
The drawback that got our attention was that the vac makes a pretty loud sound. If you have earbuds at home, get them to use. Compared to the usefulness, the drawback isn't that significant to stop you from buying the unit.
Pros:
4-ft hose helps to reach high, low and into tight spots with ease.

Maximum suction throughout the runtime.

Docking station makes it convenient for charging and picking the vac.

Cleans up a variety of small and medium sized debris.
Cons:
Makes a high-pitched whining sound that can be a bit obnoxious.
4.

Shark Rocket

Hand Vacuum
Run time: unlimited (corded)
Dust cup capacity: Not specified
Weight: 3.7 lbs
When it comes to cleaning pet hair on stairs, the shark rocket is best as a handheld vacuum! Moreover, the plug-in functionality gives you unlimited runtime and a lot of freedom to clean at your own pace.
The most effective tool for pet hair is the motorized brush. It cleans dog hair, cat hair and even bird feathers. Together with the mini beater bar, you can clean your stairs effortlessly.
You might also love the stretchy hose as it will keep you from bending and allow reaching behind the fridge, furniture and places of that sort. The power is 15-ft long and for most users it could be enough to reach the stairs without having to unplug it often.
At 3.7 lbs, the vacuum is not the most lightweight. However, compared to similar models, it's still light enough to limit strains on the hands. An addition of a shoulder strap would have made the vac more convenient to use. Being a bagless unit, it takes only a few seconds to empty the dust cup and you are good to go again.
Pros:
The motorized brush gets rid of pet hair from carpets and stairs.

Stretchy hose and the crevice tool allows you to get into tight spaces.

Washable filters keeps your maintenance costs at minimum.

The dirt cup empties with a touch of a button which saves you from hassle.
Cons:
A shoulder strap could have made the unit easier to maneuver.
5.

Bissell Pet Hair Eraser Corded Handheld Vacuum
Run time: Unlimited (corded)
Dust cup capacity: 780 ml
Weight: 4.2 lbs
The real difference between the Shark Rocket and the Bissell 33A1 is that the Bissell works better on carpets and upholstery. It's 780 ml dirt cup is one of the largest among the corded vacuum models. So, there's a lot of good things going for the vac.
You will definitely love the rubber contour nozzle as it will remove pet hair from almost anywhere, especially the stairs, carpets and the upholstered furniture. The hard nozzle, on the other hand, will get off the dry messes like litter and dust. We didn't find any suction issues whether it was hair or litter as it often happens with handheld vacs. The reason could be the multi layer filtration system allowing consistent suction power.
On wooden and flat floors, the vac isn't the most effective. The air flow chamber is positioned to the side, so it blows hair around the room. Some users have also improvised to make a cover that directs the airflow to the back. Even if you don't improvise, it works perfectly on carpets.
As for the cord, it is 16-ft, which is 1-ft longer than the previous model. This is helpful to cover more areas without having to unplug often.
Pros:
Rubberized nozzle helps to pick up maximum pet hair.

Cleans dry messes in cars and other upholstered materials.

Good consistent suction power throughout the runtime.

High capacity dirt cup saves your time.
Cons:
Not much effective on wooden floors as it blows away dirt.
6.Shark CH951 UltraCyclone Handheld Vacuum
Run time: 15 minutes
Dust cup capacity: 425 ml
Weight: 2.8 lbs
The Shark UltraCyclone could be the perfect choice for small home owners with limited space. It comes with attachment tools much effective for removing pet hair from tight places. Whereas, the lightweight & cordless design will give you a lot of comfort and maneuverability.
Whether it's the dog hair, pieces of french fry or sand, the suction power is enough to get the job done. The self-cleaning pet power brush makes it a top contender for the best handheld pet hair vacuum cleaner as there won't be any hair tangling issues.
We were equally impressed with the crevice and scrubbing brush attachments. They make it extremely easier to clean hard to reach places like windows and sliding door tracks. However, it might not be super effective on upholstered furniture and pillows.
As for maintenance, you really don't have to do much. The dirt cup ejects easily and you don't need to get your hands dirty. Whereas, the washable filter makes life cleaning it a breeze.
One of the complaints we have seen from users is the lack of a charging dock. However, for users with limited space, this won't matter much. The battery might take between 5-6 hours to charge. Having said that, you can keep it on charge indefinitely without worrying about any issues. That's a bonus any user would take any day.
Pros:
Self-cleaning pet power brush prevents hair wrap for hassle-free vacuum.

Hands-free dirt ejector for clean dust disposal.

Reach tight spaces with crevice tool and scrubbing brush

Doesn't need unplugging after the charge is complete.
Cons:
Doesn't have a charging dock.

Takes a lot of time to charge.
7.

Bissell 1782 Cordless Vacuum
Run time: 30 minutes
Dust cup capacity: 700 ml
Weight: 3.75 lbs
Cleaning is a chore and especially for pet parents it's an annoying job! You might have other upright vacs at home, but they won't be as effective as the Bissell 1782 in cleaning pet hair and small debris.
Just like the other vacuums, this one has a motorized foot, a crevice tool and an upholstery tool. It offers a decent amount of versatility as you can get rid of grass, debris, litter apart from pet hair. You can use the roller brush in combination with the rotating brush to get the most out of the unit.
The crevice tool will help you to lift off hair from the space between the cushions both inside the home and the car. The 30 minutes runtime ensures that you can finish your job on a single run without having to charge and keep waiting.
There's some static electricity build up as you clean fabric items. This is the reason why some users have experienced failed power buttons.
Pros:
Achieve deeper cleaning with motorized brush head.

Handy attachment allow you clean a variety of debris from hard to reach places.

Picks up dry and powdered messes like flour with ease.

Good overall runtime for maximum cleaning on a single run.
Cons
The power button might sometimes malfunction because of static electricity build up. But it can be fixed when you reset the unit.
8.

Shark WV201 WANDVAC Handheld Vacuum
Run time: 9.5 minutes
Dust cup capacity: 75 ml
Weight: 1.4 lbs
Most people have the misconception that smaller vacuums don't clean well. It depends what you are trying to accomplish. A tiny vacuum like the Shark Wandvac can offer tremendous convenience when it comes to cleaning small debris like pet hair from carpets or fabric.
Have a look at the weight. It's just 1.4 lbs, giving you absolutely no strain at all. It's perfect for emergency messes that are too bothersome to clean with an upright vac. And when the cleaning is done just attach it to the docking station and it will charge up in 2.5 hours.
With the multi-surface pet tool, you can easily pick up pet hair from carpets or upholstery. And..when the surface is small and difficult like in between keyboard buttons or the car seat, the duster crevice tool will do the final job. It is one of the best cordless handheld vacuums that you can find.
You might as well criticize the battery life and the dust cup capacity. But when you consider how compact the vacuum is and how easy you can carry it around the home, you'll feel that it's worth getting the vac.
Pros:
Ultra-light design encourages extensive usage without ant stress.

Easy charging at the docking station in 2.5 hours.

Attachment tools can tackle hairballs and dust from carpets, upholstery & flat surfaces.

Empty dust cup effortlessly with just a touch of a button.
Cons:
The suction decreases when the dust cup reaches its limit.
9.ZesGood

Portable Handheld Vacuum
Run time: 25 minutes
Dust cup capacity: 550 ml
Weight: 1.5 lbs
Compact handheld vacuums don't necessarily always mean small dirt cup capacity. The Zesgood, despite not having the brand power like B&H, Bissell or Shark, it has surprised us with some unique features. The ability to clean both liquid and dry components makes it one of the best vacuums for cleaning pet hair and other stuff.
The vac comes with a variety of attachments for cleaning different kinds of dirt. The long brush gets rid of the pet hair and the crevice nozzle sucks up liquid. If you combine the crevice and slim brush, you can also go deep into hard to reach spaces.
A great design innovation was the built-in LCD screen to display battery life. This will help you to know how long you can clean before the vac stops. For many users, this was a deal maker. Moreover, there's a battery protection chip to restrict over charging to increase the lifespan of the battery.
The curved head design of the vac makes it easy to hold and maneuver. The head is detachable and takes no time to empty the dirt. As some of the components are plastic, you will need to be extra careful when using the unit.
Pros:
Clean both dry and wet elements with useful attachments.

Keep track of run time with the built-in LCD screen.

Easy to empty dirt cup without having to remove the filter every time.

Battery overcharging protection.
Cons:
There are some parts made with clear plastic and so you need to be a bit more gentle to handle this vacuum.
10.

BISSELL Multi Auto Lightweight Lithium Ion Hand Vacuum
Run time: 15+ minutes
Dust cup capacity: 400ml
Weight: 4 lbs
In simple terms, Bissell Multi Auto vacuum has a lot of versatility. It can also clean pet hair effectively to some extent, but you will need to clean the motorized turbo brush once in a while when lifting long hairs. The ability to replace the battery is a massive advantage here!
It does a great job in cleaning dog hair from different corners of a car. You get a crevice tool and a 2-ft long extension hose to reach difficult places and capture dirt. But due to its size, it will be hard to use the motor brush on stairs or tighter spaces.
If you think the 15 minutes runtime isn't enough, you can also buy spare batteries for it. In that way, there won't be any waiting time for charging and you can go on cleaning. It might not be the most elegant of the vacuums on this list, it still does a great job!
Pros:
Cleans pet hair in hard to reach spots like car seats and other corners.

The motorized brush offers great power for cleaning mess on carpets.

Battery is removable and can also be replaced.
Cons:
The vacuum is bulky and not much appropriate to clean small areas.
What makes a handheld vacuum good for pet hair?
1. Motorized brush head with tangle-free technology
Motorized brush heads are common in handheld vacuums. They are great for cleaning all sorts of debris from carpets and other upholstered surfaces. Most of the vacs we reviewed have specialized brush heads that sweep off pet hair without tangling issues. Some might even have tangle-free technology to save you from the hassle of cleaning the brush head often.
2. Pet brush and other small attachments
There are some vacuums that come with pet brush tools and these are designed to lift off long and heavy hair without limiting the suction. Other tools like crevice tool, long hose or upholstery tool will add versatility to your vac. You still want your unit to clean off other dirts and debrises.
3. Sufficient run time
You only need to consider the run time, if you choose a cordless model. Whether a cordless or corded vacuum will work better is a different debate that we left for you to decide. A run time between 20-30 minutes should be enough if you intend to clean a variety of stuff. But for cleaning only pet hair 10-12 minutes is optimum.
4. Maneuverability and weight
Almost all of the vacuums in this list falls between 1.4 to 4 lbs. Even if you go for a 4 lbs vac, it's still light enough to not stress you out. These are the models with the most suction power and cleaning abilities. However, some models like the Shark Wandvac or Zesgood only weigh 1.4-1.5 lbs. The tradeoff is you might not get the highest suction or the highest dirt cup capacity.
Conclusion & Editor's Choice
It's time to pick the best handheld vacuum for pet hair that you can rely on every time. After some serious thoughts and analysis, we come to the conclusion that the Black+Decker Dustbuster is the one you should go for.
It's slightly heavy compared to some of the other models, but the design makes it easy to handle. It boasts super suction power and a large dirt cup that will clean up a heavy amount of pet hair. The ability to choose between two speeds, lets you control the battery life as well.
So, what do you think is best for cleaning pet hair? Let us know!