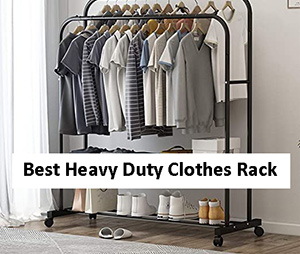 We all have closets at home! Often they fall short in accommodating clothes and other accessories.
In that case, you have the option for racks. But most racks found in retail stores are wobbly and breaks in no time. After searching through more than 50+ models, we have shortlisted the best heavy duty clothes rack in the market.
Most of our models have high weight capacity and strongly built steel frames. Whether it's for your home, your designer studio or your clothing store, you will find the one that meets your needs.
If you have longer clothes, you can choose any rack that has over 70-in height and we have quite a few of them.
Here it goes!
10 Best Heavy Duty Clothes Racks 2021
Click a link below to jump to the relevant section
1.

Homdox Double Rod

Cloth Rack
Weight capacity: 400 lbs
Highest Height: 80-in
If you are one of those with loads of clothes at home and looking for a solution to organize them, Homedox could be the perfect solution. At 400 lbs weight limit and with 3 shelves, this is the best heavy duty clothes rack for the money!
It's made out of steel and coated with chrome to make it long-lasting. The four wheels that come with the rack gives you a lot of freedom to move it around when it's packed with clothes. Two of them have locking wheels that will make it stable when it remains stationary.
But there's more to it. Standing at 80-in height, this is the tallest rack in this list. You can remove the bottom rod and move the shelf down to make space for hanging longer garments like coats and jackets! The ability to move around the shelves and the rods make it extremely versatile. Whether you are a designer looking to show off your collections or just a normal home user, it will work for all.
There are even hooks on each side that can hold up to 20 lbs. You can use them to hang your bags, hats or scarves. This rack should last a lot of years without any risk of collapsing or breaking down!
2.

Simple Houseware Cloth Rack
Weight capacity: 400 lbs
Highest height: 62-in
The Slim Houseware is a Z-base rack that can organize your clothes efficiently. Compared to the regular racks in the store, this one is a lot more sturdy, durable and able to accommodate a lot of clothes.
The material of the rack is thick and you can expect it to last a lot of years. It's mostly covered with chrome plating, however, there are certain places where the plating isn't there! But that's not a problem if you are mainly using this indoors.
The 62-in height isn't the tallest and can be an issue when you want to hang longer garments items. Other than that, you can hang as much as 30 leather jackets and more, if you have cotton and silk clothes.
Assembling this rack is easy and shouldn't take you more than 15-20 minutes. On the plus side, you can take it down and collapse it to take with you to events. In that case, you can also get a rack cover that will protect your clothes from dust during outdoor events.
It's a heavy-duty rolling clothes rack that comes with 4 caster wheels. They roll easily on bare floors and carpets. Overall, there's nothing to complain about this unit! Highly recommended!
3.

HOKEEPER Cloth Rack
Weight capacity: 450 lbs
Highest height: 70.8-in
Longer clothes can be a problem to hang in regular racks with lots of shelves. With Hookeeper's freestanding design rack with more than 70-in height, you should be able to hang almost any clothing.
In terms of quality, it's one of the best heavy duty garment racks that we have. The metal frames are coated with chrome and are resistant to water, corrosion and even scratches. For designers looking to host outdoor events, this could be a great choice!
The thing that hooked us most is the adjustable height and width of the rack. You can set this up as low as 65.7-in and take it as high as 70.8-in. The top rod is extensible sideways and can extend from 50.5-in to 74-in. This is helpful when you have small space or need to hang more clothes! The little stopper at the end of the rod is a nice touch and will prevent clothes from sliding down.
On the bottom of the rack, you will find a sturdy shelf that can hold 200 lbs. So, it should be good enough to store your shoes, luggage and other non-hangable stuff. We found the caster wheels to be extremely sturdy and efficient. You can lock them in place when you want.
4.

AmazonBasics Double Hanging Rod Cloth Rack
Weight capacity: 400 lbs
Highest height: 72-in
If you want a sturdy clothes rack in budget, AmazonBasics is your best bet. It's strong enough to hold a lot of clothes and you can hang your long clothes as well. For home users, you can't get a better rack at this price!
There are two shelves on this rack that adds a bit of versatility. You can use these to store your hat, shoes, accessories and what not. You can adjust the position of the shelves depending on what types of clothes you want to hang.
The combination of two rods gives you more space to hang stuff. The lower rod is more suited for heavier clothing and the top for lighter clothing. However, if you want to hang long dresses, you might need to take off the lower rod. But if you decide to use both, then make sure the clothes don't hang more than 25-in to 27-in lower.
The wheels are mainly rubber and are sturdy to some extent. It can hold 400 lbs when stationary and 200 lbs when moving. That means, you will need to put off a few clothes when you want to move the rack. It's the only thing inconvenient on the AmazonBasics.
5.Best Massage

Clothes Rack
Weight capacity: 830 lbs
Highest height: 71-in
For people looking for an efficient clothes organizer, you might have a look at the Best Massage rack. It's not an open design model and we can see its use when you have different kinds of garments and accessories at home.
The 830 lbs weight capacity makes it the best heavy duty clothes rack in this list! The large top and bottom shelves can hold 180 lbs each , the two small shelves 120 lbs, short hanging rod 90 lbs and the longer rod can hold 70lbs each. Engenius design!
Having 3 hanger rods gives you a lot of options. Shorter garments on the shorter rod and medium-long garments on the longer rods. We think the shelves make this rack extremely versatile. Towels, bags, shoes or whatever you can't hang can find their way here.
You can also change the height of the top and bottom shelves in 1-in increments. It doesn't have wheels, but the interesting thing is it has leveling feet. If you have an uneven surface, you can adjust the feet to make it stable and grounded. Engenius design!!
The only issue you will face is assembling the unit. But that's just a one time problem and shouldn't stop you from buying this rack.
6.

Yaheetech Clothing Rack
Weight limit: 250 lbs
Highest height: 64.6-in
The Yaheetech rack is beautifully designed and can be an awesome addition to your store, events or even home organizing! Though it's not commercial grade, it's a sturdy clothes rack that can meet your needs.
With this particular rack, you basically get two hanging posts, one is taller and another shorter. Useful to separate the longer clothes from shorter clothes. You can also adjust the height of the vertical posts from 54.7-in to 64.6-in. Even the rods are extensible and can go from 50.8-in to 74.4-in. That's a lot of room to place a hell lot of clothes!
One of the best things about its design is that you can collapse it and transport it wherever you want. You will have to do some manual work to take it apart, but once it does, it's good enough to store or transport.
This rack has a larger footprint and can take up some space at your home or event. So, you need to take that into consideration as well. The bottom rail has four plastic caps around it to prevent damaging your walls or furniture. It's a small but significant feature that not a lot of manufacturers have thought about.
7.

SONGMICS Double Rod Garment Clothing Rack
Weight capacity: 130 lbs
Height: 65-in
The Songmics rack is quite similar to the Yaheetech rack, but it's a more streamlined and minimalistic version. It has few plastic components and the majority of the frame is built from stainless steel pipes. For the price, you can ask for more!
You can adjust height on both the rails. The short front rail goes from 39.4-in to 57.1-in. This is useful for hanging regular clothes. The longer back rail can be adjusted from 39.4-in to 65-in and can hold medium-sized clothes without issues.
We also loved the extensibility of the rods. You can scratch them to 52-in apart and can provide extra space for clothes. If you are looking to fit this into a tight corner, just decrease the width of the rods to 36.2-in.
The rack has 4 rolling wheels for moving room to room. However, the wheels have a hard time rolling on carpets. Other than that, it looks like a great budget rack!
8.Econoco Cloth Rack
Weight capacity: 250 lbs. Approx
Highest height: 70-in
With thousands of models in the market, it's hard to find a durable clothes rack that will stand up to time. The Econoco garment rack doesn't have the highest weight capacity, but its 1-¼ inch rod tubing will hold up quite well.
The top hanging rod has a width of 60-in. It's not the largest that we have, but it's good enough to accommodate close to 100 hangers. There will be still room for the clothes to breathe and not smash into each other.
The Z base is a cool design that allows you to take the thing apart and store it into smaller pieces. It will be convenient if you are hosting events or changing your residence.
The freestanding and open design is helpful to hang longer garments as the height is adequate. Overall, there's nothing to take away from this rack.
9.

Honey-Can-Do Cloth Rack
Weight capacity: Not specified
Highest height: 66-in
Honey-can-do is simple, has a hanging and a single shelf. But most importantly it gets the job done! We were impressed as to how durable the rack was and the stunning chrome steel frame makes it look gorgeous.
The top rod can be adjusted vertically as well as horizontally like most of the models in this list. So, it's really easy to hang lots of different kinds of clothing without having to buy another rack.
The bottom shelf is sturdy enough to hold shoes, bags and other kinds of accessories that you need to readily find. Though there are caster wheels to move the rack, they aren't the most efficient we have seen. So, we recommend not to move this unit frequently.
10.Need A Rack Clothes Rack
Weight capacity: 250 lbs
Highest height: 65-in
The last in our list is a rack from 'Need a rack". Definitely, it can't compete with some of the other commercial-grade racks, but it still does a good job hanging your clothes.
You can choose three height settings for the top rod. Either set it up as 55-in for low hanging clothes and go up to 65-in for longer clothes. The rod can also be extended sideways for extra space.
The standout feature is its collapsible design. Once you remove the top bar, the frame collapses and becomes small enough to store under the bed. The only problem that we could find is the extensible rod can slide out when you fold the unit.
Conclusion & Editor's Choice
It's time to choose a rack! You might as well have guessed it. The best heavy duty clothes rack is definitely Homdox Double Rod. It's amazingly stable and can stand out for a lot of years taking huge loads.
That's not it. The ability to shuffle the rods and shelves gives you the freedom to organize your clothes as you want. For people having lots of longer garments, this is ideal as the height reaches 80-in.
Based on your budget, you can go for other models we reviewed. All of the listed racks are well-built and long lasting!!