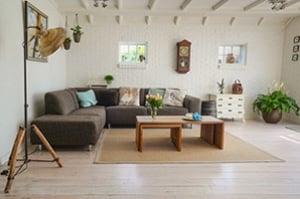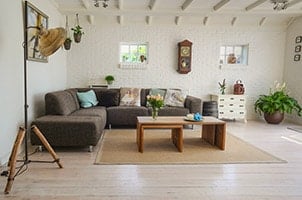 The living room is the main attraction of the house. The best way to express your sense of style and creativity is to decorate the living room meaningfully.
But it can be a little tricky to decorate the room properly when you have a small living room. You need to properly measure every angle and step to get the perfect decorating idea.
Go for furniture with smaller dimension
If your living room is small in size, then you need to go for furniture which has a smaller appearance. This way you can decorate the room without making it congested. And another thing to keep in mind that you should not put unnecessary furniture in the living room.
Ceiling light for living room
Another way of decorating the small living room is to use ceiling lights. Avoid using stand lights since those will occupy floor space. Ceiling lights will make the best use of the free vertical space of the room.
Choose the color wisely
Colors have a great role to play when it comes to making the room look bigger or smaller. Go for a wall color that will make the room look bigger such as white, yellow etc. you can ask your interior designer for advice. You can also choose a theme for your living room and match the wall color and furniture according to that.
Use hanging decoration piece
Go through this process if your living room is small. Then the best way to utilize the space is to use the vertical free space. Use hanging plants, orbs to decorate the room. Hang some paintings on the wall as well. Or you can use the string LEDs to decorate the room.
Use mirror
Using mirror in the wall for decoration is another way to make the living room look bigger. Place a large ceiling to floor mirror opposite to the window. This will reflect the lights and give the illusion of a bigger room.
Go for multi-purpose furniture
There is some furniture nowadays which can be used for various purposes such as you can use a specialized tool for the storage box. Go for this type of multi-purpose furniture. This will save up a lot of spaces.
Aline the furniture to the wall
How to place your furniture also matters. Place everything with the wall and free up as much space as you can in the center. This will give the illusion of a bigger living room.
Go for in-wall furniture
Some furniture can be engraved onto the wall. Such as an in-wall bookshelf, cabinet etc. Go for this type of furniture as this will save you some spaces.
Choose the patterns for wall paint
Go for the combination of irregular and linear wall pattern while painting the wall. His will make the wall look longer and wider than it actually is.
Keep the colors monochromatic:
Use monochromatic color as your theme. This way everything will look like a whole piece.
Add selves on the wall
You can add wall shelves and keep a lot of things there. This will not only make the room look artistic but also save you a lot of spaces.
Use area rugs
Rugs and carpets are an elegant addition to your living room. You can bring a whole new vibe and look to your living room just by using a couple of area rugs. So try this one out.
Add green
The green color is soothing for our eyes. So you can add green small indoor plants in your living room. This way your living room will achieve a clam vibe and look even more beautiful.
Consider the angle
The angles of the living room are also important to decorate it properly. Pair up with your interior planner and see which furniture will look good from which angle.
Final words
Proper steps of decoration can bring elegance your living room even if it is small in size. In case of the small living room, you have to be extra careful and thoughtful while decorating it. Because a little miscalculation can make the living room look overboard. So just follow the tips mentioned above and make your living room as beautiful as your imagination.