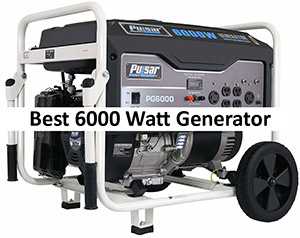 If you have a small-medium sized home and experience medium frequency of power outages, you have come to the right place. And a 6000 watt generator is all you need.
The generator market isn't huge in terms of number of brands. However, if you aren't conscious, you could end up paying a premium price for a product you could get at far less price.
After hours of research and real user review analysis, we finally present you the 6 best 6000-watt generators in the market. If you guessed right, these are all portable generators that won't break your bank.
Note: For people with even lesser needs, you can look for 3500-watt generators and we have a detailed guide on it. Read here.
6 Best 6000 Watt Generator 2021 Reviews
Click a link below to jump to the relevant section
1.Westinghouse WGen6000 Portable Generator
Fuel tank capacity: 6.6 gal
Run time: 13 hrs at 50% load
Fuel type: Propane or Gasoline
Noise level: 80 dB
Westinghouse is one of the most reliable portable generator brands in the market. The Wgen6000 is the best 6000 watt generator for small and medium sized homes with frequent power outages. Its durable cast iron sleeve and 4-stroke OHV engine makes it a really powerful machine to look out for.
The Wgen6000 might not be a RV ready generator, but the ability to connect to a transfer switch makes it user-friendly and most importantly home-friendly. It also comes with oil and oil funnel to get you started in seconds.
Compared to other generators, it is 30-40% more efficient and supports high surge loads. That's the kind of performance you want from a generator and Wgen6000 won't let you down.
You will get 4 GFCI outlets for running home appliances and they also prevent fire and shock hazards. Additionally, the outlets have rubber covers on them which we think is a deal maker for many users. This will save your generator from dust or rain drops and prolong the life of the engine further.
This portable generator comes with both recoil and electric start. So, if one doesn't work, you always have an alternative on hand. The onboard battery charger port was a surprise addition and can help to extend the battery life.
Overall, the Westinghouse generator is for those who need to power up larger appliances and needs back up electricity every time an outage occurs.
2.

WEN GN6000 6000-Watt Portable Generator
Fuel tank capacity: 3.4 gal
Run time: 7.5 hrs on 50% load
Fuel type: Gasoline
The WEN GN6000 generator might not be as powerful as the Westinghouse generator. However, it has some pretty useful features that might make you think otherwise. It's a compact unit that can be easily transported without any hurdles.
This machine can power up everything from ACs to Air compressors and even different hand tools like tables saws and Welders. It operates much quietly and for the price, you can't really complain.
You won't be getting an electric start function on this generator. But the recoil start is efficient and doesn't require more than two pulls to start. Compared to a lot of recoil start only generators in the market, WEN is a better contender.
WEN is fairly user-friendly. The digital display helps you to know about the voltage and runtime. So, it makes it easier to schedule maintenance and monitor the output of the generator.
The only thing that might annoy you is the way you need to pull the cord. You need to pull it at a 90-degree angle towards the handles. The cord won't fray as the cord housing is rounded and with time you will get used to it.
In short WEN is the right choice for comparatively smaller homes or if you are planning to use it with your RV. Highly recommended!
3.

Pulsar Portable Gas-Powered Generator 
Fuel tank capacity: 6.6 gal
Run time: 15 hrs at 50% load
Fuel type: Gasoline
Noise level: 72 dB
The Gasoline powered Pulsar is one of the great portable generators in the market. It can run 3 big home appliances at a time which could be a big deal for many homeowners.
In total, you will get 7 outlets to power up lots of tools, devices and appliances. This is one of the USPs of Pulsar that is hard to beat at this price range. Additionally the 4-stroke air cooled engine offers more fuel efficiency than you can expect.
The generator has a low oil indicator and automatic voltage regulator. It's sufficient to say, it will make your life easier. The 3-in-1 digital meter makes it more user-friendly and helps you keep track of maintenance.
It comes with both recoil and electric start. With any generator having both of these features, you won't be scratching your head if either one of them is not working. As for mobility, the dual drop down handles and the never flat wheels saves the day.
Pulsar doesn't come with oil in the crankcase and that could be a little frustrating as you will need to have a compatible oil to get started right away. 1.1 quarts of 10W-30 should be good enough for this awesome machine.
4.

A-iPower Portable Generator 
Fuel tank capacity: 7 gal
Run time: 12 hrs at 50% load
Fuel type: Gasoline
Noise level: 74 dB
If you haven't bought an A-iPower generator before, you might want to check it out. Because it's one of the best 6000 watt generators in the market right now. The sturdy tubular frame and Seamless welding adds in lots of durability.
The higher starting wattage will enable you to turn on your internet, lights, fans, fridge and pump all at the same time. It's also capable of powering up 2-3 power tools. Together with the easy to pull recoil start, you are ready to get started right away.
There are 7 outlets in the generator with outlet covers to protect against dust and weather. The good news is one of the outlets is USB and it will help you to charge small electric devices like tablets or mobile phones.
The generator is certainly quieter than comparable models but not as quiet as an inverter model. But that won't be much of an issue if your generator is placed outside the home.
Some of the additional features in A-iPower are pretty useful. There is a low oil shutdown feature that will keep the unit safe. And the digital hour meter will help you track the output in real time.
5.

All Power America Generator
Fuel tank capacity: 6.6 gal
Run time: 8 hrs at 50% load
Fuel type: Gasoline
Noise level: 76 dB
If you need a budget-friendly generator that can offer 6000 watts of starting watts, the All Power America is a great choice. It might not have the brand value like the Westinghouse or WEN, but it does a great job.
The unit comes with 4 outlets including one that can be used with a RV. For those summer camps and tours in the wilderness, it should be a straight purchase. The automatic voltage regulation & low oil shutdown features will keep you sane as it will ensure frustration-free usage.
The lower starting watts doesn't do good for running large appliances. However, in case of an emergency, you will be able to run your refrigerator, lights, fans and the TV all at the same time. For many users, this should be more than enough.
One thing you need to consider when buying this machine is that it comes without an electric start. But if you are used to recoil starts, this shouldn't be a deal breaker.
6.

Yamaha Gas Powered Portable Generator
Fuel tank capacity: 6.9 gal
Run time: 12 hrs at 50% load
Fuel type: Gasoline
Noise level: 74.5 db
You can get a Yamaha generator if you are willing to spend top dollars. The advantage is you will be getting a super-reliable product that has powerful brand value. It has a high-quality construction that will keep the machine running for years to come.
The generator gives you 6 outlets to power up appliances and lots of power tools. For anyone involved in woodworking or DIY stuff, this should be a top choice. As it comes with locking handles and wheels, it should give you more freedom to move around.
Yamaha has an interesting ground fault circuit interruption function. If there is any leak to the ground, this function will sense it and prevent any potential risk of shock. The generator has different types of monitoring tools like fuel gauge and digital fuel-consumption to make it user-friendly.
Last but not the least, it also has an auto check and electric start to make it easier to get started. These small but significant features are the reason behind the higher price margin and for many users it is well justified.
Conclusion & Editor's Choice
So, what's the best 6000 watt generator in terms of value for money? It's an easy decision. The Westinghouse WGen6000 is the winner with the highest starting watts compared to others in this list as you will be able to run larger appliances. It's far more fuel efficient and has some of the best user-friendly features in this category of generators.
Let us know if you have any suggestions regarding portable generators. You might as well check out our guide on 15000 watt generators if your needs are much higher.