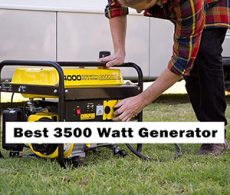 You can always get a portable generator with more power for your home or Rv. But only quality generators will give you clean energy that will keep your devices safe.
Even home appliances these days have microprocessors. If your electrical supply isn't clean and free of harmonic distortion, you can end up with thousands of dollars in damaged products.
For long term benefit, you might spend a little more and get the best 3500-watt generators. And.if you need more power, you can always add more in parallel connection. Some of the models we reviewed have this capability.
Without further ado, here's what we found for you!
Top 10 High Performance 3500 Watt Inverter Generator 2021
1.

Champion

Portable Generator 
Fuel Tank Capacity: 14.2 L
Run time: 12 hours
Noise level: 68 dBA
Our 1st choice for the 3500-watt generators is champions portable generator. With 4000-watt starting watts, you can power up 15000 BTU RV AC and lots of essential devices at home. It's a life saver for emergency power outages.
This unit is equipped with a cold start system to ensure efficient starting during intense cold weather. The volt guard will keep your devices safe and prevent overloads. Additionally, you can monitor the power output using the voltmeter.
It's got 3 outlets that can support most home devices and appliances. It might be not as quiet as some of the premium brands in the market but totally bearable considering the price. If you want to carry this unit, you may as well add the optional wheel kit later.
Pros:
Protection against voltage spikes and overloads.

Can power up large RV air conditioner.

Shuts off when the oil level is low.

Hassle-free startup.
Cons:
Not capable of parallel connection.
2.

Generac 7127 iQ3500 Inverter Generator
Fuel Tank Capacity: 9.8 L
Run time:  8.9 hours at 50% load
Noise level: 66 dBA (estimated)
While Generac claims it's 40% quieter than Honda, we wouldn't agree too much on that. However, at almost half the cost, this is truly one of the best 3500-watt inverter generators in the market.
It's built to last a long time as the enclosure is made of steel. You get to monitor everything from wattage, run time to the fuel level. The best part is it has USB ports. Just plugin your smartphones and tablets and they are ready to be charged.
If your power requirement is more than 3500 watts, you can connect two of these Generac models in parallel. It has a battery for the electric start feature to function properly.
Overall, if you really want the performance of premium inverter generators but want something in budget, this is the brand for you!
Pros:
Compact and lightweight design.

Monitor status of output and run time.

Electric start as well as pull start available.

USB ports to charge your small devices.
Cons:
Not as quiet as advertised.
3.WEN 56352 Gas Powered Generator
Run time: 11 hours at 50% load
Noise level: 67 dB

WEN is an equally competent inverter generator brand that can power up everything from lights, sump pump to more sensitive electronic devices. The 11-hour runtime is more than enough for emergency situations.
This is a portable unit that comes with a wheel kit and foldable handles. To make it more user-friendly, a digital meter is installed that will let you know when to change oil and do maintenance.
It has 4 outlets including two household outlets that can give you the option to connect more home appliances at the same time. The unit will shut down when the oil level is low and has an built-in overload protection for long-lasting use.
At 67 dB, the external sound isn't that loud. If you manage to install it outside your home, it would only feel like a gentle humming. Worth purchasing!
Pros:
Comes with wheels and handles for carrying.

Connect more household appliance.

User-friendly digital meter.

Pull cord for startup is easy to operate.
Cons:
The Pull cord is not optimally positioned.
4.Predator

Super Quiet Inverter Generator
Fuel Tank Capacity: 9.8 L
Run time: 11 hours at 25% load
Noise level: 57 dB
Predator is one of the great 3500-watt generator that's worth buying. It can power up refrigerators, lights, laptops and other devices with clean electricity. In that way, the risk of device damage is greatly reduced.
The digital LCD display shows you low oil level and the output. It has an overload protection system to keep everything safe. You will get 4 outlets in this unit and that's good enough for most people.
For ease of carrying, you will find smooth casters attached to the generator. One of the best things about Predator is its quiet operation. 57 dB is a lot less compared to the other similarly priced brands.
Pros:
Electric start makes life easier.

Digital display for monitoring output and oil level.

Variety of outlets for different appliances and devices.

Quiet operation.
Cons:
Might not work with some RV ACs.
5.

Green-Power America GPG3500iE

Inverter Generator
Fuel Tank Capacity: 15.1 L
Run time: 13 hour at 75% load
Noise level: 60 dBA
If you haven't heard of Green Power America, you might as well take a look at this model. It has a large fuel tank and does the job of powering your home or RV perfectly.
The generator is compact and you can easily carry using the wheels. Both the wheels and front legs can be removed if you don't need them.
It has a number of user-friendly features including LED indicator for low oil level and overload. The only thing missing is a digital meter to know the output and the exact oil level. However, it has an hour meter that helps a lot.
What's great is it has a built-in parallel connecting kit. If you need more power, you can connect two of these G-P America inverter Generators with the help of an additional cable.
Pros:
Can power up 12k BTU and up RV AC.

LED indicator for oil and overload.

Ready for parallel connection.

Compact design makes it easy to carry.
Cons:
Digital meter is not included.
6.

Champion

46565 Portable Generator
Fuel Tank Capacity: 14.4 L
Run time: 12 hours at 50% load
Noise level: 68 dB
With 4000 starting watts, you get a bit more freedom to connect bigger appliances that need more power. This champion generator won't break your bank and will keep your home alive during power outages.
The wheels on this model are of better quality and don't go flat ever. If you are camping or living in a RV, this is a great model to consider.
The remote control start is a great feature that only a handful of brands have in the market. This makes your life easier as you won't have to run again and again to turn the generator off/on. On top of that, the unit will shut off if the oil level is low.
At 68 dB this isn't the most quiet generator out there. But it's bearable. Keep in mind, it's a non-carb compliant generator, so you can't use it in California.
Pros:
8-inch never flat tire for easy carrying.

Remote control start with battery.

Low oil level shut off function.

High run time.
Cons:
Not usable in California.
7.

Champion

Dual Fuel Portable Generator
Fuel Tank Capacity: 12.9 L
Run time: 9 hours at 50% load
Noise level: 68 dBA
Here's another portable generator from champion. This one is a lot more versatile with dual-fuel capability and higher starting watts. With propane, you can save a ton of money and even store it for later use.
It has a monitoring system to keep track of voltage, run time and the output. The volt-guard will take care of overloads and the unit will shut off when the oil level is low.
At 4375 watts, you can easily run a 15000 BTU RV air conditioner with no issues. You have two household outlets together with 4 outlets to connect lots of devices and appliances.
The only thing that could be improved is the startup function. It doesn't have a remote feature.
Pros:
Keep track of everything with intelligauge.

Shuts off at low oil level.

3.3-ft propane hose included.

Dual fuel makes it extremely convenient.
Cons:
Only has pull start and no electric start.
8.

Sportsman GEN4000 Generator
Fuel Tank Capacity: 13.6 L
Run time:  10 hours at 50% load
Noise level:  69 dBA
Many of these portable 3500-watt generator models have similar quality build and features. Sportsman isn't any different. It has a moderate run time and can power up fridges, TVs and even microwaves.
It uses a 7 HP OHV engine, so you can expect high performance and reliability. On the plus side, this unit has a low oil shutdown feature. There's nothing too far and beyond to brag about this thing, but it will get your job done as good as the others.
The only thing different Sportsman has is the 6 outlet arrangement. 4 of these are 120 volt outlets and that really helps for household owners. The start up is usually smooth and doesn't require more than a pull or two to turn it on.
Pros:
Lots of outlets to connect different kinds of devices.

Shuts down when oil level is low.

Smooth start up.

Optimum fuel tank capacity.
Cons:
Doesn't have a monitoring system.
9.

Pulsar Inverter Generator
Fuel Tank Capacity: 4.5 L
Run time: 8 hours at 50% load
Noise level: 59 dB
We know you are here for the good quality 3500-watt generator. Though Pulsar runs at just 1600 watts, you can easily use one or two more of these to get your desired power. It's quiet operation and loads of positive reviews forced us to include this.
This model is super compact and weighs just 47 lbs. Picking up and placing it anywhere would not be a big problem. Even if you place this just 10 feet away, you will hear almost no noise at all.
Sometimes, a generator can remain unused for years. But whenever you have a power outage, the Pulsar will start running with no issues. The pull cord is always helpful in these situations. Additionally, it has an electric start up option.
Some users have also powered up 15000 BTU ACs with it. Considering the quality and price, this is worth purchasing.
Pros:
Can connect more generators in parallel.

Smooth start up even after years of storage.

Ultra quiet operation.

Compact and lightweight.
Cons:
10.

Powerhorse Inverter Generator
Fuel Tank Capacity:  9.8 L
Run time:   11 hours at 25% load
Noise level:  57b dBA
The last among our list is the Powerhouse Inverter Generator. It's a fuel-efficient model that can also work in parallel connecting two of these units at the same time.
It might as well last quite long as it has 100% copper-wound heads. As a result, overheating is minimized for increased durability. Plus you also get a wheel kit to carry it efficiently.
The unit comes with a battery pack to make startup effortless. You can easily control the engine power depending on output you need. That's the reason for low fuel consumption. The only thing to complain is the low oil level shutdown feature can be a little bit sensitive sometimes, resulting in engine shutdown.
Pros:
Control engine to save fuel.

Connect more generators for more power.

Protection against overload.

Electric start saves hassle.
Cons:
Low oil sensor can be a bit sensitive sometimes.
FAQ
What Can You Run on a 3,500-Watt Generator?
If the starting watts are more, you can run bigger appliances. But in general here are the most essential things you can power up using a 3500-watt generator:
10 energy saving LEDs (140 watts consumption)

A freezer (700 watts consumption)

A refrigerator (700 watts consumption)

A 1/3 Sump pump (516 watts consumption)
This is for 25% surge capacity. So, if you have more starting watts, you can power up more appliances and devices with no issues.
Conclusion
It's important to know that all the 3500-watt generators we reviewed are almost similar in the value they provide. Some might have more brand value and others a few extra features.
Depending on your budget, your purchase decision will vary. It's always great to have user-friendly features, but the generator that gets your job done is all you need.
Let us know if you have any suggestions or questions. We will get back to you!