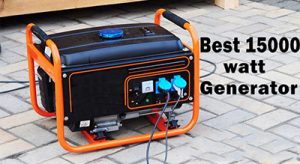 On a hunt for the best 15000 watt generator? You are in the right place.
If you are living in states like Florida, Texas or even California, you might well experience a lot of power outages around the year.
Storms, hurricanes, vehicle accidents and many other weather factors can impact your electricity supply!
Enter portable generators. These will help you to gain back up electricity with no real stress. For homes and offices with lots of appliances and power needs, a 15000 watt generator is just the right machine to buy.
In this review, we analyzed 10 generators with lots of user-friendly features and plenty of outlets to power up a wide range of appliances and devices.
Here you go!
| Images | Product Name | |
| --- | --- | --- |
| | Generac GP15000E Generator | |
| | DuroMax XP15000EH Generator | |
| | NorthStar Portable Generator | |
| | A-iPower SUA15000ECV Generator | |
| | DuroMax XP15000E Portable Generator | |
| | CAT Portable Generator | |
| | Champion Portable Generator | |
| | Pulsar PG15KVTWB Dual Fuel Generator | |
| | Westinghouse WPro12000 Generator | |
| | Kohler 14RESAL Generator | |
10 Best 15000 Watt Generator  2021
Click a link below to jump to the relevant section
1.

Generac

GP15000E Generator
Starting watts: 22500
Running watts: 15000
Fuel tank capacity: 16 gallons
Fuel Source: Gas
The Generac 5734 is the best 15000 watt generator and its capabilities are unmatched compared to any other portable generator at this range of power.
The starting watts are way higher than other models we reviewed. This will help you to power up large homes, offices or high wattage appliances. The 9 outlets enable you to connect a wide range of appliances. As the outlets are circuit-breaker protected, the power supply is smooth.
Generac has a 992cc OHVI engine equipped with full pressure lubrication and automotive style spin on oil filter that makes the unit durable. On top of that, the steel tube cradle adds more strength.
The generator has additional features like hour meter, idle control and low oil level shutdown. The electric start function makes it extremely easy to operate. For moveability, it has pneumatic wheels capable of moving on any type of surface and added lifting eye.
Keep in mind, the generator is not intended for small homes under 3600 watt requirement. In that case, the engine will hunt and the power will fluctuate.
Pros:
High starting watts enables powering large facilities.

Full pressure lubrication adds durability to the engine.

Saves fuel usage with idle control.

Wide arrangement of outlets with circuit-breaker.
Cons:
Instructions are hard to read (might need expert help to install).
2.

DuroMax XP15000EH Generator
Starting watts: 15000
Running watts: 12000
Fuel tank capacity: 8.3 gallons
Fuel Source: Dual fuel (Propane/Gas)
Duromax XP15000EH is one of the few generators you can find in such a budget that has the ability to run both on propane and gas with lots of watts to power up your home/office.
It uses a 713cc, 23HP V-Twin Duromax engine. The advantage of using propane is you can store it a lot longer than gas and has a better fuel efficiency. Thus making this portable generator extremely popular among people with frequent power outage.
You got 7 outlets for powering up a handful of appliances. You can even connect some central AC models and also an RV with 50 amps. That's pretty useful.
The unit has the option for both electric and recoil start. You can also add an extra muffler because of the current muffler having a lip and pre drilled hole.
The only issue we could find was the tires are not pneumatic. So, they might not hold up the weight of the generator quite well. Consider replacing them or fill it up with spray foam.
Pros:
Runs on both gas and propane.

Built in digital voltmeter to track output and maintenance hours.

Can power up certain central ACs and 50 amp RVs.

Comes with a propane hose.
Cons:
Tires may go flat as they are not pneumatic.
3.

NorthStar Portable Generator
Starting watts: 15000
Running watts: 13500
Fuel tank capacity: 11 gallon
Fuel source: Gas
Northstar makes some of the best 15000 watt portable generators in the market. As evident from its 22 Horsepower Honda engine and the above average running wattage.
The unit uses copper winding heads instead of aluminum heads. And that's the reason it has the ability to run on full load for a longer period and still remain reliable and durable. It provides almost clean power with less than 5% harmonic distortion.
The full roll cage makes the unit strong and robust along with the solid base to hold up against dirt from entering the engine. The design is impeccable.
The best part of Northstar is the wide selection of outlets which are 11 in total. You get 8 household outlets which gives you freedom to run lots of small appliances at a time.
At 325 lbs, it's a heavy unit but still the lightest among the units we reviewed. You do have the option to add wheels (not included) to gain portability.
The Price is a lot higher than the other models, but the reliable Honda engine and 11 outlets compensates for that. Recommended!
Pros:
Auto shutdown when oil level is low.

Reliable and well protected engine.

Wide range of outlets with lots of household outlets.

Copper winding heads enables longer runtime on higher loads.
Cons:
Wheels not included with the unit.
4.A-iPower SUA15000ECV

 Generator
Starting watts: 15000
Running watts: 12000
Fuel tank capacity: 8 gallon
Fuel source: Gas
The A-iPower generator has some great selection of outlets along with clean power to keep your sensitive devices alive. It has some unique touch to its design that makes it one of the best 15000 watt generators and stand out among the giants we reviewed so far. 
The brushless high performance alternators makes it possible to power up tools and other devices with motors at the same time. With only 5% harmonic distortion, your sensitive devices remain safe as ever.
It doesn't have a lot of outlets but the ones included are very handy. It's equipped with a DC adapter plug to charge batteries. The cool thing about the unit is the outlets are covered. This is a rare feature that provides protection against dirt and gas entering inside.
The Control panel is placed in a user-friendly position to have easy access and visibility. The electric start is another user-friendly feature worth mentioning.
It comes with 4 wheels to aid portability. However, these are not all terrain wheels, so would be a bit difficult to maneuver on grass or dirt.
Pros:
Greater peak wattage with brushless alternator.

DC adapter plug enables charging batteries.

Covered outlets protects against dirt and debris.

User-friendly control panel design.
Cons:
Wheels included are not suitable for grass or dirt terrains.
5.

DuroMax XP15000E  Generator
Starting watts: 15000 
Running watts: 12000
Fuel tank capacity: 10.8 gallons
Fuel source: Gas
The Duromax XP15000EH is quite similar to the XP15000E we reviewed earlier with just a few minor differences. It's got a large fuel tank and is powered by only gas.
The generator has a 713cc V-twin engine equipped with a steel roll cage for durability and smooth operation. It provides enough power to handle lights, heavy home appliances and power tools altogether.
Just like the other Duramax generator, this unit can power up RVs and certain central AC units. The number of outlets provided are enough for most homes and medium sized offices.
The inclusion of digital voltmeter and electric start speaks for the user-friendly design of the generator. We loved the removable lifting brace on this as it will help you to carry the unit easily. The wheels are the only issue as they are flat and non pneumatic.
Pros:
Stow-away handles and lifting brace aids moveability.

Powers up RVs and central ACs.

Monitor the output and hours with digital voltmeter.

Sufficient tank capacity.
Cons:
Wheels run flat as these are not pneumatic.
6.CAT Portable Generator
Starting watts: 15000
Running watts: 12000
Fuel tank capacity: 13.2 gallons
Fuel source: Gasoline
When it comes to technical machines, CAT is a reliable and world-class brand. This portable CAT generator is enough to provide more than 11 hours of power back up to your entire home.
The unit generates electricity with low harmonic distortion. It has as much as 9 outlets to power up everyday electronics and large appliances. The extra LED lights on the control panel are great for viewing in the dark when the power is out. 
The 670 cc v-twin OHV engine has an idle option that minimizes fuel consumption and also prolongs life of the engine. The power this machine has is enough to run a 3 ton central AC with no issues.
Additionally, there's a low oil levels shutdown function to keep the unit safe. You will love the padded hinged handle as it helps to easily move around the machine. The deal-breaker is the fuel tank which is placed above the engine to reduce noise.
Pros:
Shuts down when the oil level is low.

LED lights on control panel.

Lots of outlets.

Strategically designed to minimize noise.
Cons:
The idle mode can sometimes malfunction.
7.

Champion Portable Generator
Starting watts: 15000
Running watts: 12000
Fuel tank capacity: 5.9 gallons
Fuel source: Gasoline
Champion generators are always packed with user-friendly features. This unit is capable of supporting your 9 hours on a full tank. Plus, its all-electric start saves you from loads of hassle.
The 717 cc V-twin engine on this generator is powerful, reliable and capable of handling large central ACs. You get 8 outlets in total including 4 household outlets. That means, you can power up lots of home appliances at once. The best thing is all the outlets are covered and this reduces the chance of dirt and debris entering inside.
There's a volt guard that will protect the unit from overloads. You can expect it to last longer and make your money worth it. The intelligauge will help you keep track of run time and output. The engine starts smoothly even in the winter as it has a cold start function.
The only thing that could have been added was a pull start. Sometimes when the battery fails, this option comes in handy. But you will have to bear that.
Pros:
Smooth start in any weather.

Folding handle makes transport easy

Monitor everything with the intelligauge.

CARB compliant.
Cons:
The pull start option isn't available.
8.

Pulsar PG15KVTWB Dual Fuel Generator
Starting watts: 15000 on gas/13500 on propane
Running watts: 12000 on gas/11000 on propane
Fuel tank capacity: 5.9 gallons
Fuel source: Gasoline/propane
You will love the Pulsar generator for one reason: It has a dual fuel functionality. Gasoline is good but the ability to run on propane is even better. Propane can be stored for a longer period and hence much less hassle.
It uses a 713 cc V-twin engine. So, it's quite powerful and can power up most of the appliances at your home. For easing start up, it is equipped with an electric push-button.
In total there are 7 outlets with a 50A RV outlet. This is useful when you go on road trips on your RV. This will be a great addition to your solar power to let you enjoy all kinds of RV appliances.
You will also find a folding handle on this model. When you are done carrying, simply fold it and reduce space consumption.
Pros:
Dual fuel capacity is high convenient.

Electric button for effortless start up.

Option to connect your RV appliances.
Cons:
9.

Westinghouse Portable Generator
Starting watts: 15000
Running watts: 12000
Fuel tank capacity: 10.5 gallon
Fuel source: Gasoline
The Westinghouse has all the essential features to make it a reliable generator for any home. Its large gasoline tank can power up your home for 16 hours continuously. Less top up and less stress!
The 713cc OHV V-Twin engine has a cast iron sleeve that makes it ultra-durable and long-lasting. There are 5 outlets with a 120 V outlet that can be connected to a transfer switch. For more security, these outlets are covered in rubbers.
It features a remote start function that can save you time and effort from running outside when the power is down. When everything fails you have the option for an electric and a recoil start.
There's an oil level shutdown feature to protect the engine. It's also fuel-efficient as the smart idle function keeps the consumption low when the load is low. That's the reason why it's one of the best 15000 watt generators in the today's market.
Pros:
Longer runtime than average.

Lots of starting up options including remote start.

Transfer switch can be installed.

Shuts down when the oil level is low.
Cons:
10.

Kohler 14RESAL Generator
Starting watts: 14000
Running watts: 12000
Fuel source: LPG/Natural Gas
One of the coolest things about this Kohler generator is that it doesn't look like a traditional generator. It's compactly designed with an appealing outlook. It's quiet, reliable and certified electricians simply can't avoid complimenting!
If you want to get this, you might need to increase your budget a little more. However, the quality pays off big time. It's an air-cooled unit designed to last far longer than usual models. The best part is it starts off automatically in just 1o seconds after a power outage.
The noise level is just 67 dBA, which is quieter than average portable generators. You will hear absolutely nothing when you are inside the home.
Apart from that, the unit is totally corrosion-proof. Even if you are living near the sea, it will function smoothly for years. 
Pros:
Fast automatic startup.

Corrosion-proof enclosure adds durability.

Quiet operation.

Carb compliant.
Cons:
The price of replacements parts are high.
What to Consider Before Buying a 15000 Watt Generator?
1. Types of generator to consider
Portable vs standby: All the generators reviewed in this post are portable. These generators are easier to carry and are used as a backup power source for emergency cases. Standby generators on the other hand are expensive, powerful and are often used as a permanent unit.
Single vs dual-fuel: Single fuel generators are common and are often powered by gas. You can also find dual fuel models that run or both gas or propane. The Duramax XP15000EH is the only dual-fuel generator we have in this list.
2. Power Output
For determining the power output you need, things like starting watts and running watts become important.
If you want to power larger appliances and heavy tools, you will need a generator with higher starting watts like the Generac 5734. Otherwise, anything near 15000 watts is perfect for most homes and offices.
List all the items and add their wattages and multiply by 1.5. This will be the optimal starting watt you need.
3. Fuel Tank capacity and total runtime
You will find portable generators having fuel tanks in the range from 8-11 gallons. These are enough to give you 7-10 hours of runtime at 50% load. The Generac 5734 has 16 gallon capacity and runs 10 hours straight on 50% load. 
4. Durability and reliability
The durability of the generator will largely depend on the quality of the parts, whether they are corrosion-free or not. Most units have a robust steel frame to protect the engine.
Outlet covers are great to have in a generator as it will protect against dirts getting inside the machine. The A-iPower is the only model that has this feature.
The build quality of the engine makes the unit reliable. All of the generators here come with high quality and top notch engines that are made to last for years.
5. Types of outlets
There are different kinds of outlets on a generator including household GFCI outlets and Twist lock outlets. The Northstar generator has the most outlets with as many as 8 household outlets.
Some generators like Duromax XP15000E and XP15000 EH have 50 amp outlets that let you power up larger appliances and RVs.
Make sure to use amp cords according to the amps of the outlets.
6. User-friendly features
Here's some of the user-friendly features found in the best 15000-watt generators:
Wheels for moving.

Handles for carrying.

Electric start for hassle-free operation.

Voltmeter for monitoring outputs.
FAQ On 15000 Watt Generator
1. What can I run with a 15000 watt generator?
A 15000-watt generator will help you run the following items at a time: AC, Refrigerator, sump pump, dishwasher, Microwave oven, washing machine, lights, laptop, flat-screen TV and Coffee maker. It can power up large homes and medium-sized offices with no problems. Use the generator size calculator to determine your needs.
2. What sort of maintenance is needed for 15000-watt portable generators?
Here is the generator maintenance guideline:
Change oil after first 30 hours and then after every 100 hours.

Change plugs and air filters after every 200 hours.

Empty tank when putting out in storage.

The battery needs to be charged for the electric start to operate.

Start the generator after every 30 days when kept in storage.
Conclusion and Editor's Choice
When it comes to powering up large and wider selection of appliances, the Generac 5734 is the best 15000 Watt generator in the market.
With 22500 starting watts, this is a workhorse and has the highest fuel tank capacity. Even the tires are pneumatic and will be able to move on almost any surface, making the unit truly portable.
For comparatively smaller homes and premises, you can choose among any of the other models.
If this post helped you to learn more on generators and make the right purchase, feel free to share it with friends and family.