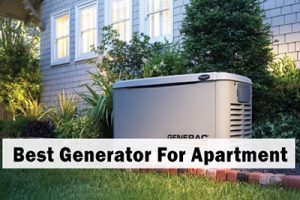 Searching for the best generator for apartments for emergency outages? You are in the right place!!
If you are in a region, where power outage occurs less and has a significantly short span, you are probably good without it or just a small portable unit will do.
But for permanent establishments with risk of frequent outages, especially due to storms, hurricanes and other unforeseeable situations, you definitely have to have a generator connected to your premise.
Let's face it! You can't live without lights, refrigerator, water pump and the AC.
We listed and reviewed 10 generators ranging from high capacity standby units to lower capacity portable units.
Here they are!
| Images | Product Name | Wattage | |
| --- | --- | --- | --- |
| | Kohler 20RESCL-200SELS Generator | 20000 watts | |
| | Generac 7043 Home Standby Generator | 22000 watts | |
| | DuroMax XP12000EH Generator | 12000 | |
| | WEN Portable Inverter Generator | 2000 | |
| | Generac 7033 Guardian Series Generator | 11000 | |
| | Champion Portable Generator | 12000 | |
| | Champion Dual Fuel Generator | 3800 | |
| | Jackery Portable Generator | | |
| | Durostar Portable Generator | 4000 | |
| | Predator Inverter Generator | | |
10 Best Generator for Apartment 2021 Review
1.

Kohler 20RESCL-200SELS Air-Cooled Generator
Wattage: 20000 watts
Fuel source: Propane/ natural gas
Noise level: 69 dBA
The Kohler 20RESCL is the best 3600 rpm generator out there. It's built with total corrosion-proof enclosure and can power up your whole premise in less than 10 seconds automatically.
You can choose between a 200 or 100 amp transfer switch. The harmonic distortion is just less than 5%, making it perfect for powering up all sorts of sensitive devices safely.
With proper maintenance and oil change as per the recommendation, it can last over 5 years. The noise dampening enclosure makes it run quietly, giving you and your neighbors peace.
A great thing about this unit is that you can get the Kholer oncue Generator Management system and monitor everything wirelessly. This saves you time and hassle from running out to the generator every time.
The only frustration you will face is probably the installation. It's better to leave that to professionals.
Pros:
Restores power in as less as 10 seconds.

Ability to install wireless monitoring device.

Corrosion-proof enclosure aids operation in harsh conditions.

Long life span.
Cons:
Installation is complicated.
2.

Generac 7043 Home Standby Generator
Wattage: 22000 watts
Fuel source: Propane/natural gas
Noise level: 67 dBA
The Generac 7043 is one of the best generators for apartments with high wattage capacity and durable weather-proof aluminum enclosure. For large homes and offices, it's just like a magical genie providing instant electrical power!
The G-force engine of Generac is ultra reliable and durable. 3 of the sides are removable, which makes maintenance easier. It's equipped with a 200 amp smart transfer switch for smooth power restoration.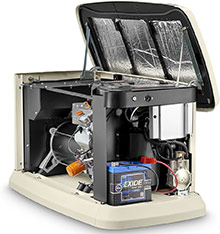 On a high note, it has a LED indicator for monitoring the status and level of maintenance required. You can also install the mobile link device for monitoring wirelessly. To keep the engine safe, it has a low oil level shutdown function.
The unit should last a long time with proper use and installation. Keep in mind, it doesn't come with a battery like most standby generators do and so it doesn't have an alternator either.
Pros:
Equipped with highly reliable G-force engine.

Aluminum enclosure- Performs smoothly in all conditions

LED indicator for monitoring status.

Supports wireless monitoring devices.
Cons:
No alternator included as the battery has to be purchase separately.
3.

DuroMax XP12000EH Dual Fuel Portable Generator
Starting watts: 12000, Running watts: 9500
Fuel Source: Propane/Gas
Tank capacity: 8.3 gallons (gas)
Run time: 8.83 hours at 50% load
Noise level: 74 dB
Duromax makes some of the best portable generators for apartment in the U.S. The starting wattage is great to power up a medium-sized home in the least possible price range. With 5 outlets, it can support a decent range of appliances.
The XP12000EH is a user-friendly unit and it comes with both electric and recoil start. The voltmeter is a bonus to monitor electrical output. Additionally, you get circuit breakers and low oil indicators.
The frame is heavily built with metal. On top of that, it's equipped with a large muffler and built-in spark arrestor to reduce noise and maintain smooth operation. The DuroMax MX2 technology provides maximum power from the 120 volt outlets.
Overall, this is a reliable unit that can perform at its best on odd days and power outage situations. The flat wheel is the only thing that we are a bit disappointed about.
Pros:
User-friendly functionalities featuring electric start and volt meter.

Durable metal frame with isolated motor mounts.

Oversized muffler keeps noise at minimal level.

12V DC helps in charging external batteries.
Cons:
4.

WEN 2250-Watt Portable Inverter Generator 
Starting watts: 2000, Running watts: 1600
Fuel Source: gasoline
Tank capacity: 1 gallon
Run time: 6 hours at 50% load
Noise level: 53 dB

The WEN 56225i is a super-efficient generator that has a lightweight design and a unique fuel-saving function. It can charge up your sensitive devices safely and power up medium-range home appliances.
The eco-mode function makes it one of the best apartment generators in the market. So, when you connect and disconnect different devices, the generators automatically adjust the fuel consumption. In the long run, you save more fuel.
If you want to power up a heavier appliance, you can easily opt-out of the eco-mode. It also supports 3 prong appliances and connects USB devices directly.
The 48.5 lb weight allows you to take it camping or tailgating. The best part is it has a USDA-approved spark arrestor, so it's safe to use in parks or forest without going into legal dispute.
Additionally, you can connect more of these generators in parallel if the current power isn't enough for your requirements. The only downside is the generator has a comparatively lower shelf life.
Pros:
Eco-mode saves unwanted fuel consumption.

Connect USB devices directly with safe output.

Shuts down automatically when fuel level is low.

Lightweight and easy to carry.

Super quiet operation.
Cons:
5.Generac 7033 Generator
Wattage: 11000
Fuel source: Propane/natural gas
Noise level: 63 dBA
The Generac 7033 is almost identical to the Generac 7044 we reviewed earlier. It's one of the best generators for apartments of small to medium sizes. It has the same G-force engine which makes the unit highly reliable.
It is equipped with a 200 amp transfer switch for fast backup. The LED indicators make this unit user-friendly as it helps to monitor the status. Additionally, you can install the Mobile Link device for wirelessly monitoring the generator.
It has an automatic exercise cycle for running the unit 20 seconds every week. This helps to ensure that the generator is working at an optimum level. So, no stress during unexpected power outages.
The aluminum enclosure protects the generator from adverse weather conditions all year around. You can also remove 3 sides for efficient maintenance of the unit.
Pros:
Weekly automatic exercise cycle ensures optimum performance.

Top notch reliable G-force engine built.

Weather-proof aluminum enclosure.

Quieter operation.
Cons:
Need to purchase the battery separately.
6.

Champion 12,000-Watt Portable Generator 
Starting watts: 15000, Running watts: 12000
Fuel Source: Gas
Tank capacity: 5.9 gallon
Run time: 9 hrs at 50% load
Noise level: 78 dBA
When it comes to reliability, Champion generators always come into play. With high starting wattage, this is made to power up mid-size premises with a couple of heavy appliances.
The unit's top performing feature is the cold start technology that makes it run flawlessly in severe conditions. Additionally, the electric start always comes in handy for fast effortless starts.
It has 7 outlets including 4 household outlets for connecting important appliances. And it's also fairly portable, thanks to the lift hook and folding handles. The tires don't run flat and can support the weight to some extent on flat surfaces.
As with most portable generators, the Champion has a 15% THD rating. But considering the low-cost purchase and installation, this is acceptable. You can run most of the items at your home, leaving out a few sensitive electronics.
Pros:
Overload protection with built-in surge protector.

Outlets are covered for maximum engine protection.

Cold start technology ensures smooth operation in freezing climates.

Monitor status with intelligauge.
Cons:
Doesn't have a fuel gauge.
7.

Champion 3800-Watt Dual Fuel Generator
Starting watts: 4750, Running watts: 3800
Fuel Source: Gas/propane
Tank capacity: 3.4 gallon (gas)
Run time:  9 hours at 50% load
Noise level: 68 dBA
The Champion 3800-Watt is the best generator for apartments that are small and requires light power back up for unexpected outages. It won't break your back, but the wattage is enough to power up essential things like fridge, heater, fans and lights.
The ability to use both propane and gas is a real advantage in a generator at this power. It has an electric and recoil start. But keep in mind, you can use the recoil in the gas mode without a charged battery. For charging the starter battery, you can get a Noco Battery Charger as it will save hassle and also can be used later for other purposes.
It has 4 outlets, which are enough to connect your appliances. The Volt guard provides protection against overload and keeps the appliances same from power surges. In terms of portability, it has good quality wheels with handles for carrying.
Pros:
Ability to run on propane makes it fuel-efficient.

Comparatively light and portable.

Safety against power surges with Volt guard.

Good run time compared to the tank capacity.
Cons:
The noise can be a bit louder than the listed level.
8.

Jackery Portable Generator
Jackery is simply the Tesla of generators! You don't need gasoline, propane or any other fuel to run this. Just charge this up from regular electricity and it's good to power up small devices in emergency power outages and camping!
It's an extremely small and lightweight unit with a 240 watt-hour capacity. What that means is it can charge your laptops, mobile phones and anything that runs under 200 watt. Mini refrigerators like the Domestic Coolfreeze can run almost 24 hours on it.
The unit has a surge protection system and provides pure sine waves to make sure all devices remain safe. At a time, you can connect two USB devices and one appliance with AC input.
The best part is you can connect the Jackery Solar panel to get direct sunlight power when the generator power becomes low. This is just the perfect addition to your small camping setting.
This generator is for those who don't want a full home coverage and rather power up just small devices efficiently and on budget!
Pros:
Generators charges up using electricity rather fuel.

Ability to connect solar panel for backup power

Safely powers up sensitive device.

Extremely lightweight and portable.
Cons:
9.DuroStar DS4000S Portable Generator
Starting watts: 4000, Running watts: 3300
Fuel Source: Gas
Tank capacity: 3.96 gallons
Run time: 8 hrs at 50% load
Noise level: 69 dBA
If you want a gas powered portable generator for your apartment backup power, the Durostar DS4000S can be a great option. It's not a massive unit but for emergency situations, it's a life saver and you can definitely rely on it.
It's equipped with a 7 HP OHV engine and 3 outlets. Considering the low wattage, the small number of outlets isn't a big issue. You can still connect refrigerators, fans, small AC and lights.
The winning feature is that it lets you start the engine and apply and remove load with just a tap of a switch. In most generators, you will have to do that manually.
The generator doesn't come with wheels but you can add the DS4000S wheel kit to make it more portable. The only thing that is missing is the wattage meter to keep track of your current load.
Pros:
Low oil shut off keeps the engine safe.

Easy switch mechanism for applying and removing load.

Air cooled OHV engine is reliable.
Cons:
No wattage meter included.
10.

Predator 3500 Super Quiet Inverter Generator
Fuel Source: gasoline
Tank capacity: 2.6 gallons
Run time: 5.5 hours at 50% load
Noise level: 57 dB
The predator 3500 is a real quiet generator that will power up your most essential electronic appliances in emergency situations!
It's equipped with a 212cc OHV engine that has an electrical start function for hassle-free start up everytime. Besides that, if you need extra power, you can always connect more of these generators in parallel.
It has an overload protection system to keep your electronics safe. The digital screen is a nice user-friendly feature that will let you know oil level and different parameters.
You get 4 outlets with this model. The deal-breaker here is the 30 amp RV adapter that helps you to connect it to your RV stuff. For camping or tailgating, it's just the perfect generator.
The unit has rolling casters to help you carry it around. But sometimes the wheels become locked and you might need to lift the generator and fix it. Not a big issue by any means.
Pros:
Electric start makes starting up easier.

Check oil level and output with LCD screen.

Power up your RV.

Ability to connect more generators for more power.
Cons:
The wheels can become locked sometimes.
Best Generator for Apartment – Buyer's Guide
1. Standby vs Portable generator
The first thing you need to consider is whether to go for a portable or standby unit.
This largely depends on your budget, power consumption and needs!
If you have a large home or office in areas prone to outages, it's always better to buy a standby generator. The power output is huge and it starts on seamlessly.
For budget consumers looking for backup power in emergency situations, portable generators are enough. You will have to manually get it started.
2. Wattage
Wattage plays a big role when buying home generators. If you need to power up your entire home that might include a big ton central AC and large appliances, you need more wattage. The Generac 7043 boasts the highest wattage in this list.
Small apartments can do with wattage in the range of 4000-5000. In that case, the DuroStar DS4000S and Champion 3800-watt should be just perfect.
When buying a portable unit, you need to look at the starting and running watts. Because with larger appliances, you will need higher starting watts. 
3. Reliable performance
Reliability almost always depends on the quality and performance of the engine. The models we reviewed are from reputed and popular brands known for durability and reliability.
Some engines will have weather-proof protection like the Kohler 20RESL and Generac 7043 and sometimes in-built Cold-Start technology for smooth operation in freezing conditions. 
4. Tank Capacity and runtime
Tank capacity and runtime is applicable to portable units. Anything between 8-9 hours of runtime is good enough for most apartments. The DuroMax XP12000EH has the highest fuel tank capacity with highest runtime compared to other portable generators in this list.
5. Ease of use
Apartment Generators might include the following features for ease of use:
Wireless monitoring through smartphone
LED indicators.

Electric start.

Dual-fuel operation.

Low oil shutdown.
6. Transfer switch
Transfer switches are crucial for a home generator. You don't want to run in the middle of an outage with cords all over your home.
Standby generators usually come with automatic transfer switches to automatically restore power as soon as the electrical connection is lost. A 200-amp ATS is the best you can get.
Portable generators don't come with transfer switches and you will have to purchase that separately. 
FAQ On Generator For Apartment
1. What can a generator for apartment power up?
Standby apartment generators can power up your entire home including refrigerators, central ACs and sensitive devices all at once. Portable generators can power up essential appliances, but don't do so well for sensitive electronics.
2. Automatic vs manual transfer switch— what is the difference?
Automatic transfer switch gives you hands-off experience as it shifts to generators and back to electricity automatically. With a manual transfer switch, you will need to make the shift by yourself.
3. What should I buy— a portable or standby generator?
If you have a large and permanent premise with frequent power outage, get a standby generator. For infrequent outages in small homes, portable generators will be sufficient.
Conclusion and Editor's Choice
In terms of reliability and power consumption of a typical apartment, the Kohler 20RESCL Generator is the best Generator for apartments.
This air-cooled standby unit restores power in less than 10 seconds and that's what you need in emergency situations. The ability to install a wireless monitoring device is another great advantage of the generator. 20,000 watts is more than enough for most big apartments.
Residents of small apartments can get portable units as buying bulky and expensive standby units might not be always necessary.