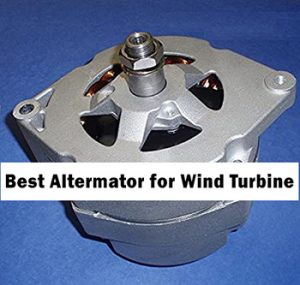 Searching for the best alternator for wind turbines? We got you covered!
Alternator is the structural unit of a wind turbine, more like a mechanical heart! It's main function is to transform the mechanical energy created from wind to usable electrical energy.
So, if you are building a wind turbine or fixing an older one, you definitely need an alternator. Building a DIY version isn't feasible and you will end up losing lots of power output.
We reviewed 6 alternators that can work with almost all sorts of wind turbines!
Check them out!
6 Best Alternator for Wind Turbine 2021 Review
1.

WindGenKits FP-640 Permanent Magnet Alternator
The FP-640 PMA is the best alternator for wind turbines mainly because of its versatility. It works in both horizontal and vertical axis wind turbines with 12, 24 and 48 bolt applications. Perfect for most setups!
The PMA uses 36 pagments having a diameter of 12". The stator is configured with 27 poles with a 3 phase out at 0.608V per RPM.
It has a universal mounting bracket which enables it to mount with various kinds of applications and you also get a custom hub assembly.
This a highly efficient alternator because of its close air gap and radial design with the iron core stator. If you have enough wind, you can extend it to 1000 watts at maximum RPM of 1400. That's quite a lot compared to other models.
It has a solid build and performs superbly in all conditions.
Pros:
Solidly built and versatile.

Universal mounting bracket for various applications.

Increased efficiency with close air gaps and iron core stator.

High power output potential.

Can install in both vertical and horizontal turbines.
Cons:
Minor cogging in adverse conditions (but that's acceptable, period).
2.

Marsrock 600r/m 100W PMG Alternator
Marsrock is an immensely popular alternator brand among people who have wind turbines. It has a solid construction that makes it extremely durable and lasts for years!
The alternator is built with NdFeB magnets with copper winding to make it reliable and highly efficient. Operating and maintaining the wind turbine comes easier with Marsrock.
The shaft is made from stainless steel and the casing is aluminum alloy. So, it's durable and free from corrosion. It has a IP54 rating, which means it is dust and water resistant.
It's a 3 phase permanent magnet synchronous generator, which is more efficient than the PMA counterparts. You can expect low resistance start up and also the unit remains fairly cooler than others.
The alternator is also versatile as it can operate with both horizontal and vertical turbines.
Pros:
Aluminum alloy shell protects against corrosion.

Dust and water resistant.

Safe and easy operation with NdFeB magnet.

Cools efficiently.
Cons:
3.

Missouri Wind and Solar Freedom II PMG Alternator
Missouri is one of the best alternators for wind turbines as it has a thicker aluminum case and more copper in the stators. So, superior power and durability is what you will get from this alternator.
It uses 28 earth neodymium magnets that are zinc plated. The stator is pressed in for maintaining proper alignment along with the protective aluminum shell for durability.
The bearings on this unit are heavy duty unlike other PMAs. It remains cool longer and uses high grade electrical steel mainly. You will get a hub stabilizer and cam-lock washer for smooth blade spin.
It has a maximum RPM of 1100 and produces up to 2800 watts output, thanks to the double rotor and double stator design.
Pros:
Optimal cutting speed and no cogging.

Heavy duty copper windings in stator.

Efficient cooling.

High grade electrical steel and thick aluminum shell.
Cons:
Only compatible with vertical wind turbines.
4.

Inova Wind Permanent Magnet Alternator
The Inova Wing is an American built alternator that you can trust. It's highly efficient because of the earth neodymium magnet and hand wound stator coils.
It's a bi-rotational alternator capable of producing power in both directions. The best part is it's equipped with an internal rectifier for DC output. The rectifier input has 3 wire harnesses for 3 phase output.
If the wind is enough, it can produce as much as 800-1000 watts. The alternator can charge 12-volt batteries with no issues.
You can expect smooth operation as it has anti-cogging technology. This also means it will start in low speed winds, making it one of the best alternators for a wind turbine.
Pros:
High power efficiency with hand-wound stator coils.

Bi-rotational function.

DC output using the bridge rectifier.

Anti-cogging means less wind to start up.
Cons:
5.

MarsRock 300W/ 600r/m PMG AC Alternator
The MarsRock 300 W is a NdFeB equipped alternator with top grade copper winding, making it extremely efficient and producing stable power.
As with all MasRock alternators, they have an aluminum alloy case that gives protection against corrosion and salt. So, whether you live in a coastal area or wherever, the unit will function smoothly.
The design supports 24 volt wind turbines with vertical axis. The rotor and rotator are both specially designed for swift start up and optimal cooling.
Pros:
Operation and maintenance is safer.

NdFeB magnets for reliable and efficient output.

Corrosion proof construction.

Cools down efficiently.
Cons:
Compatible with only vertical wind turbines.
6.

MarsRock 500W 900r/m PMG AC Alternator
The MarsRock 500 W alternator is one of the best alternators for wind turbines. It is capable of 12v, 24v and 48v outputs. So, it's quite versatile and the gearless NdFeB magnet makes it safe and high efficient.
MarsRock alternators do come with dust and water resistant properties including corrosion proof capabilities due to the use of aluminum shell. It can operate without coggs in almost any kind of region.
The rotor and rotator are well made to support low resistance star up and efficient cooling. One of the best things about the unit is the use of high grade copper winding.
Pros:
Cast aluminum for anti-corrosion and durable properties.

Has cooling efficiency and low revolution start up.

Dust and water resistant.

Pure copper winding increases efficient power output.
Cons:
Designed for only vertical alternator.
What to Look for When Buying the Best Alternator for a Wind Turbine?
1. Compatibility with the wind turbine
The first thing you need to know is whether the alternator you are buying fits with your wind turbine. An alternator will either work with vertical or horizontal axis turbines or even both. The FP-640 and Masrock 100W are versatile and work with most wind turbines.
2. Magnets used
If you want maximum power output and efficiency, NdFeB magnets are the best for alternators. These magnets are often known as rare earth or Neodymium-Iron-Boron. All the models we reviewed have NdFeB magnets, so you don't have to worry about it.
3. Durability and construction
For assessing the durability of an alternator, you need to pay attention to build quality. The best alternator for a wind turbine almost always has an aluminum alloy casing and also copper wounding. Some models like the Missouri have more copper in the stator for more power and durability.
The alternator should be able to resist corrosion and dust to some extent. If you want a low-speed start up, you will have to look at the quality of the rotor and rotator.
The Masrock alternators have IP54 rating which means they can resist dust and water splashes from different angles.
4. Alternator phase
We reviewed only 3 phase alternators as they are more suitable for small commercial wind turbines. But you can find single or two phase alternators in the market or build them depending on your need and DIY skills. 
5. Air Gap
The air gap is the distance between the magnet and laminate or two magnets depending on whether it's a dual or single magnet rotor. This air gap is crucial for performance. The basic alternator principle is the smaller the gap, the better the performance.
6. Ease of installation
While installation depends on your DIY skills but certain things that come with the alternator can make life easier. You will find mounting brackets, washers and other DIY tools with the package. Models like FP-640 have a universal mounting bracket for versatile applications.
Conclusion
So, what do you think is the best alternator for wind turbines? If you have any better option, please feel free to let us know! We are constantly updating and reviewing products to help make you the best purchase.
Alternators are hard to find and only a handful of companies produce them. Previously, wind turbine owners had to depend on DIY skills and reforming car alternators that don't work efficiently.
These alternators are primarily designed for wind turbines and you will get the best performance with them!