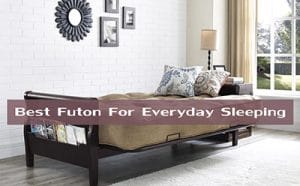 Tired of sleeping on western beds and bouncy mattresses?
Shift to futon, and you will see how grounded and peaceful it feels.
If you have the idea that futons are just for students and guests, then you got the wrong impression. Modern futons provide you comfort, back support, and also saves you a ton of money.
Futon mattresses are also great for decorating your small living space. 
So, we got the best futon mattresses for everyday sleeping that will serve you for years!
| Images | Products Name | |
| --- | --- | --- |
| | DHP Independently Encased Coil Futon Mattress | |
| | Better Homes and Gardens Wood Arm Futon Mattress | |
| | Memory Foam Futon Mattress | |
| | EMOOR Japanese Traditional Futon Mattress | |
| | D&D Futon Furniture Cotton Futon Mattresses | |
| | Au Natural Loft Cotton Filled Futon Mattress | |
| | Home Life Futon Mattress | |
| | Serta Cypress Futon Mattress | |
| | Mozaic Cotton Twill Futon Mattress | |
| | IKEHIKO Tatami Mattress | |
10 Best Futon For Everyday Sleeping 2021
1.

DHP 8-Inch Independently Encased Coil Futon Mattress
The DHP futon is one of the best selling futons for a good number of reasons. But as with any products, there are some drawbacks.
The best part about this futon is the coils. It has both pocket coils and spring coils, which together provide balance and support to your spine. The coils work like those in the regular mattresses and react individually to any pressure applied.
And that's the reason even people over 300 pounds can comfortably sleep on it every day and night.
The futon will fit just about any full-size frame, and with a weight of 70 pounds, you can move it across your room with a little bit of effort.
The material is mainly memory foam, so you can expect it to stay in shape longer. However, the plastic pieces within a futon can come off if you fold and unfold it often.
Pros:
Thick enough to handle the heavyweight.

Comfortable microfiber cover that keeps the futon clean.

The coils help distributes weight across the futon.

Transforms into both bed and couch.
Cons:
Too much handling can decrease the durability.
Final verdict
The DHP is probably the best futon mattress for sleeping both on the floor and couch. The comfort that you will get from this futon at such a price is just unimaginable. 
2.

Better Homes and Gardens Wood Arm Futon
The Better & Gardens futon is one of the best futons to sleep on every night.
Why? Because the futon is not too soft and not too firm also. And that's what you want from a futon. Too much softness is not something you want from a futon.
It also has more than 500 independently encased coils that will support your whole body at every point of contact.
It comes with a metal frame and works for those who don't want to sleep on the floor. The best thing is that you can easily convert it from a sofa to a bed. The only issue is converting it from bed to sofa takes a bit of effort.
Even if you weigh a bit on the heavier side, you will hardly ever feel the metal frame underneath. That just speaks about the quality of this futon.
Pros:
Comes with full metal frame and futon.

Wooden arms for resting your hands.

No issues of feeling the frame underneath.

Head support available in the full size
Cons:
It is a little difficult to move it from the bed to the couch position without anyone's help.
Final verdict
The Home & Gardens futon gives you great value for money. The benefit of having the frame along with the futon will save you time and effort for looking for a frame elsewhere. 
3.Memory Foam Futon Mattress
Why waste your money on cheap couches that look ugly and feel rough? This futon from Royal Sleep Products will save your money and also give you a comfy place to sleep.
What we really loved about this mattress is its 'not too firm and not too soft' feel. That's perfect for everyday sleeping.
The futon has two layers of memory foam with a layer of polyurethane in between. This setting provides flexibility.
It's best to get the queen-sized version, as it feels thicker and comfier than the full-sized ones.
Keep in mind if you are too heavy, it would be a great idea to get a frame with it. 
Pros:
Can be used both for sitting, and sleeping.

Durable and high-quality construction.

Will hold its shape for a long time.

A perfect balance between soft and firm.
Cons:
The color is a bit dull, but you can always buy a colorful cover.
Final verdict
It's one of the most comfortable futon mattresses for sleeping, and you really can't beat the price. The extra pillows are a real treat with this futon.
4.

EMOOR Japanese Traditional Futon Mattress
Here's a futon that resembles the traditional Japanese futons. The Emoor futon is not just for everybody.
If you are one of those who feel comfortable sleeping on the floor and feel it's good for your back, the Emoor futon is just for you.
The inside of the futon is stuffed with polyester, and the cover is pure cotton. Despite being only 3 inches in thickness, the futon feels very comfortable and dense.
The whole futon is deodorized and will remain fresh for years. But you can always get it under the sun for freshening as the futon can be easily rolled and moved.
You get to choose between 6 different sizes. So, if you have regular guests coming to your place, this futon will truly serve you.
Pros:
Easily foldable and very convenient for small spaces.

Dense polyester stuffing feels comfortable.

Soft and breathable cotton covering.

Deodorized and anti-ticked.

Good futon for sleeping every day on the floor.
Cons:
Not thick enough for anyone who wants to sleep on their side.
Final verdict
The Emoor traditional futon is one of the best futons for floor sleeping. If you have a minimalist mindset, you will just love how easily you can store it away during the day.
5.

D&D Futon Furniture Mattresses
The D&D futon is the best futon for everyday sleeping if you prefer the traditional Japanese way. It sure is a handy thing to have, especially if you love to change your sleeping place now and then.
You can't do that with a regular bed. But with D&D, every inch of your home becomes your bed.
This a traditional Japanese type futon, so you can't expect it to be thick and super fluffy. But the minimalistic design makes it very easy to roll and fold for storing away.
Talking about comfort, this futon is long enough to fit people over 6ft height, and the padding is just enough for sleeping.
The only thing that might be bothering is it's a bit in the narrower side. If you have the habit of throwing your arms and legs all over, you should not buy this one.
Pros:
Totally made in the USA.

Natural cotton stuffing with foam and poly layers.

Classy black design.

Easy to maneuver.
Cons:
The only downside is it has a heavy smell of grass or cardboard. However, if you air it outside for a little while hoping the smell eventually goes away.
Final verdict
Traditional Japanese futons are not just for everyone! If you love to sleep on the floor or need back pain relief, this is the futon to buy.
6.Au Natural 8″ Loft Cotton Filled Futon Mattress
The Au Natural futon from Epic Furnishings is something that you would want to use regularly for sleeping or sitting.
Keep in mind, this futon has a firm feeling, and many people actually love this. The stuffing is 100% cotton, and that's what makes the futon firm and comfortable.
What we loved the most is the fact that the surface is very smooth, with no lumps and edgy parts.
There are two reasons behind it: 1) The cotton is hand-stuffed, and the edges as well as hand wrapped. So, the edges and the middle has the same consistency. 2) Zipper stitching is used in place of rolled stitching. So, no more marks on your back again.
The thickness of the futon is also quite acceptable at 6-8 inches. As it is pure compressed cotton, the thickness will likely hold longer than other futons.
And that's not the end. You can choose between 8 different colors to match your room's aesthetics. 
Pros:
Consistent smooth texture in the middle as well as the edges.

No issues of annoying marks on the back.

The cotton-polyester twill cover is quite durable.

Dual-use as a sofa or bed.
Cons:
Has a strong earthy smell that stays (not a big issue).
Final verdict
The smoothness and even texture make it the best futon mattress for daily use. You will love it if you like your bed to be a little firm. But if you love soft and squishy, you need to give it a second thought.
7.

Home Life 8 Inch Independently Encased Coil Premium Futon Mattress
The Home life futon is another best futon for everyday sleeping.
We recommend using the futon more as a bed than a couch. Constant folding and unfolding can create lumps inside it, which you want to avoid.
The inside is made from foam and polyester with independently-encased coils. So, you can expect it to be very comfortable and durable.
An added advantage of using this futon is that you can use both sides. And it's always a good idea to flip every few days so that the futon wears out evenly and last longer.
You can use it with any regular full-size frame. But make sure to have a non-slip or a tatami in between the frame and the mattress.
Pros:
Soft microfiber covering.

Very comfortable for sleeping regularly.

Can be folded into a couch and bed.
Cons:
Folding frequently can cause lumps.
Final verdict
The Home Life is one of the best futons to sleep on every night. You can't expect ultra-comfort like that of the ones we reviewed at the beginning. But it's still comfortable enough and will probably last for years. Definitely worth buying.
8.

Serta Cypress Double Sided Innerspring Full Futon Mattress
If you want a futon mattress with more bounce and soft feeling, then the Serta Cypress is just for you.
The inner part is filled with cottonique, which is more durable than regular cotton. There is a foam surrounding the inner coils for extra comfort and softness.
However, the truth is this futon is not suitable for regular sleeping. The extra bouncy coils can poke out after a certain period of use. In that case, you can reverse the futon and extend it's life.
You can fold and unfold it to use as a couch or a bed. But it's extremely hard to do so. Keeping it on a fixed position is preferable.
Pros:
Soft and bouncy.

Great for stability and support.

Both sides can be used.

Foldable as couch and bed.
Cons:
Innersprings can come out with extended use.
Final verdict
Overall, the futon mattress is comfortable for recreational use. But you can't expect it to last years at such a price. If you like your futon to be firm and not so bouncy, this is not for you.
9.

Mozaic Queen Size 10 inch Cotton Twill Futon Mattress
The Mozaic futon might seem like a quality product that will last. However, that's not the case.
Yes, it does feel super comfortable when it's new. The inner memory foam and the soft cotton twill covering does give the impression of comfort.
You will need to put in a lot of effort to air the bed often. Otherwise, it can ridiculously shrink from 10" (as advertised) to 4"-5". And that won't be good enough for regular sleeping.
The product is made in the USA and can be used both as a bed and as a sofa as well. You can also use both the surfaces interchangeably.
Pros:
Has a soft feel.

Can be folded and used as sofa and bed.

Queen size makes it big enough for relaxed sleeping.
Cons:
Littlebit bulky & heavy to move.
Final verdict
If you just want a sleeping surface for emergency situations, this futon would be worth buying. You can still use it regularly but can't expect superior performance and comfort like the others we have reviewed earlier.

10.

IKEHIKO Japanese Traditional Igusa Tatami Mattress
If you are buying a traditional style futon, you might want to use a tatami for extra protection from the floor.
The IKEHIKO tatami is mainly made from Japanese rush grass with a combination of bamboo and cotton to make it durable.
The only issue we found about the tatami is the smell. Some might like the grassy smell, while it can be irritating for others. Just let it breathe under the sun.
You can't roll this tatami, but you can fold it into 3 parts for easy maneuver and storage.
As with many tatamis, they might have slipping issues. But this tatami has an anti-slip surface and dramatically reduces the risk of slipping.
Pros:
Totally organic and made in Japan.

Strong and durable construction.

Available in 3 sizes.

Anti-slip surface on the back for added protection.
Cons:
The grassy smell can be a bit too much for new users.
Final verdict
The IKEHIKO tatami is for those who truly want the authentic Japanese style of sleeping on the floor. It's a great alternative to yoga mats and also cost-effective.
Why You Should Buy a Futon Mattress?
Cheaper than regular mattresses
The number 1 reason people buy futon mattresses is that they are cheap. If you have just moved into a new apartment, you might not have the budget to buy a full-featured mattress with bells and whistles.
But… You still need to sleep right?
Futons are just for that!
Easy to store and maneuver
Futons made from cotton or even foam are ridiculously lightweight compared to a regular mattress. They can also be folded or rolled up and stored away when you don't need them.
They are lifesavers, especially when you have guests at home and you don't have an extra bed for them to sleep in.
Comfortable and versatile
Comfort is something that is very personal to an individual. Some people feel comfortable sleeping on a flat surface close to the floor. While others might love their bed to be thick and springy.
No worries. There are lots of futons with different feel available for you!
If you buy foldable futon mattresses, you can use it as a sofa as well as a sleeping material.
Safe for babies
Do you have a baby crawling around in the bed?
A futon will provide comfort and also keep your baby safe. No fear of falling anymore!
Facts You Should Consider Before Buying a Futon mattress
1. Purpose of buying- everyday sleeping vs. multipurpose use
The purpose of buying a futon is the most crucial and it's also the most confusing part. Here's the solution:
For everyday sleeping-

If you are going to use a futon as your primary bed, it's always best to get a futon that thicker with more structure. We would recommend getting a coil-filled one or the one with memory foam.

For casual use-

If you need inexpensive bedding for your guests and kids sleeping around, a cotton futon will be a great option. These are easier to store away when you don't need them.

For multipurpose use-

Some futons can be used either as a bed or as a sofa cushion. These futons are a lot thicker and rigid in construction.
2. Futon materials
There are 4 types of futon material mainly:
Foam-

Foam filled futons have layers of foam forming a soft surface. Often memory foam is used. These futons stay in shape and are best for regular use.

Cotton-

Traditionally Japanese used cotton to make futons. Cotton futons are usually very thin and remain cozy during winter.

Innerspring-

Some of the modern versions of futons have innerspring that provide more support and comfort. 

Foam & Cotton-

The combination of foam and cotton also makes great futon mattresses. The foam provides support, and cotton provides comfort.
3. Frames or no frames?
Adding a frame to your futon is totally optional and depends on your comfort. Some people love it plain on the floor, and others love it with a frame.
You can choose between wood, metal, or particle board.
If you want ultra-durability and the price isn't an issue for you, the wooden frame will be perfect.
The cheapest option is particle board, but it won't last long.
If you want something in the middle, go for the metal frame.
4. Thick vs. thin futons- what's right for you?
The weight of a person is the deciding factor for the thickness of a futon. For most Asians with average height and weight, a thin cotton futon will be comfortable enough to sleep regularly.
However, if you are on the heavier side, you need a futon that will hold its shape and give your back ample support.
5. Folding options
If you are not into futons with frames, the folding options don't apply to you.
But if you are buying a futon with a frame, you can choose between a bifold or trifold futon.
The bifold futon is perfect for use as a sofa and a sleeping surface. This is more popular than the trifold.
The trifold futon has 3 sections for supporting your back, your body, and the foot. Trifold futons are usually thinner!
6. Getting the right size- minimalism or extravagance?
The most common sizes available for futons are twin, full, and queen.
Most people buy futon to minimize clutter and maximize the space of their room. So, a twin or full is the right size to get.
However, if you want something more extravagant, a queen or king-size futon is also available. The king-size is a rare size among futons.
7. Price
Futons are way cheaper than traditional mattresses. You can find most of the futons at prices ranging from $100-$300. The only way to spend more is if you choose an innerspring futon or a futon with frame.
Can You Sleep On A Futon Every Night?
Yes! Absolutely.
The Japanese used the futon for sleeping for years and so can you!
However, the thin cotton futons are not suitable, especially if you are planning to sleep on it lifelong! And they won't last too long. 
Get a futon that is thicker and holds its shape. It will provide comfort to your spine and give you a good night's sleep.
Conclusion & Editor's Choice
We don't think it's too hard to choose a futon mattress. But if you are still confused about what's the best futon for everyday sleeping, then go with our editor's choice – DHP 8 Inch Independently Encased Coil Futon Mattress.
It's not like the traditional super firm futons but not too soft like the regular mattresses.
Once you buy a futon, you will hardly ever find comfort in sleeping on any other surfaces.