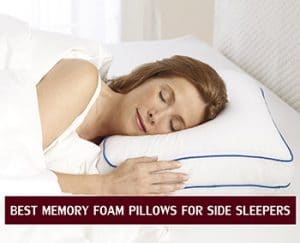 Do you lay sideways? Do you use a floppy pillow that has no support and you wake up feeling stiff and numb?
If you face the same problems, you'll love memory foam pillows.
In fact, sleeping on one's side can be uncomfortable and awkward if you don't get the right pillow, especially if you have neck or back issues.
However, finding the best pillow for side sleepers is a daunting task. But, the discovery of memory foam has made it even easier. Memory foam pillows won't strain your muscles or pinch a nerve.
Here, we've shortlisted 10 best memory foam pillows for side sleepers. With the reviews and information listed below, it'll be easy to find a pillow that you're looking forward to bedtime.
10 Best Memory Foam Pillows for Side Sleepers 2021
This short list of the 10 best side sleeper memory foam pillows is exactly what you're looking for a better and deeper sleep. Take a closer look at the reviews below so that you can have a better idea about which one is perfect for you.
1.

Coop Home Goods Memory Foam Pillow
Tired of using traditional pillows that go flat after a few months? Looking for a type of pillow that you can customize until you get it just right?
Then, your search is over! Coop Home Goods adjustable pillow is the right option for you to sleep better and more comfortably.
This side sleeper pillow is stuffed full of high-quality shredded memory foam which is produced exclusively for this brand only. This medium-firm mix of memory foam and microfiber provides the right balance between comfort and support for better sleeping experiences.
Coop Home Goods premium is one of the best memory foam pillows for side sleepers. You'll appreciate its adjustable design. That means you can easily access the foam fill to add (need to purchase separately for additional filing) or take out some of the stuffing to suit your comfort level.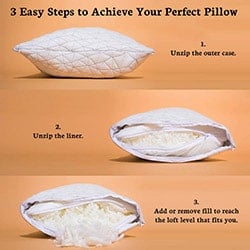 Besides, it comes with an outer cover that features a top-stitched design. This outer case is removable for easy washing. There is also a tightly woven inner cover that resists microbes and pests.
Importantly, the CertiPUR-US and GREENGUARD Gold certification of this pillow ensure it contains no harmful chemicals. Hence it's safe to use.
Furthermore, it comes with a 5-year warranty for extra peace of mind. What's more, within 100 nights you can return the pillow for a full refund.
Overall, it'll give you great value for money. You bet you'll enjoy a restful, deep and healthy sleep.
Pros:
Fully adjustable design.
Safe to use.
Great looking outer cover.
Dust and mite resistance inner cover.
Cons:
Unpleasant odor that dissipates after a few days.
2.Iso Cool Memory Foam Pillow
Next, we have this best side sleeper memory foam pillow from the reputable, USA-based company Iso Cool. If you're looking for a pillow that stays cool and offers maximum comfort, then this Iso-Cool Memory Foam Pillow can be the ideal choice for you.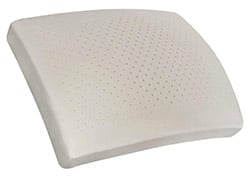 The manufacturer uses microscopic PCM beads in this pillow. This visco-elastic memory foam filling helps to regulate and automatically adjust body temperature. Thus, it provides the sleeper a comfortable night's sleep.
Moreover, it offers a generous surface area (23 x 15.5 x 5 inches) that guarantees maximum sleeping space and comfort so that you can sleep like a baby until the break of dawn.
Additionally, the gusseted design allows you to change your sleeping position without experiencing neck and back pain if you sleep on your sides.
Of course, the outer cover is 100% cotton made which is detachable and machine washable. So, when it comes to keeping it clean, this feature will make your life much easier.
Above all, it's the best cooling memory foam pillow for side sleepers. Thanks to its impressive, cutting-edge features.
Pros:
Regulate and adjust body temperature
Offers maximum comfort
Consistent and supportive
Effortless cleaning
Cons:
Initially it may feel somewhat hard.
3.

Core Products Tri Core Cervical Support Pillow
Here's an excellent tri-core cervical pillow that's suitable for either back or side sleeping. It's one of the best selling orthopedic pillows of Core Products brands.
Designed to help correct spinal posture of the neck, this Core Products pillow helps to treat various conditions affecting the shoulders and neck.
Look at this trapezoid-shaped center of this ergonomic pillow! This unique shape delivers orthopedic benefits for back and side sleeping.
Noticeably, it features two width neck rolls- bottom and top- that provide a custom fit for different sized sleepers. Moreover, the side lobes of this pillow are tall enough for side sleeping.
Importantly, it's perfectly firm to support spinal issues. When you earnestly require something that will not only hold your head in place but also keep your spinal column perfectly aligned, this pillow will meet your needs. It'll undoubtedly improve your health providing maximum comfort by supporting the normal curvature of the spine and neck.
Finally, this tri-core full-size pillow comes with a blended cotton cover which is soft to touch and breathable.
All in all, to have better spinal alignment, this one is the best memory foam pillow for side and back sleepers available in the market today.
Pros:
100 percent virgin polyester fiberfill.
Ergonomic designed and non-allergenic.
Exceptional comfort and durability.
Provide therapeutic benefits.
Promotes healing of injuries.
Large and smaller neck support.
 

Cons:
Not a soft pillow, so it requires adjusting over several weeks.
4.

Good Life Essentials Memory Foam Hypoallergenic Pillow
Does your sleep disrupt by allergies?
Then this hypoallergenic memory foam pillow form GOOD LIFE ESSENTIALS is an excellent option for you. The patented filling is 100% CertiPUR-US Certified Foam. You won't be left itchy after a full night's sleep using this hypoallergenic shredded memory foam pillow.
Of course, it's the best pillow for all sleep positions- side, back, or stomach. It cradles your head perfectly and promotes proper alignment to reduce turning and tossing.
In fact, it's a 5-star hotel quality pillow that is made for comfort, support, and durability!! It's not only hypoallergenic but also provides relief from several sleeping issues, including insomnia, snoring and TMJ. It also relieves back, neck and shoulder pain and allows muscles to relax fully.
This pillow also helps keep you cool! The industry-leading 50% bamboo and polyester blend cover give you more air circulation and temperature regulation. Thus it ensures a more profound and less interrupted sleep. Furthermore, the cover is completely machine-washable.
In summary, for staying cool all night long and maximum head support for side, back and stomach sleepers, this pillow is second to none.
Pros:
Perfect for all sleep positions.
Great for people with allergies.
Well-balanced between support and softness.
Stays cooler for longer.
30 days, no questions asked refund.
Available in three sizes.
Cons:
Not perfect for sleepers who want their pillow bunching up.
5.

Sleep Innovations Reversible Cooling Gel Memory Foam Pillow
If you are a side, back or stomach sleeper and tired of waking up hot and sweaty every night, then this reversible cooling gel memory foam pillow will make your life easier. This pillow will provide you what everybody else is craving- healthy and sound sleep.
Let me make this point clear.
One side of this pillow uses a cooling gel technology. This cool-side-of-the- pillow keeps you cool, delivering superior sleep comfort. On the other hand, the other side features standard memory foam. This layer helps to gently align your head and neck, ensuring exclusive comfort and support. That means you can choose your side to choose your comfort.
Additionally, the hypoallergenic cover works excellent with allergy sufferers. This bad boy offers a range of size choices- standard, queen and king- for your perfect fit. It's proudly made in the USA and comes with an incredible 5-year warranty.
Overall, this Sleep Innovations Reversible Cooling Gel pillow is a wonderful product. You'll be pleasantly surprised by its various aspects. It takes care hot night during summer and puts an end to all the allergy reactions- that means from cool comfort to cozy comfort, everything is under your control with this pillow.
Pros:
Ideal for side, back and stomach sleepers.
Advanced cooling gel technology.
Versatile and reversible design.
Cradling comfort and enhanced cooling.
Hypoallergenic properties.
Cons:
The gel side is somewhat harder than the other side.
6.

Snuggle Pedic Bamboo Shredded Memory Foam Pillow
Are you disgusted with night tosses and frequent fluffing? Then, this shredded memory foam pillow with micro-vented cover can be the perfect replacement for your traditional down pillows.
Among all the prominent features of this pillow, there is one aspect that drives us crazy! The Snuggle-Pedic pillow comes with the unique combination of Certipur-US Certified Foam along with extremely low V.O.C Biogreen memory foam. It's not only hypoallergenic but also ecofriendly.
This pillow delivers exclusive comfort for comfortable night sleep and keeps the sleepers healthy. It conforms body shape orthopedically to support the neck for side, back and stomach sleepers.
The Kool-Flow outer cover keeps you cooler all night long. So, say goodbye discomfort and a night full of restlessness due to those hot summer days.
Importantly, its inner cover features zipper which is undoubtedly a significant feature if you want to remove or add foam to make your pillow uniquely yours. Of course, the outer cover is also detachable and fully machine washable.
It's also worth noting that the pillow comes with the world's best warranty (20 years)! It also offers 120-night no-cost return policy.
In a word, this ultra-luxury pillow performs better than most regular memory foam pillows available in the market today.
Pros:
Perfect for side, stomach, back & pregnant sleepers.
Ultra high end & long-lasting.
Easy to adjust.
Hypoallergenic & dust mite resistant.
Extra-breathable, soft, and luxurious.
Fully machine washable cover.
Cons:
The only issue is the toxic smell.
7.

Classic Brands Memory Foam Cushion Firm Pillow
Here is an excellent ventilated memory foam cushion firm pillow from Classic Brands.
If you wake up sweaty every night, then replace your traditional pillow with this CONFORMA pillow. It's also perfect for people with snoring issues and other sleep disorders.
The Ventilated memory foam construction of this pillow promotes airflow and improves breathability. Thus it helps to regulate body temperature during sleep and thus keeps you cooler longer.
What's more, the velour knit cover helps this pillow stay cooler and comfortable. The cover is removable, and washable, which makes your life easier when it comes to keeping it clean.
This responsive memory foam offers supportive comfort for neck, shoulder and head. It's also hypoallergenic and resistant to dust mites, mold and bacteria.
Importantly, this memory foam pillow features shallow cut out that accommodates the shoulders of side sleepers. Thus it helps to prevent shoulder pain and provides ultimate comfort.
Pros:
Ideal for back and side sleepers.
Hypoallergenic and antimicrobial.
Easy to clean.
Backed with a 3-year worry-free warranty.
Cons:
A little bit too high/thick.
8. Xtreme Comforts Pillow
This CertiPUR-US shredded memory foam filling meets stringent standards for emissions, content & durability. That means you can sleep restfully knowing that you and your family are using a safe and healthy product.
Besides, the micro venting on the bamboo outer cover regulates the optimum airflow and improves ventilation. Thus it helps you breathe easy and sleep comfortably the entire night. It also dusts mite resistant and hypoallergenic.
The cover is machine washable. So, you can pop it in the laundry whenever you need to freshen it up and clean all the way through. It's certainly beneficial for allergy sufferers.
Of course, you can add or remove the filler to adjust the thickness of this Xtreme comforts pillow to make it a perfect fit for you- flat, fluffy or in the middle. Thanks to its zipped inner cover.
Importantly, this Xtreme comforts pillow will never go flat. So, you can use it years after years without the worry of losing spine and head support.
Pros:
Safe to use during pregnancy.
Ideal for all sleep positions.
Fully customizable height.
Hypoallergenic and antibacterial.
Prevents the growth of mold or mildew.
Cons:
According to some users, the pillow is a little bit high and dense.
9.

Sweetnight

Shredded Gel Memory Foam

Pillows
Next, we have this memory foam pillow for side and stomach sleepers from the Sweetnight brand.
Sweetnight memory foam pillow is known for its superior comfort. It's the ultimate solution of restless night sleep. In fact, it's the best pillow for neck pain side sleeper. The shredded memory foam of this pillow is easy to push or pull into a comfortable shape for sleeping.
It adapts to your body regardless of your sleep position- side, back or stomach. Thus it provides cozy cool comfort to the side/back/stomach sleepers. At the same time, it alleviates chronic pain and tension in the core neck and shoulder area and other strains caused by incorrect sleep positions.
Of course, this gel memory foam pillow is also excellent for those who like to stay and sleep cool. The gel memory foam absorbs heat from the body and keeps you cooler for longer.
This bad boy won't go flat or become lumpy over time. It'll stay fluffy yet supportive years after years. What's more, you can adjust the height of this pillow very easily by adding or taking out foam stuffing. It also comes with rayon cotton zip-off cover which is breathable and washable.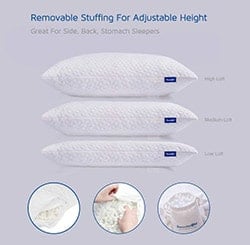 To conclude, for long-lasting and luxuriously balanced feel this shredded gel memory foam pillow is a good option. This orthopedic design neck support pillow is a must-have to improve the quality of your sleep.
Pros:
Great for back, side and stomach sleepers.
CertiPUR-US Certified high-density memory foam.
Ergonomic and great for neck pain.
Completely adjustable and easy to care.
Hassle-free refund & warranty.
Cons:
Odor at the opening that may go away quickly.
10.Perfect Cloud Double Airflow Memory Foam Pillow
There is no better feeling than sleeping on a pillow that offers proper support, breathable and remains cool all night long. Perfect Cloud Memory Foam Pillow is what you expect for good night sleep.
If your regular pillow fails to provide you proper support, then this pillow comes up with a perfect solution. It cradles your head and neck perfectly giving you the ultimate pain relief of the spine and neck. Say goodbye to the stiffness and soreness experienced with traditional pillows.
­
Another best aspect of this pillow is it can reshape itself to match the shape of your neck and head. If you're tired with a regular pillow that is stiff, then this one worth trying out.
Perfect Cloud is a best-rated cooling pillow for side sleepers. In fact, it's one of the revolutionary products in the comfortable, cooling pillow niche. The advanced air-infused memory foam core delivers a class-leading cooling sensation.
What's more, ventilated mesh trim delivers top-notch breathability for ideal sleep temperature. Certainly, you'll enjoy cloud-like comfort and air sleeping experience.
Overall, all the robust features of this memory foam pillow will send you running to the bank!
Pros:
Soft firm support and comfort.
Premium textile stretch knit cover.
Exclusive breathability.
Hypoallergenic.
Great for pain relief.
Easy cleanup.
Cons:
Best Memory Foam Pillows For Side Sleepers – Buying Guide
Having trouble choosing the right pillow for side sleepers?
No worry! 
Not all memory foam pillows are equally good and perfect for side sleepers. So, before buying the best memory foam pillows for side sleepers, consider the following factors:
In general, memory foam pillows stuffing features solid or shredded memory foam. Some sleepers may feel solid memory foam pillows a little bit hard. In response, manufacturers bring shredded memory foam pillows. These types of pillows use clumps of foam as fillers that make it softer than solid one. Choose between shredded or solid memory foam pillows to suit your personal preferences.
Pillow size- standard, queen or king
Pillows come in various sizes- standard, king and queen. Choose the size that is perfect and fit for your body shape. You also need to pay attention to your weight and the size of your bed.
Some memory foam pillows come with customization options. That means you can add or remove the filler for the ideal size and shape of the pillow. It's definitely a convenient feature for getting the ideal pillow height for side sleeping.
Some memory foam pillows come with removable zipped outer covers which make them easy to clean while others are quite the opposite. We highly recommend pillows with machine washable covers. It'll make your laundering process hassle-free.
If you're an allergy sufferer, stick to hypoallergenic and dust mite resistant memory foam pillows.
A good brand will offer you a warranty. They also offer a money-back guarantee with their pillows so that you can return the product and get refund your money if you don't like the pillow after trying it. You just need to find the manufacturers or brands that offer a customer satisfaction guarantee.
What Is So Special about Memory Foam?
Some people suffer back and neck pain issues where some other battle an ongoing war with insomnia due to lack of a quality pillow. Some people work hard to find a long-lasting, premium quality pillow. However, the discovery of memory foam has made it easier to find a pillow that works best with these issues.
Memory foam offers many benefits.
Memory foam is hypoallergenic, green-certified and available in low-VOC options.
It offers ultimate support
Memory foam can expand and contract to provide better support to sleepers of various weights.
This type of foam is somewhat sticky and elastic which helps it to retain its shape. It goes back to the original shape within a few seconds after you take away your head or another body part. So, memory foam pillows are less likely to go flat like traditional foam.
It's a very durable type of material.
Not bad for mattresses or pillows that will last between 3 and 20 years providing good support without going flat!
What Are the Health Benefits That Memory Foam Pillows Provide?
Memory foam pillows provide many health benefits that other types of cheap fiber pillows don't offer.
Pressure relieving benefits
A memory foam pillow acts as a heat reactive cushioning insulator. That means the foam moulds itself when the weight of the head is applied along with the body heat. Thus, it adjusts to the shape of the head, neck and shoulder rather than forcing to contour to it.
Memory foam pillows are also beneficial for those with sleep apnoea. This type of pillow helps to maintain the proper spinal alignment. Thus it helps to align the airways better and easier breathing. What's more, it acts positively to eliminate headaches and back pains caused by poor spinal alignment.
Hypoallergenic and Hygienic 
Memory foam is non-toxic and naturally hypoallergenic. Hence, memory foam products are safe to use.What's more, it prevents the growth of dust mites, fungus and bacteria. This is certainly great for people who experience allergies with other natural pillow materials.
'A better quality sleep is a necessity. Regardless of sleep positions, finding the best pillow is the first step to getting the sleep you need for healthy emotional balance."
Conclusion
All the above-reviewed pillows are great and designed for all sleep positions, especially for side sleepers.
However, we recommend one pillow as the best pick for side sleepers. After a thorough analysis, we settled on the Coop Home Goods Memory Foam Pillow as the crown scooper.
Reasons?
Well, first of all, this pillow is of premium-quality in terms of fill and cover. It's luxurious and fully adjustable. It's also orthopedic and ensures superior comfort compared to others of its class. Not to mention, it's hygienic, hypoallergenic and safe to use.
Overall, if you prefer to lay sideways and have a straight head and neck in proportion to your body, then this is the correct pillow for you.
So, are you ready to throw out those flat, old pillows that do nothing to support your back and neck?
Thanks for reading our reviews on best memory foam pillows for side sleepers.
Related Post:
10 Best Futons Mattresses for Everyday Sleeping – (Review Guide)