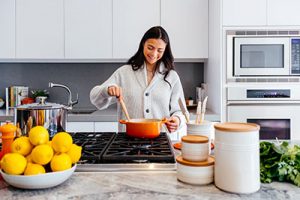 Kitchen is the hub of household cooking and you obviously want the best appliances that can withstand stand up over regular & frequent use. To enjoy the perfect nourishment, your kitchen does require the presence of well-stocked equipment.
There are large appliances & small utensils that bring the kitchen into life. Despite large ones being crucial for functionality, you will have to check the smaller ones to bring convenience, simplicity & operational comfort.
Regarding the smaller ones, you can get an immense number of appliances for the kitchen. But there are always some essentials without which your kitchen will remain incomplete. 
Therefore, we are here with the best 10 best kitchen equipment alongside their individual functionality. We went through dozens of models for each type and recommended the most suitable one for your consideration.
Here are 10 Best Kitchen Equipment List
Click a link below to jump to the relevant section
1.Chef's Knife
Almost all cooking requires some slicing & dicing, for which a chef's knife would be incredibly functional. This knife can hold good to deliver professional performance for numerous cutting tasks, for pros & home users.
In general, it consists of one long blade that is either continuous that remains entrenched into a handle. Being 8" to 12" long, both German & French style is widely popular alongside Japanese Santoku type.
Germans have a curved front, suitable for quick chopping motion. The French are straighter with triangular front, permitting good slicing motion. The blade allows a single-stroke cutting which is forged from stainless steel with high carbon.
With the heel close to the blade rear, chopping harder items are easy. In fact, it delivers a faster cutting efficiency for different items. Fully tanged knives offer the best cutting, allowing a greater leverage. Wooden handles cause certain problems and therefore, plastic & rubberized handles are getting popularity. Featuring bolster on the rear shoulder, the knife maintains good balance & prevents slipping of the fingers while cutting.
And if you would like to consider all these in one piece, then you can check Global G-2-8 inch knife. Incredible sharpness & safety are available for an outstanding design right here. Being a lightweight construction, it minimizes your effort to a considerable extent dealing with slicing & dicing issues.
2.Cutting Board
For cutting food items smoothly, you need to invest in a good cutting board. It is a single ply board that provides a durable & convenient surface for slicing & dicing. It is highly suitable for preventing bacterial & similar contamination of food inside the kitchen.
Using different boards for particular foodstuff eliminates the possibility of cross-contamination. Common materials like wood, vinyl, hard plastic & glass are used to create the board. Their sizes are also largely variable depending on the intended use. Wooden ones look very stylish & attractive, yet it comes with the risk of bacterial & fungal infection upon long use.
Despite its negative effect on the environment, plastic ones serve the best for which it gained more popularity than any others. It provides not only a hard surfacing but also insensitivity to various chemical agents.
Another important thing to consider for a good cutting board is its maintenance. With proper cleaning after each cutting session, you can keep the board free of every harmful means.
And if you like to have one for your home application, we believe Oxo good grips utility cutting board will do the best. Durable polypropylene construction & red sides induce something stylish to support your cutting. Perfect crafting of the unit will deliver the healthiest meal prep for sure.
3.Measuring Cups
When it comes to deciding the right amount of bulk solid or liquid for the meal, you will have to look for measurement cups.
This kitchen appliance has multi-functionality in everyday home activity. Considering the requirements, you can go for a single piece or multiple pieces set either. These cups can be of glass, metal & plastic with or without transparency. Whether its sugar, flour, rice, detergent, powder & oil – you can attain the perfect quantity all the way. The cups are usually scaled in different units on the exterior side. Many sets offer teaspoons & tablespoons for added convenience. 
Lip & flat bottom delivers better efficiency in measurement alongside a narrow profile. This is a versatile unit that requires the least maintenance & care, despite its high functionality. And if you would want to check out for a multiple-piece set, kitchenmade measuring cups can meet the satisfaction. Being stackable, the units allow smaller to larger measuring performance. With stainless steel construction & exterior mark, it offers good accuracy. It boasts of a polished finishing coupled with a durable & compact construction, permitting easy storage facility.
4.Rice Cooker
For kitchen cooking these days, rice cooker plays an important and efficient role. Using this versatile utensil, you can try your hands on different types of cooking, apart from making rice.
The automated appliance contains heat source, cooking bowl & temperature thermostat in the simple yet sturdy case. Modern ones can come with more sensors with additional components.
Cooking inside the cooker completes over four automated phases – sitting in water, boiling, steaming & resting. Upon switching, the depressed thermostat initiates quick heating which later boils the ingredients inside. While today, manufacturers use a wide range of materials to sculpt the cooker body, nothing beats the robustness and high heat conductivity of copper & aluminum.
Almost all the cookers are electric and you can even have a console for controlling & monitoring your meal. Rice cookers are available in different sizes and therefore, you should estimate the quantity you would like to cook.
The latest models contain transparent lid whereas classic ones are solid without transparency. For a convenient choice with good functionality for the family, you can take Zojirushi rice cooker consideration. This is ergonomic & advanced creation to help you in the kitchen. With micro computerized technology with the display panel, you can obviously get an outstanding output. Having the size of 5.5 cups with 1L capacity, you can use this advanced kitchen appliance for cooking for your entire family.
5.Frying Pan
The frying pan is indeed a staple of modern kitchens. With the flattened bottom, the pan suits frying, browning & searing of your favorite meals.
The circular pan features lower sides with outward flaring & a longer handle. The most beneficial fact about using this pan is even heating of foods over the entire area. Copper, aluminum & cast-iron frying pans along with a non-sticky coating on the interior surface are timeless classics. In the meantime, it comes with the perfect thickness that permits uniform heating all over the pan. The thickness of cookware is measured using gauge or mills where standard ones have 10 gauges or 22 gauge construction.
If you want something that's convenient to handle and is genuinely built to last then you should check Le Creuset Toughened Non-Stick Shallow Frying Pan This combines all the essential features with superior outlook. The 20 cm diameter steel construction comes with hollow handle to induce a durable frame for your cooking.
6.Tongs
Since you can't possibly put your fingers on oily vats, pinching lobsters or grill grate, you have to go for a tong. They're like your extra metal hands to grip & lift different foodstuffs. 
This simple piece of equipment protects your hand from severe burn injuries. Just grab the tong and put it into the hot or boiling meal to do your job. Not to mention, this is a versatile utensil that allows you to do multiple kitchen tasks with ease. Modern kitchen tong consists of two heavy wire pieces joined at one end with a flexible spring. The base material of a tong doesn't necessarily have to be metal; it can be of wood or plastic. 
The most variable & important part worth consideration is the length which comes with numerous measuring differences.  Longer ones are best suited for heavy cooking resulting in fumes, smoke or grease splattering. Intermediate or smaller ones hold well on grabbing a piece to check the taste of warm food.
Considering the features, you should look into Zyliss Cook N Serve Silicone and Stainless Steel Tongs. The red silicone tipping provides an unbelievably beautiful appearance with incredible temperature tolerance. Non-stick coating & hanging loop offer offers superb functionality for the construction.
7.Whisk
If you are preparing a creamy cake or meringue, you have to pick a whisk to whip the egg whites. In fact, whisk allows you to produce a smooth blend of different ingredients. Also, incorporating air into any mixture is possible using this ergonomic kitchen tool.
The most common types of whisk consist of wire loops joined at their ends along with one long, narrow handle. Moreover, the wires can be of different shape, type & size for certain whisks. Despite most whisk wires are of metal, While metal whisks are perfect for general whisking jobs, you should use plastic ones for non-stick cookware to avoid damage to the non-stick coating. Flexible whisk permits good movement inside the ingredients to create a firm foam or mixture.
Straight whisk are suitable suits for making sauces whereas flat ones allow quick & efficient stirring. Wires made of steel delivers the best performance and you should find a balloon whisk for whining. In the meantime, a sealed handle will help you with grabbing & mixing while reducing bacterial growth.
Check out OXO Good Grips Whisk which offers you the best whining experience. The 9" construction has a narrow profile and perfect wiring arrangement to form the best mixture. Whether the bowl is small or not, you will receive the optimum output. Through the conveniently shaped handle, you will enjoy a comfortable gripping that absorbs the pressure to a considerable extent.
8.Blender
Without a blender, the list of useful kitchen utensils will remain incomplete. This is a multi-functional unit for mixing, emulsifying or pureeing foodstuffs. Also, you can use other ingredients for the desired mix. 
 In overall, Oster 6812-001 Core 16-Speed Blender is one good choice worth your consideration. Incredible exterior design meets with superior functionality, allowing easy cleanups. Precise pulverization is guaranteed through steel cutter for the convenient-sized jar.
9.Four-Sided Stainless Steel Grater
Grating or sharp perforation is often needed in the kitchen. In fact, grater is one of the oldest kitchen utensils that grate the food into finer pieces.
There are flat grater & four-sided grater with variable opening sizes, even in one particular model. Four-sided graters are impeccably multi-functional, being suitable for different ingredients at variable sizes. With 4 grating surfaces, you can attain better grating performance for your meal. 
Cuisipro Surface Glide Technology 4-Sided Boxed Grater is one of the best four-sided graters you can find loaded with features. The modern style gives appearance where functionality eases your tasks. The grooved surface glide initiates a quick & effortless grating operation. Reduced resistance permits smooth movement over the surface all along. Stable base comes with a non-slip handle which can lead to a safer operation for you.
10.Oven Mitts
Everyday cooking involves dealing with scalding hot cookware products. God never intended us to touch them with bare hands, which is why we have oven mitts. where the oven mitts come.
Oven mitt is nothing but an insulated glove, specially designed for kitchen activity. Whether it's oven or stove, you can protect your hand from instant & severe burning. In the meantime, you can wear the gloves while cutting using a knife on cutting boards as well. 
Considering the basic features, Cuisipro Surface Glide Technology 4-Sided Boxed Grater would be a great option for you to choose.
It is silicone treated and the cotton-padded liner induces maximum heat resistance. Sufficient hand size meets incredibly decorative outlook offers a real deal here when it comes to mitts.
Conclusion
Although there are several others, these 10 kitchen tools are undeniably the most indispensable part of your everyday meal prep. It will take hours to prepare your meals without any of these equipment, leaving you frustrated and disappointed. Complete stocking of the aforementioned utensils is not very costly unless you go for very advanced & high-quality. Each one has its own specific functionality which will obviously save your time & effort to a great extent.