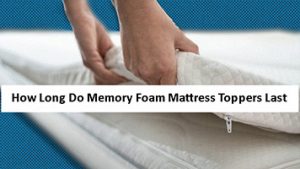 Mattress topper is definitely a cost-efficient way to make your mattress cozier and keep you settled for 2 to 5 years on average. But, if you want to get the most out of it, do not go with the cheap price. Rather opt for a better quality memory foam that would last and offer maximum comfort.
However, it doesn't mean that a pricey one will last longer and offer the best service. The lifespan of a memory foam mattress topper will depend on a few variables. 
We've explained it all for your convenience. So stick around!
Average Lifespan of a Memory Foam Mattress Topper
Most mattress toppers come with a warranty of 2 to 5 years. However, the average expected length of ownership of a memory foam mattress topper may vary. Some poor-quality mattress toppers are worn out by the second year of use. Whereas some other high-quality mattress toppers last more than 5 years. 
But the longevity of a mattress topper doesn't depend on only one thing. There are a few factors that determine how long you can expect to use your mattress topper. 
Factors That Impact the Longevity of Mattress Toppers 
1. Material 
Material and Density of a mattress topper plays the most active role to define its durability. Materials used in a mattress topper are various, including memory foam, latex, wool, polyester fiberfill, feather, etc. Each material has its pros and cons.
However, memory foam is the widely popular and most used material for mattress toppers for many reasons. Especially for its longevity.
2. Thickness and Density 
A good topper should be 2 to 4 inches thick. The thicker your topper is the longer it is expected to last. As thickness gives better support to the users and ensures longer use of the topper.
On the other hand, a density of 3lb to 5lb is considered good mattress toppers. The more, the better. Density is also a factor that impacts the longevity of a mattress topper.
3. Usage
How frequently you use your bed also tells you how fast your mattress topper is gonna be worn out. The longer you use your bed the faster you will need to replace it.
Besides, how you sleep, whether you sleep on your back or chest, your weight, these also impact on a topper's durability. If you are a sleeper on your stomach, you should choose one from these mattress toppers for stomach sleepers. Choosing the right topper also helps lengthen the lifespan.
4. Condition of Mattress
A topper's lifespan depends much on the mattress it's been laid on. Because memory foam toppers will just follow the contour on your mattress. 
So, if your mattress is new, firm, and even, then your mattress toppers will be too. But if your mattress has already worn out and got saggy on spaces, then even your new topper will not last long. And it will neither be as comfy as you wanted it to be.
When You Know It's Time for a Replacement
The ideal time frame of replacing your mattress topper is once every 4-5 years. Some great mattresses come with a longer warranty and those might be useful as well. But it is a healthy practice to replace your mattress topper every once in a while.
Besides, if your mattress turns into a poor condition and you feel the need to change it, it's better to change your mattress topper as well. Because your topper might be still in good condition but it must have been molded in your old mattress's shape.
So, our suggestion is not to focus on those 10-12 years warranties. Focus on a suitable material, density, and thickness for your mattress cover. And then, after only then invest your money on a good memory mattress topper.