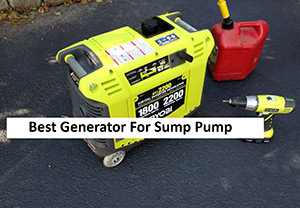 Installing a sump pump to prevent flooding in your basement is a smart idea. But without the best generator for that sump pump, you aren't fully prepared for the stormy nights. Are you?
The same calamity that causes flooding, often causes damage to your power supply. So, even if you have equipped your sump pump with your home power supply, you still need to prepare for the worst scenario.
With the right size of generator you can run your sump pump when your electricity is gone on a rainy night. That's why choosing the right size of generator for your sump pump is much more important than it seems.
If you aren't so sure about whether a generator can run a sump pump and what the ideal size generator is, don't worry. We've got covered.
Stay connected, because this article is going to answer all your queries.
Can a Generator Run a Sump Pump?
Yes, it can. A generator, regardless of being portable or installed, can run a sump pump just like it runs other electronic devices such as fridge, television, fan and etc.
You can hook up a portable generator with the sump pump externally if you want. Otherwise, you can connect with your whole home generator to run the sump pump when needed.
You can also install a dedicated generator for the sump pump, separately from your home generator as well. It all depends on how you want it to run.
What Size Generator to Run Sump Pump?
This is the most frequently asked question about generators for sump pumps. The answer depends on how you are choosing to operate it. 
Say, you are choosing a portable or static generator dedicatedly for the sump pump only. In that case a small one as 2000 watts generator will do the job just fine.
As a matter of fact— sump pumps don't run incessantly. It will only run within the interval of 10 to 15 minutes. But, you will need an uninterrupted power supply to keep that working. So, the best you can do is to equip your sump pump with a 5500watt generator along with some other devices like lights, fans, and refrigerator. 
5 Best Generator For Sump Pump 2021 Reviews
Click a link below to jump to the relevant section
Durostar DS4000S Portable Generator
Starting Watts: 4000 watts
Running Watts: 3300 watts
Fuel Tank Capacity: 3.96 gal
Run Hour: 8 hrs at 50% load
Fuel Source: Gasoline
Noise Level: 69 dB
Sump pumps are most likely to be connected with the home power supply. That means, you only need generators for sump pumps on occasions that might cause flood and electricity cut off at the same time. So, we won't blame you if you are thinking about a budget-friendly generator for the sump pump. The Durostar DS4000S portable generator is the best pick for budget consumers. 
This portable generator offers two startup methods— one is the automatic switch button startup, and the second option is the manual recoil handle. Though the manual recoiling is a bit tricky, let's say it's just for backup purposes. 
The built-in voltage meter will allow you to monitor the voltage level. You wanna make sure the wattage is not exceeding its maximum capacity when plugging in other devices along with the sump pumps. 
Though, the surge arrestor feature will automatically prevent overloads. Additionally, the low oil shutdown protects the engine and makes it durable. 
The only downside of this generator is its limited power clusters. Although it works just fine for the sump pumps but not well with other devices. 
2.

Champion 3650-Watt RV Ready Portable Generator 
Starting Watts: 4500 watts
Running Watts: 3650 watts
Fuel Tank Capacity: 3.4 gal
Run Hour: 9 hrs at 100% load
Fuel Source: Gasoline
Noise Level: 68 dB
The Champion 3650- Watt portable generator is one of the best generators for sump pumps because of its safe design and extreme weather compatibility. 
The low-oil-shut-off sensor along with the volt guard ensures the maximum safety from voltage spikes and overloads. 
Featuring 3650 running watts and 9 hours of runtime, this generator offers you a great service. You can equip your sump pump along with a fridge, TV and etc. This generator is capable enough to start a 15,000 BTU RV air conditioner equipped with a 30 amp standard outlet. So, you can easily use this generator for multi-purposes. 
You can track the power output and maintenance intervals using the intelligauge function. Besides, this generator is optimized to start in the cold weather without difficulty. 
We would still recommend you to let it warm up for 10-15 minutes before plugging in your sump pump and other devices.
Though it's a little bit noisy but not obnoxious. Considering the reasonable price, 3-year warranty with lifetime customer support, and extreme weather compatibility, it's still a great deal.
3.Generac 7127 iQ3500-3500 Watt Portable Inverter Generator
"Generators are meant to be noisy."— Not anymore. The advanced inverter engine technology makes Generac 7127 iQ3500 the quietest and the most efficient inverter generator for you. 
If you are sensitive to loud noise or have kids at home, bring this super compact and safe generator. This generator is highly fuel efficient and will run your sump pump, fridge, TV, lights and etc. with ease. 
There's an LCD wattage and runtime meter to let you monitor how it's going. With the dual starting method, this machine is incredibly easy to operate.
Best thing about this generator is its stackability with other exact same model generators. So, you can buy another Generac iQ3500 generator and stack with it to increase the power output.
This generator is a little too pricey but we don't think it's overpriced at all. It is indeed the most efficient generator by all means. If you have no budget issues, it's worth giving this a try.
4.

FIRMAN P03607 Portable Generator
Starting Watts: 4550 watts
Running Watts: 3650 watts
Fuel Tank Capacity: 5 gal
Run Hour: 14 hrs at 50% load
Fuel Source: Gasoline
Noise Level: 67 dB
If you are looking for the best generator for sump sump with a great power capacity and longer run time, this is it. No other generator can offer such a long runtime as Firman P03607. 
With a great fuel tank capacity and 14 hours runtime at 50% load, this generator will keep you going for days. So, if your sump pump tends to get full pretty frequently, you won't need to worry having this generator equipped.
The USDA Forest Service Certified spark arrestor ensures safety from sparkling from overloading. It's portable and perfect for camping. So, you can get it occupied when you don't need to run the sump pump also. 
But, unfortunately, this particular one doesn't come with an automatic power switch. You need to start it by manual recoiling. 
However, with a 3 year warranty and sturdy construction at this price, it still makes a great deal. You can give it a try if you are looking for a multi-purpose portable generator besides running your sump pump.
5.

Champion 3400W Inverter Generator
Starting Watts: 3400 watts
Running Watts: 3100 watts
Fuel Tank Capacity: 1.6 gal
Run Hour: 7.5 hrs at 25% load
Fuel Source: Gasoline
Noise Level: 59 dB
In search of a small generator specifically dedicated for the sump pump? This last one in our list is for you. The Champion Power Equipment 100233 is a perfect little generator for its mobility and Cold Start technology.
With the dual startup method, you can easily run the engine. Whereas its reliable inverter technology offers you to operate it in two modes— economy and standard. You can enjoy almost a soundless experience while running it in economy mode. 
But when you are utilizing its RV ready inverter equipping it with an AC you need to run it in the standard mode, it might get a little noisy. However, it will be way quieter than any other generators.
All the outlets come with covers for safety purposes. Its Cold Start Technology is also a plus point. So, if you live in an extreme cold region, you can be worry-free with this generator. s
The only concern with this amazing generator is its low capacity of fuel tank and short runtime. You might need to reload it frequently. But, if you are getting this to run the sump pump only, then it shouldn't be an issue. 
Conclusions and Editor's Choice
Sump Pumps play a vital role in preventing floods in your basement and the potential damages from it. It's important to always be ready for the stormy days to make sure there is power supply to the sump pump even if the electricity goes off. 
The best generators for sump pumps will keep you prepared for the calamities. Hence, all these generators are chosen to be best compliant with the sump pumps. 
But, our ultimate choice is the Durostar DS4000S portable generator. This is the best bet for price and power capacity suitable for running a sump pump.
However, we have tried to consider the various purposes of customers to review all of these best options in the market. Hope we have made it easy for you to choose yours.